Every Saturday afternoon, Chris Kamara heads to stadiums up and down the country to deliver his unique match reports for Soccer Saturday.
On Sundays you can see him back in the Sky Sports studios as he brings you all of the highlights as well as in-depth analysis of all the action on Goals on Sunday.
And then on Mondays you can find Kammy right here on skysports.com as he brings you his views on the weekend.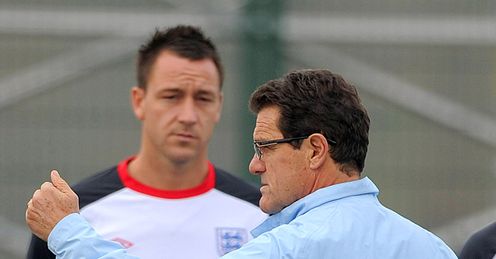 Join us every week as he runs through his highs and lows of the Premier League...
The FA have been backed into a corner over the England captaincy
The minute John Terry's court case was delayed until after the Euros, things became impossible. I don't know who's advising him, but I think the player should want things to be done and dusted now. To have this accusation hanging over him - with other players not knowing if he's innocent or guilty - is an impossible situation. Fabio Capello's got to understand that. If I was John Terry I'd get back to that Magistrates Court right now and get it tried as soon as possible!
Fabio Capello should have kept his thoughts to himself
What else could The FA do? They were coming under immense pressure. Of course a man is innocent until proved guilty and Capello is asking why the armband has been taken off his captain, but maybe he should sit down and listen to the reasons why they've had to do it and kept his thoughts to himself. Speaking out is only going to make the situation harder and his reaction has not been helpful. We know what it's like though because we've seen it before when people say what they think to a foreign news channel and think it won't get back to England. The way the world is now it's always going to happen!
He won't walk away though. The time to walk was after the World Cup. That was his lowest ever point as a manager in terms of his team's performance and in terms of the way everything went. I can't see him leaving the job now.
It was a mega point gained for Man Utd at Stamford Bridge
I think the draw at Chelsea was an amazing result and it showed tremendous character to come back from three goals down. I heard Sir Alex Ferguson say it was two points dropped and I know they played very well, but there are times when a team will play magnificently and get beaten; that's football. In my eyes, that's a point gained and from the position they were in it's a very big point.
Adam Johnson and Danny Welbeck earned very similar penalties
In both instances the defender offered a leg, but didn't actually make a challenge, and the attacker's leg has gone into them. It happened in the old days all the time. I was surprised the Welbeck one was given because the assistant should be able to see that Danny's leg went into Branislav Ivanovic. You see them given - and you see them not given - and Sir Alex felt they should have had two other penalties, so in the end it probably evened itself out.
I can understand the red cards for Djibril Cisse and Robert Huth
Djibril Cisse let down his manager and his team and should know he shouldn't raise his arms. As for Robert Huth, in the current climate and with that particular referee (Martin Atkinson had sent off Jack Rodwell and Yohan Cabaye for similar challenges) he was always going to see red. The one thing the ref didn't do was take into account the weather conditions on the day. Huth had to go for the ball - Tony Pulis would always want him to go and win it - and it was unfortunate that his momentum took him into David Meyler. From the referee's angle it looked really nasty, but on another given day there might be a different outcome. However, I understand why the ref gave it.
Arsenal were back to their swashbuckling ways
They've been pretty negative this season, which is unusual for Arsenal, but the good old days were back on Saturday and when they're in that form they're almost untouchable. They ended up beating Blackburn 7-1 and when you lose 1-0 or 2-0 it's disappointing, but that scoreline will have been devastating for Steve Kean. Now it's all about the reaction. We saw Norwich get well beaten in midweek against Sunderland, but Paul Lambert got them together and they came back with a good win over Bolton. Now Blackburn need to do the same.
What a brilliant goal by Papiss Demba Cisse!
What an exciting partnership Newcastle fans can look forward to with Papiss Demba Cisse and Demba Ba, who both play for the same country, spearheading their attack. I still don't think Alan Pardew is getting enough credit for what he's doing. People criticised them after the win against Blackburn because they only had two shots - but this game is all about results and Pardew is the master of getting them. People keep saying their run will come to an end, and I'm not sure if they're strong enough to finish in the top four, but you never know. A lot would have to happen to the teams above them, and it would be a surprise, but the players are obviously loving it!
I had lots of fun changing costumes on Soccer Saturday this week!
Jeff Stelling was telling Jonny Phillips to "man up" in the cold, so when they came to me I did my report in my shirt sleeves. Jeff replied by saying that I'd probably be bare-chested the next time they crossed to me - and I was going to do it - but the producer didn't want me to. That was the cue for me to beg steal and borrow as many hats and coats as I could from other people on the gantry. I did try to keep a straight face, but when I finished up in my shirt with three buttons undone it was quite hard! Football is a serious game, but our programme is supposed to be fun and I hope people enjoyed it.
Comments (13)
Chris Blogs (Reading fan) says...
Would love to see Chris Karama here for a Brisbane Roar game I know that a big ask of Sky sports but miss watching his match reports on a saturday 3.5 years is a long time
Posted 11:51 8th February 2012
Ismail B (Manchester United fan) says...
The manager is the BOSS!!!!! Period!!!! The english are their own worst enemies. As always, the english are destroying themselves just before another major tournament.
Posted 08:47 8th February 2012
John Gray (Portsmouth fan) says...
kammy a legend down here always will be, you keep us blues smiling through these difficult times with your saturday kamalities..
Posted 13:47 7th February 2012
Patt Furey (Bolton Wanderers fan) says...
chris kamara what a legend!!! never laughed so much in my life!
Posted 01:21 7th February 2012
Martin Murphy (Manchester City fan) says...
Brian Flaherty, Denis Bergkamp made a career out of conning referees, sticking his leg out for the defender to get tangled in. Hypocrisy from an Arsenal fan? Never.
Posted 18:35 6th February 2012
George Staples (Burnley fan) says...
Neither Terry nor Capello are wanted or needed. Chelsea tried to steal a march with the Terry case and failed, Capello always knew the FA would act. Terry is damaged goods and is not needed. Most players don't like him, don't respect him or want him as captain. Only some Chelsea fans want him. I should think Bobby Moore, Billy Wright etc. would never ever be as unpopular or as unwanted. George
Posted 17:24 6th February 2012
Doug Bain (Sunderland fan) says...
I would have thought that the choice of team captain should be Capello's not the FA's
Posted 16:39 6th February 2012
Adrian Page (Charlton Athletic fan) says...
Brian the main difference between the Pires one and the Welbeck and Johnson ones was the 6 inches between the players with Pires. Neither Welbeck nor Johnson had to change there running pattern to trip over yes they both could have avoided the challenges but that would mean going out of there way and the extra fraction of a second could stop them from getting the goal scoring chance. I do think that refs help with the diving situation as they ony give decisions when the player goes down, i.e Doyle for Wolves when he was clipped by the keeper a few weeks ago, even Welbeck against your lot when Mertaskacker clipped him from behind sending him off balance and so he could get no power on his shot allowing Mertasacker the opportunity to clear it off the line. Maybe we should take a leaf out of rugby's book where the ref calls advantage and then, like in these cases where the foul has directly stopped there chances of scoring after they have stayed on their feet then the ref can bring it back and thus in this insyance give Wolves a penalty and send the keeper off and give United a free kick and send Mertasacker off. After those incidents could you blame either Mick McCarthy or Sir Aex Ferguson from telling those players that if they are tripped don't try and stay on your feet just go down?
Posted 16:38 6th February 2012
Kris Kidjo (Blackburn Rovers fan) says...
How is it a great comeback when the man in the middle was so atrocious! Talk of killing the english game
Posted 15:27 6th February 2012
Julian Canham (Norwich City fan) says...
Kammy - top man and and a first rate commentator
Posted 14:51 6th February 2012
Garry Voss (Leeds United fan) says...
Regarding Chris' comments on the Johnson and Welbeck penalties where both players put their leg into the path of the defender and then went down even though the defender was pulling out of the tackle this is just another form of cheating and is no more acceptable than diving. Unfortunately it is becoming a part of our game and referee's are being duped into awarding penalties it is this side of the game that makes you fall out of love with the sport.
Posted 14:02 6th February 2012
Brian Flaherty (Arsenal fan) says...
Why is it that nobody is criticising Welbeck and Adam Johnson for their outrageous dives? Is it because they are english internationals? I remember Robert Pires being lambasted for a similar dive against Pompey a few years back but Adam Johnson's was just as bad. Then he dived again a few minutes later. Surely, these cheats should be punished retrospectively!
Posted 13:54 6th February 2012
Colin Haddock (Ipswich Town fan) says...
Chris Me and my wife cracked up everytime Jeff went across to you on Saturday......In truth we could wait to see what you came up with the next time he went across to you. Keep up the good work saturday afternoons would not be the same without all of you.
Posted 13:31 6th February 2012