Every Saturday afternoon, Chris Kamara heads to stadiums up and down the country to deliver his unique match reports for Soccer Saturday.
On Sundays you can see him back in the Sky Sports studios as he brings you all of the highlights as well as in-depth analysis of all the action on Goals on Sunday.
And then on Mondays you can find Kammy right here on skysports.com as he brings you his views on the weekend.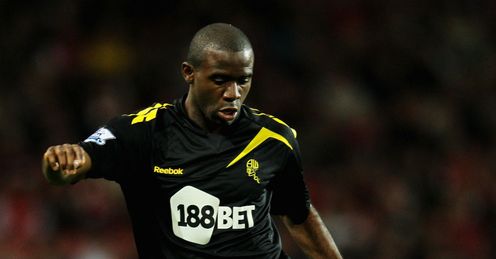 Join us every week as he runs through his highs and lows of the Premier League...
Prayers for Muamba
I was in the car, on the way back from Watford versus Coventry when I heard the news on Saturday. I got a text from my son Jack saying: 'it's not looking good for Muamba'. I rang him straight away and he told me that he'd been carried off the pitch.
Your stomach just turns over immediately and you feel sick. It's one of those situations that is hard to believe - he's part of the football family.
I went up to Bolton and have seen Fabrice on many occasions. I played on the same eight-a-side team as him in training. I don't know him that well but he was a really nice chap.
I was talking to Leicester manager Nigel Pearson who had him as a 15-year-old with the England Under-16s, he was telling me what an intelligent lad he was and how he was determined to succeed.
Everybody's praying that he pulls through. It's not the football side any more that's important, let's just hope he's fit and well. It's not started off a great year, that's for certain.
The one thing we don't know is the cause, we're all making assumptions saying if he'd had a heart scan earlier it would have made a difference. Only time will tell on that, it's too early to speculate.
My wife's always telling me to get checks and get tested, and to be fair I've never seen my local doctor. But this sort of thing opens your mind to the fact that it's not just you - you tend to forget it involves your loved ones and if you're unaware of your health, you should get it checked. I'm going to make more of a determined effort to get checked-up.
We had to do Goals on Sunday - you've got to be professional and the show goes on but it's always in the back of your mind.
At the end of the day, we live in 2012 now and medical science is years ahead of its time. People at Tottenham made a difference and helped him to where he is now. Let's hope the news gets better as the week goes on.
I didn't see the pictures until afterwards and everyone at Spurs deserves huge praise - the paramedics, all the players who showed at the end of the day that he is a friend, amidst the battle on the pitch, that he is one of them.
And the supporters were just an absolute credit to the game. They didn't know what was going on - they were close to it but couldn't be sure of what was happening.
Football fans come in for a lot of criticism, that's for certain, but 99 times out of 100 they don't deserve it. Let's make sure we sing their praises now.
Cup debate
As far as the FA Cup is concerned it's a great draw for Sunderland to take Everton back to the Stadium of Light and see what happens in the return game.
Chelsea are back, I don't think there are any ifs or buts about that - Fernando Torres is scoring goals and Roberto Di Matteo probably deserves a lot more credit than he is getting, doing it softly, softly. He couldn't have done any more than any other manager Chelsea could have brought in at this moment in time.
In terms of playing the semi-finals at Wembley, we've got so many big grounds nowadays there's no excuse for it - it's just the FA trying to claw their money back.
We've got stadiums like the Emirates and Old Trafford where you can fit mega crowds in. They had the League One play-off final last year between Peterborough and Huddersfield at Old Trafford. There's more than enough capacity to get both sets of fans into these games and keep it prestigious.
They are moaning when the cup falls on the same day as Premier League games, give the competition back the gloss it used to have when it stood on its own.
Comments (8)
Guru Iyer (Manchester United fan) says...
May the good lord be amongst you to defend you, before you to guide you, after you to guard you, above you to bless you, who in the name of the father and of the son and of the holy spirit reign within you for ever and ever .....Amen
Posted 09:53 20th March 2012
Guru Iyer (Manchester United fan) says...
I would like to say a prayer for Fabrice Muamba. Thi is a Novena prayer for the sick: "MAY THE GOOD LORD BE AMONGST YOU TO DEFEND YOU, BEFORE YOU TO GUIDE YOU, AFTER YOU TO GUARD YOU, ABOVE YOU TO BLESS YOU, WHO IN THE NAME OF THE FATHER AND OF THE SON AND OF THE HOLY SPIRIT BE WITHIN YOU FOR EVER AND EVER.....AMEN" INSHAA ALLAH YOU GET WELL SOON LET THE LORD GANESHA HELP YOU IN RECOVERING YOU
Posted 09:48 20th March 2012
Mark Smith (Portsmouth fan) says...
Came home from Fratton Park frustrated with 0-0 score line after playing so well against Bristol City then heard the news of Fabrice. Puts everything into perspective. Thinking of Fabrice and his loved ones.
Posted 20:09 19th March 2012
Darren Hunter (Liverpool fan) says...
couldn't agree more with you kammy just hope and pray he makes a full recovery, must say what a fantastic job the medical staff from both teams did.
Posted 18:47 19th March 2012
Gerald Davis (Manchester United fan) says...
A speedy recovery Fabrice and my prayers goes out to u and ur family REMEMBER THIS "I CAN DO ALL THINGS THROUGH CHRIST WHO STRENGHTENS ME" GET WELL SOON CANT WAIT TO SEE YOU IN ACTION SOON.GOD BLESS AND PROTECT U.
Posted 18:25 19th March 2012
Dean Palmer (Tottenham Hotspur fan) says...
Best wishes to Fabrice & his family and all at Bolton
Posted 16:12 19th March 2012
Craig King (Liverpool fan) says...
Always look out for your post and couldn't argee more, thoughts and prayers with both Muamba and his family! On the topic of the semis I have been saying the same thing since they made the decison, it takes a gloss away from the final and takes away the wembley incentive for the semi finalists... as there already there! the FA need to sort it out and stop concentrating on the money!
Posted 14:42 19th March 2012
Tom Howell (Manchester United fan) says...
Totally agree Kammy, thoughts and prayers go out to Muamba & his family. What a shock, especially considering he is a young and fit sports professional, its crazy?! back to the football and only the FA cup final should be played at Wembley as far as im concerned, got some fantastic memories of semi finals being played at traditional venues such as Villa Park and Old Trafford we should honour and keep to that as far as im concerned. Also DiMatteo has done fantastic, just hoping it continues Wednesday night for obvious reasons.
Posted 13:28 19th March 2012