Every Saturday, Chris Kamara heads to stadiums up and down the country to deliver his unique match reports for Soccer Saturday.
On Sundays you can see Kammy back in the Sky Sports studios as he brings you all of the highlights on Goals on Sunday.
And then on Mondays you can find him right here on skysports.com as he brings you his views on the Premier League weekend.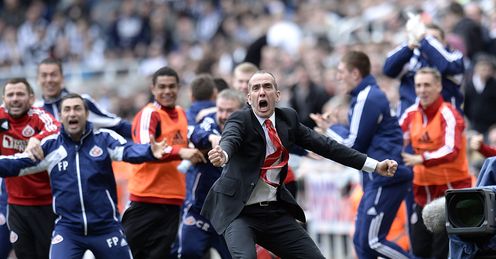 Read below for Kammy's thoughts on this weekend's games, as he looks at rejuvenated Sunderland, Stoke's tactics and a dazzling show between the sticks at the Madejski Stadium...
Sunderland supporters will now think they can stay up because of their new boss
I said before his very first game that Paolo Di Canio would be good for the Premier League because of his passion and desire - and he showed all of that on Sunday. Hopefully he won't get into trouble for all that celebrating! But that's what he's all about - he wears his heart on his sleeve. You have to give him huge credit for inspiring those players to produce that performance after such a short space of time.
Di Canio has got the players loving him. You also saw that with Robin van Persie celebrating with Sir Alex Ferguson. They'll all play for Di Canio. It's all about the spark. It's easy to get into a rut and a routine. A player might think they're giving 100% but the spark's not there. Sometimes you need someone to ignite that and get you back doing the things you were doing that made you move to the club. That's why chairman all over the world are changing their managers when the team loses that fizz and belief. Then someone like Di Canio comes along and provides that spark.
Norwich may well have hung on at Arsenal if that decision hadn't gone against them
Once they got the equaliser and that lifeline - however fortunate that might have been - Arsenal went into another gear. It's great for the Gunners and Arsene Wenger wants his record of continuing to finish in the top four to continue. It looks like he's heading towards that but it was tough on Norwich.
[Michel Arteta's penalty levelled the scores at 1-1 after Kei Kamara was adjudged to have fouled Olivier Giroud but 95% of the time they're not given. The assistant saw the shirt being pulled and it was bad luck for Norwich. I've been campaigning for assistants to get involved more, but it's got to be across the board. These incidents happen in every game - Vincent Kompany did 10 times more than Kamara in Sunday's FA Cup semi-final and Fernando Torres and Rafa Benitez were left saying 'what's going on?'. That's why managers get annoyed; those decisions kill you when they go against you and you're trying to work so hard. Nothing against Arsenal, but there's no consistency.
Reading's Alex McCarthy produced the best individual goalkeeping performance I've ever seen
You see keepers make three or four good saves in a game and you think 'great' but McCarthy was just amazing. One save from Luis Suarez was incredible. He had no right to save it considering the power.
On any other day Liverpool would have won comfortably had it not been for McCarthy. You couldn't say it was bad finishing from Steven Gerrard or Suarez - just a brilliant performance to deny them. There's still plenty of optimism for Liverpool though, despite their struggle to make Europe.
There are better players at Stoke now but it's not working out
Playing a Manchester United team pushing relentlessly for the title and a record number of points, it was a game Stoke never expected to win.
It's tough for Stoke boss Tony Pulis. He knows he's got the right players like Kenwyne Jones and Peter Crouch and there are goals there but he just needs to find the right formula between now and the end of the season. We all know how good Stoke are at battling and grinding out results. Maybe they just need to revert to that. They might just have to go back to how they've survived over the last few years.
Under the pressure of relegation you have to get that balance between playing the way you want to play and simply just scrapping for everything. You try to do both. I've been in that situation with Luton and Sheffield United and you have to get your players believing it's the right thing and keep playing the same way.
It's not easy when you start changing - like deciding to batten down the hatches, getting 10 men behind the ball and hoping for the best. It's all about balance.
It doesn't look good for QPR, but they won't be planning for next season yet
The likes of QPR and Reading will still be a danger to whoever they play in their final games because they'll still be holding out hope. I know pigs may fly but it's happened before - West Ham and Wigan showed last season wonderful runs are still possible.
It was a good win for Everton but boss David Moyes will be kicking himself over recent results - he'll be thinking they should be in a much better position. They're only six points off the top four with a game in hand but it will be tough for them now, although Moyes is doing such a fantastic job .
Andy Carroll could have made a real difference to Liverpool
Hammers loanee Carroll is in a funny situation. Liverpool boss Brendan Rodgers explained on Sunday he's a striker who needs to play but he wouldn't play in the Liverpool team every week because of the type of player he is.
Rodgers doesn't want a big centre forward and he wants players to complement Suarez. Maybe if Andy had stayed at Anfield you may have seen Livepool get an extra nine points which would have meant them challenging for the top four. We'll have to wait until the summer to see where his future lies, though.
But meanwhile, his goal against Southampton means West Ham are safe, along with Saints, who are playing very well under new boss Mauricio Pochettino.
Comments (3)
Harry Shortland (Arsenal fan) says...
The Stoke City club needs a complete overhaul. Especially on the pitch. Pulis has them playing a brand of football which is very often an embarrassment to the league! I've absolutely no idea what he has them working on all week, but if they continue to (a) keep the ball above head height and, (b) butcher the opponents at every opportunity, his days MUST be numbered! City were a fine club with great tradition, upgraded facilities, etc, etc... and then they hired Pulis, whose standards are somewhere just South of pathetic! He's ruined some good prospects, turning them into rough-house bullies, and ended the career of several internationals! (No names here). If they stay up, they've GOT to clean house and start again!
Posted 15:05 15th April 2013
Ray Parlour (Arsenal fan) says...
Kammy, I'm afraid Kei Kamara got his comeuppance for persistent fouling. That wasn't a case of him being unlucky for having a handful of Giroud's shirt on one occasion (which, needless to say, isn't unlucky because it's a foul and a yellow card anywhere else on the pitch), it was a case of the linesman doing the job that the referee should have done much, much earlier in the game. Right from the start, the Norwich players used every tactic in the book to stop Giroud being able to jump for headers or make runs in the box. If you want to play that way, fine, but don't complain when you eventually get caught out. It's persistent fouling in anyone's book and you're living dangerously if that's how you choose to defend. Aside from that, the lino and the ref missed an absolute stone wall penalty for a foul on Theo Walcott 10 minutes before that. It was as clear as they come. Had that been given, Norwich would have been facing an even heavier defeat. Talking of so called harsh decisions costing teams, Norwich shouldn't have been awarded the free kick from which they scored. All the complaints have been about Arsenal's three goals, but Norwich were out on their feet by the 85th minute, and Bunn wasted so much time in the second half there ended up being 7 minutes of injury time. In my view, Arsenal would have scored eventually anyway (Poldolski and Walcott were getting acres of space even before the penalty), and it's difficult to have sympathy for a team that comes to defend. I completely understand the tactic, but you leave yourself little chance of getting anything out of the game if you are relying on the referee to gift you non-existent free kicks in order to score. With the stonewall penalty Theo should have had and the excellently worked second goal, if you want to base the game on refereeing decisions, Arsenal should have left the pitch with a 2-0 win.
Posted 15:02 15th April 2013
Calum Macmillan (Liverpool fan) says...
Paolo Di Canio has sparked sunderland into a relegation bail-out due to his charisma and fiery attitude,his players will listen to him as most respect him now after his celebrations after the three goals during the Newcastle game but what striked me the most was when he walked over to the away end of St James's park and said " We are staying up". This shows that he has the flair and passion to keep the club up! He also makes sure his players are on a tight diet plan and makes sure he does their training exercises and an example of this would be on wednesday i think it was when he saw the players doing a training exercise, didnt like it and showed them how to do it properly.This also shows how he is going to make sure the players are fit enough to impress the supporters. Although he has faced alot of criticism due to his political beliefs i think that the sunderland owners have made the right choice in employing Di Canio to become the manager to get them out of their tough times and guide them to safety.
Posted 14:18 15th April 2013