As we've been predicting for the past few weeks, Real Madrid's form is starting to drop.
They may be sitting at the top of the table, but Bernd Schuster's side slumped to their first defeat of the campaign against Espanyol last weekend as Albert Riera and Raul Tamudo gave my team a tremendous 2-1 win.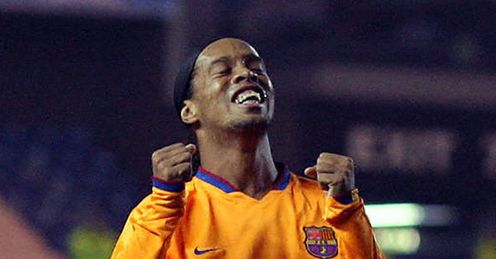 Real followed that up with an unimpressive performance at home to Olympiakos in the Champions League.
The Greeks had a man sent off in the first half, but still managed to take the lead just after the break. Fortunately for Real, Robinho's brace inspired a fightback and they eventually ran out 4-2 winners.
Lately it seems Real have been saved by goalkeeper Iker Casillas and an individual - it was Robinho with two goals against Olympiakos for instance. And that combination, one plus one, is what Real Madrid have been relying on for the last few years.
With Cesc Fabregas, I've been told by one of the top guys at Barcelona that they are definitely going to go for him in the summer. So will Real Madrid.
Guillem Balague
Quotes of the week
Live La Liga This Weekend
Mallorca v Espanyol
7pm, Saturday, Sky Sports Xtra
Athletic Bilbao v Real Betis
9pm, Saturday, Sky Sports Xtra
Barcelona v Almeria
7pm, Sunday, Sky Sports Xtra
Sevilla v Valencia
8pm, Sunday, Sky Sports Xtra
Schuster is getting worried. He is very defensive in front of the press, he recognises that things are not right and it's starting to look a bit worrying for the team.
Mark Bolton seems to think the solution is to bring in Jose Mourinho, but I don't think the board of directors are that desperate yet.
Not right for Ron
Barcelona perhaps had an even worse week. Frank Rijkaard saw his side's unbeaten start to the season also come to an end at El Madrigal as they were beaten 3-1 by Villarreal.
The Camp Nou outfit now sit fourth in La Liga after being overtaken by the Yellow Submarines.
That disappointment was followed by a goalless draw in the Champions League at Rangers - a game Barca really should have won after dominating for long periods.
But they let Rangers into it as the game wore on and Barca might have lost if Daniel Cousin hadn't missed a sitter late on.
Off the pitch, the campaign against Ronaldinho and against Thierry Henry continues from certain parts of the media.
Nobody seems to be defending Ronaldinho apart from the club. His form is still miles away from where it was. He is being used in a position where he doesn't need to run much or run at defenders and he can only pass, but his contribution so far hasn't been great.
Of the four matches he missed recently, Barcelona won three of them, so that suggests maybe they don't need him that much.
With Henry, his problems will continue for the rest of the season because Barcelona are not going to change their system to suit him. That would be one way to get the best out of him, but Barcelona are not willing to do that.
They are still playing mainly with a 4-3-3 formation and he plays as a number nine or on the left-hand side, but without space. I get the impression that he's getting frustrated with the situation, so let's see how that progresses.
Do you agree with Guillem? Let us know what you think by using the feedback form below and continue to email him your questionshere
Guillem answers your questions...
Hola Guillem, as a Real Madrid fan I feel that our midfield has been lacking real creativity for quite a few years now. Do you think that Juan Roman Riquelme could have fitted in there in the summer? It is a shame to have such a talented player sitting watching games rather than gracing the pitch. Sean, Ireland
GUILLEM REPLIES: Riquelme has had offers from Real Betis, Atletico Madrid, Boca Juniors and Qatar, but not from Real Madrid because although he is creative he is very slow and you have to play for him. That is exactly what Bernd Schuster doesn't want to do. He needs to create real alternatives. They are playing entirely through Guti and if you stop Guti you stop Real Madrid. With Riquelme you'd have the same problem and they won't go for him.
Hey Guillem, is Frank Lampard ever going to Barcalona? And Cesc Fabregas? He's starting to get linked with Barcelona like Thierry Henry was. They all said he'd never leave but he did, will Cesc and Lampard be the same? Tim Velk, (Arsenal fan)
GUILLEM REPLIES: I feel that Lampard's love story with Chelsea is coming to an end and both Barcelona and Real Madrid are monitoring the situation along with Juventus and Inter Milan. At the moment nobody is making a move, but I personally think Lampard would be great for Real Madrid. I think he's the type of midfielder that would help with the type of football that Bernd Schuster wants to produce. But at the moment nobody has made a move.
With Cesc Fabregas, I've been told by one of the top guys at Barcelona that they are definitely going to go for him in the summer. So will Real Madrid. The problem being, of course, that it's all up to him. If he wants to stay, nobody will stop him, so if he keeps playing the way he's playing and feels important, I get the impression that he won't want to leave just yet.
Hi Guillem, do you think this could be Espanyol's season? Maybe not in terms of winning the league but possibly pushing for a solid top-four finish. Luis Garcia, Riera and Tamudo look like they could contribute a lot this season and the team have already won away at Sevilla and Valencia. I hope the 'Blanquiazules' can keep up their solid home form against the top teams and push on from here. Cris, Liverpool (Liverpool & Espanyol supporter)
GUILLEM REPLIES: Espanyol are enjoying some of the sweetest times in their history. Not only did Albert Riera and Raul Tamudo score for Spain a couple of weeks ago, but we've already beaten Deportivo, Sevilla, Valencia and Real Madrid. Four consecutive victories for the first time since 1999 and that suggest things are being done right by the club.
We are bringing through quality young players like Lola and Valdo, and also young players from the lower sides like Angel. The key is that we are two teams in one. We've started to learn how to defend, but more importantly the combination of Luis Garcia, Riera and Tamudo is lethal. They are probably the best forwards in Spain apart from the ones at Barcelona.
Comments (2)
Jeevan Jayenthiran (Manchester United fan) says...
Ronaldinho has not been up to snuff this season and no one can deny that. I'm a huge supporter of him but he has been disappointing to say the least. But with a player of his quality it would be incredibly naive to sell him as he can always provide that moment of brilliance which is needed most in big matches. A dead ball, a through ball or just a simple layoff to a teammate can make the difference in the most meaningful games. You can't discard a "difference maker" just because he's not on form. Messi is on a run of form that I have never seen but am definitely enjoying. But he can't do it on his own, when Barca plays the big squads in europe they will have the personnel to shut him down. A perfect example would be Milan shutting down arguably the most explosive player in the game, C.Ronaldo and ManU couldn't attack effectively without him. Similarly, if a team were to shut down Messi via a man-marker/shadow like Makalele, Vieira, Essien, etc., Barca will struggle to find the cutting edge attack. Now with Ronnie in the game, teams must now divide their resources to shut down attacks from multiple angles. Ron is a priceless commodity in a league of overpaid under-performing "superstars". He'll get back on form and when he does, the press will forget all about his recent woes and treat him like a king once again.
Posted 00:38 31st October 2007
Ejaz Hussain (Manchester United fan) says...
Daniel, I know we are on the same fronts with United and all, but I have to disagree with you when it comes to Thierry Henry. I think he's the best individual player in the world. We all know what a brilliant and mezmerising player he was for The Gunners, he played at the spearhead aswell as amongst players like Viera, Bergkanp, Pires and Fabregas. They were all brilliant at working the ball, and passed it to Henry to fire home. With Ronaldinho obviously off form, and Henry failing, is dropping them the right choice? I don't think so anyway. I think Ronaldinho should remain in his passing role, dropping and floating into midfield more than forward in the front 3, with messi working his magic on the right and Henry being the spear-head and target for passes. Let's see the old Barca back! it'll be even more scintillating with Eto'o back, let's see who will pressurise, rise or fall...
Posted 22:58 29th October 2007