We're set for another week of cracking action in La Liga, so who better to look ahead to the five live games on Sky Sports than our Spanish football expert Guillem Balague.
If you've got a question for Guillem, send it in here.

Barcelona v Getafe
Real Madrid v Espanyol
Zaragoza v Sevilla
Racing Santander v Atletico Madrid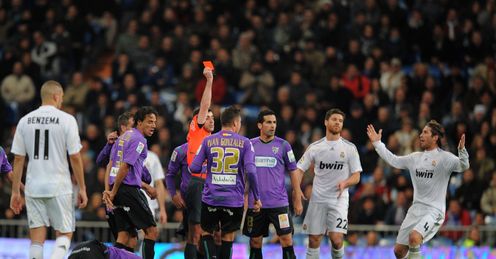 Barcelona v Getafe
7pm, Sat, Sky Sports 3 & HD3
Both of these teams like to hang onto the ball for long periods so in terms of technical ability this should be a great game to watch. If Getafe can make the most of their chances - and they should create some here - then they could surprise a few people.
It's very disappointing to hear all the moaning and criticism of referees emanating - not directly from the club - but from the entourage and media connected with Real Madrid. It used to be a Barcelona thing to complain about referees but now it seems Real are following suit.
Guillem Balague
Quotes of the week
LIVE ON SKY SPORTS
Barcelona v Getafe
7pm, Sat, Sky Sports 3 & HD3
Real Madrid v Espanyol
9pm, Sat, Sky Sports 3 & HD3
Zaragoza v Sevilla (2nd half)
6pm, Sun, Sky Sports 1
Racing v Atletico Madrid
7pm, Sun, Sky Sports 1
Michel is doing a fantastic job with Getafe, but the problem is he has been involved in too much politics at the club. He was the director of the youth side, and then with the 'B' team, who had great players at the time but still went down. It's only now he's shown what he is about and I think he can become a top manager. It'll be interesting to see how he fares against Josep Guardiola, one of his good friends.
Barcelona are superior to most sides but they tend to struggle against sides who adopt a positive approach and make you work for the ball. I'm certainly looking forward to this one.
Real Madrid v Espanyol
9pm, Sat, Sky Sports 3 & HD3
Espanyol look to have finally turned the corner but they could find the going tough here. At the time of writing it is still uncertain as to whether Cristiano Ronaldo will play or not, as he is awaiting the result of his appeal against his latest sending off.
However, it's very disappointing to hear all the moaning and criticism of referees emanating - not directly from the club - but from the entourage and media connected with Real Madrid. It used to be a Barcelona thing to complain about referees but now it seems Real are following suit.
Zaragoza v Sevilla
6pm, Sun, Sky Sports 1 (Second half)
It was great to see the new players of Zaragoza in action during the win away to Tenerife, especially Colunga who scored on his debut. I've always like him as a player. Suazo also scored from the penalty spot while Jermaine Pennant played the full game, during which he switched from central midfield and the left wing. He is now becoming a passer and thinking more about his game. As he promised us early last month he hasn't moved from the club and is happy to stay there and grow as a player.
Racing Santander v Atletico Madrid
7pm, Sun, Sky Sports 1
Don't miss this game. It's a chance to see Sergio Canales before he becomes a Real Madrid player. He may yet stay another year at Racing but everything is agreed with the player. Real will reportedly pay something in the region of £5million even though Canales has only six months left on his contract, but that's only fair as he is a product of the Racing youth system.
Atletico Madrid are a bi-polar team; they can be superb in one game then terrible in the next. Their progress in the Spanish Cup is saving their season but that has come against lower league opposition. They're in the semi-finals but I wouldn't be surprised if that's as far as they'll go. Quique Sanchez Flores is doing his best to try and organise the side but is struggling with a squad that has too many vices incorporated from too many years of doing things badly.
Guillem answers your questions...
Got a question for Guillem? Then send it in here or use the feedback form below, and then look out for his answer next week.
CAN-ELLA CUT THE MUSTARD?
Hi Guillem, love the column. I saw Birmingham City sign Michel from Sporting Gijon because they needed the money. Do you think Sporting would be looking to offload Roberto Canella? He looks a very good player to me and I would like to see him in the Premier League as I hear he's the next Capdevila. Thanks for your time. Daniel Carter (Aston Villa fan)

GUILLEM SAYS: Canella renewed his contract with Sporting last week and he now has a buy-out clause of £20million. But I think the idea is to sell him. Real Madrid have been looking at him for quite a while now, as have a few English clubs. Sporting won't be too unhappy if he moves on because Jose Angel is waiting in the wings. Angel is another left-back, is two years younger than Canella and is also a better player. If I was a director at a Premier League club I would be going for Angel!
APONO FOR POOL?
Hola Guillem! I am an ardent Liverpool supporter but I also hold a soft spot for my local club Málaga CF. I know Rafa Benitez has limited options in the transfer market because of LFCs economical situation and I think I have found a good player. Málaga's central midfielder Apoño is creative, physical enough for the Premier League, he wouldn't be expensive and would probably be happy sitting on the bench and taking his chance when it comes along. I think he would be a great addition to Benitez'squad and I would like to know your opinion of Apoño. Un saludo desde Málaga! (Matthew McColl, Liverpool supporter)
GUILLEM SAYS: Apoño is a player I have always liked. I remember talking to Malaga's former manager, Antonio Tapia, and he said he had no doubt Apoño could go to one of the top-four teams and instantly make an impact. I feel the same, but in the Premier League his height is going to cause him problems. He's not big enough, and although you could say that about the Barcelona midfield, for three-quarters of games in the Premier League you need tall midfielders who can play the ball. I would put him ahead of Lucas Leiva though, and he would be a great addition to any side.
PLAUDITS FOR PEDRO
Holla Guillem, I'm going to ask you to give me your opinion about a couple of young Spanish players. How good is Iker Munian and is he good enough to play in the top 4 in La liga? He is talented playing to play for Bilbao at the age of 16. Secondly why don't Barca play Pedro in Henry's position rather than spending 30 mil on Silva. Watching Pedro this year he scored in every game he started and he look very talented and a very good finisher so I want to know why they don't want to start with him. Thank you. Elmi Sami (Arsenal fan)

GUILLEM SAYS: Munian is very young, just 16 years of age. Can he play for a top-four side at the moment? Definitely not. Perhaps in three years' time as he definitely has the talent. He will progress as player and become cleverer, play more for the team and not be as cheeky.
Pedro is a very good finisher, and therefore is better inside the box than outside it. When it comes to putting the ball in the net he is quality, but it is a different matter when it comes to keeping the ball, making the right run and allowing other players to make the right run. Silva is much better in that aspect. I think Barcelona will want to keep Pedro in the squad, but they will also try to sign Silva in the summer.
Comments (16)
Andrew Audley (Barcelona fan) says...
Hola Guillem. i was just interested to hear your views on victor valdes. he had a great season last season and was at times phenomenal, and seemed to of cut down the silly errors that plagued him in previous seasons. Do you see him getting a chance in the national team? and is there any chance of him making the plane to South Africa? obviously Casillas is the first choice, but over the last few seasons valdes has greatly improved and should be battling with Diego Lopez for 2nd and 3rd spot, as i feel that they are both better than Reina. your views would be greatly appreciated. many thanks
Posted 14:20 10th February 2010
Mohamed Abdulrahman (AC Milan fan) says...
Hi Guillem Recently when you had the debate with Ray Parlour about what league is the best in the world at the moment you was convinced that La liga is better than the premier league, and you said that La liga have the potential to dominate europe in the next 5 or more years. What teams do you think will dominate Europe with Barca and Real Madrid from Spain and would they be good enough to cause a shock and win it? Finally do you think the old Valencia are back which went to 2 CL finals in a row in the early decade.
Posted 13:57 9th February 2010
Grant Barker (Manchester United fan) says...
Im not a massive fan of spanish football but i do watch it occasionally and i have to say you are spot on about the treatment of referees over in la liga, i thought our teams were bad in the premier league but im glad its nothing as bad as in spain! from the handful of games i have seen from la liga this season im shocked at how much referees have to deal with, from the play acting/cheating to the arguing and moaning! especially as you say, from Real Madrid and Barcalona! if its not going there way,they dive or surround the ref to get decisions! Im certainly not going to be switching from watching the premier league to la liga, its definately behind our league in all departments!
Posted 19:46 8th February 2010
Gordon Kaczmarczyk (Hull City fan) says...
I believe some decisions have favoured Barcelona. Some others have not (how can a team that literally dwells in the opposite box have had so few penalties?). Madrid would have a few points less as well if we took into account referees mistakes. @Matt...really? Man! You must be a die-hard Madrid fan to say that. Madrid might be 5 points behind, but there is a whole world between both teams. Barcelona play one of the greatest football you will ever see. Madrid might be playing better. Let them spend another £200M, and they might even play "well".
Posted 16:56 6th February 2010
Simon Healy (Aston Villa fan) says...
Hi Guillem, great column! How do you feel Pablo Piatti's career is coming along? He was rumoured to be as good as Lionel Messi when he burst onto the scene but it hasn't quite happened for him at Almeria. Do you think he should of went to a bigger club when he left Estudiantes like Barcelona or Real Madrid. Also how good do you personally think he will become. Thanks for your time
Posted 12:07 5th February 2010
Maxi Wills (Manchester United fan) says...
Senor Balague Massive fan of yours and all the team at Sky Sports. I wanted your view on Guti which I think is going to be a slightly negative one. I like him alot and think he is one of the best through ball players I have seen. Maybe that is not enough in the modern game from a central midfielder position. But as a football playing purist point of view his passing ability is great to watch. The spanish and in particular Real Madrid fans seem very fickle by praising him one month and hating him the next. I know Spain have an abundant of riches in midfield but would you take him to the World Cup?
Posted 04:45 5th February 2010
Curly Joe (Liverpool fan) says...
Some trash is spoken on these sites.Such as the United fan who says complaining is a Scouse thing.To him I say "grow up",The whole of football is a complainers game now,and yes,that includes United.And before you say anything about my country of residence,note,I use the term FOOTBALL,not soccer. I have watched football since I was 9 years of age,that would make it 58 years of being a fan of the game.And believe it or not but my mates and I actually got the train to Manchester to watch City play,as there was no game on in Liverpool that particular day,but then again,maybe that is also a Scouse thing to do .Those were the days when there was no HATRED in the game,or in the stands.Enjoy the game,leave the rubbish talk out of it....P.S..my team may not be doing too well this season,but you will never hear me rubbish talking UNITED or any other team for that matter .We take the good with the bad,at some point the tide will turn,and good things will come back into football. In my younger days i was a member of Liverpool Supporters Club,,we used to be royally entertained by the likes of Rotherham and Walsall supporters clubs,United fan ,you likely do not know those clubs exist....we sat together after the game,we ate together,we drank together but we never dissed each other... Try it,you might like it .....
Posted 03:14 5th February 2010
Chris Lambert (Leeds United fan) says...
Hi Guillem What is the situation with Cesc Fabregas and Fran Merida at Arsenal? Barca want him badly as we know but Cesc keeps saying he's very much committed to Arsenal, he's only 22 so has years ahead of him but i think he's frustrated at Arsenal not winning anything and having to play in a team that cannot match the big 2 in the PL and in CL. The players in the team aren't good enough to win things and Cesc is on a different level to them apart from maybe Arshavin and Van Persie(when he's fit). Wenger wont spend any money on some proven quality and i think Cesc will leave for Barca, maybe not this year but in the next couple of years. Also, what is happening with Fran Merida? he keeps saying he's staying with the Gunners but he hasn't signed any contract, i know he wants to play more in the first team and if he doesn't he will leave but he's only young and cant expect to walk into the first team of any club. He's shown some nice touches when he has played but he simply isn't good enough to compete every week in the PL just yet, he gets muscled out too easily and gives up possession. He has a great future ahead i'm sure but he wont walk in the Atletico team if he leaves and the best place to learn would be Arsenal.
Posted 21:44 4th February 2010
Harry Callahan (Liverpool fan) says...
Tommy Nolan, any fan of the Premier League reading your comments now, spoken as a Man U fan, will be surely splitting their sides with laughter! United are the worst side I have EVER seen for disputing decisions and getting in the face of the referee. Not forgetting the whole tirade from Fergie about unfit referees etc. Madrid are bad enough, but unlike their trophy haul, they are not in United's league when it comes to this!
Posted 21:17 4th February 2010
Rittick Tarafder (Barcelona fan) says...
hi guillem............... as a barca fan i wanted to kno ur thoughts about a possible move for silva next summer............. how do do u think his arrival would enhance barca's playing level even further. i ask this becuz the only position in which we can be better is the left hand side......... i dnt think silva wud b comfortable at dat position....... ribery wud b a betr buy 4 dat position!!!!!!!!!! so dis brings me 2 my nxt questn......... wat r da chnces of ribery joining barca????????
Posted 17:25 4th February 2010
Tom Weston (Portsmouth fan) says...
Hi Guillem, I has seen a couple of reports now about Kaka moving back to Italy partially because of his new hernia problem and his 'poor' form. Is there any truth in these rumours? And what's the situation with his hernia?
Posted 16:24 4th February 2010
Matt Dunling (Hull City fan) says...
i think some parts of Marca and AS are right though watching a few barca games this season there have been about 5-7 games were barca were maybe a little to lucky im not saying Villarato but im saying two penalties for villareal and a red for ibra for a two footed lunge, no penalty for xavi against espanyol, the sporting goal was to hard to say but a red for messi for a late tackle and with studs up and made contact against a sporting player. i think there is a point as it seems this is the best barca in history playing the best football so it would be bad if a brand new madrid was ahead of them after been together for SIX MONTHS when majority of barca players have been together for years. i think pellegrini has done so much to this real madrid side its incredible they are only 5 points off and have scored 3 goals less and only conceded 5 more especially with the injuries madrid have had, it looks like madrid next season could dominate once with everyone settled in and with a better understanding with eachother.
Posted 14:30 4th February 2010
Tommy Nolan (Manchester United fan) says...
Madrid and Barca can't be as bad as Liverpool when it comes to moaning about referees.in England that is pretty much a scouser thing to do.Although the last 4 years Arsenal have been complaining about referees.I don't know if you watch Liverpool play guilliem but the amount of decisions that they get is unbelievable.home or away it is ridiculous.when they lose a game where they get Tons of decisions from the ref we still hear fatty benitez saying "the ref was poor".there was one incident last season in the league when United earned a penalty against spurs,it WAS a penalty, professional foul at minimum .when it was given the amount of liverpool fans shouting conspiracy was amazing,never heard anything like it.Then they were saying United were gifted the league in 1 match out of 38 games.media backed them as well.In my mind guillem Barca and Madrid will never be as bad as Liverpool.not a chance.
Posted 11:20 4th February 2010
David Fullam (Liverpool fan) says...
Hi guillem I am a big fan of revista and I wouldnt miss it. What are the chances of wenger becoming real madrids manager in the summer. I think he is under pressure at arsenal and if they dont win anything in the summer could he face the sack. I think pellegrini is doing a great job at madrid and Valdano seems to like what he is doing. I dont think perez likes him that much and he is looking a big name manager. Do you think mourinho would leave inter in the summer for madrid providing pellegrini gets sacked and do you think hiddink would consider manage them a second time. Thanks David
Posted 09:41 4th February 2010
Aky Shah (Real Madrid fan) says...
I think Real Madrid played a very good game against Deportivo last week. Everyone say's that Real Madrid are nothing without Cristiano Ronaldo but as you can see from the last game, half of the first team was injured and Real Madrid still won the game without them players and played an excellent game and i think Real Madrid will come out on top this season.
Posted 08:47 4th February 2010
Ngel Vargas (Real Madrid fan) says...
Hullo Guillem! As a Madrid supporter, I'd like to know what your views are like on la Liga's second leg. In my opinion the upcoming fixtures favour us, given the fact that we'll play at home most of the difficult games left. Should both teams continue at the level they've been playing lately, what do you think the table will look like after some 6 games? I also wonder which reinforcements you thimk Madrid and Barcelona will/should make next season. Un saludo!
Posted 23:38 3rd February 2010