We're set for another week of cracking action in La Liga, so who better to look ahead to the four live games on Sky Sports than our Spanish football expert Guillem Balague.
If you've got a question for Guillem, send it in here.

Tenerife v Real Madrid
Barcelona v Malaga
Sevilla v Athletic Bilbao
Atletico Madrid v Valencia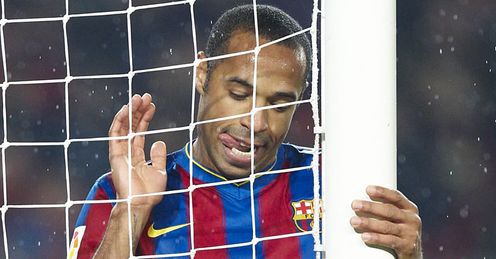 Tenerife v Real Madrid
7.00pm, Sat, Sky Sports 4
This will be an emotional return for Real Madrid to Tenerife, where they lost two leads in the final game of last season. The hosts are a team that respect how football should be played: they pass the ball well but unfortunately for them they don't pose much of a threat up front. Meanwhile, the current campaign against Real Madrid coach Manuel Pellegrini is fascinating but also disappointing. I had a chat with Florentino Perez, the club's chairman, this week and his view is that this whole episode is simply people trying to make a name for themselves, especially in newspapers, by claiming Pellegrini's head. They can say 'we got rid of the last chairman, now we've got rid of the manager'. Also, what's happening with Kaka? We saw the way he celebrated against Villarreal and I think it's fair to say he is not happy! It appears as though he is putting himself under too much pressure psychologically. He takes things too seriously and doesn't seem to be enjoying himself as much as Ronaldo is.
I think there is a break in trust between Henry and Guardiola.
Guillem Balague
Quotes of the week
LIVE ON SKY SPORTS
Tenerife v Real Madrid
7.00pm, Sat, Sky Sports 4
Barcelona v Malaga
9.00pm, Sat, Sky Sports 4
Sevilla v Athletic Bilbao
6.00pm, Sun, Sky Sports HD3 & SS3
Atletico Madrid v Valencia
8.00pm, Sun, Sky Sports HD3 & SS3
Barcelona v Malaga
9.00pm, Sat, Sky Sports 4
It's interesting to follow the form of Malaga, who have lost just once in 14 games - that defeat coming at the hands of Real Madrid in January. Luck was on their side as they beat Espanyol 2-1 but that's the way football can go and overall they doing much more than was expected of them this season - and certainly more than I was expecting! The quality of Duda has been a key factor as has the fact that they signed 10 players from the lower sides, because it suggests that there is a great deal of love for the club even if they are not very well paid in comparison to their peers - they probably have the lowest average wage in the division. On the other hand with have Barcelona's stars and it will be interesting to see follow the fortunes of Ibrahimovic and Thierry Henry. It is fascinating how Henry has disappeared from the line up for three consecutive games and then appeared for 76 minutes against Racing. I think there is a break in trust between Henry and Guardiola; the manager is demanding more from his striker and I don't know whether Henry can't give it physically or mentally is focusing on other things like the World Cup. Whatever the reason, there is a huge difference between the Henry who has scored two goals this season and last year's when he netted 19 times in the league alone. I think this will be his last year at Barcelona.
Sevilla v Athletic Bilbao
6.00pm, Sun, Sky Sports HD3 & SS3
Despite the fantastic season that Manolo Jimenez is having - his side is still alive in three competitions - the rumour is that Mallorca's Gregorio Manzano will be given his job next season. Mostly, it seems, that's because fans don't want Jimenez there - they just don't like him. They think that he is too conservative, hasn't achieved enough with the squad that he has got - but the fact is that he hasn't chosen all of the players and he is restricted by a lack of creative midfielders. That's not his fault! Some of the decisions that he took at the weekend when his team was playing with 10-men against Mallorca, such as taking off a defensive midfielder and putting on a striker in Luis Fabiano, suggest that this situation is more about what people want to believe than what is inside his tactical head.
Atletico Madrid v Valencia
8.00pm, Sun, Sky Sports HD3 & SS3
Atletico Madrid remain a 'Jekyll and Hyde side'; they lost to Almeria after beating Barcelona, in part because of tiredness and some wrong choices by Quique Sanchez Flores who didn't rotate the squad as much as he should have. The key for Atletico has been the form of Tiago, Quique's insistence that the team returns to basics and cut down on the number of mistakes they were making. This should be a fascinating game because Valencia have players returning to form like Juan Mata and Éver Banega, who is having a great season and should take the place of Gago in central midfield for Argentina.
Guillem answers your questions...
Got a question for Guillem? Then send it in here or use the feedback form below, and then look out for his answer next week.
ROOM FOR RIBERY?
Hello Guillem! Is the agreement between Real Madrid and Bayern still in place regarding Ribery? Now that Real have found a balanced system with 3 forwards (Cristiano and Kaka being two of them) there surely is no place in the team for Ribery (unless of course he and Cristiano could form some kind of modern, new age partnership upfront with Kaka playing behind them or if they would have a new manager... ) Bill Newton
GUILLEM SAYS: Ribery does have a place in the line-up because he will be the only specialist on the wing: he can play on the right and on the left. Certainly he will be a regular because Real Madrid's problem is that they don't have natural width; the width has to be found instead by the players where they can. Ribery can ease that problem. If there is an agreement it will be between the player and Real Madrid, not the clubs. Negotiations have not started yet.
SERG IN INTEREST
Hello big fan of yours. Wondered if Sergio Aguero would be on the move to Chelsea? Is their any chance of that happening? Dan Tank
GUILLEM SAYS: Chelsea made a very small offer of about 16m GBP and Atletico Madrid want about 50m Euros. That's not going to happen because Chelsea don't want to spend that amount of money on him. Atletico Madrid are not in a rush to sell him anyway. They want to build a team around him and youngsters such as David de Gea the goalkeeper, Ibrahima, Borja Gonzalez etc
NOT RON THE MOVE
Hi, Forget all the talk about Benzema. What about Ronaldo coming back to United? He seems to really miss Manchester and the Club, the players, the manager. But will Fergie take him back, now that Rooney has found his ideal position and moving forward the team will be shaped around him. Can Ronaldo fit in as a pure winger like Valencia or Park or even Nani? Do you see it happening in the future? Joe Cardoza
GUILLEM SAYS: I've got two words for you Joe - no chance! I don't see him returning to Manchester United. He was outstanding against Villarreal and is growing as a player but he is also happy because he hasn't got the same restrictions on him that he had as a player at Manchester United. He does whatever he likes at Real. He can play as a second forward and that seems to make him happy.
Comments (22)
Aaron Pierce (Real Madrid fan) says...
Hello Guillem, Real Madrid recently secured the signing of the young Racing Santander Starlet Sergio Canales. I was wondering if you think he truly has the potential to be a future superstar and do you think he will have a place in the team next season? Also, do you think the youngsters form this season could possibly warrant a call up to Del Bosque's Spain squad for the World Cup? Best wishes!
Posted 03:37 1st March 2010
Michael Kelly (Aston Villa fan) says...
Hi Guillem, love the column. My question is, are Real Madrid looking to sign any defenders in the summer transfer window. They have great players offensively but against top sides their defence can be exposed by counter attacking football. Maybe Rio Ferdinand, Ashley Cole or a John Terry are the type of players they need to try sign instead of more attacking players like Franck Ribery, David Silva and David Villa.
Posted 21:46 28th February 2010
Shane Farrington (Manchester United fan) says...
Hi Guillem, Really enjoying Sky's fantastic coverage of La Liga this season! What I wanted to know was Manchester continue to be linked with Valencia's two David's - Silva and Villa, do you think their is a realistic chance that either or both of them may move to Old Trafford in the summer? I remember reading a piece on your website a while back that Silva's representatives had received two offers for the player, with Valencia believing one of those was from United. Firstly does the offer still stand and has their been any developments? Also do think Villa's will get to put in practise his recently taken English lessons next season? Thanks again in advance. Shane Farrington. Tadworth.
Posted 21:06 28th February 2010
Vikas Shashidhar (Real Madrid fan) says...
Hello Guillem!!! A big fan of you. Do you think Ronaldo will stay at Real Madrid for the whole of his career? Because, he said that he had ambitions to become the best player in history. So, he is possibly at the right place. Or will he want to try his luck and play in Italy for different challenges? Thank you!
Posted 11:26 27th February 2010
Tom Pottle (Middlesbrough fan) says...
Hi Guillem, another great column as usual, can't wait to see how the Spanish season unfolds. I was just wondering, with the whole John Yerry/Wayne Bridge situation that is ongoing, which has ultimately seen Bridge make himself unavailable for the World Cup, is there/has there ever been such a situation with the Spanish National Team? Thanks a lot, Tom Pottle, Ipswich
Posted 13:33 26th February 2010
David Fullam (Liverpool fan) says...
Hi guillem All the talk is about real madrid sacking their manager. I think it would be a crazy move because he is a great manager and he is building a good team. If they sacked him what manager would want the job. I know perez is a big fan of wenger but he would never come to madrid. I heard you saying in revista that perez dosent want mourinho. Do you think ancelotti would move to madrid? Thanks David
Posted 10:03 26th February 2010
Thomas M (Manchester United fan) says...
What type of restrictions did Ronaldo have at Manchester United? Considering he had a free role where he could roam all over the pitch. Slightly more importantly, how many houses does Fernando Torres have in Manchester ?
Posted 08:19 26th February 2010
C Tunde (Real Madrid fan) says...
Dear Guillem, what are the chances of seeing Villa, Ribery and De Rossi playing for Los Merengues? What are the chances of seeing them next season?
Posted 00:07 26th February 2010
John Chapman (Arsenal fan) says...
Hola Guillem! Would love to see Banega or Yaya at Arsenal but dont think they fit in with Wenger's mantra of saving money and concentrating on youth. As an Arsenal fan I was wondering if there are currently any central midfielders in La Liga who would fit into the Arsenal team without compromising the attractive football we play but would add strength and steel to the midfield? Also, do you think there is any chance of Henry returning?
Posted 20:50 25th February 2010
Shane Goggin (Manchester United fan) says...
Villa Situation!! Hey, What is happening with David Villa!All we heard last summer was Villa going to Madrid,then to Celsea and then to Man.United. Nobody can take anything away from him as he is an exceptional talent but with Valencia's on going financial crisis, where will he go?He was quoted as saying that he would join United over Chelsea, but are Liverpool totally out of the question? Where will he go??
Posted 20:06 25th February 2010
Paul Hunter (Liverpool fan) says...
Hi Guillem, i am a big Liverpool fan and i was wondering if you had any news or gossip regarding liverpool and the spaniards including of course Benitez and their futures? Have we been linked with anyone? Thanks
Posted 19:08 25th February 2010
William Scholl-hansen (Liverpool fan) says...
You mention Ever Banega. I previously read that Everton had an eye on him before the season. As a Liverpool supporter, how do you see him in this side? Thanks William
Posted 18:53 25th February 2010
Dan Tank (Chelsea fan) says...
Is it true that Chelsea want to sign Sergio Aguero in the summer rather than in the last transfer window. also could Ribery be on the move to Chelsea how highly are you rated these players to move to Chelsea? Dan Tank
Posted 16:52 25th February 2010
Duncan Geraldes (Liverpool fan) says...
Hello Guillem, I know you know Rafa Benitez, so I was wondering if you could tell us any more on the links with Javi Martinez and Liverpool? We were suposed to have been bidding for either him or Steven Defour after Xabi Alonso's sale to Real Madrid last summer, and although Aquilani has featured he has not been prefered in that position in the big games which would signal a lack of trust from Rafa for his new recruit. Javi is supposed to be a similar type of player to Alonso, so firstly - can you tell me please if there is any activity on this front, and secondly - would you reccomend signing Javi as a better replacement for Alonso? who has left a massive gap in the once world class Liverpool midfield. I look forward to your response! Thanks and Regards, Duncan.
Posted 16:12 25th February 2010
Shaun Thorpe (Rangers fan) says...
Hello Guillem, I'm a massive fan. My question is about something very basic Goalkicks. I noticed when watching spanish football that they often just pass it to the defenders unlike British football where they punt it upfield. Do you think this is just because spanish defenders are better technically than British defenders? Obviously this allows the team to keep possession and build from the back, i just cant see why teams like Man United and chelsea dont do this when they have such good defenders. Do you still think Sevilla have a chance to win the champions league? Negredo is looking better now that he seems settled and not feeling the pressure of his price tag. I see him as the 3rd striker behind Villa and Torres for the Spain team
Posted 16:05 25th February 2010
Joe Kelly (Manchester United fan) says...
Hi, I was just wondering about your views on Sergio Aguero. If he was to leave Athletico Madrid then where would be his likely destination? Also what are the chances of Benzema leaving Real Madrid in the summer?
Posted 15:34 25th February 2010
Red Devil (Manchester United fan) says...
Guillem i have just one question for you. Is villa coming to united or will he stay in spain??
Posted 15:25 25th February 2010
Scott Mcclymont (Manchester United fan) says...
Hi Guillem, With regards to Ronaldo coming back to United, I think this could happen after his contract has finished at RM. He's making all the right noises and isn't dismissing the idea of a return '1 day'. Remember, every player has a price and if he wants to come back to his home then, he'll come. The best league in the world is in England, he's even mentioned that himself, technically Spain is better but, for fans,atmosphere, banter and passion....the premiership is where it's at.
Posted 14:33 25th February 2010
John Behan (Manchester United fan) says...
Hello Guillem. I am a huge fan of La Liga, from the concept of how the way football should be played, to the drama that surrounds it off the field. The spanish national team at the moment is the best on the planet and the strength in depth within the squad is unbeleavble, This Summer could be a Big one for Manchester United in terms of transfers with a Creative midfielder Needed, I think personally a Spanish international would fit in Perfectly, just wondering is there any inclination as to a spanish international moving to old trafford this summer? And Also Why is Ronaldo all of a sudden talking about manchester a lot?
Posted 13:45 25th February 2010
Tommy Nolan (Manchester United fan) says...
Pellegrini will not be there for much longer,especially if they get knocked out by Lyon but that's unlikely & I wouldn't like to see them knocked too early,I want MAN UTD to knock them out..he is a proper manager which I think will be his downfall.Decisions are being made over his head and recent history proves that doesn't work & madrid are fickle which doesn't help matters.Madrid & Barca to win at the weekend.
Posted 13:23 25th February 2010