We're set for another week of cracking action in La Liga, so who better to look ahead to the four live games on Sky Sports than our Spanish football expert Guillem Balague.
If you've got a question for Guillem, send it in here.

Real Madrid v Sporting Gijon
Espanyol v Sevilla
Valencia v Almeria
Zaragoza v Barcelona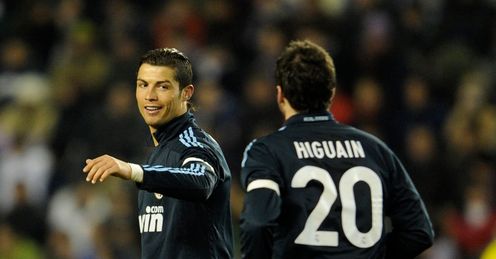 Real Madrid v Sporting Gijon
7pm, Sat, Sky Sports 4
There is a lot of talk about the interplay between Gonzalo Higuain and Cristiano Ronaldo, especially after Real's Champions League exit to Lyon where Ronaldo complained that the Argentinean wasn't passing him the ball. I think it was a bit unfair to put all the blame on Higuain but it's definitely a talking point.
Ronaldo believes that once he gets the ball he can do anything with it, while Higuain is trying to earn himself a new contract but isn't viewed as a 'Galactico', so he has to prove himself in every game and plays for himself a lot.
Guillem Balague
Quotes of the week
Even inside the dressing room they're two very egotistical players for different reasons. Ronaldo believes that once he gets the ball he can do anything with it, while Higuain is trying to earn himself a new contract but isn't viewed as a 'Galactico' by the board, so he has to prove himself in every game and plays for himself a lot. As a consequence I think Real Madrid will try to get rid of Higuain.
Espanyol v Sevilla
9pm, Sat, Sky Sports 4
What a great season it's been for Sevilla. Jose Manuel Jimenez is doing a great job there. At the same period he was at the club, Juande Ramos had already won five cups but I think Jimenez has had a tougher job, striving to make them a side that consistently competes for titles. And it's fantastic that he's been able to do so despite the large number of injuries and having play players out of position.
Valencia v Almeria
7pm, Sun, Sky Sports HD1 & SS1 (second half)
A big thumbs-up to Almeria manager Juan Manuel Lillo, who has proved that small clubs don't need to be overly physical in order to compete with the big guns. They are playing good football and have two pacy players in Pablo Piatti and Albert Crusat.
Credit must also go to Valencia coach Unay Emeri, who is currently top of the 'other league', the one without Real Madrid and Barcelona. Given the problems they have had this season and Emeri's inexperience, that's a real achievement.
Zaragoza v Barcelona
8.00pm, Sun, Sky Sports HD1 & SS1
Jermaine Pennant looks set to rejoin the Zaragoza squad after being excluded for a couple of weeks due to disciplinary reasons. I just wish that he would show more ambition. Zaragoza have signed two players who can play in his position and he should be going all out to show what he's capable of. He can cross the ball, is pacy and adds width to the side, something that Zaragoza don't possess on the right wing when he's unavailable.
Barcelona have problems of their own. They aren't moving the ball as quickly as they used to and they don't recover it as quickly either. The goals from Henry and Ibrahimovic have dried up in recent weeks. Henry proved to be crucial against Valencia and he has got to continue that level of input until the end of the season. There are still plenty of areas of improvement for Barcelona, even though they could still potentially have their best ever season.
Guillem answers your questions...
Got a question for Guillem? Then send it in here or use the feedback form below, and then look out for his answer next week.
SULLEN STRIKER
Hi Guillem. I was wondering lately if Barcelona made a mistake in buying Ibrahimovic? He doesn't fit in with the team, I think Barcelona plays better without him, as seen against Valencia. Maybe he could play on the wing or something? Nothing is working for him for a couple of months now. I think Barcelona can't get anywhere if this mess continues (playing Ibra as a striker). As for another question, will Barca go on a buying spree this summer? Henry, Toure and maybe some other players will go away this summer. Defence is not doing very well, Vidic maybe the target (he denied any speculations). Jan Fink
GUILLEM REPLIES: It certainly doesn't seem to be working. He's scoring less goals that Eto'o and his body language suggests that he's not very happy at the moment. He's not very mobile and isn't providing Barcelona with what they need. His form has forced the manager to tweak their system a little.
But people should also remember that Eto'o is struggling at Inter. I think he has only scored around nine goals in all competitions this season. What Barca miss is the way Eto'o would aggressively put defenders under pressure, which led to them losing possession in dangerous areas. That's something they no longer have.
I think Barca will try to buy two from the Valencia trio of Juan Manuel Mata, David Villa and David Silva. They'll probably try for Franck Ribery but he looks set to go to Real Madrid, and also Cesc Fabregas.
LACK OF SUPPORT
Hi Guillem. Been a long time fan of La Liga and frankly, I miss the days when Valencia and Deportivo actually were competitive enough to fight for titles. Anyways, my question today is about Getafe. They have been punching way above their weight for many years now. But I always seem to see the Coliseum half empty! I know their stadium is small and yet they can't seem to fill it. Why is this and given this low attendance how does the club manage to balance its books? Thanks. Shush, USA
GUILLEM REPLIES: Getafe are a side with a small fanbase. As their manager Míchel, said they are punching above their weight and shouldn't even be expecting a top-eight finish. They'll give it a try but it's above their means and expectations.
The secret of their success is their chairman, Ángel Torres Sánchez, who keeps getting in players on loan or from the 'B' sides of Atletico Madrid, Barcelona and Real Madrid. Most of these players are experienced of the top flight, while the younger players develop and are sold to balance the books. That's something that isn't going to change in the near future.
FAN POWER
Hi Guillem. Excellent column as always. With regards to the takeover situation at Man Utd, one possibility that has been aired is the idea of having a fan-run club like Barcelona. Do you think the scheme would work as well for Utd as it has for Barca? I think I speak for most Utd fans when I say surely it must be better than having the Glazers in charge! Ben Smith (Manchester Utd fan)
GUILLEM REPLIES: It's pure fantasy talk about Barcelona and Real Madrid being a supporter-run team. What you have is a club that is run by a chairman who gets voted in every four years - or in Barcelona's case every six years from this summer - and while the fans may have voted the chairman in they have no say on who is chosen on the board. That is down to the chairman.
I think what Manchester United want to do is become a co-operative, but I'm not sure whether that will work either.
Comments (48)
Baimaro Sesay (Manchester United fan) says...
Hi Guillem. My first question is do you think David Silva and David Villa will leave Valencia this Summer because problem my second question is do you think David Villa march the price tag of 30,000,000 millions pounds when you look at the age in to consideration
Posted 11:04 23rd March 2010
Kamran Abbasov (Arsenal fan) says...
Hi Guillem please answer this question what do you think the result will be of arsenel v barca at the emraites and of the overall tie please dont just say its hard can you please give me a score prediction. thank you
Posted 22:25 22nd March 2010
Dan Wayman (Tottenham Hotspur fan) says...
Hi Guillem. Was wonderiing what you think the chances are of Didier Drogba joining Barcelona. It seems as if he would fit in fantasticly. His hold up play is second to none and think whilst he might not score as many goals, he would give Messi far many more goals. Thanks
Posted 18:38 22nd March 2010
Craig Howard (Chelsea fan) says...
Hi Guillem, I was just wondering what you think about Kaka's first season at Real Madrid. For me it seems he is not happy at Madrid and yes he has been playing "ok" but no-where near his best. Do you think there is a chance that Madrid will let him go if Man City or Chelsea come knocking again with a huge amount of money? Or maybe even a deal that would bring him back to Milan maybe with Pato going the other way to Madrid. Kaka is a great player but i dont think its working for him in Madrid.
Posted 17:15 22nd March 2010
Chris Munro (Barcelona fan) says...
Hola Guillem. After watching Barcelona in the last week, i have noticed a big improvement in their attitudes in terms of the basic of last year's success, such as quick wing play and intense closing down. Do you think that Pep will continue if they win the liga/champs league double?. And do you think that maybe Barcelona will break Villa's heart again by opting to chase Torres if Liverpool don't finish top 4 to replace Henry in the summer?
Posted 13:06 22nd March 2010
John Ray (Barcelona fan) says...
Jide Fawunmi are you for real??? I wont even respond to your league one manager comment as its so ridiculous. Also why are you blaming Barca over the Fabregas press stories. Thats how football works. The press love these stories and some come from the clubs and others from the player/agent. Lol Barca are not going to make Fabregas move so dont be such a drama queen.........remember where you nicked Fabregas from before you start criticising our transfer policy you hypocrite......... I like Arsenal and Wenger and hope Arsenal win the league ........ I just had to respond to your ridiculous points.
Posted 12:43 22nd March 2010
Patrick Mutua (Arsenal fan) says...
Higuain is the perfect replacement for raul.
Posted 05:46 22nd March 2010
Sean Robinson (Manchester United fan) says...
Hey Guillem hope your well. I was just looking at stats here on skysports and was shocked by how many goals are scored in the Premiership compared to the Spanish league. With the large amount of goals scored and at least 3 teams competiting for top spot each season not to mention the attendence per year at our games I cant see how the Spanish league can be considered the best. Of course stats dont tell the full story but English teams have dominated the semi finals of the champions league in the last few seasons. I wonder how things would go if the top 4 from both leagues played a mini league. I'd predict Barca to be in the top three but the rest would be all English. PS Real Madrid are an embaressment on and off the pitch these days.
Posted 21:48 21st March 2010
Dex Sinclair (Barcelona fan) says...
Guillem, your comments regarding the fan ownership of FC Barcelona and Madrid seem to be a bit misguided. Yes it is true that the members can vote in the elections for the President, but when you vote, you also vote for who you believe will be placed in the board. Secondly, you need to remember that the President and the Board are accountable to the Socios, so that if the fans are unhappy a recall election can take place (as was seen in 2008, with Giralt at Barca). Also, 1000 members are randomly invited to the annual meeting where they can vote on issues, such as changes to the clubs statutes. To say that it is fantasy that the clubs (and in particular, FCB) is not run by the members is ridiculous, as you need to remember where ultimatley the power lies.
Posted 18:35 21st March 2010
Shane Farrington (Manchester United fan) says...
Hi Guillem, Great to see your team Espanyol get a great win at the weekend - albeit against a flagging Sevilla. I wanted to know whether you think either Ruben de la Red or Sergio Sanchez will return to play for their respective teams again anytime soon. Both would have surely been in contention for Spain's squad for this summer's World Cup. I heard Sanchez is set to undergo an opreation and de la Red had been turned down in his appeal to gain disabilty status - is this a step in the right direction. It would be great to see them playing again, particularly de la Red who I think is a top-class player. Thanks in advance, Shane Farrington, Tadworth.
Posted 16:56 21st March 2010
Mohamed Abdulrahman (Arsenal fan) says...
Hi Guillem My first question is do you think Espanoyl will survive because it really suprise me couple of years ago they were in UEFA cup final and now they fighting relagation even tho they are 15th on the table. My 2nd question is how good is pablo osvaldo and could he be the man to safe Espanoyl from relagation
Posted 21:59 20th March 2010
Albie Smith (Manchester United fan) says...
HI Guillem two things really you say ibahimovic is in bad form recently which i agree with but i think that given time he will settle into their style. He is a very versatile player that in time i think will complement the style and pace of barcelona even though he himself may lack pace. Also do you think there is any truth in the speculation of david silva/david villa moving to england in the summer?
Posted 18:14 20th March 2010
Kevin Powell (Portsmouth fan) says...
Hi Guillem, I just wanted to know what has happened to Vicente the Spanish left winger. He was a class act at Valencia and has seemed to have disappeared although he hasn't aged. At one stage he was one of Europes most feared players.
Posted 14:05 19th March 2010
Andy E (Arsenal fan) says...
HI Guillem, Is there any news on Juan Carlos Valeron? I remember watching him in 2001 and thinking that his taent was on par with Zidane. Surely on his best days he would've have gotten into the current Spanish side. Are his injury troubles over and will he be appearing much for Depor (or anywhere) this season?
Posted 10:37 19th March 2010
Bill Singh (Barcelona fan) says...
@ Jide Fawunmi (On Guardiola: "I felt even a league one coach could have achieved those successes too because of the qualilty of players in his team"..... Are you for real?? I already know that you don't watch La Liga regularly enough to know that Barcelona's playing style was not as fluid pre-Guardiola. To suggest a league 1 coach could come to Barcelona and win 6 trophies in a year is DAFT!!! There is a reason why league one managers can't perform in the championship, let alone the premier league and La Liga! Such a silly boy you are!
Posted 21:29 18th March 2010
Chris Hussein (Manchester United fan) says...
Guillem, you touched upon Mallorca's plight at the moment and how players and staff alike will have to leave so the club can refinance. Could you give any more details on this? What players are we likely to see leave/join and do you believe that Alemany would be unwilling to keep Manzano on despite what he's achieved because he's a higher earner?
Posted 17:39 18th March 2010
Mark Simpson (Dundee United fan) says...
"Hi Guillem, quick question, now that Real Madrid has been kicked out of the champions league has there been any team that has at least played in a champions league/european cup final on their home turf?" Roma played the 1984 European cup final in their home stadium against Liverpool and lost on Penalties. They got to the final by cheating their way past Dundee United in the semi final.
Posted 15:38 18th March 2010
Vignesh Jayabalan (Valencia fan) says...
is there is any possiblity for valencia to challenge again for the title as in 2004 and 2002. what they have to do to improve in your personnel opinion. very boring to see a two horse race
Posted 10:07 18th March 2010
Cazador Silva (Barcelona fan) says...
Hi Guillem. As always, you do a great job and are one of the main reasons for my interest in Spanish football. I think Barcelona made a huge mistake by purchasing/swapping Ibrahimovic and Eto'o. Eto'o seemed more versatile, capable of playing with his back to goal and from wide areas, in Barca's free-flowing system. Do you believe they should have retained Eto'o or maybe bought a more fluid attacker such as David Villa or Kun Aguero? Am I being unjustifiably impatient with the big Swede? Muchas gracias!
Posted 06:05 18th March 2010
Sam Dow (Valencia fan) says...
If Silva was to leave valencia i think he should go to real madrid as he is a team player where as if they were to buy ribery instead of him as ribery is a more direct player where as silva looks to find a pass i think real need because guti seems to be played less this season as he gives madrid lots of inspiration. People have been critisized about being to direct what do you think
Posted 22:55 17th March 2010