Sky Sports' Spanish football expert Guillem Balague looks at this week's live La Liga games.
If you've got a question for Guillem, send it to skysportsclub@bskyb.com.

Barcelona v Mallorca
Real Sociedad v Real Madrid
Atletico Madrid v Zaragoza
Malaga v Espanyol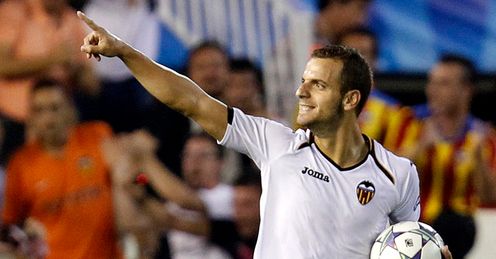 Barcelona v Mallorca
7pm, Sat, Sky Sports HD4
It's a great weekend on Sky Sports because we have Michael Laudrup and John Toshack joining us, which is very relevant because Barcelona play Mallorca and Real Sociedad play Real Madrid!
Mallorca have changed under Joaquín Caparrós. The team cares less about the ball and they focus on trying not to concede goals. With those tactics there will be games that they manage to win, but because they don't have control of matches things can go either way for them now.
Obviously the situation with Laudrup was absolutely impossible because chairman Jaume Cladera was undermining him and his team. Laudrup has been mentioned as a possibility for the Villarreal job, but I think that as part of his Mallorca contract he cannot sign for another La Liga team this season. I will ask him about that.
Barcelona look tired and always have a spell in October when they drop points. Against Granada they didn't get in the box often enough or distribute the ball quickly enough and that's a sign of tiredness. In a way it's a good time to play them.
Real Sociedad v Real Madrid
9pm, Sat, Sky Sports HD4
There have been doubts about the future of Real Sociedad coach Philippe Montanier because of the lack of character in the team, especially when they play away. They took the lead against Levante and eventually lost to an injury-time goal and if they'd won that game it could have been a different story.
Cristiano Ronaldo is still scoring goals for Real Madrid, but he is playing more for the team with Angel di María still his best goal assistor. The problems that were in the side against Levante and Racing are disappearing, partly because of results and partly because of the attitude of Jose Mourinho, who has cheered up quite a lot and his players appreciate that. I still think Real Madrid are better than last season and Barcelona will have great difficulty overcoming them in the league. It's going to be a fantastic title race I think.
Atletico Madrid v Zaragoza
7pm, Sun, Sky Sports HD1
Atletico Madrid started playing the ball and building from the back, but then they became very plain, very conservative and not effective enough. Falcao looks very lost in the box and when he comes out of the area he looks like a bit of a mediocre player. He needs to improve his distribution skills and take on a role as more than just a striker, by coming out of the box and linking up with his team-mates.
Malaga v Espanyol
9pm, Sun, Sky Sports HD1
This is a great game to finish the weekend. Espanyol had enjoyed three victories going into Thursday's game with Real Betis and they have the kind of team that will always have chances to score, thanks largely to the in-form Sergio Garcia and Romaric, who is playing behind the strikers in a 4-2-3-1 formation. He adds steel to the midfield, but also ability. They are also improving at the other end having kept several clean sheets lately.
Malaga are so weak at the back that they cannot yet compete at the highest level. Against Real Madrid it was more about enforcing a style rather than beating them; it was about Manuel Pellegrini saying "if you keep playing this way it will eventually bear fruit". Espanyol is the sort of game they should win if they want to finish in the top six and if they don't it could be a disappointing season for them.
Guillem answers your questions...
Got a question for Guillem? Then send it in here or use the feedback form below, and then look out for his answer next week.
SOLD TO THE HIGHEST BIDDER?
Hi Guillem, Great column as always! I am a Spurs fan and have read this week that we are chasing Valencia striker Roberto Soldado. I happen to think he is a fantastic striker, is there any truth in these rumours? And if so how do you think he would fare in the Premier League? Keep up the good work! James (Spurs fan)
GUILLEM SAYS: He is a fantastic striker and he has in his mind that he wants to play at the European Championships, even though Spain played their last game against Scotland without a traditional striker, a tactic they are going to use more often. I think it will be three out of Fernando Torres, Fernando Llorente, Alvaro Negredo and Soldado to go in that squad.
I see Valencia still needing to sell players, it's part of their tragedy as a club that they've got so many debts. I also see players becoming unhappy about the demands of the fans, who question their integrity and the way they approach games. This is a club that every year has to regenerate its squad and all in all, it would be interesting to have the opportunity to go to Spurs and earn more money and play in the Premier League. However, so far there has been no contact with Valencia about Soldado and it is all rumours.
VALUE OF FORMER REDS
Hi Guillem, I'm a big Liverpool fan. Do you think that Javier Mascherano and Xabi Alonso mean more to their respective teams now than they did to Liverpool? How do you think Barca and Real would be doing if they didn't leave Liverpool at all? Emlyn
GUILLEM SAYS: In a way Mascherano is lucky because he's being used more as a centre-back than a central midfielder. It looks like Pep Guardiola doesn't trust some of the younger centre-backs, so hasn't brought them in and is using Mascherano there. I think he was more important at Liverpool because Barcelona can do without him; in their perfect XI it would be Carles Puyol and Gerard Pique at centre-back and Sergio Busquets in midfield.
I think Xabi Alonso was just as important to both Liverpool and Real Madrid, but he wouldn't be as good if he hadn't been at Anfield. How do I think Barca and Real would be doing if they didn't leave Liverpool? In the case of Mascherano, Barcelona would still be doing well, but Real would really struggle because Alonso is the only player they haven't got a replacement for while they're waiting for Nuri Sahin to come back from injury.
SPANISH PLAN FOR VAN?
Hi Guillem, love the column. My question regards Robin van Persie and his refusal to sign a new contract at Arsenal. With his contract running out at the end of next season, there is likely going to be a lot of interest for him and he is simply a player we can't afford to lose. Do you think there is a chance of Barcelona or Real Madrid trying to sign him come the end of the season?
Bryan Wilson
GUILLEM SAYS: I've been told that even though Van Persie may question whether or not he should stay, he and his family are very settled in London. I think it's more likely he will stay and renew his contract and I don't see Barcelona and Real Madrid going after him. I don't believe that's the case.
BEATING THE BEST
Barcelona is a great team. I am however surprised that every team gives them so much space. I would mark everyone and I mean everyone, man to man, within half-a-metre, not the 5+ yards they are conceding when playing zonal. Playing man to man at worst Barcelona would have to run just as much, whereas now the opposition does all the chasing. At present, one can observe that Barcelona always have more than one option to pass to a free player with acres of space, no wonder they have time to pick the opposition apart. Barcelona's individual players are technically very strong, but, when someone is continuously breathing down your neck, you don't have as much time or the space to produce your magic and hence more mistakes. I have never seen any team marking Barcelona man to man. To me, this strategy would give most teams a much higher percentage of success. Right now, most teams have a 10% chance of success, at best! What do you think? Jose Lourenco (Chelsea)
GUILLEM SAYS: Try it in the park. Find five players who can play one-twos and try to follow them, one-to-one by man-marking them. You would go crazy. Also, you would be taken wherever your opponent wants to take you, so if they want to play on the left-hand side you also have to be on the left hand side. How do you stop one of the attackers breaking the lines and ending up in a huge space elsewhere on the field? There's no way that is a good solution and that's why it hasn't been tried. The technical ability of Barcelona and their sense of positioning makes it absolutely impossible to follow them, even if you had the best athletes. Following the man constantly would be so tiring that Barcelona would destroy you.
Do you agree with Guillem's views? Have your say and send in your questions using the comments box below...
Comments (11)
Ebrahim Hassan (Manchester United fan) says...
Hi Guillem,i have been a lifelong Man Utd fan and i have only started reading your columns and i have to say you sure do know your stuff about spanish football...I have 1 question to ask you and that is about the several rumours surrounding Javier mascherano from barcelona and javi martinez from villarreal respectively? There a several Newspaper reports here in the uk and spain that they are both rumoured to be on their way out of spain and heading towards the red side of manchester for a change? Can you please try and get back to me ASAP for your view on this and maybe more of an idea to if this is true...Thanks Guillem (Manchester United Fan)
Posted 19:25 30th October 2011
Lorna Watters (Arsenal fan) says...
Would a World XI featuring none of the current Barcelona squad be better than the current Barcelona best XI?
Posted 14:34 30th October 2011
Graham Williams (Manchester United fan) says...
I have just started watching La Liga and to be honest it is not half as exciting as the Premier League. I have only watched the Barcelona and Real Madrid games but the other teams are light years behind them. They need to distribute the TV money more evenly otherwise your going to have a two horse race every season with the gap between the second and third team becoming greater every season. For the good of La Liga they need to change it, seriously its quite boring to watch.
Posted 14:14 30th October 2011
Joy Kinnear (Celtic fan) says...
Hi Guillem, I'm a Celtic fan, and ever since the friendly in March I've been trying to keep up with Athletic Bilbao. I was just wondering: Is the interest from Tottenham in Ander Herrera just talk, or is he an actual legitimate target? I heard somewhere else that Bilbao were asking for upwards of ¿17m for him. Is that a realistic price-tag for a player that was at one of the poorest sides in the La Liga this time last season? Also, if he doesn't leave, do you think that in a few years he could be a very valuable player for Athletic?
Posted 12:16 30th October 2011
David Moore (Newcastle United fan) says...
Hi Guillem, insightful column as always! I do however slightly disagree with your comments on the man-marking strategy, i've never really seen Busquests or Xavi pop up left or right midfield. i would favour a 3-5-2 formation as i think its imperative that teams are not outnumbered in midfield, and i think the two defensive midfield players can easily slot in 2 the gaps between cnetre half and fullback.i Don't think there's mucch point man-marking their front three however, they'd rip anyone apart, so i'd put pressure on tthe supply line. Messi looks less brilliant whhen he's forced to operate in the central partt of the pitch, a la argentina. It would certainly require much athletic ability to keep tabs on a wanderin iniesta and messi, but i think the defensive side of Barcelona lacks pace. Theo Walcott was a fast direct threat, something to which their fullbacks don't see everyday, and it seems that they don't look half as good defending as attacking. I personally think, having seen Puyol in the flesh a couple of times, the guy is a walking nightmare, and with him and Piquee playing alongside each other, teams always seem to get a chance. Though it was a completely different gaame, i seem to remember Arjen Robben walking through some powderpuff tackles and being through on goal in the World Cup Final., and even Derdiyok 4 Switzerland hitting the post. Teams need to play higher up the pitch andd force Xavi and Busquets backwards, annd play in between them and Barca's back four, or as it seems to be nowadays, 2.
Posted 02:09 30th October 2011
Shane Farrington (Manchester United fan) says...
Hi Guillem, How do you think Villareal will fare this season? They've started poorly, despite being unlucky to lose 2-1 to Manchester City, and face an uphill battle to climb the La Liga table as well as avoiding finishing bottom of their Champions League group. Also losing Giuseppe Rossi for six months looks to be a real blow. Is there any truth in reports linking them with looking for a new manager? Thanks in advance.
Posted 16:51 29th October 2011
Jack O'connor (Manchester United fan) says...
Do you tink Manchester United will get Wesley snijder?
Posted 11:59 28th October 2011
Nia M (Barcelona fan) says...
Hi Guillem love your column, is it true that Pep gave the players the hairdryer treatment after the Granada match? If not then he should have. They have been playing aweful latetly and is there something going on with Messi, coz he doesn't seem like himself? I also saw that Ramos was saying this would be the best time to play Barca but, surely wouldn't the result be more satisfying against a fully fit Barca? If they couldn't do it at the Super Copa maybe after a fifa break.
Posted 21:41 27th October 2011
Ashish Babu (Real Madrid fan) says...
Hi Guillem, Your analysis and indepth knowledge of Spanish football is great. Pls keep providing us with your insight into LaLiga. My question is around the attitude of players. As an example Im taking David Villa. I heard you mentioned once that he reused to take ica bath after matches when in Valencia, while he happily does that in Barcelona. I fail to understand this attitude. InValencia he grew. They gace fantastic platform for him to make a great name. Why he shown attitud then. Isnt it shameful? Isnt it a lack of respect for the club, fans and teammates. Are there many like this in football? If yes, shouldnt clubs make enough noise on these type of disrespect. Thanks
Posted 21:13 27th October 2011
Peter Tse (Barcelona fan) says...
I agree on the point which states that man-marking Barcelona is futile. The thing about Barcelona is that their intelligence as well as talent itself is off the charts. They have players like Messi, Xavi, Villa, Pedro, Dani Alves, Iniesta, Adriano, Afellay, Cesc who can easily beat a single marker with either speed or skill. The theory of man marking sounds good but what happens when a player gets beat? Another player comes and takes his place and then you have that open player. So far the best defensive strategy against Barcelona is to play a narrow 4-4-2 and congest the middle while being quite strict with the shape itself
Posted 20:32 27th October 2011
Paul Buttery (Nottingham Forest fan) says...
Hi Guillem Any news about the new stadium of Valencia CF. Can never find anything about it in the Spanish media or indeed on the club website?
Posted 17:32 27th October 2011