Sky Sports' Spanish football expert Guillem Balague looks at this week's live La Liga games.
If you've got a question for Guillem, send it to skysportsclub@bskyb.com.

Betis v Malaga
Real Sociedad v Real Madrid
Atletico Madrid v Zaragoza
Malaga v Espanyol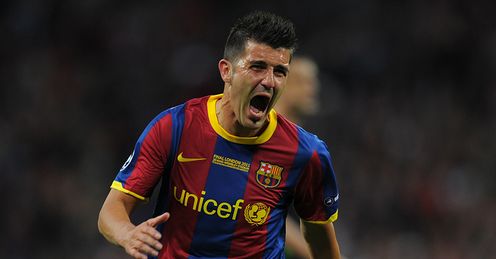 Betis v Malaga
7pm, Sat, Sky Sports HD1
Betis have had six defeats in a row going into the Andalucia derby and Malaga were very lucky to be given a penalty-that-wasn't in their victory over Espanyol. Malaga are still suffering despite a good half in that game; there's not enough movement off the ball, there's not enough width and if they were a piano then some of the keys would be out of tune.
Betis have gone from being brave and pressuring high up to being afraid and defending deep, which means they expose themselves. They're not scoring, which doesn't help, and although they have some moments of clarity and pass the ball around they need more sharpness up front to start getting points. But last season they suffered five consecutive losses at one stage and still ended up being promoted to La Liga so you have to have faith in Pepe Mel, which is what the club are doing.
Levante v Valencia
9pm, Sat, Sky Sports HD1
This is a local derby. Obviously Levante lost last weekend to Osasuna and Valencia should be able to take advantage of the manner of that defeat. If they fly out of the blocks full of aggression and pace down the wings, then they can stifle Levante and get the first goal. But if Levante score first, as a couple of managers have told me, it is very difficult to beat them because they defend so cleverly with numbers and they counter-attack very well. The players that go forward are very good on the ball, so they are able to do quick, accurate passing which allows them to get the ball up front within three or four touches. This will be one of the games of the weekend no doubt, and one to look forward to.
Athletic Bilbao v Barcelona
7pm, Sun, Sky Sports HD1
This will be a great game because Marcelo Bielsa has taken a couple of steps back in terms of what he wants to do with the team. He's mixed in more balls down the wings and crosses to Fernando Llorente, but the base of things is what he wants; keeping possession and dominating the game. He's not afraid of doing that against anybody, so let's see how it works against Barcelona.
Pep Guardiola and Bielsa have a history. When the Barcelona manager was on a break, travelling around he went to see Bielsa and considers him to be one of his gurus. Apparently they spoke for 11 consecutive hours over all kinds of drinks and he considers that one of the highlights of his time before he became a manager and he admires Bielsa a lot. He's had plenty of kind words to say, so this will be a great game to watch because we know Athletic Bilbao will be similar to Barca by pressuring high and trying to keep the ball. It should be a good test for them because San Mamés has been one of the most difficult stadiums to visit.
Getafe v Atletico Madrid
9pm, Sun, Sky Sports HD1
It's disappointing that Luis García hasn't been able to bring his personality and his aggressive approach to Getafe; they are still too soft. They play the ball well, but games escape them far too often and they need to improve on that.
Atletico Madrid, despite the good result in midweek, need to do something more spectacular in the league. They haven't scored in six of their games this season and Falcao seems like a little bit of a ghost up front. Diego is far too interested in making the last pass very spectacular instead of playing it simple. Adrian is scoring the goals for them, which is good news, but they need to improve their approach, control, passing and domination of the midfield in games. Gregorio Manzano is definitely under pressure from the board and the fans, who keep chanting for the return of Luis Aragones, who was of course a legend at the club.
Guillem answers your questions...
Got a question for Guillem? Then send it in here or use the feedback form below, and then look out for his answer next week.
VILLA NOT FOR SALE
Dear Guillem. David Villa seems a little bit out of his depth at Barcelona at the moment. He doesn't look particularly sharp right now and Pep Guardiola has had to defend him in his interviews, which seems to imply he's not doing very well. Do you know what's going on with him? I seem to remember you saying he could move to Liverpool, do you think he would be a good addition for them now? Robert Gillingham (Liverpool fan)
GUILLEM SAYS: I NEVER EVER said that Villa was going to Liverpool. I will buy you a free holiday to the Caribbean if you can prove I said that. This is a case of Chinese whispers because what I actually said was that he wasn't going to Liverpool, despite all the rumours. I was quite insistent on that and repeated that several times online, but somehow when I said he was not going to Liverpool, people seemed to think I was saying that he was - and I don't know why! He never ever had the chance to go to Liverpool. The closest he came was when Rafa Benitez had a list of strikers he was looking to bring in with Samuel Eto'o at the top, then Diego Forlan and Fernando Torres. Villa was on the list, but further down because Benitez didn't think he was going to be as good as the others for the type of football he wanted to play.
To answer your other point, it looks like the team is playing through Lionel Messi and everybody has got to think about passing to him and making him comfortable; Villa is suffering for that. When the team doesn't play the ball as cleverly or as quickly, he suffers, but I do think that in their last game they recovered some of that sharpness. I'm sure Villa will soon start getting the usual number of goals he scores for Barcelona and I wouldn't worry about him. He fills a very important goalscoring gap.
HERRERA, THERE AND EVERYWHERE
Hi Guillem, I'm a Celtic fan, and ever since the friendly in March I've been trying to keep up with Athletic Bilbao. I was just wondering: Is the interest from Tottenham in Ander Herrera just talk, or is he an actual legitimate target? I heard somewhere else that Bilbao were asking for upwards of £17m for him. Is that a realistic price-tag for a player that was at one of the poorest sides in the La Liga this time last season? Also, if he doesn't leave, do you think that in a few years he could be a very valuable player for Athletic? Joy Kinnear.
GUILLEM SAYS: I think this is another one of those Chinese whispers. I broke the story that Spurs were looking at Ander Herrera for months, in fact since January this year, even though the player and Real Zaragoza had announced the previous December that he had been sold to Athletic Bilbao to reduce their debts. Spurs kept going and reports were written about him, even though he had already been sold to Bilbao and was simply staying with Zaragoza until the end of the season. The scout that went to see him the last time was told that he had been sold - Spurs didn't realise! That's the story and they're not going to get him now because he's obviously just arrived at Athletic Bilbao and they are happy with him.
I think he's going to improve, he's just come back from an injury and is going to be a central midfielder for Athletic Bilbao and they need that kind of player to keep the ball. I think he'll be one of the sensations of the season when he gets rid of his injury problems.
GROUNDS FOR CONCERN
Hi Guillem, any news about the new stadium of Valencia CF. Can never find anything about it in the Spanish media or indeed on the club website? Paul Buttery.
GUILLEM SAYS: The work stopped in February 2009 after the club had invested €150million in the project. They need around the same again to finish the work. In their recent accounts they reduced their debt from €550 to around €340, which suggests they are on the right path, but they still haven't got the money to finalise the stadium. In fact, it's been on hold for more time than it took for them to build what they have so far. The stadium will take a year-and-a-half to finish, but work will not continue until they have the money - and that's not going to happen any time soon. It's sad to see because it looks magnificent.
This is why the job that Unai Emery is doing at Valencia is a little bit of a miracle because in order to reduce the debts they have had to reduce the value of the squad. They have been getting players that potentially can be very good players, but it's just potential and it doesn't always happen. Despite that, the team is still challenging, so well done Emery!
Do you agree with Guillem's views? Have your say and send in your questions using the comments box below...
Comments (11)
Darren Mccann (Barcelona fan) says...
Hi Guillem, just read about Sandro Rosell and that he proposes to make la liga a 16 team league. Is this a reality or just a way to get out of sharing the television rights equally? sounds good to me i love that germany have less teams and there league has the best stadiums, fans and organisation in the world i think, maybe not the talent yet but its coming. will this happen in spain? thanks Darn
Posted 07:50 8th November 2011
Peter Tse (Barcelona) (Barcelona fan) says...
What do you think is going to happen with Canales? He is currently injured for 6 months but recently there has been some paper-talk about Arsenal trying to sign him in the January window. Would it be possible for Madrid to sell him to Arsenal as Valencia do already have an option to buy him and more than likely will exercise the right to buy him. If Canales does leave where do you think Valencia will look to replace him? Do you think that Jonathan Dos Santos would be a good addition to the squad?
Posted 09:08 7th November 2011
Jose Calvo (Barcelona fan) says...
Hola Guillem, David Villa has received a lot of criticism lately as well as Pedro, but to a lesser extent. What are your views on his form. I think that Barcelona overdo it on possession, for example; I see Villa make at least 15 runs into open space with at least 30 yards between the opposing defence and goal and it is so frustrating to see players like Xavi, Iniesta and Busquets not bothering to go over the top. Is there any reason for it? Love your articles.
Posted 00:11 7th November 2011
Colin Zenyatta (Truro City fan) says...
good luck and all the best to spain when they face england and good look to swizland when the face england
Posted 22:55 6th November 2011
Stuart Moore (Manchester United fan) says...
Hi Guillem I'm a big follower of La Liga and am impressed with the foorts of some smaller sides this season. COuple of quick questions. If Bilbao were ever to sell Munain which La Liga side would benefit from him most and also where would he go in your opinion? FInally random one do you think Unai Emery will manage any other top club in Europe if he left Valencia? Many thanks
Posted 20:31 6th November 2011
Edward Blackwell (Bristol Rovers fan) says...
Dear Guillem. Fantastic article as always, you really give English viewers a great insight into football culture in Spain! My question is, in a week which as seen the multi billions of Man City perhaps shift the Premier Leagues footballing landscape forever, what are the chances of the new money clubs Malaga or Getafe doing a smilar thing in the coming years? Considering how Barca and Real's strangle hold over Spanish football is, and how the Middle Eastern backed clubs are starting from a further back position, how big a challenge do you think breaking into 'the big two' will be? Many thanks
Posted 20:27 6th November 2011
Rajesh Rajan (Arsenal fan) says...
Hi Guilleme, is there any truth in the sebastian granero to arsenal rumours? Thank you.
Posted 18:29 6th November 2011
Shane Farrington (Manchester United fan) says...
Hi Guillem, Following a fine start to the season which has seen him progress into Spain's line-up, Valencia's Jordi Alba has found himself linked with a big-money move to both Barcelona and Manchester United. I was wondering how strong the interest in him is by both of the clubs? Also do you know if the player has a preference for moving to either them? Thanks in advance.
Posted 10:17 6th November 2011
Chijioke Ochubili (Liverpool fan) says...
Pls,can U give me players in la liga seriously linked to Liverpool except llorente&pls is there a chance javi martinez&Iker Muniain of bilbao join liverpool.
Posted 15:57 5th November 2011
Ciaran Crook (Manchester United fan) says...
Hi Guillem, great work on all the articles! I think its great to get an honest opinion from somebody who knows Spanish football inside out such as yourself. My question is in relation to Real Madrid. So far this season they really look like a team who has what it takes to wrestle the La Liga crown away from Barcelona. Even in Europe they are playing exceptional football and look solid as a team. Do you think they finally have what it takes to overcome Barca's dominance in Spain and possibly Europe? Or will more internal drama get in their way? Also, what is your view on Kaka? In my opinion he seems to be finding himself again, but does he have a major part in Madrid's future or will he move elsewhere? I hear Chelsea have been looking at him a couple of times. Thank you for your time. Ciarán Crook.
Posted 02:43 5th November 2011
Jason Hill (Manchester United fan) says...
Hi guillem please can you tell me if man utd are interested in signing javi martinez,weve been linked with him on and off for quite a while and were linked again with a januray move for him,i'd just like to know if you think man utd will sign him. thanks
Posted 21:49 4th November 2011