Sky Sports' Spanish football expert Guillem Balague looks forward to this week's live La Liga games.
If you've got a question for Guillem, send it to skysportsclub@bskyb.com.

Real Madrid v Racing
Sevilla v Osasuna
Barcelona v Valencia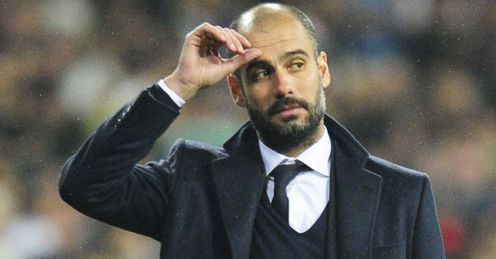 Real Madrid v Racing
6.55pm, Saturday, Sky Sports HD1
Racing are doing well under their new management. They know their limitations and the team seems a little more switched on - but it will be too much of a task to beat this amazing Real Madrid side. The most extraordinary stat - apart from the fact they could get over 100 points and break the goalscoring record - is despite Cristiano Ronaldo netting 27 goals in La Liga, if you took away his goals they would only have only dropped five points. The whole team is in great form.
Sevilla v Osasuna
9pm, Saturday, Sky Sports HD1
Michel lost his first game as Sevilla manger but he needs time. He is a man who knows where the weaknesses of teams are and he did very well with Getafe. Sevilla need to start almost from scratch and the fans need to demand a little bit less of the club. Hopefully then they can get back to the big team that they are. It is such a close league that three straight wins will put them up near the top and they could still get in the top six, if not the top four.
Barcelona v Valencia
8pm, Sunday, Sky Sports HD1
When Real Madrid lost 6-2 to Barcelona under Juande Ramos in 2009, they were then beaten in their next four games as well because they had nothing left to play for. I think the same could happen to Barcelona now that they are 10 points behind Madrid. They are still producing very good football at home so it will be difficult for Valencia, who haven't got many rewards at the Camp Nou under Unai Emery. However, Barcelona will probably drop more points away and Valencia could take advantage of that and fight for second place this season if they keep picking up points.
Guillem answers your questions...
Got a question for Guillem? Then send it in here or use the feedback form below, and then look out for his answer next week.
FROM SPAIN TO THE LANE?
Hi Guillem, It seems like Harry Redknapp will become the next England manager. Gossip in the newspapers says that a lot of managers are interested in the Spurs job, the most high profile being Jose Mourinho. Has there has been any news in Spain? Thanks, Savvas Araklitis (Tottenham fan)
GUILLEM SAYS: As we've reported on Revista, Jose Mourinho has gone from telling his friends that he definitely wants to leave Real Madrid to actually saying to the chairman that he definitely doesn't want to leave. He's playing a game and keeping his options open. Some say he will stay and try to win multiple leagues with Real and do well in the Champions League. Others say that if he could go to England he would and suggest that Spurs is a possibility, even though I think the ideology of the club clashes with the manager. He earns about 10million euros a year and Spurs won't pay that, and he will demand an investment in the squad which I'm not sure Spurs will match. I wouldn't put money on Mourinho going to Tottenham.
FOREIGN POLICY
Hi Guillem, What are your thoughts on the recent takeover of Malaga? Do you think La Liga is going in the same direction as the Premier League in terms of foreign investment in their football clubs? I think that clubs like Bilbao are great for the Spanish national team with their Basque-only policy, while foreign investment has been a disaster for the England national team as clubs look elsewhere rather than investing in English talent. For the moment, the majority of Spanish teams consist primarily of Spanish players, but do you think this will change in the coming years? Thanks, Iain Fenton (Valencia fan)
GUILLEM SAYS: A group of investors from Qatar thought it would be a good idea to invest in Malaga and they have done so, spending more than a 100million euros already. They are improving the club, both in terms of infrastructure and players, and are trying to win the confidence of everybody. The biggest business they wanted to get involved with is the Malaga Harbour, which I believe they now own. So the money they are spending on Malaga is peanuts compared to the Harbour and other business they may have. There are question marks, but there are big people involved in the project, like Manuel Pellegrini and Fernando Hierro, and you'd have thought they would have done their research. However, not many people are thinking of investing in Spain. Espanyol would be a huge opportunity, a club in Barcelona with one of the best quota of players around and with a great new stadium, but La Liga does not produce as much money as the Premier League, so there is no danger of a lot of foreign investment.
STRENGTH IN NUMBERS
Hi Guillem, You mentioned in last week's column that Barcelona were looking at AC Milan defender Thiago Silva. However, the Brazilian has said he would prefer to stay at the San Siro for now. If Barca cannot prise him away, which other centre-back do you think they will try to sign? Also, is Pep Guardiola planning to go on a big recruitment drive in the summer? Thanks, Jonathan Bruce (Southampton fan)
GUILLEM SAYS: Pep Guardiola has realised over the last few weeks that there is still a gap between the young players and the veterans, and that the veterans have lost a bit of a competitive edge and are a little less focussed in the smaller games. He knows he has to sign players. I've got the impression that Valencia's Jordi Alba will be the left-back for Barcelona next season. They also need a centre-back, though no more names have been mentioned apart from Thiago Silva, and probably a forward depending on the future of David Villa. There will be three or four new signings in the summer as Pep looks to form a bigger squad next season.
You can catch even more La Liga action this weekend on Sky Sports Xtra. Granada face Real Sociedad on Sunday morning, Sporting entertain Atletico Madrid later in the day, while Zaragoza host Betis on Monday evening. Click here for more details.
Comments (16)
John Ship (Barcelona fan) says...
I've watched every Barcelona game this season and was at the Camp Nou when they drew with Seville. Although they haven't been at their best, they have created enough chances and should have won every game they have played, including the 2-2 draw with Valencia. With a little more luck, better refereeing and better finishing by Messi of all people we wouldn't be discussing a Barcelona decline. As for Ronaldo, where would he be without all the soft panalties Madrid seem to get compared with Barcelona? Compare the penalty count!
Posted 16:27 21st February 2012
Jon Bassett (Valencia fan) says...
I refer to Junior Evans comments on Guillem's supposed bias towards Barcelona. Guillem has no allegiance or preference to Barcelona and I believe I am right in saying he is a faithful supporter of their arch rivals RCD Espanyol, I think Guillem as an expert on La Liga sees the great qualities that Pep and his team have and how they have undoubtedly become one if not the best club side of all time. I think credit where credit is due both Barcelona & Real have great sides this season and are led by great coaches but La Liga is far from a level playing field in terms of how money is distributed, for example FCB & RM share of the TV revenue is quadruple that of Valencia, Sevilla and Atletico and the gap becomes wider when you throw in teams like Granada, Rayo & Getafe etc. I love La Liga and the fight for 4th place looks like being the most exciting this season with Guillem's Espanyol right their in the mix with the likes of Athletic, Atletico and even Levante who many tipped for relegation to the Segunda
Posted 09:09 21st February 2012
Chris Anthony (Chelsea fan) says...
I am a life long fan of Chelsea but in the past few seasons it is clear we have slipped. The choice that seems most likely, knowing Ambramovich, will be a new manager and after Drogba took the team talk on Saturday. And after you had answered Savvas' question about Spurs, do you reckon Mourhinio will come or another manager? Or will there be a revamp of the squad?
Posted 19:02 20th February 2012
Shane Farrington (Manchester United fan) says...
Hi Guillem, I was wondering what the chances are of seeing Athletic Bilabao trio Javi Martinez, Iker Munian and Fernado Llorente in the Premier League next season? All three have been heavily linked with a switch to one of the big English sides - can you reveal if any clubs have made enquiries regarding a big-money summer switch? Thanks again.
Posted 13:15 20th February 2012
Edward Mcgee (Chelsea fan) says...
Italy only have 2 automatic champs league places now its germany who have 3 and 1 qualifying with spain and england
Posted 19:16 19th February 2012
Joe Thomas (Manchester United fan) says...
What would you say if i told you i know there is a deal inplace for the summer for Cristiano Ronaldo to make a dramatic return to the Premier League alongside Jose.
Posted 13:46 19th February 2012
Joshua Pearce (Newcastle United fan) says...
Sanjay...If Barce finished 3rd they wouldn't have to qualify! (Another clueless football fan) Need to get your facts right! La Liga and Seria A have same places as the Premier League for Champions league due to them being ranked top 3 leagues in Europe so thats 3!!!! Automatic places one qualifier! And you are also forgetting saying Madrid will get distracted by Champions League...Well wont Barce? And who has the biggest squad with more depth in quality? Madrid! And who has a track record of previous seasons and this season of winning hard away games? Madrid! Mounrinho NEVER surrenders a 10 point lead!
Posted 15:13 18th February 2012
Shaun Douglas (Inverness Caledonian Thistle fan) says...
There is always a mention of the financial problems that spanish clubs have, however i notice that alot of them don't seem to shirt sponsers. Surely teams could make at least a few million a year by getting a sponser especially the ones playing in europe. Also do Valencia have more faith in Emery than before, with them doing so well in the league or has dropping out the champions league made them think about replacing him? His position always seems to be doubt there even though he is doing a great job with limited resources.
Posted 14:56 18th February 2012
Lutalo Bbosa dan (Real Madrid fan) says...
Let's try taking away Messi's goals for Barcelona this and see how they are fairing. I'm suprized that even after removing Ronald's goals, Real Madrid will still be 5 points ahead of Barcelona. There was a time when you used to point out that Real Madrid are over dependent on Ronald. How is the situation now? Any different? Lastly, do you think Real Madrid will have overtaken Barcelona as the best team in the world without ever beating them this season even if they lift the Spanish Championship and the Champions league?
Posted 15:55 17th February 2012
Dave Morrissey (Blackburn Rovers fan) says...
Junior Evans... please read the following and perhaps re-think your comments slightly.... I don't see an ounce of negativity towards Real there - do you??????????? "this amazing Real Madrid side. The most extraordinary stat - apart from the fact they could get over 100 points and break the goalscoring record - is despite Cristiano Ronaldo netting 27 goals in La Liga, if you took away his goals they would only have only dropped five points. The whole team is in great form."
Posted 14:09 17th February 2012
Sanjay Tayal (Barcelona fan) says...
Never in my dreams did i envisage a situation where i would have to find myself not in agreement with the general tone of your piece.Barca having given up on the title chase for one and Valencia fighting for the second spot are both far fetched shots for a variety of reasons...Third spot for barca will kill their next season...after Euro12 they will have to play qualifiers for CL ..a thought Barca can`t even entertain in their Dreams ...as for not getting to a situation like this please understand with two inherent assumptions Barca beating both Madid and Valencia...the gap between Barca &Valencia would be 11points..i don`t see Barca losing 11 points to Valencia Absolutely not.....As for an uninterested Barca losing a few matches as the Liga is already lost!!......NO...Real madrid can surrender a lead of 7 points as they have difficult away fixtures against the likes of Bilbao, Osasuna,Athletic,Villarreal and a home revenge tie for Valencia keeping in mind the corresponding away fixture...to top it all up all these matches would have Madrid fighting on the CL front as well.....It`s A LONG SHOT FOR Barcelona but a shot Allright!!!!!!
Posted 13:32 17th February 2012
Junior Evans (Manchester United fan) says...
The problem with your column is your obsession with Barcelona, pep and messi, Always trying to portray madrid, mourinho and ronaldo in bad light and worse that their counterparts which is not true in my opinion...As a sky expert its only professional to be objective !!!
Posted 06:01 17th February 2012
Ruairi Lavery (Barcelona fan) says...
Hi Guillem, I am just wondering what has happened to Barcelona in recent months. Last season they dominated the opposition both home and away, driving them straight to first place generally unchallenged. That being said, they are now ten points behind Real Madrid, and I can't understand why. Their squad is not quite as strong as Real Madrid's, but only eleven of those players can be on the pitch at once, and they still have Messi, Xavi, Iniesta and now Fabregas. As seen at Real Madrid and Bayer Leverkusen, they still have the potential to beat teams comfortably away from home, so why don't they on a weekly basis? Where is their weakness? Is it injuries, or just complacency? Thanks.
Posted 23:27 16th February 2012
Matthew Jones (Liverpool fan) says...
Hi Guillem, im a Liverpool fan but im highly intrested in Malaga and there new owners. Do you think there's any chance Malaga could push for a Top 4 Place in La Liga next season now they have all this money to spend?
Posted 18:01 16th February 2012
Raj . (Liverpool fan) says...
Hi Guillem, i was wondering why Rafa Benitez wasn't offered the Aston Villa job? I think he would have got their team playing much better football & would have helped attract better players.
Posted 15:21 16th February 2012
Owen P (Chelsea fan) says...
Hi Guillem, I'd like to here your views on Fernando Torres. He has recently said that he has never felt better physically, but he still has not been getting many chances at goal. In my opinion, Chelsea have to copy Liverpool's 4-4-2 formation when Torres was playing as the only striker with Gerrard behind him. Torres needs space in front of him but when he plays with someone like Sturridge, it is obvious that there is less space for him to exploit. Torres would benefit from playing with Mata in behind with two wingers who will stay wide. This might mean reshaping the team, but it might also mean getting the best out of a 50 million pound player. What do you think?
Posted 14:34 16th February 2012