With Real Madrid's lead being cut to just four points, the race for the title is getting very exciting again.
Pep Guardiola said it was impossible for them to win the league and now everything has been turned round. It was a clever move by the Barca coach.
Firstly it took the pressure off his players and secondly it devalued Real Madrid's wins, because if your main rival throws the towel in then victory tastes less sweet. Also it puts pressure to Real Madrid who had a 10-point advantage.
Guillem answers your questions...
Got a question for Guillem? Then send it in here or use the feedback form below, and then look out for his answer next week.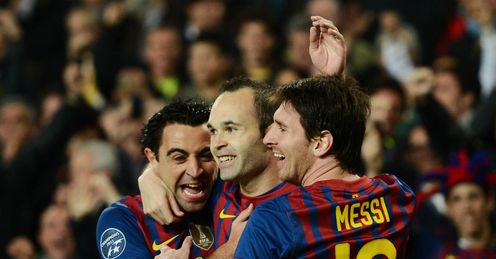 CHELSEA'S CHANCES
Hi Guillem, do Chelsea have any chance of beating Barcelona in the Champions League? Hassan Khan
GUILLEM SAYS: If it were just one game then Chelsea would have more of a chance. But over two matches it will be much harder. Also Barcelona are peaking, and despite the fact that everyone will say Barcelona have a poor defence, they are a very balanced team. It will be key for Chelsea to get a 0-0 in the first-leg, not conceding especially, and then try for more at the Camp Nou. But from what I have seen this season Chelsea are not strong enough to beat Barcelona. They may surprise me but I just haven't seen it yet. On the other hand Barcelona just seem to be on the way up.
They can sit deep but they would have to be lucky that in the 15 or so chances that Barcelona will create they won't score - which would be very risky.
Guillem Balague
Quotes of the week
Chelsea have options. They can pressure high up the field but then they have to be very physical but I don't think Chelsea have that in them. They can sit deep but they would have to be lucky that in the 15 or so chances that Barcelona will create they won't score - which would be very risky. And they have to be very clever in the way they attack. They have to have their fast players like Torres and Mata just waiting in the wings to try to expose the space behind the defenders. It can be done because Barcelona have lost twice this season, but they have only lost twice this season.
BEST EVER?
Hi Guillem, Gerry Armstrong mentioned that this Real Madrid squad is the best in the world, and one of the best - if not the best - in their history. Do you agree with these statements? Amit Mamtani
GUILLEM SAYS: If you look at the bench, it is a very strong squad. But I don't see a number two to Xabi Alonso and I don't see a third striker, although Cristiano Ronaldo is more and more a striker. Higuain and Benzema are definitely two of the best strikers in the world. At the back Verano is a good replacement as is Albiol, who played well at the weekend. But I just feel at times they lack plan B and they look very anxious. They need to improve upon gaining more possession to create that plan B. You can argue if it is their best but certainly the squad is better than Barcelona's. If we say Barcelona have the best team in the world, may be Real Madrid have the best squad in the world.
RAFA TO RETURN?
Hi Guillem, Is there any truth that Valencia manager could change their manager soon? And could Rafa Benitez be the next manager?Doug Paterson
GUILLEM SAYS: Rafa Benitez will not go to Valencia. Valencia are looking for a cheap manager because now it is all about reducing the debt. Although Manuel Llorente is a great president from that point of view, he is looking at the money and taking them to a new stadium. At the moment he has seen a few coaches, but if Emery wins the Europa leage, if Valencia finish third and if he reduces the wages, Llorente could ask him to continue but I doubt it. There is a lot of pressure from the fans and the players.
NEXT TO REIGN IN SPAIN?
Hi Guillem, Who do you think should replace Del Bosque as the national team manager - Benitez, Guardiola or a manager with less of a reputation?Jorge Satorre
GUILLEM SAYS: Rafa Benitez could replace Del Bosque, although it may be a bit early for that. Guardiola is very Catalan, too Catalan to be the Spanish national coach. He has said in the past that he played in Spain because there was not a Catalan national team. It will have to be a manager that respects the style and you can find a few of those in Spain. I imagine Del Bosque will stay until the next World Cup in which case there is no rush to replace him.
TELLO THE TRUTH?
I've been reading that Liverpool are interested in Cristian Tello and possibly Isaac Cuenca - do you think there is any chance either will move? Also do you know of any other Spanish players Liverpool may make moves for in the summer? James Graham
GUILLEM SAYS: I have followed Tello closely and there are many clubs interested in him. Barcelona have set up talks with his agent to discuss a new deal so it is very unlikely that he will go anywhere.
LAUDRUP TO ENGLAND
My main question is about your Revista friend Michael Laudrup, who is, along with Pep Guardiola, my idol in modern football management. Has he been contacted by any clubs to return to coaching for next season? And i would also like to know your opinion on the current crisis at Liverpool, and is it possible that Liverpool will make any moves towards David Villa or maybe some Bilbao players in the summer?Barry McFeely
GUILLEM SAYS: He is in contact with clubs and he is in the position to be able to choose which clubs he wants to go to. I think he would be interested in a Premier League team that has a project, defends good football and is based on a similar football philosophy.
Bad signings have cost Liverpool and the manager needs to offer new answers to the problems because far too often his selection is confusing. The players have been disappointing and sometimes it is very easy to hide behind a manager in crisis. But I thinks the club needs new young blood at all levels and if the club were brave enough to do that, with or without Kenny, the future can be bright. It can be done with Kenny, but then the manager will have to change some of his ways (in relation to the academy, tactical work, with the press) to get again everybody on board. Also they need to sign better - specially players with pace and a goal-scorer.
Comments (27)
Vik Deen (Manchester United fan) says...
couldn't agree with you more guillem, chelsea have very little chance if any. its a poor chelsea team even their fans will admit that. they were fortunate to get past benfica wo in truth well outpassed them (but for mata). with the ever tempremental luiz is the centre of defense there isn't even a solid enoug base to fall back on. over too legs i see barca winning by a margin of atleast 3 goals. as for Real again spot on all the pressure is on them and they have more difficult of the champions league draws. bayern munich outside of the spanish top to are probably the next best team in europe (prem league including). ribery, schweinsteiger, gomez, robben they have some of best players in the world and wud test most. if real lose the el classico thats a 1 point gap. i think madrid are capable, messi maybe the greatest, but what cristiano ronaldo is doing is incredible. they almost deserve to win the league based on his performances alone.
Posted 23:47 12th April 2012
Davinder Chagar (Aston Villa fan) says...
With the champions league semi final between Real Madrid and Bayern Munich do you think Real Madrid will win and progress to the final in munich?
Posted 20:51 12th April 2012
Sachin Patel (Arsenal fan) says...
Hi Guillem, Do you think that Jose Mourihno will look to sign a new right back as Sergio Ramos has now been converted to a central defender and Arbeloa is the only natural right back.
Posted 13:01 12th April 2012
Tom Fletcher (Liverpool fan) says...
hi guillem interesting article as usual.....i just wondered what your thoughts on comolli leaving liverpool are, to me it appears as though he has been blamed for alot of daglish's decisions. i believe the bad results have come from his tactics or decision making during games, for example using the straight 4-4-2 at home has enabled teams like norwich, swansea and wigan to come to anfiled and have more possession than us and for me not playing suarez up top with gerrard in the hole behind as used successfully with torres is a cardinal sin especially just to accomidate carroll and 2 old fashioned wingers in average downing and henderson. I was always told if it ain't broke don't fix it and in the 2nd half of last season we were fantastic utilising the 4-2-3-1 with the 3 attacking midfield interchanging and playing between the lines so i just wondered why he would change the system and players IE dropping maxi, kuyt and miereles (at home to sunderland) and cast aside aquilani who has been fantastic the past 2 seasons for juve and ac to accomidate british players?
Posted 12:12 12th April 2012
Solo Man (Chelsea fan) says...
Hi guillem, do you think torres will ever find his feet with chelsea??? can chelsea be able to finish their season on a high?
Posted 08:12 12th April 2012
Aspi Bilia (Arsenal fan) says...
hi Guillem, nice column. How would the Spanish league look without messi & Rolando? also if you took out their contribution this season, would the table change? My guess is it would..... Aspi
Posted 05:48 12th April 2012
Tavengwa Mutandara (Leicester City fan) says...
Hi Guillem, Do you think the FIFA fair play rules are a good idea? I watch a lot of world football but I hate to say this, it is only a few rich teams who win everything. Its not fair. In Spain Barcelona and Real Madrid fight for 1st and 2nd place and everyone else fights for third and fourth place; In Itally its Inter and AC; in England its ManU, now City,Chelsea and Arsenal. We need fair competition in football as is the case in business.
Posted 18:16 11th April 2012
Karl Rudd (Liverpool fan) says...
hi guillem why has nt it worked out for fernando torres at chealsea do you think he is feeling the same pressure as andy carroll at liverpool
Posted 17:31 11th April 2012
Tenzin Dukdrak (Chelsea fan) says...
actually Chelsea is one of my favorite team from EPL [ English prime league ] and Barcelona is team that maximum people can say champions team but in football no one knows what is going to happen so these , why i want to say that there is equal chance of wining semifinal match
Posted 13:44 11th April 2012
Andreas de brito Jonassen (Chelsea fan) says...
Guillem, what do you think about Thibaut Courtois? Does he have the skills to replace Petr Cech at Chelsea when the time comes? Should Chelsea loan Courtois out next season as well for him to get playing time or try to rotate between him and Cech?
Posted 12:07 11th April 2012
Sam Kwamanga (Liverpool fan) says...
Hi Guillem, I like your comments on Liverpool and wish that the club may actually make some footballing decisions for once, but it seems unlikely now that Kenny is a real legend at the club and adored by many fans. Anyway to my question, which team do you think will win in the champions league semifinals between Bayern and Madrid? Thanks.
Posted 12:03 11th April 2012
Daniel Davies (Liverpool fan) says...
Hi Guillem, I think this summer will be very intresting with the Euros and with the transfer window. What do you think the big transfers will be in La Liga this summer? I know you said Neymar is going to Barcelona which is obviously a massive transfer. Do you see any premier league players going to to Madrid or Barca?
Posted 11:47 11th April 2012
Ansah Daniel (Chelsea fan) says...
Pls sir, has micheal essien of chelsea fallen oup of place to mikel or, and is there a posibility that hn will be leaving chelsea
Posted 09:02 11th April 2012
Ybrah Desta (Chelsea fan) says...
@guillem, i now barcelona is the best team in the world and chelsea is the same as barca, but barcelona will no win to chelsea in the champions league b/c barcelona is more safer to win to chelsea in there before and so chelsea will win to barcelona~!
Posted 07:08 11th April 2012
629 629 (Real Madrid fan) says...
Guilleme, as usual, is correct. Barcelona are peaking and Real are looking very shaky recently. To be honest, if you can't win with a 10 point lead then you dont deserve to be champions! As for Chelsea in the CL beating Barca? No chance at all. Won't happen. And I do think that Jose has got it right in this respect... Look back dispassionately and see that when Barca are playing well they are left to play well and they look great. But when they are playing ordinary just look how many times they have a bit of luck when an opposition player sent off! Chelsea, Arsenal, Real Madrid... The list goes on and on. Lastly, and I hate to say it, but the only difference between Real Madrid and Barca is Messi. I think until he has run his course we will just have to accept that Barca will win everything! And is anyone else sick of the MESSIah complex that all commentators seem to have? Even games that have no Barca connection are hijacked by it. Theres no escape! But it'll end when Pep leaves Barca... I think they make each other look good and he wouldn't be anywhere near as sucessful at any other club. Prove me wrong Pep - win with another club like Mourinho has. Until then, like Alex Ferguson winning the league continuously in a one horse league, you will always be a Barca legend only. And what were Barca before Pep? Not much I'm afraid... Congratulations on the Liga and Champions League titles again my Catalan friends.
Posted 00:19 11th April 2012
Zachariah Mulicheti (Barcelona fan) says...
Barcelona as my favourite team no other team can display a such magical game in the world of soccer
Posted 00:13 11th April 2012
Albert Popoola (Chelsea fan) says...
I am die hard Chelsea fan who believes something vital is missing in the club and players. Do you think the Special One could go back to coach the blues? And will Torres raise the bar next season?
Posted 23:15 10th April 2012
Craig Walker (Manchester United fan) says...
do you think anyone can break the BARCA REAL dominace of the title.or will the league end up like the Scottish league.
Posted 19:46 10th April 2012
Adam Norman (Liverpool fan) says...
Do you think Liverpool youngster Suso, can make his way into the Spain team in the near future? Will he make career for himself at Liverpool or will he suit the Spanish league more?
Posted 17:44 10th April 2012
Jim Grayson (Liverpool fan) says...
Hi,guillem,big fan of your column and revista.After watching athletic bilbao in la liga and the europa league,they are an extremely talented team,i was wondering what you make of players ander herrera and oscar de marcos,they seem to me be of the same caliber as muniain and martinez but dont seem to get the same amount of attention for some reason.
Posted 17:39 10th April 2012