What happened in the Clasico on Saturday is a consequence of Jose Mourinho adjusting his side to play Barcelona, but also setting the team up to the liking of his players.
The victory was down to a mixture of those things. The first time he faced Barcelona as Real Madrid boss he told me that football was like a box of surprises; you just never know what's going to happen until it actually happens. They tried to play as the equals of their opponents and they lost 5-0.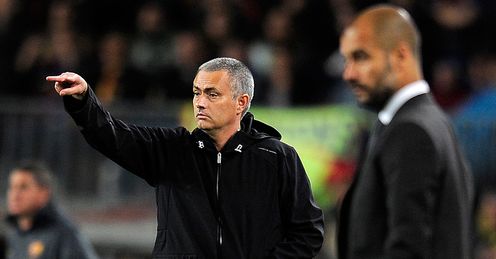 Since then he has tried to adjust his approach, but apart from the win in the Copa del Rey final, most of the games have finished as defeats and draws.
But then we saw a crucial pair of games in January in the quarter-finals of the Copa del Rey. He lost the first leg 1-2 at the Santiago Bernabeu and was whistled by the fans, partly because he used three defensive midfielders. Some of the players told him: 'We are Real Madrid, we should attack more, we shouldn't play like this.'
LIVE LA LIGA
Villarreal v Osasuna
9pm, Sat, Sky Sports 1 HD
Real Madrid v Sevilla
11am, Sun, Sky Sports 1 HD
Zaragoza v Athletic Bilbao
3pm, Sun, skysports.com
Malaga v Valencia
3pm, Sun, skysports.com
Betis v Atletico Madrid
6.45pm, Sun, Sky Sports 1 HD
Rayo v Barcelona
8.30pm, Sun, Sky Sports 1 HD
And so in the second leg he adopted a more offensive line-up and Barcelona were 2-0 up at half-time. There was a little bit of 'I told you so' from Mourinho.
But because the players felt a responsibility to make a point both to the manager and to everybody who had criticised them they fought back for a 2-2 draw that felt like a victory. From then on they really wanted to play Barcelona again because they felt the fear factor had disappeared.
The next game was this one and we saw a Real Madrid that knew exactly what they had to do. They didn't attack much, but they didn't need to, and they were 1-0 up at half-time. Mourinho told his players during the break that if Barcelona equalised then they should go and attack them - and they did. That's how they got the second goal.
Real Madrid felt in control of the situation and they felt comfortable. In a way it is easier to come from behind and beat a team that keeps beating you than to do what Barcelona are trying to do - and that's beat Real Madrid all the time.
If they meet in the Champions League Final, for instance, it will be interesting to see what both teams have learned from this Clasico.
Guillem answers your questions...
Got a question for Guillem? Then send it in here or use the feedback form below, and then look out for his answer next week.
DEPOSED AND EXPOSED
After Real Madrid's first goal on Saturday night, do you think they have exposed a major chink in the Barcelona armour or was that just a one-off? Should more teams try to bombard their box with corners and free-kicks? Carl (Chelsea fan)
GUILLEM SAYS: I think that Real Madrid have started to understand how to play against Barcelona and Pep Guardiola will need to reinvent the side somehow to beat a Madrid team that is very solid defensively and knows how to counter-attack. Barcelona need to find new weapons, but this brings us on to the next question...
A FAILED EXPERIMENT?
Dear Guillem. Looking at Pep Guardiola's team selection against Real Madrid, do you think he is placing more emphasis on the Champions League than winning La Liga? Do you think that is a dangerous tactic? Mark Pearson.
GUILLEM SAYS: He is completely prioritising the Champions League. Not only did he play Tello (who was probably the best forward) and Thiago alongside Busquets, but he also played a midfield that was like a square rather than a diamond shape and it didn't work. We also saw Dani Alves played as a right-winger rather than a full-back and these are the sorts of experiments you do when you doubt the side or when you want to surprise your rivals - and it didn't come off. He wouldn't do that in a Champions League game and I think you'll see the strongest team possible against Chelsea. I do believe it was a dangerous tactic.
CESC APPEAL
Hi Guillem my question is, is there a problem between Guardiola and Cesc? What I have seen is that even when he is needed he chooses not to play him. I watched a game with Barcelona and when Cesc was substituted he wasn't too pleased and Guardiola had a word in his ear and then pushed him away as if to say 'my decision is final'. Since then it looks like there may be a problem between them. What do you think? Derek O'Reilly (Liverpool fan)
GUILLEM SAYS: There are no problems. The only thing that Guardiola demanded - and did so very publically in the incident you mention - was for Cesc to score more goals. It was a joke, but it was also a very public statement saying: 'Come on, give me more goals'. There was no fight and Pep knows he is creating chances, getting into positions and learning the team tactics (Cesc still hasn't got Barcelona's positional play into his head, but he is trying to learn), but he needs more goals as well. He is the second best goalscorer in the team and if he doesn't score them then nobody else will because David Villa is injured. That's all he was trying to say, but there is absolutely no problem between them.
THE MIDDLE MAN
Great read as always. I have to say that you are the best pundit in world football. Messi and Ronaldo are undoubtedly the best players in the world at the moment but do you think Xavi will be remembered as the best midfielder of his generation? I have never seen the man lose the ball. Jamie Mcnair (Rangers fan)
GUILLEM SAYS: Thank you for the kind words. I certainly think Xavi will be remembered as the best midfielder of his generation because not only does he fit very well into the way that Barcelona plays, but it just so happens that Barcelona will be remembered as the team of this generation. He was played much further forward against Real Madrid and he can't play with his back to goal, which he sometimes had to do because of the position he was in. He's better when he starts from a deeper position and I'm sure that will be corrected. Also, did you know that on one occasion when he wasn't completely in love with football and the way things were going at Barcelona, he almost signed for Manchester United? That would have been interesting!
LOS CHE FOR AVB?
Hi Guillem, now that it appears that Emery is going to leave Valencia after a relatively successful period, who is likely to replace him? Would AVB be a good fit? One of his problems at Chelsea seemed to be that he had to ask a lot of older players/veterans to adapt to a new style of playing that they were uncomfortable with. However, Valencia have a younger squad so maybe this would not be such a problem so perhaps his methods would be more embraced and successful? Hoolio Borneo (Barcelona fan)
GUILLEM SAYS: I'm convinced that Andre Villas-Boas would be a great fit for Valencia, but I'm also convinced that he won't go to Valencia. I suppose he's got other plans and it's a shame because I think he's a very good coach. Chelsea is a difficult club and I would have liked to have seen him stay there until the end of the season, but it didn't happen. Obviously the players have reacted well under Roberto Di Matteo and good luck to him and to the players, but I still think Villas-Boas needs another chance at the highest level and I think he will get it - just not at Valencia.
Keep your questions coming in and don't forget to follow Guillem on Twitter: class='instorylink'>@GuillemBalague
Comments (10)
Mark Mcd (Celtic fan) says...
hi there given the failure to win la liga and the champions league, who are barca's main transfer targets, from what i saw they miss villa more than 1st expected
Posted 15:47 26th April 2012
Jon Bassett (Valencia fan) says...
Who Next For Los Che? Hi Guillem, I was wondering what your thoughts are on the potential successor to Unai Emery at Valencia. I hear lots of rumours and names being mentioned, the likes of Pochettino at your beloved Espanyol, AVB as mentioned on another comment, Didier Deschamps is another name I have seen banded around but over the last week I have started to hear rumours that the club are interested in talking to Miroslav Djukic who is currently doing a great job at Valladolid and has a great chance of achieving promotion to La Liga with them, I was over in Spain at the Betis game last weekend and spoke to several people who were very complimentary about the work he has done not only in Valladolid but also when managing Partizan, of course it also helps that he played around 5 seasons in Valencia and is fondly remembered by the Los Che faithful.
Posted 13:48 26th April 2012
Tom Swift (Liverpool fan) says...
Hi Guillem, after seeing how teams are defending against barcelona this season playing compact & willing to let them have posession down the wings I think fernando llorente would be a pefect signing because he would give them variety with his aerial ability that they dont have unlike when they tried with ibrahimovic who liked to come deep & be involved in build up play, with llorente up top teams would be less likely to let barca have possesion in the wide areas so much unopposed & defenders would get dragged out wide creating space in the central areas for messi & co, if i could pick 3 players to sign then it would be llorente, jordi alba & thiago silva not sure how much transfer funds are available for this summer but if they need to free up some funds through sales of keita if they sign silva then mascherano could play in midfield a bit more to close games out,also affelay could get some decent money & with tello & cuenca getting games they will only get better & this might sound a bit crazy but i'd consider selling david villa if they needed the funds for those 3 players i mentioned because before he got injured there was noises coming out that he wasnt entirely happy with playing wide but they have alexis sanchez & pedro will find his form again plus if they got llorente he would provide something differant & he wouldnt have much of a problem settling in to the style of play as he his a spain international & played with most of the barca team internationally, be good to hear what you think if you get the time. thanks
Posted 19:45 25th April 2012
Jay Graham (Liverpool fan) says...
Hi Guillem,Having watched barcelona against chelsea and real Madrid.I think it has exposed some great weaknesses in the team.For me it showed a lack of defensive solidity across the backline,the inability of this barcelona team to adapt to different challenges as they present themselves,also the lack of a pure goal poaching forward when balls are going into the box,I think barcelona need to buy a center back in the same mould of nemanja vidic and a striker like fernando Llorente who is comfortable with the ball at his feet as well as being a physical presence in the box,Just wondering what your views are on why barcelona havent performed to the standard they are known to and how these problems can be addressed?
Posted 14:45 25th April 2012
John Mchero (Manchester City fan) says...
Having seen their season fall apart in the last two games, do you now believe that the people calling this Barcelona team THE greatest of all time could have been a little hasty? Obviously with their success over the last few seasons they are still up there among the elite, but I believe the last two games have showed that they are maybe a little too reliant on one or two players form to be classed as the best of all time.
Posted 12:30 25th April 2012
Guillermo Valdez (Liverpool fan) says...
Hey Guillem, after the Barcelona's heavy defeat in La Liga and now their elimination from Champion's League, what is the mindset of Guardiola? Does he feel that his cycle is coming to an end or will he embrace the defeats as inspiration to make the team better next season?
Posted 04:06 25th April 2012
Lee Pritchard (Manchester United fan) says...
Any truth in roumers of man utd wanting to sign Iker Muniain, Javi Martinez or Oscar De Marcos??
Posted 02:54 25th April 2012
Luis Glassar (Real Madrid fan) says...
Hi Guillem, was just wondering if you have any idea of what's going to happen to Sergio Canales? will he stay at Valencia for another season as a loan or will Madrid sell him? I believe he could potentially be a world class player, but he's being having problems with injuries and fell out of favour with Mou, don't think if he comes back he'll knock Ozil out of the starting eleven......
Posted 13:19 24th April 2012
Andy Eyre (Manchester United fan) says...
Hi Guillem, great column as usual. Im a Man united fan, could you ellaborate on "did you know that on one occasion when he (Xavi) wasn't completely in love with football and the way things were going at Barcelona, he almost signed for Manchester United? That would have been interesting!"?? this is the first iv heard of it but try to keep my ear to the ground. when was this? im guessin it was around the time we signed Veron? 2001/2??what were the circumstances? why didnt it happen? wouldve LOVED that!!!!
Posted 12:01 24th April 2012
Jonny Symaka (Arsenal fan) says...
Hi Guillem. The gap between 2nd and 3rd in La Liga is currently 26 points; a massive margin. I would be interested in your opinion as to whether any of the teams currently challenging for the Champions League positions can close this large gap. Is La Liga destined to become a two-team dominated division akin to the SPL for the forseeable future?
Posted 11:51 24th April 2012