On Monday night, versus Croatia, we saw a Spain side inhibited by their own fears.
Playing with one eye on the result, facing possible elimination from the competition and knowing that a draw would suffice - they kept the ball well and were in control of the game, but lacked penetration.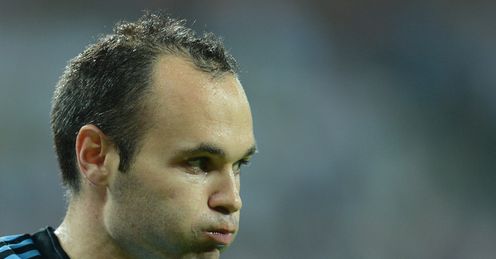 Clearly, Vicente del Bosque has, at least, a Plan A and a Plan B - which means that Spain can switch between playing with or without a recognised striker. However, either strategy can only successful with the right team selections to make it work.
There is a debate over whether Sergio Busquets and Xabi Alonso should both be on the pitch at the same time; or whether Alvaro Arbeloa should give way to a more attacking full back.
It is unfair to accuse the Spanish team of being 'boring' when there is another team on the pitch playing with 10 men behind the ball.
Guillem Balague
Quotes of the week
Engaging with British fans and English speakers via Twitter, it been interesting to see how non-Spanish fans want to see Spain win and win in a spectacular, impressive fashion every single game.
I'm looking at a comment right now telling me that "Spain are boring." In my opinion, it's fine for people to want to see teams playing great football; but do some people not realise that the lack of goalmouth action whenever the world champions take to the field is because opponents are setting themselves up not to get beaten?
Before anybody accuses me, or Spain, of complaining about another team's perfectly legitimate approach - let's make it absolutely clear that there is no complaint. Teams have every right to play how they wish and there is more than one way to play football. The Spanish way is right for Spain, but not necessarily the case for others.
But equally, it is unfair to accuse the Spanish team of being 'boring' when there is another team on the pitch playing with 10 men behind the ball.
I managed to chat to Niko Kranjcar after the match in Gdansk and the Croatian midfielder admitted to me that he felt a little sorry for the Spanish players because they "must be getting a little tired of teams playing against them as deep as we did tonight."
He obviously didn't envy the champions need to have to spend every game trying to break down opposing defences and appreciates how difficult it is to find openings and create chances when opponents only have one thing on their mind.
Don't get me wrong. Spain do have a responsibility to break down those opposition defences: but the 'boring' tag and expectations can be a little harsh, especially when you consider that this group of players are fatigued, and at this stage of the competition the priority is to secure qualification.
Restricted
Knowing that a draw would do, the combination of tiredness and a reluctance to gamble restricted Spain's penetration. And it's fair to see the weight of expectation that comes with being world champions is a burden that can inhibit at times.
Jesus Navas could be part of the solution to that problem in the next couple of games. His introduction on Monday night saw him create more of a threat in the attacking third than any of his team mates had managed and he was one of the few players who regularly frightened the Croatian defenders. Incidentally, Croatia can consider themselves a little unlucky not to have been awarded a couple of penalties.
If Spain ends up playing England in the quarter finals it will be billed as a clash of footballing philosophies - of the English versus the Spanish way. But I don't see it like that: rather a match between Hodgson's England versus Del Bosque's Spain.
Del Bosque's side do have their own style and philosophy, but they need to sharpen up - and away from the group stages, when only a win will do; this generation of Spanish stars have shown that when they have to, they can move up a gear or two when it really counts.
As far as England are concerned, I'm yet to see a clear definition of their style under Hodgson - at times they look part Italian, at other times pure English. They are certainly hard to beat and have got a lot of pace up front, which are two characteristics that can take you far.
I hope they do find their style though, because when the best of the English game is combined and brought to the forefront, England can cause problems for any team. I'm really hoping to see England play well against the Ukraine on Tuesday evening.
And if they end up as runners up in their group, let's look forward to the quarters!!
Guillem Balague's Euro Diary will become, along with added entries and interviews, an eBook at the end of the tournament.
For more info, check www.guillembalague.com
Comments (19)
Derin Ruban (Arsenal fan) says...
I think anybody who labels Spain boring is the same type of person that should NOT be part of England's youth football coaching setup. The last time I checked the aim of football was to score more goals than the opposition. You can only score while in possession of the ball. Therefore, despite Chelsea's antics in the CL, technical control and possession of the ball is definitely a skill worth mastering. If the opposition cannot get it back that is THEIR problem, not Spain's. That limits the opposition's chances of scoring because they don't have the ball! And, if Spain get to the penalty area and find the opposition have parked 8 players in there, mostly bigger in size and weight than their own players, why on Earth should the 'cross it'? I mean seriously, what good is that to them. So yes, they will KEEP the ball, pass it sideways, backwards, any direction to draw the opposition OUT of their own area, then, when the opposition is tired of hunting down a ball in perpetual motion, they will find the correct pass (because their players can do that) and whether he be a midfielder or a forward, somebody will invariably score. People are asking Spain to cross and shoot more. Seriously, how many times have we seen attacking teams caught on the counter attack because they shot or crossed and the ball broke to the opposition. It happens week in week out. I find Spain's arrogance, their self belief that they WILL score, a joy to watch. They don't get flustered, they don't abandon the plan, they don't hoof it long to the strikers (which striker?) when the clock starts ticking. I will only say that they should dump Busquets. He thinks he is a baller but he is not. And he is not a ball winner either. I think he's only in the team because he is a tall man amongst gifted short guys. And finally, If England had just won a WC and Euro cup playing Spain's way this article would never have been written.
Posted 14:33 22nd June 2012
Alex James (Manchester United fan) says...
Hi Guillem Please put Man united fan's minds at rest. Is there any truth in Thiago Alcantara moving away form Barcelona ? Thanks Alex
Posted 11:28 21st June 2012
Adrian Page (Charlton Athletic fan) says...
As crazy as it may sound to some of you Spain, like Barcelona, are heavily reliant on Andries Iniesta. The others are tidy on the ball, but lack that bit of penetration which he offers. Even Ferguson said that he was the main man for Barca which is a pretty high compliment given they have a certain Leo Messi on their ranks
Posted 10:55 21st June 2012
Lio Dos (Real Madrid fan) says...
Dear Balague, if spain opponents sit deep and put 10 men behind the ball it is precisely because spain is happy to just turn the ball around with a thousands passes before tryin to score. because of their boring infinite tiki taka aiming at 80% ball possession, because of spain's obsession to keep the ball first rather than trying to go for goal first.
Posted 04:26 21st June 2012
Joel H (Liverpool fan) says...
Although I agree with you Guillem that opposition teams do sit back against Spain and are more concerned with conceding than scoring (and this is no fault of Spain's) I still think they are very much guilty of trying to pass the ball in to the back of the net regardless of the opposition's tactical set up. Possession is fundamental in football, nobody disagrees with that as a basic principle of the game. But Spain never moderate their tactics regardless of how the opposition plays. If the opposition sits back and Spain continues to try and pass the ball into the net with very little variation in style, I think its fair to consider this to be boring. One can only watch a team keep possession and do very little with it for so long. To be fair it is a success, so fair play to Spain. However, as a neutral, I wish they would shake it up once in a while. A team that keeps possession so well does not need two holding midfielders and does not need to play with no forwards for the sake of overcrowding the midfield (because Spain really need this as a tactic to see more of the ball).
Posted 03:17 21st June 2012
Phil Muldoon (West Ham United fan) says...
If anyone thinks Spain are boring to watch, they should pity us that have endured the mind numbing negativity of England. If you suffer from insomnia, five mins of watching England will certainly put you to sleep!
Posted 19:24 20th June 2012
J S (Liverpool fan) says...
Here we go, Chelsea supportors talking aload of rubish about Spain. Its not Spain who are boring, when teams try and attack them, no one can cope with them. i liked to see any other team having to play against teams which, Spain have to most of the time with 11 behind the ball! Spain have allways played good football, the true fact is that only a few teams will try to play against them, and this is why games seem like this. And there is a reason they are so good, look at the first 11, and then look at their bench, there is no team like them! This is a product of good football when it comes down to Spain, from senior down to all levels, ie Under 21 etc ! No one can doubt this !
Posted 16:51 20th June 2012
J S (Liverpool fan) says...
Here we go, Chelsea supportors talking aload of rubish about Spain. Its not Spain who are boring, when teams try and attack them, no one can cope with them. i liked to see any other team having to play against teams which, Spain have to most of the time with 11 behind the ball! Spain have allways played good football, the true fact is that only a few teams will try to play against them, and this is why games seem like this. And there is a reason they are so good, look at the first 11, and then look at their bench, there is no team like them! This is a product of football when it comes to Spain, from senior down to all levels, ie Under 21 etc ! No one can doubt this !
Posted 16:50 20th June 2012
David Warwick (Newcastle United fan) says...
Definitly dont think spain are boring, they go out and play football with the ball, keep the ball, and work to get it back as quickly as possible, this is how the game should be played in my eyes. As you say, the teams they play are setting up to avoid defeat (similar to when teams play against Barcelona) and this makes for a game with less goalmouth action, however I still dont find it boring, I enjoy watching a team in so much control. I think most English fans find it boring as they have a lack of patience and think the game should be played at 100 miles per hour.
Posted 13:43 20th June 2012
Ben Killeen (Chelsea fan) says...
Spain and Barcelona are both extremely boring to watch, you can say all you like Guillem but in reality when was the last entralling game Spain played? The possession game is a slow paced game and im delighted no English team has adopted this strategy. Counter attacking football all the way.
Posted 13:18 20th June 2012
Will Rogers (Liverpool fan) says...
Spain need to start playing Martinez at cb to bring the ball out of defence with Ramos at centre back. Doing this means that Spain have some form of width down the right so Silva can cut in. There's no need for Busquets with Alonso in the side so he should be replaced for Spain to have Silva, Pedro/Navas and Torres!!
Posted 11:19 20th June 2012
Sunny Patel (Arsenal fan) says...
I'm an England fan so I wouldn't call anyone boring. But, what I would say is, as World and European Champions; Spain don't need to defend themselves against anyone. At present they are the team people will fear, prepare for, defend against and want to beat! On top of that they have a squad of players that all played a lot of football this season. Do what it takes to try defending your title, it is yours after all. If anyone else wants it, they can find a way to dethrone you. But I spend all season listening to Wenger complain about teams being too defensive; stop it! They'll do what they have to do, top teams need a Plan A, B and C to counter it. Oh, and swapping Fabregas for Torres but still playing the same is only really Plan A and Plan A and a half!
Posted 09:25 20th June 2012
Pietro Bonadio (Chelsea fan) says...
the only reason spain are any good is because blatter and platini have made football a non contact sport, they would not have lasted one minute against other teams in the past with their pathetic and boring tippy tappy namby pamby rubbish that that whole league produces.
Posted 18:37 19th June 2012
Dustin Duerson (Chelsea fan) says...
It doesn't help that everytime you look up, Iniesta is trying sometthing more fancy than functional, or booting the ball into a defender standing directly in front of him. He's in a funk... though it could be argued he's edging into the over-rated category
Posted 18:14 19th June 2012
Matthew Smyth says...
Have to say that, whilst I don't think Spain themselves are boring in their style, I find them boring to watch as, as is said above, teams tend to sit back against them, and quite rightly too. I have a lot of respect for Spain's style and ethos, but they do often try to do too much. Silva is far and away the worst for this. He always tries to either play a pass when he should shoot, or attempt a ridiculous pass when a simpler, more effective one is on. But Silva is a top class player, and so must play. Busquets, on the other hand, should be dropped in my opinion. He and Alonso play the same role, but Alonso is stronger technically and physically (he tends to STAY on his feet). I think Busquets should make way for the so far very impressive Fabregas, who can play in a more advanced midfield role behind the striker, with Xavi dropping deeper alongside Alonso. That would give the Spanish more guile and energy, the one thing that hasn't been quite as present for them this tournament than it has been in the last 3/4 years.
Posted 14:30 19th June 2012
Harvey Singh (Celtic fan) says...
Totally agree with you Guillem regarding Spain's opposition tactics. You need to keep possession and therefore cannot just ping crosses into the opponent goal area. Otherwise you expose yourself to counterattack which is what Croatia did and almost benefitted had it not been for the heroics of Casillas! The other aspect is Spain's response in getting the ball back when losing possession - this is what makes a team great, the ability to work with or without the ball. Hoping (and praying) La Roja make it 3 major titles in a row! Vamos a ganar!
Posted 14:07 19th June 2012
Sanjay Tayal (Barcelona fan) says...
Hard facts..Del Bosque will always use two defensive midfielders.National.defensive teams counterattack better than club teams..club teams have a higher obligation to please fans with their display whereas national sides only have to win...A lot of people started to equate Barca style and flair with the Spanish national team for no fault of theirs...Just imagine a situation if Keita and Busquets were to man Barca midfield together...Disaster for fluidity......only thing Del Bosque can do is to implement changes earllier around 60th minute than 65 while going for Forced plan 'B'...Del Bosque gave Barca A busquets 2.0 after the world cup...he stopped losing balls in the midfield which was a regular occurance earlier...this resulted in Barca being able to sell Toure Yaya and now he is saying Pedro can play LB!!Waiting for the discovery!!!
Posted 13:50 19th June 2012
Joe Garcia (Liverpool fan) says...
Just would like to say about Spain, when it counts and teams play a tough game against them, they still can win just one nil. So my point is that people say they have found a way to beat Spain, but in fact they have not when it counts, and yes not in friendlies when it does not count! They can also win like this when it counts and not playing pretty football. Same in the world cup, when at the knock at stage and all the way to the final they won 1 0. So I don¿t get why people are knocking Spain, when they win like this, and not by two, three or more goals. To be honest it just proves how good they are wining like this also, and I think people should make a point of this also. Plus so far they have done better in the group stage, then they did at the world cup, and in a much harder group also.
Posted 13:16 19th June 2012
Dale Taylor (Everton fan) says...
Yes they play great football, and its amazing how they keep possession so well. But to say that the lack of goal mouth action is due to the other team playing deep is ridiculous. Surely you can see that Spain could have crossed or passed into the box many many times last night. Instead, they simply pass the ball around the box back to the other corner. If they cannot cross or pass it in, they simply pass back around the box back to the other side. Also, whenever they get the ball in midfield or sometimes further up, they turn their back to goal and shield the ball. They can and should press faster. They easily play more backwards and sideways passes than forwards. Very obvious. But they have the ability to get forward and put pressure. And the Defence being so deep; is that not down to the fact that they keep the ball for so long and slowly push everyone back? Amazing team. But they should take more chances.
Posted 12:59 19th June 2012