Against France, Spain took one major decision that influenced the performance: having a striker like Torres added penetration to the team, but Vicente del Bosque, in the absence of David Villa let's not forget, decided to use Cesc as a false striker as he had done against Italy. Why?
The extra midfielder guarantees more control and circulation of the ball but it also created one of biggest football arguments to take place - not only in the public forum - but also within the Spanish camp. Del Bosque selected a formation that counted on players (that false striker but also midfielders) that, instead of waiting for the ball, will make runs to where the ball goes: something that is more difficult to defend.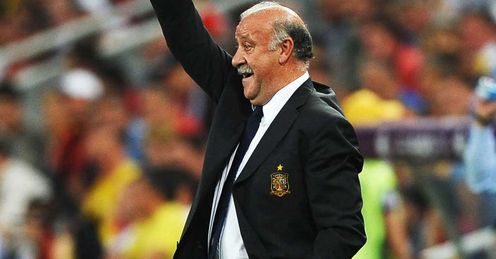 The first goal was the perfect example of what Spain is trying to do. Firstly, it means that Spain has scored more goals without a striker than with one - funny stat that one eh! Secondly it came from Iniesta leaving Cabaye stranded; playing a ball to the full back Jordi Alba (converted into a winger), who looks up and sees that Cesc, making the run of a striker, has taken the centre back and the left back with him - leaving space for Xabi Alonso to arrive and exploit, as Malouda had failed to track his run. It was 100th cap for Spain and after becoming part of another debate -should Busquets and he play together - that argument has now been put to bed.
Was it a tight game? It didn't feel like it for the neutral but for us Spaniards it was really tense.
Guillem Balague
Quotes of the week
The opening goal also represented another goal without playing with a striker. Can Spain do that more often? Of course they can and should, but after taking the lead at 1-0 and controlling the ball, it was down to France to attack and they couldn't.
By the way, Jordi alba is waiting to see what happens with his future. Barcelona and Valencia are negotiating a fee and Manchester United are keeping an eye on it. Barcelona are very much the favourites to sign him as they have already agreed terms with the player.
Back to the game, the French were surprised about the line up: Blanc mentioned in the press conference after the game that they thought Torres was going to play so he had to prepare a team to defend deep. But when he saw the Spain team he asked his troops to push up ten-fifteen metres higher. Now, he admitted to do that properly you have to work at it for weeks and he didn't have time. So playing without a striker on that occasion is another success of del Bosque. Having a Plan A and B per game - with so much quality available - is certainly an asset for Spain.
Was it a tight game? It didn't feel like it for the neutral but for us Spaniards it was really tense. And if it wasn't a closer encounter, is that the fault of the team that is winning and keeping the ball or of the team that has to turn the game around but can neither keep the ball for long or win it back from the Spaniards?
Guillem Balague's Euro Diary will become, along with added entries and interviews, an eBook at the end of the tournament.
For more info, check www.guillembalague.com
Comments (6)
Cieran Riley (Manchester United fan) says...
I appreciate your Spanish and support your nation, but you praise them to high heaven. Yes they're an exceptional side, a great passing team, but they are so boring to watch its untrue. Although they can pass a ball like Barcelona, they do not excite like Barcelona. I can see Spain getting to the final, but I hope Germany absolutely wipe the floor with Spain because at least they play exciting attacking football, unlike boring boring Spain
Posted 14:37 25th June 2012
Peter Little (Sunderland fan) says...
Once again a triumph for broom cupboard football, no thrills possesion that sends the crowd to sleep. 5000 meaningless passes. training in a broom cupboard to help with possesion doesnt make good entertainment. When I watch football i want to see action , tackles, saves, thrills and spills. Not a pass fest suplimented with over the top reaction to the slightes contact, with players screaming in agony when the've not been touched. BORING BORING BORING.
Posted 12:33 25th June 2012
Daniel Gardiner (Athletic Bilbao fan) says...
It just goes to show the difference in cultures, i saw your twitter feed full of 'spain are anti- football', what utter nonsense, it's a testament to a side like spain, that they haven't just sat and looked at themselves and thought it worked 2 years ago why can't it work now? Their trying to evolve, find solutions to the problem that you rightly pointed out, teams putting 10 men behind the ball. If more teams were pro active and had the attitude to work and develop their game like the spanish, then maybe they wouldn't be so prominent. Is it really their fault they have to work hard to find a way of breaking teams down that put 10 men behind the ball? I pity those that find it boring, id rather have boring spanish football that's won two major tournaments on the trot! I beg, for a team, to go and play football against them, press high, work hard, pace out wide and take their chances. Hope Portugal don't bottle it! Great article Guillem..
Posted 18:25 24th June 2012
Mikey Caldwell (Dundee United fan) says...
Guillem, Hopefully Spain can win the tournament and create history, however I am yet to be convinced by Del Bosqe. Having read his comments about the side being tired, I can't understand for the life of me why he is not making full use of the squad available. It appears that he is determined to use 15 players at the most. I understand that after the draw against Italy in the opener, every game has been a must win, however there are clearly players such as Llorente that could come in and do a job. If he picks the same team for the Portugal game, I still think they will win comfortably, however what they have left in the tank for a probable final meeting with Germany will remain to be seen. I can't remember him being so safety first when in charge of the Galactico's. Anyway good luck Spain!
Posted 18:21 24th June 2012
Bill O herlihy (Bishops Stortford fan) says...
That was easily the most boring match of the Euros thus far. Spain and their fans can no longer give out about teams "parking the bus". They invite that on themselves. I lost count last night of how many times spain had the opportunity to hit France on a counter attack, in 3 v 3 situations or 5 v 5, yet instead of attacking they just kept the ball and waited for France to get their players back. Dont get me wrong, technically they are an amazing team, but they're negative in a much less obvious way. Iniesta is often the only player who really trys to make things happen. It shouldnt be that way in a team filled with rediculously talented players. Except for a very dodgy penalty decision last night it would have been another 1-0 to Spain. That means besides Ireland (who dont really count) Spain have scored 1 goal in every tournament game since the group stages in the world cup. The 4-6-0 is just further proof that they are more than happy to bore other teams into submission. Any one of Spains midfielders would be more than capable of dictating the pace of a game, like Pirlo is doing for Italy, and letting more of their flare players shine. I for one hope that this isn't the future of football, because it will be a bleak future where players like Messi, Ronaldo, C. Ronaldo, Rivaldo, Maradonna have no place in a team.
Posted 17:47 24th June 2012
Tim French (Bristol City fan) says...
Lets be honest player for player Spain are far superior to France and could have selected other players like Mata, Llorente or even selected a 2nd 11 and still be good enough to win. 4 years ago they won the Euro's with both Villa and Torres in the starting 11 playing a 4-4-2 so do not think it really matters what formation they use they will still win with that amount of talent to choose from..
Posted 17:12 24th June 2012