I am trying to convince myself that Spain can overcome Portugal to get to the final of the tournament. But I'm struggling to do it.
I have faith in the Spain team. They are competitive, they thrive under pressure, in big games and - in a huge percentage of them - they deliver. They don't necessarily deliver by playing well every time, but in playing exactly the way the game requires - and that is a sign of maturity and of competitiveness, those things that are so difficult to attain.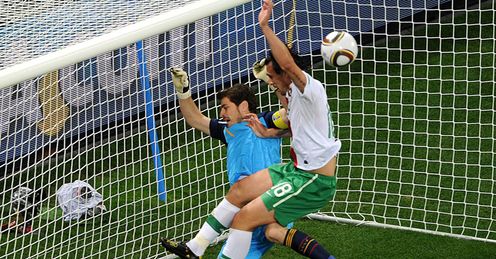 They need to score a goal (Croatia), they score; they have to control the ball after the first goal (France), they do it, and they now even win penalty shootouts as well (Italy Euro 2008)! More: Vincente del Bosque has got it right with every substitution he has made (Torres made life difficult for Italy, Cesc scored againt Ireland, Navas against Croatia, Pedro forced the penalty for the second goal). But...
It feels that Portugal, a bit like Real Madrid in La Liga this year, have got that little something extra that wins trophies.
Guillem Balague
Quotes of the week
I see Portugal have a clear idea of what they want to do and have repeated their line up in all four games. They will be fresh after two more days of rest, as well. Although that cannot be used as an excuse, it is an element for consideration. Perhaps that will increase the 'active rest' that Spain get by keeping possession.
Cristiano Ronaldo is a player that can finish any chance - and Portugal will have them. At the other end we know Spain don't score freely against tight defences.
One suggestion to refresh the Spain side (also an educated guess): How about introducing Pedro perhaps for Silva or Cesc? It would give Spain a bit more penetration.
However, once again the discussion in Spain is whether the national team should start with or without a striker. If del Bosque feels Portugal will sit very deep, it will be without a striker at first, with Torres coming on at the end, as he did against France.
After weighing up the match I am still not convinced. It feels that Portugal, a bit like Real Madrid in La Liga this year, have got that little something extra that wins trophies.
RIP Miki
By the way, life shows us its true face when we least expect it. My friend Miki Roqué left us this week and that is so, so unfair. RIP Miki
Comments (5)
Benedict l Gbomena (Liverpool fan) says...
Thou Spain have a best playing team in the world, but come wednesday, June 27, 2012, Portugal will prevail and Ronaldo will score 2 pass Casillas.
Posted 14:38 27th June 2012
Dom Shannon (AC Milan fan) says...
Spain should start with Pedro Torres and Navas as the front three, it gives them width which makes them less predictable.When they play with 6 midfielders the opposition play very narrow allow Spain to have the wide areas knowing that they wont cross the ball and also congest the midfield which is why Barca didnt beat Chelsea in the CL.If Spain play with Torres Pedro and Navas Portugal would have no chance. Ronaldo will be non existent in the game.
Posted 14:37 27th June 2012
Sherdanel Xavier (Chelsea fan) says...
sorry for your lost,but then every disappointment is a blessing,we just have to look for it. now the the football side, i have tried in many ways to compare the two sides and with fingers crossed i think spain will overcome portugal only because of the number of goal scoring players spain has as to portugal.
Posted 03:12 27th June 2012
Jos Johnson (Manchester United fan) says...
A nice problem to have in Spain, it's simply ground breaking in its simplicity not to use a striker. Spain's method and approach towards how the game should be played at international is thought provoking and challenging. This is great. Imagine this here in England they are still navel gazing going on about systems of play instead of very,very highly paid English professionals inability to retain possession. To conclude the best team without the ball gets as far as the qtr final and the teams who are better with the ball progress. You wonder where have heard this all before? Japan 2002 Brazil 2 England 1 post match analysis Teddy Sherringham (fantastic player he was/is) quote "when are going to learn to pass the ball" we are still learning!!! So, to hell with systems of play LOVE THE BALL ENGLAND/IRELAND/SCOTLAND/WALES!!!!
Posted 02:24 27th June 2012
Michael Morgan (Arsenal fan) says...
spain should stick to their phliosphy as it suits them.
Posted 22:58 26th June 2012