One of the interesting features to have developed at Euro 2012, in the Spanish camp, has to do with the role of the deep-lying central midfielders, what we call the "pivotes".
To progress with the idea of positioning and the possession game in the Barcelona mould, Spain don't need two pivotes, one would do.
It is a point that has been raised by some of the Barcelona players in the Spanish camp to Vicente del Bosque who has called the Sergio Busquets-Xabi Alonso partnership non-negotiable.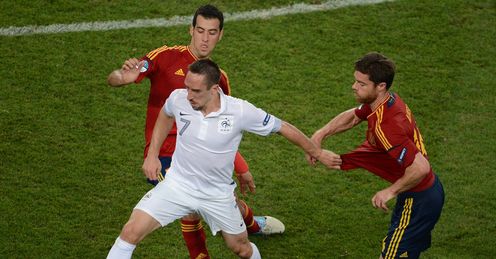 The suggestion is that Busquets on his own can do that role (as he does for Barcelona) and that perhaps Xabi is not needed. The response of the former Liverpool player has been outstanding: he has won more authority than ever.
He probably thought: "Ok, I can feel some might think I am not needed, so I am going to earn my place."
Busquets has had to accept he has to move aside, in a more secondary role than he has at Barcelona, covering space, looking after the back of full backs, but having less of the ball.
Busquets has had to accept he has to move aside, in a more secondary role than he has at Barcelona.
Guillem Balague
Quotes of the week
Xabi takes the free kicks as often as Xavi, he takes the penalties and tells players off if he has to. He is now one of the lieutenants in the team, alongside Xavi.
A second point to make before Wednesday night's game: Spain is a team full of winners, capable of giving the side what it requires and of understanding what every part of the pitch, every minute of the game needs.
It doesn't mean Spain will win everything but it does mean that you can trust they will maximise their potential. So perhaps tonight we will see the Spain everybody wants (and that in recent tournaments were only seen in the semis; Russia in 2008 and Germany in 2010).
Finally: Spain are basing the success upon a mix of possession and talent. Having the ball allows you to defend and you hope that talent will appear when you need it to.
It is not as complete a team as Barcelona, or even Real Madrid, but that is the price to pay to balance the squad so it includes not only Madrid players but also other important peripheral figures.
Guillem Balague's Euro Diary will become, along with added entries and interviews, an eBook at the end of the tournament.
For more info, check www.guillembalague.com
Comments (3)
Richard Roger (Barcelona fan) says...
I think the Alonso/Busquets possition is not quite the issue, they are very different in their approach, Alonso is very creative so he is not quite your typical Holding midfielder, he is good in defence as well, I think the problem is upfront, i think playing without a striker can work but you have got to have Pedro in the side because he is as clinical as any striker out there, more than Torres is at the moment. Silva is not as effective on the wing, perhaps it's time to give Xavi a rest & try Iniesta & Silva in the middle, perhaps Mata on the other wing
Posted 15:18 27th June 2012
Bernat Vicens iddon (Wigan Athletic fan) says...
Being spoilt to choice with so much to choose from can be a problem, but holy problem. There was a time Spain played with 4 centre backs. Now they play with 5-6 midfielders, and two centre backs that could play as defensive midfielders in case of emergency (Ramos did once with RM, same year Pique played in ZAR). Many wingers would dream delivering Alba's cross for Alonso versus FR. Would he be allowed to explore those territories without the cover of XA or Busquets? Spain won Euro 2008 playing with one anchor-man, arguably the best tiki-taka ever, with Fabregas more relevant in midfield. Now 73% of the world expects Spain to master football every evening, not easy. Is it better to be pragmatic? It is working well so far. The winning mentallity being another key element, Alonso and Busquets are second to none in that aspect. Regarding comparison btw national team with RM and FCB,in Messi, FCB has the ultimate weapon, how many teams confront Barcelona with only one defensive midfielder? That clearly creates space for other players. Additionally, the 4-3-3 can become a 3-4-3, useful depending on the availability of defenders or Alves form. Real Madrid seems to make a conservative use of both Alonso and Khedira, or no use at all of Sahin for now. The tales of pessimism and lack of confidence go way back in time, but this team knows nothing about them. I regard the game btw Spain and Italy the best of Spain so far, in terms of inner control. Not that Spain played particularly well. But a game where one can be thankful of being level at minute 65, and sorry for not winning at minute 90, is not the worst way to come into competition. It shows there is potential, calculated aggression yet to be delivered. Hopefully, as a Spaniard, it won't be needed, or deployed if necessary.
Posted 13:19 27th June 2012
Paul S (Arsenal fan) says...
Most observers agree that Xabi Alonso is a bit useless in this team and that bringing in a winger like Navas (or Pedro) would help the team. The pressure of the pre-Madrid press on Del Bosque is nonetheless huge and it doesn't seem like Del Bosque has as big "cojones" as Aragones had.
Posted 12:34 27th June 2012