I asked my colleague at Revista de la Liga and the Spanish football coverage, the statistician and excellent goalkeeper James Wheeler, to put in stats a feeling I've had for few months now.
That is that despite what Lionel Messi has done for Barcelona this year, there is a case to be made for Cristiano Ronaldo as the best player of 2012.
James has done a brilliant job. Follow him on twitter: @Wheels_1980
The case for Ronaldo
Lionel Messi has had a brilliant 2012 for Barcelona and Argentina. Once more endless goals and awards have flowed in the past 12 months.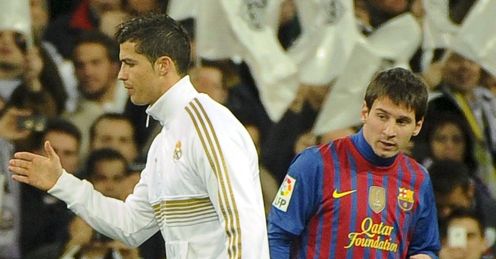 Highlights include becoming Barca's leading scorer in March with a hat-trick against Granada, becoming the first player to score five goals in a Champions League tie, a European record 73 goals last season and finally he is only a few goals away from breaking Gerd Muller's record of goals in a calendar year for club and country.
So when top Spanish journalist and Sky Sports colleague Guillem Balague asked to me prove that Cristiano Ronaldo and not Lionel Messi is the deserving winner of the 2012 Balon D'Or I thought I had my work cut out.
I firstly would like to say the purpose of this article is not to say that Ronaldo is a better player than Messi. As a statistician that is not for me to comment on. I am just trying to prove that in 2012, Cristiano is a more deserving winner that his counterpart at Barcelona.
When the sides met in the first La Liga Clasico of the season in October many believed it was a straight shootout for the award and not just an early-season meeting between both heavyweights. Once again they couldn't be split as both of our gladiators scored twice in a thrilling 2-2 draw.
So how do I split them? Very difficult... my first argument would be that you cannot judge both players on purely goals. Messi has scored more goals than Ronaldo in 2012. Messi has 72 goals for Barcelona this year while Ronaldo has 57 goals for Los Blancos.
Both goal tallies have been outstanding and Messi's total is truly staggering. Barcelona's current style of play is all based around getting the ball to Messi in the final third of the field and letting him work his magic, while although Ronaldo is Real's main attacking weapon, he is forced into playing in different positions along the front to suit the team and against stronger opponents they are set up on the break.
When Messi first broke into the Barcelona team in the mid-2000s he played in a front three alongside Samuel Eto'o and Ronaldinho and he was primarily playing second fiddle to these great players. As Frank Rijkaard's team became Pep's, Messi's importance grew and grew and after the departures of first Ronaldinho and then Eto'o he became the number one attacking weapon and took on the role of the 'false 9' position.
Ronaldo, while mainly playing on the left of a three behind either Karim Benzema or Gonzalo Higuain, he has also been shifted into the 'number 9' position and also into a position off the front man. This switching of positions is always to help the good of the team when in my opinion Barca under Pep and now Tito Vilanova are all set up to feed Messi and get the best out of him.
If you look into possession then Barcelona dominate Real Madrid. In 2012 in La Liga, Barcelona have averaged just over 70% possession in games, while Real average just a shade over 57%. More possession means more touches and Messi leads Ronaldo with the diminutive Argentinean averaging 83 touches per game to Ronaldo's 57. More touches means more chances to impress and thus Ronaldo having 25 touches fewer means he has to make more things happen.
Another argument into why Ronaldo should win the Balon D'Or and not Messi is that although both players are great individuals, it is a team game. In terms of trophies, Real have had a much more successful 2012 than Barcelona.Although both clubs were defeated in the Champions League semi-finals, a Ronaldo-inspired Real Madrid lifted their first La Liga title since 2008 while Messi's Barcelona only lifted the Copa Del Rey. Also although of much lesser importance, Los Blancos defeated Barca in the Spanish Super Cup at the start of this season with both players scoring in each leg.
Key period
There was a key period of just over a week in 2012 which I think justifies why Ronaldo would be a more worthy winner of the award this year.
In the middle of April both sides had two legs of a Champions League semi-final with the final El Clasico of the season sandwiched in between. Messi failed to score in all three games which is his joint worst run without a goal in 2012 and bearing in mind these three games were season defining they have to be taken into consideration. Barca were on the wrong end of all three results, seeing their dream of another treble evaporate into thin air.
In both legs against Chelsea he was quieter than normal and he missed a 49th-minute penalty in the second leg at the Camp Nou which would probably have seen Barca reach the final in Munich rather than the crafty Cockneys of Chelsea.
Ronaldo's Real crashed out of their semi-final on penalties against Bayern and although he missed his penalty in the shootout, he scored twice in normal time including once from the penalty spot to give Real a chance of reaching the final in Bavaria.
The Clasico meeting in April decided the La Liga title with Real four points ahead of Barca at kick off and with difficult remaining games they couldn't afford to lose at the home of their great rivals. Real won for the first time in four La Liga visits and with Messi quieter than usual it was left to Ronaldo to decide the fate of the La Liga title with a brilliant winning goal with the sides deadlocked at 1-1.
Other arguments for Ronaldo and facts that should be considered include the fact that he has scored more Clasico goals in 2012 than Messi. Ronaldo has scored in all six Clasicos this year (seven goals). This made him the first player from either side to score in six consecutive Clasicos.
Messi has scored only a shoddy four goals in six Clasico appearances in 2012.
In conclusion, why should Ronaldo be crowned the world's best player this year? Ronaldo is the heartbeat of Real and I believe if you took both Messi and him out of their respective teams, Real would struggle more than Barca. Although Real's squad is stronger than Barca's, in my opinion Messi's fellow 10 starters are more capable of adapting to life without Messi than their counterparts in Madrid are.
I think Ronaldo showed on his worth to Los Blancos on Saturday night in the Madrid Derby. In a drab first half a world-class free kick from CR7 effectively gave Real the win over their City rivals and thanks to Ronaldo they are still just about holding onto Barca's coat tails at the top of La Liga.
Real should do whatever they can to keep him happy and contracted to them. With whispers of his unhappiness leaking into the Spanish media, Real cannot afford to let him leave.
Whoever will be announced as the winner in Zurich on January 7 will be a worthy winner and if Messi does win the award for an unprecedented fourth consecutive time who am I to argue? His performances, goals and stats speak for themselves in 2012.
However if you dig a little deeper, you may just think that the boy from Madeira may for this year, be a slightly more deserving winner.
Do you agree with the numbers? Should Ronaldo be named the world's best player ahead of Messi? Have your say in the comments box below.
Comments (66)
Cl Tan (Barcelona fan) says...
MESSI definitely is the best player on earth at present, and very likely best ever in history.......I'm not denying Ronaldo is good too, but unfortunately he's living in the MESSI's era........ with 4 balan'dor in 4 consecutive years + uncountable record breaking + humble and unselfish personalities, the qualities Ronaldo has MESSI has too, the qualities Ronaldo does not have, MESSI also has, except the look.........so stop argue, just accept that MESSI is an amazing football genius! I'm quite sure Ronaldo also aware about this, to beat MESSI, charm is not a strong weapon anymore, now he is trying so hard to build up a 'kind, generous and humble' image, but he is not GENUINE, there's a motive behind. So stop doing this, it makes him even uglier........
Posted 08:53 10th April 2013
Josh Aye (Manchester United fan) says...
Messi is by far the better player and deserves it , he is humble on the pitch and is still like a little child first starting to play football t. Theres always a smile on his face when he plays and he never takes the full credit for what he does ,he is the first person to say that most of the credit goes to the whole . People get caught up witht hinking the PL is the best leugue in the world . When LA LIGA is equaly competitive . Look at man u last year the couldnt beat athletic bilbao . So i dont belive that messi has to come to PL . He's done enough at barca to truely deserve winning the ballon d'or for a fourth straight year . The records hes broke this year are truely mazing judging by the fact hes only 25 and his best years are still infront of him . He's a total fotballer , a true role model ! He is a true master of the game . And you say this thing about ranaldo performing for country and not messi ? while ranaldo is happy for the team to lose aslong as he scores a goal , messi is a diffrent player if you watch him play for argentina hell be back in his own half getting the ball of one his defenders , he plays for the team not him self . BALLON D'OR NUMBER 4 FOR MESSI !!!!!
Posted 14:08 13th December 2012
Mohamed k. Bah (Manchester United fan) says...
Cristiano Ronaldo is the best player on planet EARTH and he deserve to win the 2012 Player of the year "Ballon D'or" i love CR7.
Posted 22:58 10th December 2012
Jay Murthy (Barcelona fan) says...
Messi cannot be compared to anyone. Watch a video of all their goals from last year. Anyone can tell you the difference in the players. 1. Messi has more goals unassisted than Ronaldo. Why? He is the only player in the world than can dribble through multiple defenders. 2. He has way more assists than Ronaldo does. I watch every single Madrid and Barca game. The level of attention that Ronaldo gets is no where near Messis. If Ronaldo was double and triple teamed as much as Messi he wouldnt have half his goals. 3. Real Madrid won La Liga last year because both Higuain and Benzema were also in the top 5 in scoring putting in over 20 goals each. Barcelona has a great midfield but Messi both creates and carries the goals for Barca. Just look at his assist stats if you dont believe me. Only man that can draw 3 defenders and still make something happen each and every time. Ronaldo is a great finisher. Point Blank! He cannot create for himself. Look at how many of his goals were assisted by his teamates. I'll watch it with you.
Posted 22:26 10th December 2012
Baxwal Haji (Liverpool fan) says...
Well, The article 100% nice but I feel this year is belong to messi though based on your argument it look logic but still Messi is outstanding and humble player while C7d is upto himself .... so lets see who will be the best player in 2013
Posted 20:40 10th December 2012
Barry Sod (Tottenham Hotspur fan) says...
Mr Balague Your stats and bases of argument is inconsistent. On one hand u say you can't use number of goals as the standard, on the other hand you tell us it was Ronaldo's equaliser at the Camp Nou that settled LaLiga last year, etc You also talked about how Ronaldo helped Portugal to the Semi's in European Cup, well Iniesta helped Spain to WIN, so lets give it to Iniesta..... I am are aware that you are an Espaniol loser and would say anything to weaken Barca's credential but the more you try, the more silly you look. No doubt Ronaldo is also a very good player but all statistics considered, Messi is a bit better. One more thing - I sometimes watch Revista and its laughable the amount of fear and respect you hav for Mourhinio. It appears he seem like some god to you, so much so that even when he loses the plot, as far as you are concerened, "it is part of his plan", "he knows what he is doing", etc You and Mourhinio reckoned you will have an easy run once Pep quit the scene, but clearly you were so wrong. I'm sure if anyone asks you, you will say being 11points behind Barcalona is part of Mourinio's plan. You and Mourhinio better wake up and start looking for another club because at the end of the season nobody will entertain excuses.
Posted 16:49 10th December 2012
Matano Ndaro (Barcelona fan) says...
It makes a truly interesting reading as an academic piece. But it is just that, an academic piece. Ronaldo is not,and will never be any where near Leo. Messi plays with, and for the team. If you are honest with yourself, and you watched Barca against Betis yesterday, then you should have seen how he scored both his goals. Total brilliance from Barca's attackers.
Posted 13:08 10th December 2012
J T (Barcelona fan) says...
Ronaldo is nowhere near Messi's level. The fact people actually argue that Ronaldo is better is highly laughable, there isn't even a comparison between the 2. Messi is more consistent, has far better vision, balance and control, is more magic, creates more, scores more, he offers more to his team and is a much better overall player in general. If Ronaldo doesn't score in a game, he does nothing, if Messi doesn't score he dribbles, he assists, he creates chances, he causes mayhem. There isn't even a comparison. Messi is an immense allround footballer and a naturally gifted genius who was basically born with the ball stuck to his foot and Ronaldo is nothing more than a goal machine who relies on speed and strength. Also this season he hasn't even been among the top 5 players in la liga... Then again, I expect nothing more from an ESPANYOL fan like Guilleme, trying to play down Barcelona due to the years and years of bitterness. Have fun this season when Espanyol get relegated to the segunda! Adios!
Posted 18:11 9th December 2012
William Ballester (Chelsea fan) says...
In trying hard in supporting Ronaldo you have given Messi more credit than you really wanted.Messi in my humble opinion is the best player ever and deserve to win .
Posted 00:40 9th December 2012
Nyle Patel (Barcelona fan) says...
this is appalling. How can you try so hard to justify ronaldo is better. We all know messi is better than ronaldo and the best there has ever been. i just hate it when people are looking for things to help ronaldo stay in the run in, well we all know you cant no matter who you support, madrid or barcelona. his performances say it all and his goals, he controlls games and does what he wants with the ball wherever he is, and so can ronaldo but no way near as good as messi. if messi doesnt win it then everyones kidding themselves and everyone knows it. stop looking for little things and face the truth.
Posted 20:21 8th December 2012
Chika Anikz (Barcelona fan) says...
Your argument holds no water.messi is just exceptional and he has had a better season than ronaldo.his goal tally is unbelieveable,assist more than ronaldo.a role model on and off the pitch.give it up for messi.
Posted 17:12 8th December 2012
Mahdi Moha (Barcelona fan) says...
Hi, The thing hidden in your analysis is that in a less controlling team like Madrid, many goals are coming with speedy counterattacks, while in a dominating Barca's system goals are scored from crowded areas and through many defenders, means in a much harder way. Your comparison does not count for that.
Posted 13:06 8th December 2012
John Tb (Tottenham Hotspur fan) says...
You've only got to look at Cesc to realise how much difference it makes to a player when you play your game through a certain player. Cesc was incredible at Arsenal, everything went through him. Look what happens when he plays second fiddle. Ronaldo is definitely the better, complete footballer for me; better in the air, better physical presence, faster over longer distances, heck; he even plays out wide - messi plays through the middle and Ronaldo still contends with him with stats.
Posted 19:35 7th December 2012
Gavin Gupta (Shrewsbury Town fan) says...
great article, keep up the good work
Posted 15:23 7th December 2012
Mazen Jewels (AC Milan fan) says...
I agree that if you took a scientist, with a clipboard, and he was doing tests on Ronaldo vs Messi, Ronaldo would come out on top a lot of the times...But you cannot measure football on stats alone. To do so would be criminal to this Beautiful Game. While both players are geniuses in their own right, Messi has a bit of magic that cannot be quantified. So please, throw out your clipboard, your fancy Opta machines, whatever it is, because computers do not have eyes that watch 90 minutes of football, week in week out. Pay homage to a one-off, at least for every generation there's one.
Posted 05:48 7th December 2012
Jj Rawlinson (Manchester United fan) says...
what he's saying is that Ronaldo has a higher influence in the games he plays in and is extremely more versatile than Messi, who got lucky scoring 5 in a Champions league game; against a poor Levekusen. Ronaldo is also the more 'pure' sportsman, the man can carry the ball from inside his own half, go past opponents as if they weren't there n riffle one in the top bag, Messi can't and also goes down far too easy. Ronaldo for Player of the Year.
Posted 21:04 6th December 2012
Amaan Afzal (Manchester United fan) says...
Ronaldo should win as he will go down as one best playes in histroy but have nothing to show it for. It is not fair messi wins every year. they are equal in skill but messi has been givin the recognition with the balon'dor for the past 3 years, also when you win a balon'dor you become the best and everyone knows you are the best. Ronaldo has been given the title of " the 2nd best player in the world" just becuase messi has scored/won more than him. Ronaldo can play in any team while messi needs to play in a certain position with certain players. So ronaldo should win as he has the flair and diversity to win the balon'dor. With this article he doesnt try to convince people ronaldo is better he is just stating the facts and what his opinion is but his reasons are wthout fault. Balague has submited a great arguement and ronaldo will win as he has been better this year. CR7
Posted 16:21 6th December 2012
John Murphy (Celtic fan) says...
disagree, especially witht he fact you said it's a team game. Ronaldo is a selfish player, showing in the fact messi far outweighs him with assists, as well as goals. Messi is probably the best player to have playing beside you, he works so hard for the team, and despite the trophies madrid won, the award is for the individuals performances, and messi far outperformed ronaldo over the last year.
Posted 14:41 6th December 2012
Oyinleye Olaleye (Manchester United fan) says...
Yes. You are saying the truth. Ronaldo deserve it more than anybody
Posted 11:21 6th December 2012
Len H (Arsenal fan) says...
The fault with this article lies in the fact it is trying to prove that Ronaldo had a better 2012, not to determine which player had a better 2012. You can prove anything with statistics by choosing the ones you publish.
Posted 11:17 6th December 2012