What a wonderful game Barcelona played against Malaga.
It was superb on so many levels; the consistency of the tempo, the way they went for their third goal and the way they achieved control of the ball, all the time.
Malaga did really well apart from the Ignacio Camacho mistake for the first goal, but while they did really well for the first 40 minutes or so, Barcelona kept going and going and going and you have to say that they looked better than they did last year under Pep Guardiola.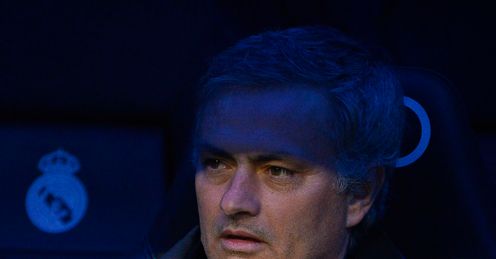 I think people are forgetting that during the first three years of Guardiola there were aspects that were extraordinary, like the Club World Cup win against Santos, for instance, and the Champions League final against Manchester United.
That can be dismissed so quickly by people, but certainly Tito Vilanova, after a few months, has balanced things out and has tried to create a collective sense that was missing at the beginning of the season. He's doing that by adding layers.
I must admit that at the beginning of the campaign I thought he was trying to produce a different kind of Barcelona. In fact he's succeeded at that, so you've got the Barcelona of Guardiola still present, in terms of the positional game and in terms of passing, but also they can now play very direct. That kind of dichotomy now works very fluently.
As for Real Madrid, people are saying in Spain that football is a state of the mind and Real have lost competitiveness in La Liga because they have given up on it.
You could see a lot of clues in the body language of Jose Mourinho, who didn't even get upset at Kaka's sending off. You could see it in the substitutions, like playing Kaka, who he doesn't trust any more. You could see it towards the end of the game when the team just dropped deep and there was not really anybody trying to push the team forward or trying to look for a reaction, they weren't biting.
It's the kind of attitude you have when you know you're playing for nothing. The problem is raising the level when they need to. All the coaches I've been talking to about this suggest that you need to keep a very high level to then play Manchester United at your best and they don't seem to understand that or they don't seem to be able to do that.
That's a frustration for Jose Mourinho certainly.
Guillem answers your questions...
Got a question for Guillem? Then send it to skysportsclub@bskyb.com or use the feedback form below, and then look out for his answer next week.
BERNABEU BECKONS
Hi Guillem. If Mourinho leaves in the summer who do you think will get the job? Will it be Carlo Ancelotti, Rafa Benitez or Marcello Lippi? Do you think there is any chance of Vicente Del Bosque coming back to Real Madrid? Thanks, David Fullam
GUILLEM REPLIES: Benitez has a got a couple of very good friends in the hierarchy at Real Madrid and I am sure he will be one of the ones approached. Lippi has said he doesn't want to come to Real Madrid and Ancelotti sounds like the kind of coach Real Madrid will go for as well, especially because Ancelotti feels his cycle at PSG may be finished early. I have heard, but it's only a rumour, that PSG may approach Jose Mourinho or Arsene Wenger for the job which will be interesting because it will create a fascinating domino effect. Del Bosque will definitely not come back to Real Madrid as long as Florentino Pérez is there. He was the one who got rid of Del Bosque or didn't renew his contract because he felt he represented a very old-fashioned way and Real Madrid needed a new notebook. Those are exactly the words used by one of the directors there when they decided not to renew Del Bosque's contract.
A BARCA BACK-UP?
Hi Guillem, I always look forward to your La Liga analysis, very incisive. With all the health problems that Tito has been facing, has any concerns arisen in the Barca hierarchy with regards to his continuation next season or has anyone been shortlisted to replace him in the worst case scenario if Tito, understandably, decides to take a back seat in a less-demanding role at the club? Pradeep Shenoy
GUILLEM REPLIES: There is no question about looking for a plan B for Tito. It is obviously worrying that he's had to go to New York for a second opinion, but everybody is going to back him up and in the meantime both his assistants and especially the players take charge of the team when he's not there.
TACKLING MESSI
Guillem, Do you think that Lionel Messi would be able to stick the play in the Premier League? You see teams in the Premier League go in for tackles to rattle the opposition which is something that is missing from La Liga and if the opposition were to go in hard on Messi, I do not believe he would be as good as he is at the minute in terms of scoring so many goals! Alan
GUILLEM REPLIES: I can't believe this is a serious question. Messi is not just the best player in the world now, he's the best player in the world ever - and if he's not then he's very close to it. That means you can do it anywhere. On this tackling argument, what I'm seeing is the team at the top of the Premier League have conceded 29 goals this season and in seven out of the last 10 seasons the winners of the Premier League have conceded 29 goals or less at the end of the season. So what I'm seeing is not very good defences, so I'm not very sure where this strict defence in comparison to La Liga is. Messi would have no problem whatsoever adapting to any league in the world.
IN MESSI'S SHADOW
Hello Guillem, I am in the middle of reading your very good biography about Pep. In the book you write how Barcelona moved Eto'o, Bojan and Zlatan away from the club in order to allow Leo to grow as a player. My question is, do you think the club is in the process of doing the same with David Villa? I think although Pedro works very hard for the team, him nor Sanchez has the same quality as Villa. I'm also wondering if there is another reason Villa doesn't play much, is he becoming a bad influence like Ronaldinho, Deco and Motta were? Or is there any truth that Villa and Messi are not friends? I hear they are neighbours. Haha. I Look forward to your reply, and keep up the great punditry. Good luck to Espanyol for the remainder of the season, really hope they stay up after moving to the Cornela. Adios. Cari
GUILLEM REPLIES: Yes basically, what's happening with Villa is a little bit like what's happened to the other strikers. You have to submit logically to Messi and his talent and Pedro and Alexis adapt better because Villa, after all, is a striker. He wants to score, he's got the goal in his head and Messi prefers another kind of player next to him. But Villa is one of the loveliest guys in football, not a bad influence at all.
KEEPING CLEAR OF BARCA
Hi Guillem. In the light of what happened to Henry, Ibrahimovic and now Villa once they moved to Barca, do you think top class strikers (Falcao, Neymar) might think twice about going to Barca because of the effect Messi might have on them? Abhay Tavaragiri
GUILLEM REPLIES: Well Neymar is coming to Barcelona; he wants to play in the best team in the world and he wants to play next to Messi. He accepts that everything goes around Messi and, as I say in my book, Messi was asked about signing Neymar and he agreed that it would be a good signing so it's all happy there. Falcao will not be signed by Barcelona because he would have to change his style at Barcelona and he doesn't suit that style.
Got a question for Guillem? Then send it to skysportsclub@bskyb.com or use the feedback form below, and then look out for his answer next week.
And don't forget to keep up to date with Guillem on Twitter - @GuillemBalague
Comments (31)
Andy Morton (Chelsea fan) says...
Messi this messi that put him in premier league then we can have our say on him. He is quality in the slow league to be honest i would prefer ronaldo he has been in both leagues. I think messi is staying at barca because if he goes to the prem his rating will go down. If he played in the prem i would admit he is the best in the world but until then im saying ronaldo
Posted 11:11 18th January 2013
Dean Maguire (Manchester United fan) says...
you really think that neymar is going to barcelona...even though he has expressed his desire to play in the premier league???
Posted 10:50 17th January 2013
Patrick Byrne (Manchester United fan) says...
there is no way messi would be as good in the prem league, 1 he doesn have xavi and iniesta to put it on a plate for him and 2 he isn strong enough to handle the physical style of the prem, if the chap bulked up he wouldn be as quick and his movement would slow down .. Guillem is just biased to la liga because he is spanish
Posted 15:00 16th January 2013
Ad Stoth (Manchester United fan) says...
I am surprised perez has capitualted or that he has been convinced by mourinho that he can brong him a CL trophy. I think the writing is on the wall and letting stink up spanish football is not doing anyone any favors. It seems like the players wont respond for him in spite of him and that will translate into a mess against united. Do you think with increasing pressure in the next month he could be fired before the CL? They were lucky to beat valencia last night!
Posted 14:57 16th January 2013
Lodatz Datzlo (Tottenham Hotspur fan) says...
It's not a silly question at all, re: Messi's strike-rate in other leagues. While you can point the finger at Manchester Utd's current leaky defense, the fact remains that there is only 1 other team in the entire top half of the table who have conceded more. That is a marked difference from La Liga, where the gulf in stats between Barca and the rest is obvious and huge. Just face facts, Guillem: the defenses in Spain are pretty shoddy, and no, Messi could not score as many goals in England as he has in La Liga. That does not mean he wouldn't continue to be the best player in the world -- of course he would. But this blanket denial of the difference in quality between Spanish defenses and those found in other, tougher leagues is as boring as it is biased. The gulf between Real & Barca, and the rest of the league will continue to grow, until La Liga fixes its television rights problem. Relying upon Barca to showcase the awesomeness of Spanish football wears a little thin, my friend.
Posted 14:37 16th January 2013
George Taylor (Manchester United fan) says...
Hi Guillem. Im a massive fan of yours and I always get the refreshing feeling that you tell it as it is, which is rare for someone in your possition. First of all I was wondering if you know where falcao will be moving too and if any of the top players in la liga such as villa are looking at moving to the premier league. Also what are your thought on ronaldo returning to england or elsewere? Would be great to hear from you.
Posted 09:36 16th January 2013
Rea Rea (Fulham fan) says...
Messi is such a wonderful player. Can definitely play anywhere n the world... That's why he takes every World Cup he's been in by storm. Surely you can't deny he's a different player without his friends at Barca? If he is the best, let's judge him by standards that are fitting of the best and not call it a "technicality" If he doesn't win the World Cup before he retires, he'll be the best player - ever - never to win the world cup. Sure he may only have 3 World Player Of The Year titles...but at least Ronaldo (Brazil) can say that he's got two winner's medals.
Posted 09:24 16th January 2013
Ken Peacock (Manchester United fan) says...
Guilleme good morning, first of all how can the real madrid fans turn on Jose Mourinho after he clearly was the reason for them winning la liga last season (other than ronaldo of course) and the sub standard performances this season are clearly down to player power, also I think you were to quick to dismiss alan's point about messi and tackling am I right in saying messi has never scored against chelsea in about 10 games and other than. The two goals he scored against man utd he has only ever scored against an extremely under par Arsenal, I accept messi is a great player but the best of all time please. First he has NEVER reproduced his Barca form for argentina who aren't exactly a poor team (messi aguero higuain di maria not a bad strikeforce) and its quite clear messi has never scored one of his trademark runs agianst an english team or an international team excluding the pointless friendlies with weakened sides something we see him do against normally the poor defensive teams in spain. Also the greatest of all is a little premature for a player who lost spanish league and the kudos of being the best players in the classico but still won the ballon'dor even though his team won nothing of significent worth, if pele maradona best cruyff van basten garrincha played in todays non contact football and i reiterate NON CONTACT football, I am sure they would have taken full advantage of the simulation that has sweeped the game, different rules, P.S. does diving annoy you?
Posted 07:22 16th January 2013
Tj Tj (Liverpool fan) says...
Hi guillem, big fan of la liga & great coverage & insight you guys at sky provide so keep up the good work, now while barcelona are currently the best team in the world are they concerned behind the scenes about man city making moves to sign key personnel coaching staff & players given the fact even barca cant compete financially with man city & if pep ends up at city will barca directors be worried about any de-stabilising effects it could have if they were to make any approaches. hope to get a reply from you.
Posted 19:57 15th January 2013
Kyle Murray (Manchester United fan) says...
Hi Guillem do you think messi gets to much praise from media,fans,coaches than ronaldo does because he doesnt come across as cockey,selfish,and less of a team player than messi? If not do you think for ronaldo its best to leave la liga and go back home to manchester united to try and win the ballon d'or? Also do you think he will ever join manchester united again? Adios.
Posted 16:04 15th January 2013
Martin Brown (Manchester United fan) says...
I see a lot of questions asking if Messi would be able to play in the Premier League. I would rather know if you ever think Messi will play in the Premier League? I my eyes he will always be questioned over here until he does.
Posted 16:02 15th January 2013
Malt Teaser (Birmingham City fan) says...
What an idiot, the reason premier leagues top teams concede is because of the physical presence of the attackers, messi would just get hurt in the premier league
Posted 15:51 15th January 2013
Samad Mughal (Manchester United fan) says...
there is no doubt that messi is 1 of a kind, but my question to you guillem is: do you still believe that when the likes of iniesta, xavi, pedro, have finally moved on , that messi would still be the same player?? because i study the game with importance and often watch ronaldo too, and i know your not very much a ronaldo fan, but do you agree that to another level ronaldo is better? you do not have to be a great goalscorer to be known as a great player , its what you do overall, i know many would probably disagree but i stand firm on what i believe and that is ronaldo being much better in areas which i dont see messi doing the same in. eagerly waiting for your response to that. many thanks sam
Posted 13:54 15th January 2013
Dave Wright (Liverpool fan) says...
The continual "is Messi good enough for EPL?" is quite a redundant question. We will never know because he wont ever come. And to be honest, we dont need him to. The EPL has more followers than La Liga statistically because there are more than 2 teams in it that could win. Say what you will about the money the Russians and the Arabs have brought their clubs with, it has made it a 4 horse race. We have had more teams in the CL final than Spain in the last 7 years and thats a story in itself. One winner from Spain in that time, 3 from England. I personally cant stand La Liga football but can admire the Barcelona team for the fact their team is made up of youth academy products. There is absolutely no statistics or evidence that could ever disprove the Premier League is a more interesting competition for me. If I were asked to predict the results in la liga against the EPL each weekend I know for a fact I would get more La Liga results correct.
Posted 13:54 15th January 2013
Akhtar Rasool (Manchester United fan) says...
I dont agree with you about "Messi is not just the best player in the world now, he's the best player in the world ever". This is a wrong statement, messi has proved himself only at barca and no where else...Look at pele, maradona, zidane, ronaldo(brazil ) and ronaldo(portugal) they all have performed at different clubs and asslo at national level... Also Muller scored 85 goals and messi 90 odd...so it doesnt mean that messi is better than Muller. And Messi is nothing without xavi and ineista and the worls knows that
Posted 12:28 15th January 2013
Kostas Tzaneteas (Barcelona fan) says...
Hi Guillem , I am worrying about how Neymar will adapt in Barca if he will comes the summer. Do you think that he is mature enough to integrate the unique style of Barca ? And what' s about the necessary replacement of Puyol. There is any sign for someone ?
Posted 10:24 15th January 2013
Matthew Rosser (Manchester United fan) says...
Hi Guillem, love reading your article every week! Just wondered if there was any truth in the reports in England continually linking David De Gea with a return to spain with either Real Madrid or Barcelona. Personally, i would hate to see him go as i think he could be one of the best goalkeepers, if not the best goalkeeper in the world within a few years. Do you think Manchester United would let him go?
Posted 09:20 15th January 2013
Bobo Anayo (Chelsea fan) says...
Messi is gradually becoming d president of BFC, yes wt several comment leading 2 Eto'o ibra, d ronadinho, deco, motta nd now villa. Even little tello. BFC is messi but the spainish press fail 2 outline it. all focus is on madrid nd mou. Mou is an achiever. Pep, finger cross.
Posted 09:03 15th January 2013
Matthew Smith (Arsenal fan) says...
It's all very well making sweeping statements about Messi based on what he has achieved for Barcelona, but the fact remains he hasn't been tested in a league with a different philosophy to La Liga. Spanish football is as much about lifestyle, the weather, the glamour and the girls, as it is about what happens on the pitch, and I think adapting to the culture and climate of say Germany or England, would be the real test for Lionel. As for the being the greatest player ever, well George Best was just as good with a heavier ball on atrocious pitches, and don't even get me started on Pele, Cruyff and Maradona...
Posted 08:31 15th January 2013
Junior Mafia (Manchester United fan) says...
Why dont u just go and get hired by barcelona coz u are really just a puppet for them... everything u say is anti madrid, pro barca... anti mourinho pro gurdiola/tito... pro messi anti ronaldo. Get it right messi cant score 50 goals in the premier league!!! Ronaldo became the best player without having to move anyone in the team like messi is doing... let him stick to the wing and score 60 goals and then may be u can convince me but he is a good player and among the best of all time!!!
Posted 07:28 15th January 2013