The three Spanish clubs that are still in the Champions League - Barcelona, Real Madrid and Malaga - have all had moments where they have shown how important it is to control the dynamic and psychology of the team.
The return to Barcelona of Eric Abidal after 402 days is amazing, as for someone to have a transplant like he has had and return to play at the top level is medically unheard of.
So we will see whether he can play well consistently, but doctors will monitor his situation to see what science can learn from it.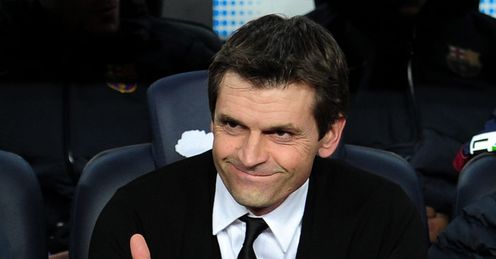 Abidal explained he was very nervous when he was warming up during Barca's 5-0 win over Mallorca and jokingly said he didn't want to get injured on the touchline, but he also spoke of how even if you only have a one per cent chance of surviving something you should still fight.
Barcelona have worked hard to show they are protecting Abidal and are trying to portray that they are a club that cares and are, in fact, more than just a football club.
Vilanova might not be strong enough to lead Barcelona from the forefront, but he will make it look like he can.
Guillem Balague
Quotes of the week
Tito Vilanova, meanwhile, comes to work on every day that he feels strong enough and generally that has been every day, but he is not doing the press conferences at the moment.
Having conducted some interviews recently for my Lionel Messi book in the Barcelona Sporting City, it is clear that Vilanova, who was following training of the B team as well as taking charge of the first team, might not be strong enough to lead Barcelona from the forefront, but will make it look like he can as he thinks that is what the team needs.
The day after the Mallorca game players were joking around with Abidal and Tito came in and said: 'Enough, we have to concentrate and I'm not going to allow you to relax'.
That is the leadership Barcelona have been lacking in the last couple of months.
Options
At Real, meanwhile, there have been rumours in the paper that Jose Mourinho will stay at the club if Iker Casillas and Sergio Ramos are sold, but he just wants to leave his options, which also include Paris Saint-Germain and Chelsea, open.
Mourinho's bad relationship with Casillas is down to him not thinking the goalkeeper raised his level and was stuck in a rut, and now he is using Casillas in a psychological game to show that no player is untouchable.
As for Malaga, their manager Manuel Pellegrini found out that his father had died the morning before the match with Real Sociedad but didn't announce anything until afterwards so as not to alter the dynamic of the team.
He will now head to Chile, though, and miss the Champions League game with Borussia Dortmund so he can be close to his family.
So, everybody in their own way has shown us that football is played well beyond the pitch.
Guillem answers your questions...
Got a question for Guillem? Then send it toskysportsclub@bskyb.com or use the feedback form below, and then look out for his answer next week.
THE CAP DIDN'T FIT
Hi Guillem, I have just finished reading a book on Fabio Capello by Gabriele Marcotti and from reading the book I feel Real Madrid made a bad choice in sacking Capello in 2007. How do you view Capello's time at Real Madrid? Thanks, David Fullam
GUILLEM SAYS: Capello is the sort of manager that has a short lifespan at Real Madrid as he does not aspire to play great football when the team are already winning and playing well. Mourinho is the same, which makes what he is doing historical, but the philosophy of going for results wasn't understood and backed under Capello.
CENTRES OF EXCELLENCE
Hi Guillem, I just wanted to know more about the centre-back situation at Barcelona as Mats Hummels, Inigo Martinez and Marquinhos have all been linked with a move. Are there any other names on Barca's radar? Who do you think is the best fit? Thanks, Dale Anders
GUILLEM SAYS: There are rumours that Sergio Ramos could be on Barcelona's centre-back list but those rumours are false. Inigo Martinez, Mats Hummels, Marquinhos, and Daniel Agger are good options but Barcelona need a Puyol type - Marc Barta, from the youth team, is a bit like that but is a little slow in the first 10 metres and not as aggressive as Puyol.
ENGLISHMEN ABROAD?
How highly do the Spanish regard Jack Wilshere and Gareth Bale and do Barca and Real have any interest in them? Adam Martins
GUILLEM SAYS: Real want Kun Aguero or Gareth Bale to lead the project next season and they are going to try and get one of the two - though it doesn't mean that they will. Wilshere, though, needs to be more consistent to be considered a world star but he has potential.
PEDRO OUT OF PUFF?
Hey Guillem! Why do you reckon Pedro will leave Barcelona? Any thoughts where he'll end up? Masd Karlsson
GUILLEM SAYS: Pedro will not leave Barcelona but I don't think his performances will be at the level they were two or three years ago; his role is so demanding and has taken a lot out of him - but he does still perform in some big games.
Comments (21)
Patrick Machale (Barcelona fan) says...
hello guillen, I am a barca fan but i can not see barcelona goinig through to the Champions League final for the following reaons: 1. Very weak at the back, very nervous and not aggresive on defending corners. 2. Over realiance on messi 3. Bayern have very good all round team and excellent width good attacking style and very physical. i hope bacrelona win and would love to see them go through but i think bayern to go through easy??? Your comments please
Posted 12:27 17th April 2013
Akdas Farid (Real Madrid fan) says...
Hi Guillem, do you think that Iker Casillas will leave Real Madrid? I hope he stays and do you think should get his place back, or should Diego Lopez keep his place after his great saves for Real Madrid? Either way I think Iker is better,
Posted 15:10 15th April 2013
Michael Rooney (Celtic fan) says...
Hi Guillem, you've stated Barta might be the replacement for Puyol, but will he be content to stay there while they play Adriano in front him at centre half? Also what does the future hold for the likes of Fontas, Muniesa and Montoya, will they make it into the first team or are they likely to be moved on?
Posted 19:20 13th April 2013
Martin Andlers (Arsenal fan) says...
So far it seems that Cesc Fabregas has not fitted into the Barca system as easily as some people thought, so do you think there is any chance of him returning to Arsenal, the club that he said was the only club he'd join if he did leave Barca?
Posted 15:20 12th April 2013
Sam Holland (Manchester United fan) says...
Hi Guillem. I'm interested in asking you about the whole Falcao-United situation. How much truth is in it and what would it mean for potential midfield signings for united? Cheers
Posted 11:04 12th April 2013
Memo Valdez (Barcelona fan) says...
Hey, I love the column and I wish I could get to see Revista here in the states. I was wondering what Asier Illarramendi's future might be, in particular, do you think he could be a potential successor to either Xavi or Xabi Alonso at both club and international level?
Posted 00:29 11th April 2013
Ziaur Rahman (Manchester United fan) says...
Hi Guillem, Great column as usual. Whats the story with Falcao being linked with Man Utd and the rumours of a deal already in place? Atletico have refused to comment on this rumour so is there any chance of seeing a deal in place?
Posted 20:31 10th April 2013
Nick James (Swansea City fan) says...
Hi. Swansea City being linked with A LOT of Spanish based players the last week or so. Understandable, given our managers background. Canas of Betis to name but one. What do the Spanish media, players and teams make of the 'Costa del Swan' and the way Laudrup has gone about signing players from the Spanish League?
Posted 13:46 10th April 2013
William Povey (Arsenal fan) says...
Hi Guillem, I was wondering your views on Arsenal at the moment. A lot of people are saying it is time for a change at the Emirates by getting rid of Wenger, others are saying it is a matter of bringing in World Class players to get them back challenging for the league. Do yo agree Wenger has to move on, which manager do you think could realistically become the next Arsenal manager, is Mourinho a possibility or Jürgen Klopp. Also what 'World Class' players do you think could be brought in the summer? Thanks
Posted 21:54 9th April 2013
Mohamed Gamoouchi (Manchester United fan) says...
Hi how are you? Do you think Falcao will move to Chelsea this summer or is it just speculation?
Posted 18:21 9th April 2013
John Wale (Real Madrid fan) says...
Hey Guillem! is it true that jose morinho will leave real madrid after this season?
Posted 18:12 9th April 2013
Michael Fagan (Manchester United fan) says...
You have already told us categorically that Mourinho will leave, having told us that a deal for him to leave was agreed before Christmas. Why would you then mention newspaper rumours that he might now stay??
Posted 10:14 9th April 2013
Joel Quartey (Barcelona fan) says...
Hi Guillem, What do you make of barcelona's Alexis, and Valdes? Aren't they surplus to requirement.? And what are our chances of lifting the champions league this season.
Posted 09:55 9th April 2013
Pradeep S (Barcelona fan) says...
Hi Guillem,Looking at Tito he barely looks fit to sit on the bench. Do you think barca are still hoping that he will guide them next season or are they now seriously starting to contemplate life without tito. Are they thinking of Luis Enrique?
Posted 05:20 9th April 2013
Mark Terry (Manchester United fan) says...
I dont think Wilshere has a problem with consistency! just with injuries. Best player on the pitch when Arsenal played Barca!
Posted 03:26 9th April 2013
Michael Mcaree (Real Madrid fan) says...
Hi Guillem, what are your thoughts on the transfer rumours surrounding some of Real Madrids key players, namely Xabi Alonso, Ronaldo, Casillas, Higuain and Benzema? Also Arbeloa doesn't seem to be as good as he once was, will real strengthen the right back spot in the coming summer? Thanks
Posted 23:19 8th April 2013
Eugene Gorry (Celtic fan) says...
Why does Guillem think everything Mourinho does is some sort of psychological master stroke, in this case, Casillas. How about Mourinho's ego clouds his better judgement and he has it in for Casillas ever since he crossed Mourinho when he contacted Xavi to make the peace after one of the clasicos?
Posted 22:01 8th April 2013
Robin Stacey (Malaga fan) says...
Hi Guillem Do you think the recession is actually helping Spanish football?. Maybe not so much with Madrid, but are the clubs starting to rely more on their academies and youth set up rather than importing expensive talent from abroad?
Posted 20:09 8th April 2013
Graham Le page (Barcelona fan) says...
Hey Guillem have just finished reading your excellent book on Pep Guardiola. You say you are now writing a Book on Messi ?? If this is as good as your last book then I eagely look forward to another excellent read
Posted 18:43 8th April 2013
Jonny Dave (Barcelona fan) says...
What do you think about messi in the nest four yrs with Barcelona?
Posted 18:34 8th April 2013