People often say 'speak as you find'.
Well, I met John Terry for the first time at Thursday's Premier League launch and was very impressed with the way he conducted himself.
We've all heard stories about JT and he's had such a bad press at times (for all sorts of reasons) that I was a little bit wary about meeting him.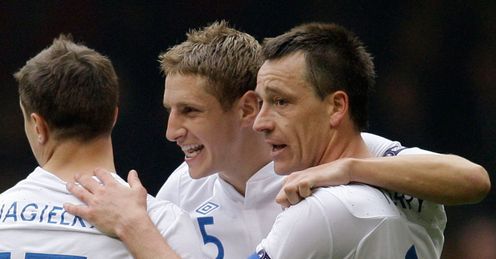 But I found him warm, out-going and chatty and he, like Michael Dawson and Patrick Vieira, was great with the kids who were there to promote the new Premier League Players' Kit Scheme.
It was a real captain's display from John - especially as a member of his family is very ill at the moment and the Premier League said he could sit this one out.
I think that's why the Premier League wanted me back as host because my inadvertent 'launch' actually made the back-page lead in some of the newspapers! They said they'd never had coverage quite like it!
Jeff Stelling
Quotes of the week
I'd just assumed he had the day off as Chelsea's opening game, against Stoke, isn't until Sunday but not a bit of it. JT fulfilled his commitment and then headed off for afternoon training; overall, I found his dedication very impressive.
Initiative
It has been a strange week for JT and Co after England's friendly against the Netherlands was called off due to safety fears after the riots in London.
I chatted to Michael before the launch began and asked him if he was looking forward to the new season.
'Six weeks of running is enough for anybody - I just want to get on with it', was the gist of his reply.
Five minutes later, Premier League chief executive Richard Scudamore got up on stage and confirmed that Tottenham's match against Everton had been postponed.
I couldn't see Michael's face but I imagine it fell quite a long way!
Richard went on to talk about the new 'Get on With the Game' initiative, which aims to improve player behaviour on the pitch - an idea that I, like many including Roy Hodgson, fully support.
Roy is immaculately behaved as a manager and his teams pretty much follow his example, but even he had some reservations about how effective this programme might be.
It's very worthy and commendable to aspire to a game where players don't surround the referee but in the red-hot heat of 90 minutes it appears very, very difficult to achieve.
Pressure
Maybe it is attainable - there's certainly nothing wrong with trying - but the big test will come, and I asked Peter about this, the first time that players complain to a referee en masse.
Will they all be booked as a result? Somehow I doubt it.
Anyway, I was just pleased to get through the whole launch without mishap because the last time I was involved, back in 2008, I fell off the stage while talking to Ian Ashbee.
Everybody remembers that, it seems, so I was remarkably pleased that this year the stage was a lot bigger and I didn't have to move around too much!
I think that's why the Premier League wanted me back as host because my inadvertent 'launch' actually made the back-page lead in some of the newspapers! They said they'd never had coverage quite like it!
I still say to this day that Ashbee tripped me...
Unscathed
The eagle-eyed amongst you will have noticed that Soccer Saturday kicked off last weekend with a Championship special in our brand new home, Sky Studios.
Getting used to a new studio is always tricky but it becomes even more difficult on the first day of a new season when teams like Bristol Rovers have brought in umpteen new players.
We came through the show relatively unscathed even though there was no visible clock in the studio, which meant I had no sense of time for the whole afternoon.
I'm hoping one will appear by the time we start our first full-length programme of the season on Saturday, so that I've got some idea of how long Thommo has been moaning about Liverpool...
Apparently Tiss now has a tie, which is a first. Earlier this year he became the president of Guernsey Football Club, who are now playing on the mainland for the first time.
The club has furnished him with some neckwear - but whether it makes an appearance on Soccer Saturday or not, remains to be seen.
I haven't seen a great deal of the lads over the summer because they spread themselves to all parts of the world so I'm looking forward to getting together again - although I could do without the occasional abusive text from Thommo about my weight!
Injury
I'm hopeful this will be a big season for Hartlepool. We've started well and even though we couldn't quite hold on for a win against MK Dons, a draw was still an excellent result.
Likewise, we did well in the Carling Cup against Sheffield United, who are going to be one of the strongest teams in the division.
Unfortunately by the time it came to the shoot-out, three of our dedicated penalty-takers - Antony Sweeney, Adam Boyd and Noberto Solano - were all off the field, so that made life a little bit tricky.
Unfortunately Sweeney, who was our top scorer last season and bagged the equaliser against the Blades, picked up an injury and could now be out for a little while.
Even in his absence, though, I still fancy our chances against Walsall this weekend.
James Brown will miss the game too as he is still nursing an injury, which is tough on him, but also tricky for me; it means I'm not going to need my James Brown doll just yet - and we can't use the song either!
Catch Jeff and the Soccer Saturday lads - Merse, Tiss, Charlie and Thommo - at 12pm on Sky Sports News HD this Saturday.
Comments (3)
Corkie D'cat (Manchester United fan) says...
Jeff you are a scholar and a Gent, as ever your articles raise as many questions as they answer... A scholar and a Gent... Looking forward to the next season with the Banter of you and the whole Crew... GGMU
Posted 06:35 14th August 2011
Gareth Lloyd (Aberdeen fan) says...
THEDONS TO WIN THE LEAGUE COME ON YOU REDS
Posted 11:33 13th August 2011
Bernardette Mawson (Manchester United fan) says...
NOTHING CAN REPLACE JEFF AND THE GANG ON SOCCER SATURDAY ROLL ON 3PM SATURDAY.
Posted 20:02 12th August 2011