The hideous decision to rename Newcastle's ground has well and truly got my goat!
Although the caption on Soccer Saturday will refer to whatever the stadium's official name now is, I for one will do my utmost to call St James' Park just that.
Trust me; I've got history in this area! I remember when Wycombe's Adams Park became the Causeway Stadium in 2003. I religiously refused to call the ground by its new name and we ended up in 'discussions' with the club for some time.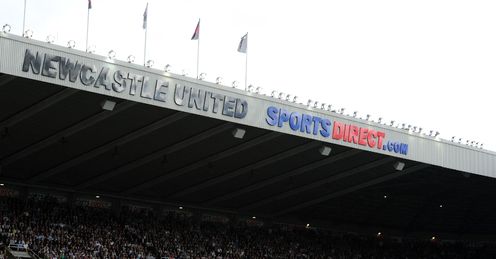 I must admit that I felt a small triumph when the name eventually reverted to Adams Park.
Heritage
I'm not being deliberately difficult; I feel that it is wrong for owners to change the name of a stadium that is steeped in tradition and history - one that people can identify with - when they don't own that heritage.
It's a different matter when you are naming a new stadium, of course; in that instance the sponsors should be able to call the ground whatever they like.
People all over the world recognise St James' Park as Newcastle's home. To destroy that affinity is abject nonsense and I'm sure that every true Newcastle fan will abhor this name change.
Jeff Stelling
Quotes of the week
But people all over the world recognise St James' Park as Newcastle's home. To destroy that affinity is abject nonsense and I'm sure that every true Newcastle fan will abhor this name change.
I'm sure football people and anyone with an appreciation of history know exactly where I am coming from.
Tarred
Newcastle say the rebranding gives them the chance to show future investors what they could get for their money, which in itself could lead to the farcical situation where the stadium is renamed every couple of years.
But if I was a potential sponsor, I'd be wondering what I'll get back for my money and the answer I'm sure is 'not much'.
The newspapers are unlikely to refer to the ground as anything but St James' Park - and the same is probably true of most television and radio companies - and the new sponsors will be tarred with the same brush as the current owners are.
Will this really help them sell more products? There are much better ways to increase brand awareness.
A sponsor's name doesn't tend to stick unless they are right in there when the ground first opens although it's interesting to see how the Etihad Stadium is hanging around.
I much prefer Eastlands but the day that I hear the bulk of City fans calling their ground The Etihad and the bulk of Newcastle fans calling theirs whatever the new name is, I'll be happy to fall into line.
Choice
On a different note, I'm relieved that a compromise has been struck in the great poppy debate.
It has taken way too long but we got there in the end. Ludicrously the Prime Minister had to get involved before common sense prevailed, but as we all know too well, common sense and international footballing bodies don't usually go hand-in-hand without a struggle.
The key thing is that the poppy is on display during England's friendly with Spain; that's the best way of showing that you remember. Armbands are fine. It doesn't have to be stitched into the shirts.
I will always choose to wear a poppy but I truly believe that everybody should have the choice whether to or not. I don't think it should be compulsory.
If one of my panellists chose not to wear one, for example, that would be fine by me; I'd respect their right to make that decision.
TV companies all over the globe would disagree but my personal feeling is that forcing someone to wear a poppy dilutes the strength of wearing one; it becomes the 'thing to do' rather than a genuine act of remembrance.
Staggering
It has been an emotional week so far for me in a different way because I've been filming my final episodes of Countdown.
Rachel Riley, Susie Dent and I have spent the last three years filming the show together and over the years we've become fantastic friends so it was a wrench to leave them and all the background people as well.
I also spent the week in the company of two sporting greats - Robin Cousins and Bumble - and Jon Culshaw off the Impressions show, who does a mean Fabio Capello. His Arsene Wenger isn't bad either!
Countdown seems to attract a staggering number of football fans as contestants so I hope they understand the reason for my departure - I simply want to be able to concentrate more on football.
My last show will go out in mid-December and it rounds up with a series of my gaffes, of which there are quite a few! I'm sad to go but trust me, there's enough football to keep me busy!
Jeff has a rare day off this weekend but don't miss Soccer Saturday for all the FA Cup scores from Sky Sports News HD.
Comments (102)
Marc Armstrong (Middlesbrough fan) says...
Even as a Boro fan i find it totally unacceptable that the owners can remove an internationally recognised stadium name and replace it with a name that will mean nothing to anyone. I hope that all you Geordies get the name back to what it should be.
Posted 19:26 14th November 2011
Mike Robson (Sunderland fan) says...
Here's the viewpoint of a SUNDERLAND fan....... Ashley and LLambias should hang their heads in shame. The ground always has and always will be known as St, James' Park. To barter it round to the highest bidder for a few quid ( relatively speaking ) is pathetic... not least since NO ONE will be surprised when MA's very own Sport Direct will doubtless end up as the sponsor. For the earlier " Newcastle " fan to suggets people should " Get over it, football is a business " suggests he's no football fan anyway. Try telling any genuine football fan that their beloved sport is a business, and see what their response is. The recent tirade from Llambias against Shearer and Keegan sums up the present incumbents at St. James Park.... no knowledge of the club, no respect for the club and no respect for the fans of the club or their heroes... My heart bleeds for the loyal and genuine fans of an historic club, a region which lives and breathes football is being humiliated by MA and DL...... even their best position in the Premieship for many a long day is overshadowed by the actions of these idiots in the Boardroom.
Posted 13:29 14th November 2011
Tony Burn (Newcastle United fan) says...
To the fans, the ordinary fans, the ones who count, football is not a business; it is an emotional passion that we follow, that we spend our time and hard earned on because we have pride in our city. The one constant of any club is the fans, people come and go but we, the fans are always there! To ignore us is folly.
Posted 19:10 13th November 2011
Paul Collins (Arsenal fan) says...
im sorry i dont get the problem? would newcastle fans not sacrifice a name for the success they are currently having? didnt achieve much under the "st james park" name so maybe its a good move IF he keeps his word n puts money into the team. the newcastle fans moaning now were the ones moaning about how they would "struggle" before the season began with their current squad only to now cheer that they are currently in top 4 like they believed it all along..... football nowadays sadly is a business. ask most 20-40 year old newcaste fans and most of them the only true "history of st james park" they have is the fact they played there. they didnt achieve anything so that history isnt so big. be a much bigger deal if say itd been liverpool changing or someone....
Posted 17:39 13th November 2011
Mark Houlden (Newcastle United fan) says...
Would it be so difficult to compromise and call the area St James Park and the ground Sports Direct arena. You could have signs that Say St James Park home of the Sports Direct Arena and so on that way they get to rebrand and the 'Home' of the team keeps it's name while the sponsers still get to stick their name in the TV camera's eye.
Posted 13:43 12th November 2011
David W (Aston Villa fan) says...
they say they will invest the sponsor money, but I'm sure the fans would rather see the £35m for carrol re invested first...
Posted 12:41 12th November 2011
Norman Forrest (Newcastle United fan) says...
Why can't the board just increase the season tickets or matchday by £10.00 each , then based on 52,000 supporters everyweek going to 19 games would generate £9.88 million. is this not a better option? We could then keep our name as St james park. I think most supporters would be prepared to pay the extra money to retain our famous name.
Posted 12:36 12th November 2011
P H (Newcastle United fan) says...
Well said Jeff.......... Please ask all the lads on Soccer Saturday to do like yourself and continue to call our ground St. James' Park. This is not just a football issue, the ground is a major part of our proud and historic city with streets and even the metro station all named likewise. We Geordies are as proud of our city as we are of our football team and unlike some cities with their teams playing out in the suburbs or on retail parks (The so called new name would be apt) our ground sitting in the city centre means St. James' Park is as much part of the city's heritage as is the Tyne bridge and Grey's monument, perhaps fat boy Mike would like to buy these and change their names? The man has no respect for not just the toon army but for all the people who live in and love THEIR city. Mike your just like your shops mate, cheap and lacking in class!!
Posted 12:34 12th November 2011
Graeme Gaunt (Newcastle United fan) says...
How can anyont take this seriously, changing the name of one of the greatest teams and stadium in the world is sacrilidge, ALL FANS should stay away in protest until it once again the GREAT ST JAMES So Sad
Posted 00:10 12th November 2011
Phil Digweed (Manchester City fan) says...
Agree with most comments St James park is a fantastic stadium but it is the fans that make it and not the name but I do understand the fans getting upset about it , also how sad is this post from Man U fan John Williamson (Manchester United) says... I can't for the life of me understand all of the fuss about a stadium name.Let's be honest it could have been worse they could have named it the "We Haven't Won a Major Domestic Trophy Since 1955 Arena." Posted 19:37 10th November 2011 Lets just hope for all the man u fans sake that the lovely glazer family don't decide to rename OT as The Stretford Red Sox The renaming will bring in a guaranteed revenue and the fans will still always know it as St James Park could be worse the Strawberry could close down
Posted 21:44 11th November 2011
Mitch Hegarty (Newcastle United fan) says...
i think its right we need the money that will be good for the club
Posted 19:51 11th November 2011
Chris Pattison (Newcastle United fan) says...
Jeff, you are indeed the voice of reason and a god amongst idiots, as a life long geordie, i am appalled at the change and i'm over the moon that you have voiced the same concerns, it shows utter lack of respect to my hometown, to my family, all the fans and ex players, it takes something great away from us... would Muhammad Ali of had the same effect if Cassius clay had changed his name to Susan Williams or something equally as silly? ... no. i hate Mike Ashley, although we seem to be playing well at the moment some things are more important and i would prefer to be relegated for the next few seasons than for this to happen, this stadium took my breath away when i was a young lad, its a fortress, the cathedral on the hill... now it means nothing, its a huge building with the worlds most amazing fans in, but for it to be re-named this... makes that fortress dulled down. i am sickened to my core, Ashley out or at the least, come to your senses! your not welcome as long as these decisions continue! read into our history before you make such a pathetic call! traditions and heritage mean more to us than you could ever imagine! out out out! sir bobby, although the gentleman we know him to be, i'm sure, would of been disgusted at what these 'men' have done, if there was ever to be a new stadium name we could accept... how bout "sir Bobby Robson stadium". now that is how you do it mike.
Posted 19:20 11th November 2011
Tony Honour (Newcastle United fan) says...
I couldn't have put it better myself. All this has done is reverted the club's status back to the laughing stock it became when the proposed name change was last raised two years ago and to be honest I'm disgusted. Your support is appreciated by us all Jeff, let's hope Mr Ashley sees sense before it's too late.
Posted 19:01 11th November 2011
Dave Robson (Newcastle United fan) says...
Mike Ashley is a very astute, successful business man who is endeavouring to transform NUFC into a financially viable successful football club. Having invested so much money in the club in the first place it's stupid to suggest he is intent on destroying the club. Yes, his methods are a far cry from the gung ho spending of the previous owner but so far as I'm concerned he's moved on a manager who had probably peaked anyway and appointed Alan Pardew who, in my opinion, is doing an excellent job. They have regained control of the dressing room by moving on some strong characters who were only moderate players anyway and brought in some excellent, skilful players who have helped the team to it's current position in the Premier League. So far as I'm concerned that is all pretty positive but it seems that no matter what MA tries to do he is criticised and abused. The latest instance being the renaming of the stadium. What's the big deal if it generates additional income with the potential to improve the team further. I personally would prefer to watch a good team at the Sports Direct Arena than a poor team at St. James Park, which I've had to more often than I care to remember. And yes I am a season Ticket holder.
Posted 18:00 11th November 2011
Martin Smith (Manchester United fan) says...
I agree to a point Jeff but lets be honest, what history do Newcastle have exactly? Also lets stop this nonense about Newcastle fans being the most loyal and best. Pre Keegan they were lucky to attract 15,000 fans in their beloved St james Park .......great show Jeff, your a legend!
Posted 17:52 11th November 2011
Jonny Burrill (Newcastle United fan) says...
Not sure why there are certain "football fans" and even worse some newcastle fans who believe that changing the name of the stadium is suddenly going to get us silverware or into the champs league. When mike ahsley finally gets his cheap shops name printed on the newcastle united kits as the shirt sponsor...will we suddenly be able to challenge for the premier league due to this. It has been done for himself. We will win silverware or get into those champions league spots due to the team or manager. What ever money we now get in for the stadium having a new name (to mike ashley and derek but no body else) will not be invested in the club...Just look at the carroll money and have a re-think to your comments. IT IS AND WILL ALWAYS BE ST JAMES PARK. Find we a real die hard Newcastle supporter who has been wanting this change for a while now. I will be surprised if you can.
Posted 17:15 11th November 2011
David Seagrave (Southampton fan) says...
The problem is they don't give a toss about history or tradition or supporters only money. I have supported Southampton all my life I still call St Marys the "Dell" just out of habit. The name won't die until the last of the older generation pass into history and St Marys will supercede it. The flaw with selling the name is that every time a sponser changes so will the name. Who will ever remember it or have any affection for it?
Posted 16:48 11th November 2011
Matt Szcel (Newcastle United fan) says...
The reason given for the name change is so that potential sponsors will have an idea what the stadium would sound like. Is that really necessary though? I'm pretty sure that if Llambias said during negotiations 'yeah, and you can have your brand in the stadium name' they'd understand. If Ashley gets his way, St. James' Park will have had 3 different names in from Nov. '11 - Nov. '12, and to be frank, that is unacceptable. All we need now is McDonalds to come in with an offer...
Posted 16:09 11th November 2011
Steve Reay (Newcastle United fan) says...
Always has been & always will be st james park
Posted 16:02 11th November 2011
Mark Harvey (Newcastle United fan) says...
Would it be possible for a group to be set up and to take donations from every Newcastle fan to raise the money to "name" the stadium as St. James' Park? I would not mind adding a bit of money to our coffers if it got the name back.
Posted 15:51 11th November 2011