Roberto Mancini got it spot on when he said that referees are refereeing too many games.
Like players, referees aren't immune to fatigue and, like players, it can affect their decision-making and effectiveness on the pitch.
Or as Mancini put it - after City's Carling Cup exit to Liverpool - "...to play every two or three days is difficult for the players, and for the referee".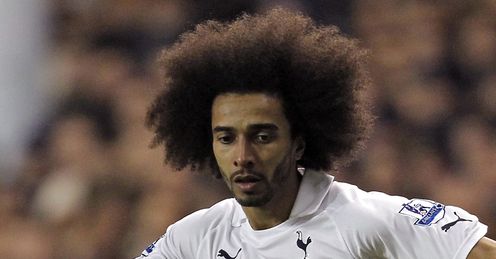 It's not just the distance they cover in games that has an impact though; look at the distance they often have to travel between matches.
Adding more refs to the Premier League pool would help ease the burden on those already there.
There are some good referees in the lower leagues (there are some rotten ones as well, mind you) who could be drip-fed into the system without diluting the quality one bit.
Discrepancies
Mancini's words struck a chord with me after it emerged that the FA won't take any action over Benoit Assou-Ekotto for his challenge on Franco Di Santo, while Yohan Cabaye has been banned for three games for kicking out at Brighton's Adam El-Abd in the FA Cup.
You or I could not work with somebody standing by our shoulder every minute of the day, looking out for any mistakes. It's an impossible working situation. Can you imagine how it feels as a young referee learning the trade to have Big Brother watching your every move from the stands?
Jeff Stelling
Quotes of the week
Sky Sports Fantasy Football
Play Fantasy Football against Jeff Stelling each win for the chance to win great prizes.
Pick your team
.
Play Super 6
Think you know your football? Predict the scores for six matches for the chance to win £100,000. It's free to play and you could land the jackpot.
Play now

Transfer Betting
For all the latest transfer odds on the key targets in the run up to deadline day visit skybet.com. There's a
free £10 bet
for new customers.
That's just nonsense.
For the protection and well-being of the game, discrepancies like that cannot be allowed to stand. The FA loses credibility with every such decision.
The FA won't review the Assou-Ekotto incident as referee Lee Probert saw the incident and chose to take no action. As I touched on at the end of last week's column, this is a farcical state of affairs.
Probert is going through a hard time at the moment and the fact is he got it wrong. Somebody has to say 'ok that was your decision at the time - in real time - but we've looked back at it and you were mistaken. We're going to take action'.
Otherwise, it's so unfair. Newcastle and Spurs are both pushing for Champions League places yet while Newcastle have to make do without one of their key players, Spurs have still got Assou-Ekotto in their side.
Such a lack of even handedness is ridiculous.
Pressure
I'm not in favour of referees explaining their decisions after matches. I know that generally the guys on Soccer Saturday are in favour of that, but all it does is hang referees out to dry.
Are you going to ask them to explain all of their decisions when they've had a good game? Of course not. They are only going to be grilled after they've made a howler. There's nothing to be gained from that in my view.
I think referees assessors should be taken out of the stands because it puts too much pressure on the officials.
I'd prefer it if referees were monitored throughout the season and then assessed at the end of it, rather than match-by-match, so their overall performance is taken into account. At that point they can be told which areas they can improve in. That would also give clubs a chance to have a more considered say.
You or I could not work with somebody standing by our shoulder every minute of the day, looking out for any mistakes. It's an impossible working situation. Can you imagine how it feels as a young referee learning the trade to have Big Brother watching your every move from the stands? It gives them no confidence whatsoever, in my view. It's the wrong way of doing things.
Saddened
I've just returned from a visit to Teesside University, where I was invited to give a talk.
It reminded me of my times in the North-East as a teenager when Leeds were Middlesbrough's arch rivals - a fixture that in those days would have been a top-flight clash.
So I'm saddened to see Leeds playing at the level they have been at recent years, even playing Hartlepool a couple of seasons ago!
This week's sacking of Simon Grayson made me wonder if Leeds are trying to run before they can walk. It's not as though they are in a horrendous position in the Championship at the moment.
It worries me that they've sold some of their better players since the summer - the likes of Jermaine Beckford, Kasper Schmeichel and most recently Jonny Howson, a Leeds boy and club captain.
I wouldn't blame Leeds fans for fearing that Robert Snodgrass - a marvellous player who reminds me of John Robertson in his Forest days - could be sold in the summer.
Pattern
So it's worrying times for one of the giants of the game. I feel that Leeds are further away from being back in the Premier League today than they were before they sacked Grayson.
Bizarrely, Leeds have sacked him at the end of the transfer window! What sort of timing is that? Now whoever comes in will have no opportunity to sign anybody.
I understand that you can't lose 4-1 twice in a month and not expect questions to be asked but I find the timing of it all bewildering.
There doesn't seem to be any pattern to what is happening at Leeds; I'm sure there is a master-plan but I've no idea what it is.
I mentioned a couple of weeks ago that every Championship side would be looking at Neil Warnock and he's now odds-on to succeed Simon.
I wonder whether Ken Bates might be looking at Roberto Di Matteo; they've worked together before and you never know, Di Matteo might just be finding that it's tough being a number two again once you've been a number one.
I don't really know Ken at all but he certainly makes football more colourful, although Simon Grayson might not agree with that assessment right now.
Catch Jeff and the boys on Gillette Soccer Saturday at 12pm this Saturday on Sky Sports News HD, channel 405.
Comments (19)
Ron Mccahill (Manchester United fan) says...
Why don't the so called experts with all their biased views on referees pick up on the fact that 90% of goalkeepers handle the ball outside their area when taking a clearance kick out of the pen area. They usually only let go of the ball just over the 18 yd line. More importantly why don't the linesmen spot it.
Posted 14:54 5th February 2012
Simon Mayo (Newcastle United fan) says...
I think the referee of the premier league job is made almost impossible in comparison to the respect an umpire gets in cricket, i feel football is absurd. The FA have to outline the ruling and elaborate on each 'Red' or 'Yellow' Card situation as i believe this is a contact support and should be but the referee should have the power and responsibility to do his best to protect responsibility. Also with the preservation and correct justice shown; I also believe there should be a further referral system within the 4 officials involved in the game and both managers! Then if no settlement is resolved, and there are issues which they can't decide an action is invoked the FA should be called upon! Although I have asked such, which is probably not possible knowing 20 clubs are involved in 2 days action knowing that's 900 hours of footage to review i also think is unfair, so judgement should be made as a prosecution case with the club present to prosecute as Brighton seemed reluctant, whereas Wigan Manager - Martinez was disgusted with Assou-Ekotto's challenge and in slow motion it looks all the worse! However Yohan Cabaye's challenge is open to debate as both teams stated! I don't wish this to be a personal disciplinary disgrace, I wish to also highlight the Terry case in comparison to the Suarez case and if found guilty the same action should be taken at least! Rules need to be stated properly in a manner on which a review can occur and the following prosecutions need to be outlined! All the best to everyone I hope there are few complications for the rest of the season! -felt sorry for Hugh- today 15:43
Posted 19:39 4th February 2012
Mark Curistan (Tottenham Hotspur fan) says...
As a spurs fan I have to admit ekotto's tackle was awful and deserved a straight red but we are talking about inconsistency of decisions. Spurs are only 5 points off the top of the league even though horrendous refereeing decisions cost them precious points against city and stoke. In the premier league it's one rule for the big teams and a different one for everyone else. There should be a league table for refs with promotion and relegation that is there for everyone to see. This would create a will to do your best attitude and the winner over the season would deserve fa cup final or world cup final.
Posted 08:48 4th February 2012
Andrew Black (Tottenham Hotspur fan) says...
It's not one rule for one and another for others. The rule is if the ref sees it then he has dealt with it, if he didn't he hasn't! The rule may be wrong but there is no conspiracy against any teams just silly rules. Lescott looked more guilty than Balottelli against spurs to me tho, was this the same argument i.e ref saw one and not the other?
Posted 21:55 3rd February 2012
Andrew Smithies (Leeds United fan) says...
Jeff, As a Leeds United fan i agree totally with your view of the recent events at Elland Road. Decisions have been made by Mr Bates based on two key factors, firstly Finance secondly results however you could argue that they both mean the same thing. Selling the captain and arguably one of the better players was a financial decision and i beleive based on the fact that Mr Bates can go into the Loan market and pay just for wages with no Transfer Fee. The sacking of Simon was again based on many measurements that we may never know all we think of as fans are it is results based and i agree that may be part of it but other factors were involved. The remainder of the season will be a real rollercoaster for Leeds Utd and the fans however i have a strong feeling Mr Bates's decisions may just save the season and give us a fighting chance of reaching the Holy Grail.
Posted 21:55 3rd February 2012
Bob Shanook (Manchester United fan) says...
If a game can be decided by a poor decision, then the fundamental factor of 'a level playing' field doesn't exist. I totally agree that the FA's post match position in terms of retrospective punishment is woefully inept. Rooney, Van Persie, Ekotto, Lescott etc are all players that should have been punished for their actions in recent times. But the bigger picture is that there are several in game inconsistencies that need to be addressed. They are looking at goal line technology, but is that really such an issue? I can only remember about 5 or 6 such incidents of over the line mistakes in football in the last 25 years! Surely the real problems in the game are the in play issues? What about incorrect offside decisions, incorrect penalty decisions, incorrect judgements on fouls, inconsistencies with the issuing of cards for diving and dissent, off the ball incidents that are missed altogether when they should be addressed in the game because the outcome of such action could influence the result - Balotelli on Parker for example. There are so many incidents in the game that one referee and two linesman cannot possibly be expected to keep up. People say the controversy is what makes the game but it's nonsense. Football talk should be about great goals, scrappy goals, solid defending, shocking defending, last minute winners, sublime skills and talent, not whether someone should have been sent off, or whether it wasn't a penalty or whether it was offside etc. If it's not a level playing field then the game fails in it's most fundamental of rules.
Posted 11:57 3rd February 2012
Matt Parish (Brighton and Hove Albion fan) says...
Great Article Jeff. Although I don't think the Refs have been better or worse this season but what I do think is the Bias that the FA shows towards some clubs and certain players is unbelievable, Lampand Nothing for awful tackle, Crouch Nothing for wracking his fingers across someones face, Lescott Nothing for throwing an elbow, Van Persie Nothing for throwing an elbow, Assou-Ekotto notthing for a Horrible tackle, Then Ballotelli and Cabeye get penalised (rightly so) but possibly not the worse incidents that have occured. I really think the FA have got to answer some questions rather than just saying we are the law and thats that!
Posted 08:50 3rd February 2012
Ken Childs (Southampton fan) says...
To be really blunt the FA are their own worst enemies when it comes to referees and their issues. The majority of referees are at least 10 years older than the average player, they seem to be less fit and slightly less athletic than the average player and the stupidity of it all is they have a fourth official who does virtually stuff all at a game. With a little more thought and consultation they could address the issues that a lot of managers and us the fans have with them. After all it us the fans who pay their wages too indirectly, but no one in the FA has the honesty to admit that.
Posted 22:41 2nd February 2012
Steven Kaufman (Arsenal fan) says...
YES!! Awesome! Thanks Jeff for finally saying something about these, as you so eloquently put it, Discrepancies. I feel like I'm taking crazy pills... week after week there is some crazy decision, usually something inexcusable, and nobody really says anything. Announcers, analysts, and more importantly the FA just seem to let it go. "you can't get them all right or he's missed that...' Give me a break. Refs should be accountable in some way. Maybe a point system, a perfect game gives you a certain number of points etc and then the bottom three EPL refs go down to ref in the championship and their top 3 come up. Along with some finally rewards/punishments for errors. I bet things would improve quickly. It has gotten hard to watch at times... If I was some of these managers who have suffered at the hands of horrid referring I think I would round up my players and send them off the pitch. I am actually surprised it hasn't happened yet. Goal line technology, video replay!!!
Posted 21:45 2nd February 2012
Gordon Williams (Tottenham Hotspur fan) says...
stop moaning about footballs and referees getting fetique.i work 70+hours each week then on sunday referee 2 matches,and i an 56.
Posted 21:16 2nd February 2012
Robert Parker (Newcastle United fan) says...
Thank God, someone has highlighted this Spurs/NUFC issue. It was bad enough that Arsenal's Van Persie had no action against him for his elbow incident, but the comparisons between the Cabaye - 3 match ban and Assou-Ekotto's total let off is frankly appalling. Isn't time someone took the FA to task over this. Spurs v Newcastle is next week, they'll have their player on the pitch, we won't!! I think this is particularly relevant as it's the same referee in both incidents and even Brighton wrote a letter defending Cabaye, which the FA ignored. There seems a definite "one rule for some clubs and another for the rest" mentality at the FA and in the minds of some refs. Cabaye is no angel but if his treatment was the same as Assou-Ekotto's, no one would have any reason to complain. A degree of fairness and a level playing field is all that fans of the game want. Thanks Geoff.
Posted 16:34 2nd February 2012
Andy Thomas (Newcastle United fan) says...
Solid article, Jeff. Think we need people like you running the game instead of merely commenting on it, even if you do provide mucho entertainment in the process!
Posted 15:48 2nd February 2012
Vladimir Novakovic (Manchester United fan) says...
I totally agree that refs need some reinforcement, but not on the idea of assessing their performances once a year. While lambasting them week in week out makes no sense, neither does letting them get away with it for the whole season before any meaningful action. You have to put it in the right perspective: this game is about players and supporters, not referees. The primary target should be to prevent any of the players or clubs be unjustly punished or avoid just punishment. I understand that educating refs by steadily following their progress would be a fine way to get fair and quality decisions in a long run, but I don't feel that football has that much time. When you take a more serious look, it's not the players refs can be compared to in modern game of football, it is the managers. Just as they are assessed on the basis of a few most recent games and rarely get a chance to make things right once they get on a poor run, I suppose that refs should go through the same process. One mistake is justifiable, but repeating them in a short period is not tolerable, and that is what is happening nowadays. I mean, is there any sense in waiting till the end of the season to take a good look at what Mr. Foy has done so far? And is it really OK that just 2 weeks after missing the Balotelli incident whatsoever Mr. Webb gets another big game? Thus, you would need to find some measure between a game and a season. Once every couple of months would be fine by me, five to eight games in between, enough to get to some valid conclusions on good and poor sides to their game. As for Leeds, to get rid of two local boys in Howson and Grayson in the same month is beyond belief. Poorly ran club, won't be back up soon.
Posted 14:35 2nd February 2012
S P (Tottenham Hotspur fan) says...
He's probably right...but it's funny that he didn't make these comments when Citeh finished with 11 players against Spurs, when Balotelli and Lescott should have walked, innit!
Posted 14:29 2nd February 2012
Derek Mooney (Newcastle United fan) says...
yet another case of london bias - the FA are a disgrace in banning Cabaye when other challenges far worse go unpunished.
Posted 13:56 2nd February 2012
Marguerite Higham (Newcastle United fan) says...
Thank you Jeff for pointing out these unfair anomalies in relation to retrospective action by the FA; this is really what infuriates the average fan. The word I hear most from all my fellow fans is CONSISTENCY. The FA have to address this situation. Also PLEASE can you do something re Phil Thompson. (like take him outside and give him a slap). He is not funny, he is just a cringe-worthy embarrassment. His rantings last night were typical of the paucity he brings to match coverage.
Posted 13:44 2nd February 2012
John Mason (Tottenham Hotspur fan) says...
Newcastle pushing for a Champions League spot???????? Your Having a laugh.
Posted 13:36 2nd February 2012
Vassilis Koukoulis (Newcastle United fan) says...
Thanks Jeff, someone with exposure had to mentioned the injustice that has been done, I do not wish for the Spurs man to be punished, all I want is a fair system that it is applied across the board. The Ref says that he did not see the incident at White Heart Lane, but surely the same applies for Yohan case otherwise why he did not take action during the game?
Posted 13:32 2nd February 2012
Mark Jankowski (Newcastle United fan) says...
I couldn't agree more Jeff. The level of inconsistency in officiating this year has been unbelievable. Putting the issue of whether Cabaye should have been banned at all to one side, it is grossly unfair that Newcastle are without one of their best midfielders for 3 matches while Spurs can keep their first choice left-back in their line up during a pivotal part of the season. Out of the two incidents Assou-Ekotto's was by far the more obvious offence yet he goes unpunished.
Posted 13:13 2nd February 2012