Arsenal were a shambles in Milan.
The truth of the matter is that the game showed how good they are - and the answer is not good enough.
The defeat was another blow in a disastrous season that has already yielded eight league defeats, putting the title well beyond them.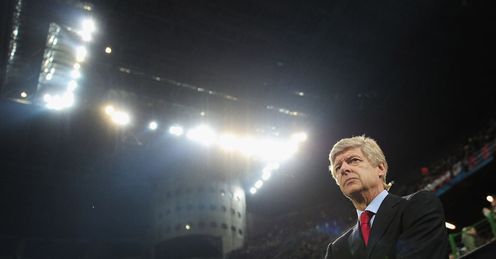 True, they might qualify for next season's Champions League (almost by default) but I'm sure Arsenal fans aren't exactly drooling over that prospect any more.
They are out of this year's competition; let's not kid ourselves. I can't imagine how they will pick themselves up for the FA Cup game against Sunderland but they have to.
Their season will end on Saturday if they lose.
Control
Should they beat Sunderland and go on to win the FA Cup (they are fourth favourites with Sky Bet after all), the danger is that the success simply papers over the cracks - just as bringing Thierry Henry back for a couple of weeks has.
Sky Sports Fantasy Football
Play Fantasy Football against Jeff Stelling each win for the chance to win great prizes.
Pick your team
.
Play Super 6
Think you know your football? Predict the scores for six matches for the chance to win £100,000. It's free to play and you could land the jackpot.
Play now

Transfer Betting
For all the latest transfer odds on the key targets in the run up to deadline day visit skybet.com. There's a
free £10 bet
for new customers.
Inevitably there has been huge renewed criticism of Arsene Wenger who, for the most part, has been largely above criticism during his time at the club.
He has been wonderful for Arsenal - and I'm certainly not on the 'Wenger Out' bandwagon (if one even exists) - but he is a Louis XVI type of figure.
Louis' reign was one of absolutism; he never doubted his right to be king and Arsene, in football terms, has operated in a similar way at Arsenal.
This has been Arsene's project and he has been allowed to run it as he chooses, so if anyone is to blame for Arsenal's current position it is the powers that be around him, the Stan Kroenkes of this world, who have never taken full control.
Consequently players like Cesc Fabregas, Samir Nasri, Gael Clichy, Emmanuel Adebayor, Kolo Toure - even Eduardo at his best - have been allowed to leave without ever being replaced properly.
We all know that the players Wenger has brought, whether it be Mikel Arteta, Gervinho, Laurent Koscielny, Per Mertesacker, Andre Santos, aren't good enough. Park Chu-Young and Marouane Chamakh didn't even travel to Italy, which shows what sort of purchases they've been!
Guide
Arsenal bought in haste last summer before the transfer window closed to repent at leisure.
Wenger missed the opportunity then to bring in the likes of Gary Cahill and Scott Parker - what a couple of buys they would have been!
Somebody has got to get a grip of Wenger and tell him that it is not his club.
He needs a restraining influence, someone to guide him and show him the beauty in a holding midfield player who can tackle or a rugged central defender. Otherwise Arsenal look like a club that is going nowhere.
I hope Arsene and Arsenal fans don't believe that 'the answer' is Jack Wilshere.
He's a talent, no doubt, but he isn't going to single-handedly turn Arsenal's fortunes around. To take on the mantle of Fabregas or Nasri with so little experience is asking too much.
Dwindle
The longer that Arsenal go nowhere, greater becomes the risk that Robin van Persie goes somewhere.
He must have been bewildered by what was going on around him on that field last night.
Milan are an ordinary side by their standards, although I must admit Zlatan Ibrahimovic was terrific. But Kevin Prince-Boateng, Robinho? These are players who couldn't make it at all in this country!
Milan were not impressive in beating either Plzen or BATE Borisov in Group H and Van Persie must really be thinking 'am I really going to stay here for the rest of my career because we are further away from winning anything than we ever have been?'
There will come a time when he will have to take a broader view and contemplate what else he wants to achieve before his career ends. Will he really want to dwindle away in a declining Arsenal side?
There are no signs of the decline stopping as far as I can see. Maybe Sagna and Gibbs were a bit ring rusty last night, but they were given an absolutely torrid time nonetheless.
Arsenal were unlucky to lose Koscielny and while Arteta and Aaron Ramsey are decent players, they are not world class.
Premier League sides have got to have strength in depth to challenge for the title. I just don't see enough of it at Arsenal. The future does not look great unless some drastic changes are made.
Catch Jeff and the boys on Gillette Soccer Saturday at 12pm this Saturday on Sky Sports News HD, channel 405.
Find out how to get tickets for Gillette Soccer Saturday Live - the show's first ever live tour - by clicking here.
Comments (41)
Moses Fraser (Arsenal fan) says...
Jeff, I feel everyone is and has been going to easy on Wenger and the board they have lost touch and its now starting to show with the empty seats at the emirates. I had lost faith in Arsene years ago it was the 4 - 4 draw with Spurs in 2008 the club has not progressed at all and im sick of hearing finishing in a champions league spot is a sucess because its not it just means a bit more money for the board and the manager to not invest in the team we have become a joke and a once solid team has been destroyed in & years.
Posted 15:13 17th February 2012
Vincent Muvara (Arsenal fan) says...
Can Wenger read all these articles, surely his tactics are over and over!!!!!
Posted 13:29 17th February 2012
Gary Jones (Manchester United fan) says...
Arsenal don't need a clear out, they need to add quality. Their squad isn't big enough or good enough so by adding quality the decent/mediocre players provide the depth and not the quality.
Posted 13:15 17th February 2012
Michael Christides (Arsenal fan) says...
Agree with everything you say, except you don't say enough and you are too generous in judging Wenger.Though a decent person with admirable moral principles he is technically clueless and tactically naive.He was new on the scene, brought some fresh ideas about managing in general, bought a few very good attacking players and midfielders early on and coupled with the top defenders he inherited managed considerable success for the first several years.When the English spine and backbone disappeared from the defence, and the Vieras, Petits, Bergkams, Overmars,Henrys left, the guys he was bringing especially in goal and defence were singularly lacking in having what it takes.Remember the Stepanovs, Luznys, Cygans,Senderos etc etc ending with the current crop of Squillacis, Djourus, Koncielnys,yes, Mertesackers and Vermaelens (they are all disasters waiting to happen, and ARE happening) He gives untold chances to mediocrities he wants to promote but has denied deserved places to british players who now have graced other teams for years.He even loses success storys like Cesk and Samir and every team captain is one who walks away next! He has some ridiculous ideas about holding on to top class 30 year + players and has the belief that only he knows best and no other can offer good services (especially coaching ones) to his players. As a result I have watched his players commit the same unforgivable mistakes on the pitch year after year which indicates that no one takes them over their mistakes one to one, to eliminate them. The guy is so obstinate to admit either failure or ignorance or accept help from knowledgable, savvy old hands, that he has become dangerous for the Gunners, unfortunately. He is full of himself, but clueless , also delusional,and because the Boards' bean counters like his loathing for spending they will never sack him until it is too late for any recovery..Please Arsene, leave!! Michael Christides
Posted 10:49 17th February 2012
Will Lord (Arsenal fan) says...
Jeff, couldn't agree more with you. What an absolute disgrace the last 5 years have been with Wenger refusing to buy players and to just sell players like Cesc and Samir when we should have fought to keep them (although fair play on the Cesc issue) Hope Wenger stays true to his word on selling Walcott, Rosicky and Arshavin none of which have any place in an Arsenal supporters heart anymore. Saying that who would replace them? Who wants to play for a team who hasn't won anything for 7 years nor looked like winning anything. If Wenger doesn't buy TOP QUALITY players he needs to go, simple as that. Arsenal fans have been more than forgiving over the last 7 years and our faith isn't and doesn't look like being re-paid, shame becasue our history is being damaged and our reputation as a whole has already been detroyed, as you said Milan aren't all that, we should have won that game. Oh well, yourself, Kammy and the guys on SoccerSaturday are enough to keep me going on weekends, so thank you and keep up the good work.
Posted 09:13 17th February 2012
Thomas Hedley (Arsenal fan) says...
Ive just read Stelling s report o the Arsenal situation and i fully agree with what he said I have been making the same views on the Arsenal FB for ages but i am a mister nobody and Wengar and his board don t give a damm to what any body says they know best They don t care if we won t make to the CL next season no pride no passion no ambition don t rock the boat you ll wake the board shhh
Posted 09:03 17th February 2012
Pius Olelegei (Manchester United fan) says...
This is the sad truth for arsenal. The squad is simply not strong enough. Actually they are very lucky that RVP has managed to remain injury free this season. Otherwise even playing in Europa league next season wud have been a distant dream.
Posted 08:58 17th February 2012
Solo Chineme (Arsenal fan) says...
nice write up. What more can i say, u have said it all. Arsene is living on his past glory.
Posted 07:41 17th February 2012
Tom Reardon (Arsenal fan) says...
Great Article. I think that what has been stated here has been the subject of pub discussion between gunner fans for the last 2-3 years. Wenger used to develop top talent and, whilst we can accept that not every player will develop into Cesc or Henry, we do want the player brought into the club to be equal to those departing. The transfer market was wasted last summer until the very last moment when we panic bought. We all knew Nasri and Cesc were leaving so why didnt Wenger? With such a wide scout netwrok, why bring in a centre back who couldnt outpace Andy Carroll, why bring in a midfielder from Everton who was at his peak 3 years ago? And why o why let Clichy go for 6 million and then try and then not go for Enrique or Baines or any other proven left back on offer? Getting tired of saying the same things game after game but it is true, if Wenger wants to develop youth, let him do it with the youth team...disappointed!
Posted 06:20 17th February 2012
Gaius Marius (Arsenal fan) says...
This article is spot on Jeff. The recent wins in the PL have only papered over the cracks and 4th spot is by no means a given. As a long term Arsenal supporter this has to be the most depressing time ever.. and I remember the some of the teams from the 70's and 80's. Ah well only another 15 or so games until the end of the season and an end to the suffering ( for now).
Posted 22:31 16th February 2012
Jimmy Cooks (Watford fan) says...
plus Robinho was great until it got cold and he realised he'd joined a club that wasn't going to buy any superstars for a few years yet...
Posted 20:09 16th February 2012
Jimmy Cooks (Watford fan) says...
Having a go at Robinho and KP Boateng because they 'couldn't make it at all in this country' is something of a misnoma. By the same logic Henry, Bergkamp etc 'couldn't make it at all in Italy' no? I seem to remember Arsenal were quite good with those two up front.
Posted 20:07 16th February 2012
Chris White (Arsenal fan) says...
Totally agree Jeff!! Ambiguity of the situation at the club hasn't helped either. How much transfer money is available? Who makes the ultimate decisions? For me though the worrying thing is thatbWenger has started to make a lot of poor decisions..the summer transfer window went against all his bleatings about " quality" and about the right player. If Cahill, Enrique, given Parker etc can go to other clubs for not much..why didn't arsenal buy them? It can't have been about wages or transfer fees? Last night he left Henry in his last game on the bench and started with a very lightweight midfield, in which A substandard Walcott was prefered to " the Ox" who has been a revelation. To me he is a man who has run out of ideas, while stubbornly refusing to admit the team is in free fall. A clear out is needed and some tough decisions need to be made. I just doubt he is the man to make them
Posted 20:06 16th February 2012
Mark Weller (Liverpool fan) says...
He is spot on with this article, I'am a Liverpool fan but I can honestly say that come european football night's out of all team's that's not mine. Arsenal was the club that made me drool the way they played one touch fast flowing, A joy to watch and envy of all, football fan's and manager's. God how I wished Liverpool could or would play like that just once would of bean nice, But last night's game & a few more to add have bean crap. So welcome arsenal fan's, from here it's a long way back let me tell you that a LONG WAY.
Posted 19:57 16th February 2012
Dave Henderson (Arsenal fan) says...
Thanks Jeff! Truth hurts I'm afraid and the problem is that Arsenal do not have a person behind the scenes to tell Arsene that investing/trusting in youth & buying good players rather than top quality footballers is not going to keep Arsenal at the top.
Posted 19:50 16th February 2012
Danny Leider (Arsenal fan) says...
loving the use of "dwindle" as a stand alone sub-title, Jeff.
Posted 19:50 16th February 2012
Peter Donnelly (Newcastle United fan) says...
First of all Jeff I want to say cheers for continuing to correctly call our stadium St. James' Park, please keep it up. I am still fuming about it, but if enough people ignore it then they won't win. I'm sure you already know, but Derek Llambias said in 2009 that "St. James' Park will never be dropped in our reign". Hmm, I'm sure he's lied before as well.. One interesting fact to call upon is Newcastle Council own the land that the teams play on and lease the land to Newcastle United. That land has always been the St. James' Park (Park of Saint James), and literally always will be whilst the council own the freehold. Regarding Arsenal, I agree with you. Wenger has failed spectacularly to build on all the success he had with the Invincibles. Looking in from the outside I think he's constantly failed to address weaknesses in the spine of the team, and when you consider the quality of players Arsenal could have and still could attract, I don't understand how he can be so stubborn.
Posted 19:10 16th February 2012
Greg Wakeling (Arsenal fan) says...
I can confirm Jeff that the natives are restless and feel that this season should be the end, and le boss should be allowed to fall on his sword at the end of the season.The pain of missed opportunities since 2006 with the lack of investment in top players to replace the continual draining of stars to other clubs and the dross being retained with top wages,is just to much for many to put up with. Every Arsenal fan recognises Wengers achievements with fondness but the lack of real success in the last seven years, is only bringing more pressure on his legacy,the whole staff needs changing in the summer including (i can only hope) at boardroom level.
Posted 18:59 16th February 2012
Dave M (Bristol Rovers fan) says...
I know that it's for some reason important for you to treat English players without any sense of perspective, but Gary Cahill?! The man who had no small part in Bolton's journey to the relegation zone and now warms the Stamford Bridge bench? This is the measure of what Wenger should have been aiming for? I notice that the next big English hopeful(tm) Oxlade-Chamberlain is excluded from this criticism.
Posted 18:56 16th February 2012
Kris Buckstone (Arsenal fan) says...
'A holding midfield player who can tackle or a rugged central defender' - lol You think that is the solution??? Why do all pundits and commentators think that we're still in the 80/90s - this is the reason the England football team can't win anything. The defence is fine - What arsenal need is to attack better and take more risks - put Arshavin in (someone who wants to attack and wants the ball) instead of Arteta (who just sits back and hides when we attack) and thats it - problem solved It's not the 4 goals that's the worry - its the 0. We hardly had an attack until we were 3-0 down which seems to be a current trend - the ability is there but we don't take risks until we're losing. Is this Wenger's problem? MAYBE but if he wants help he can always send me an email. I'm also available for the England job if anyone wants to offer it to me.
Posted 18:44 16th February 2012