England remind me of the Costa Allegra - drifting around in circles with nobody taking control.
On the face of it, it wasn't a bad performance against Holland and we certainly shouldn't read too much into the result.
Adam Johnson looked threatening, there were some nice touches from Daniel Sturridge and Ashley Young picked up from where he left off against Norwich and looks to be getting back to his best.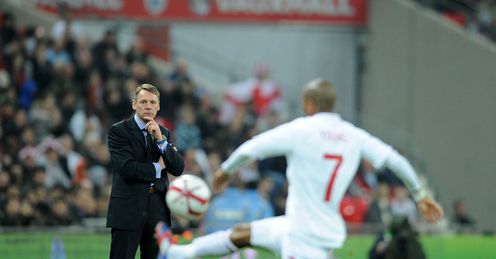 But I always felt that Holland were treating it as a friendly - they were very half-paced at times and when they did step up the pace in the second-half they exposed our extreme defensive naivety.
Strategy
Undoubtedly England missed some of their key players - including John Terry, Wayne Rooney and Steven Gerrard, who to my mind has been struggling for fitness ever since he returned to action.
I'd like to know what our strategy is - because at the moment it feels like we don't have one.
Jeff Stelling
Quotes of the week
Sky Sports Fantasy Football
Play Fantasy Football against Jeff Stelling each win for the chance to win great prizes.
Pick your team
.
Play Super 6
Think you know your football? Predict the scores for six matches for the chance to win £100,000. It's free to play and you could land the jackpot.
Play now
Soccer Saturday LIVE
Jeff Stelling and the Soccer Saturday gang are hitting the road for the first time in the first of five Soccer Saturday Live shows kicking off at Bournemouth on Monday March 19. Tickets for the tour are on sale now priced at £29.50 for Bournemouth, Liverpool, Newcastle and Birmingham and £32.50 for London. to find out more,
click here
.
But more than that I felt the display illustrated that we need a leader off the field.
I note that Sir Trevor Brooking, one of the four men charged with the task of finding England's next coach, says there is no rush to name Fabio Capello's successor but I disagree.
I'd like to know what our strategy is - because at the moment it feels like we don't have one.
If the FA's plan is to wait until the end of the season and then give Harry Redknapp (or whoever they chose) a couple of weeks to make things right, then they'd better think again!
Limbo
I think they've got to bite the bullet and come to some arrangement with Tottenham that enables Harry to take over as soon as possible.
We all know that Harry has got a job to do so it may have to be on a part-time basis, but at least he can start pointing the ship in the right direction. We can't afford to be in limbo for much longer.
The next boss needs time to make sure that everything is as he would wish ahead of the Euros - on and off the pitch. It's no good giving him a few days beforehand to implement his plans.
Of course Harry - or Roy Hodgson, for that matter - has the advantage of knowing the players but whoever is appointed will need a settling in period nonetheless.
(Incidentally, there were one or two suggestions in the press that perhaps Harry ISN'T the man for the job after all following Spurs' draw against Stevenage and defeat to Arsenal. It beggars belief!)
Defeatist
I'm also amazed by the number of people who appear willing to write the entire Euros off and focus instead on 'two years down the line'.
People have been saying that since 1966! I'm sick of aiming two years down the line because inevitably when those two years pass, the focus shifts onto the next major tournament.
And so the cycle continues.
It's about time we start to target what's directly in front of us - the European Championships.
We may well be fourth or fifth favourites but we do have some quality players. We've got to stop being so defeatist about things.
Farce
Stuart Pearce has handled himself very well over the last week; he's spoken well, he's been dignified and he's shown passion too.
But what was he thinking about when it came to naming the captain? Can somebody tell me the benefits of naming the captain on the day of the match?
If he knew who was going to be captain, let's stop the guessing game and move on.
I thought the whole thing was an absolute joke. What's the point of Joe Hart being interviewed and asked 'are you going to be captain' when Stuart knows full well he isn't going to be? I don't get it.
I hope England pick a captain when they name their Euro squad and put an end to this farce.
Catch Jeff and the boys on Gillette Soccer Saturday at 12pm this Saturday on Sky Sports News HD, channel 405.
Find out how to get tickets for Gillette Soccer Saturday Live - the show's first ever live tour - by clicking here.
Comments (8)
Bob Dohl (Manchester United fan) says...
Stuart Pearce did well last night, given time I think he could do a cracking job with England.
Posted 16:14 1st March 2012
Pat Smalley (Leicester City fan) says...
I cannot be anything but surprised by your surprise at the sacking of Megson ! Surely you recall he managed Leicester and before an extension of contracts was contracts finally agreed a PL club showed interest and Megson left Leicester overnight. Bearing in mind where was before moving on to Sheffield surely this was sweet revenge ?
Posted 16:10 1st March 2012
Shane Turner (Arsenal fan) says...
This is why England haven't won a trophy in 46 years. The media put far too much pressure on the team every 2 years when there's a major competition and they fail. The best thing the media can do is let England get on with their own thing and don't put pressure on them and then you'll get results.
Posted 14:59 1st March 2012
Paul Steeks (Tottenham Hotspur fan) says...
A great article Jeff and I agree with all points. In reference to the sackings of Megson and Clarke - given the respective positions of their teams in the league it does indeed beggar belief. The game is seemingly going stark raving bonkers. As for the commenter on here who says that no-one cares about international football anymore, that is utter nonsense. When England play a big tournament match the entire nation grinds to a standstill and you can't move for the sight of England shirts and flags on the streets. The whole country gets involved. Even when one of our big club sides gets to a European Cup final, whilst it's a wonderful occasion and hugely important to those clubs, it doesn't have anything like the same scale of impact. This is why it's so important that we get our national team heading in the right direction.
Posted 14:47 1st March 2012
Paul Collins (Arsenal fan) says...
sorry jeff but i disagree slightly, we have "good players" when they play for their clubs. for england they are all awful (no exception) the likes of rooney, gerrard, lampard, cole, terry, have failed repeatedly, its actually defeatest saying they should be picked given their history. look at spain theyre ruthless a player who doesnt perform gets dropped ie torres, players who dont perform for england just automatically walk back in and thats why we are where we are and people say last nights team was inexperienced. theyre inexperienced because they have never been given a chance ahead of the aforementioned failures. its our own fault we go nowhere but the media and the are are delusional and naive to keep saying the old guard are going to step up when history and performance says they wont. not one england player would get ahead of any spanish player in terms of quality, passion, performance. man for man spain and holland kick englands arse even when we have the likes of rooney in.
Posted 14:44 1st March 2012
Rueben Derry moore (Manchester United fan) says...
Hello my name is rueben I believe that staurt pearce is a rubbish manager and that Rednap should take over
Posted 14:20 1st March 2012
Trevor Woodward says...
Jeff Stelling is right on all counts. But with reference to England.. It does not matter who is the manager and who plays..England are boring and no-one really cares about international football except Trevor Brooking & the powers that be. Genuine football fans pay to see the team that they support whether it be Man Utd, City, Liverpool, Spurs or Hartlepool. We do not want to see our players injured playing meaningless international matches ahead of important weekend league & cup games.. There are too many friendlies...especially when all England managers do is continually 'try out players'. When will we get a settled team that is good to watch. Its no good picking a load of 'superstars' who can't play together... we could do no worse by selecting eleven English players from Charlton, Forest, Leicester, Reading etc etc... We need a team - not individuals!
Posted 13:23 1st March 2012
Clare English says...
Miss John Terry don't think so - he should not even be a cosideration for the Euros - he will have other things on his mind and also he just does not deserve his place.
Posted 13:12 1st March 2012