QPR shouldn't get too carried away by their comeback against Liverpool - because they were awful for the first hour of the game.
However, Rangers must take huge confidence in recovering from two goals down to claim a vital three points and even though their run-in looks horrendous, they now have a glimmer of hope.
It was brilliant that Shaun Derry got the goal that set them on their comeback trail as he is a no-nonsense, nuts-and-bolts character who gets on with things week after week.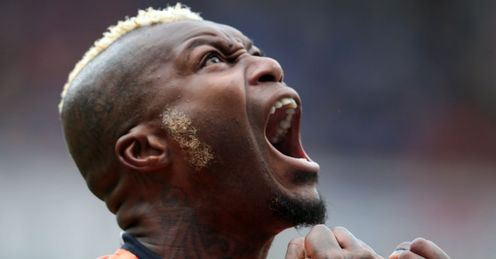 The way he launched himself at that header was terrific and it inspired everyone else; his character could prove critical as the season draws to a close.
QPR also seem to have goals in them which is paramount if you are to stay up. Djibril Cisse looks like he wants to shoot every time he gets the ball and in their position that is exactly what they need.
Djibril Cisse looks like he wants to shoot every time he gets the ball and in QPR's position that is exactly what they need.
Jeff Stelling
Quotes of the week
Sky Sports Fantasy Football
Play Fantasy Football against Jeff Stelling each win for the chance to win great prizes.
Pick your team
.
Play Super 6
Think you know your football? Predict the scores for six matches for the chance to win £100,000. It's free to play and you could land the jackpot.
Play now
Plus, they have Adel Taarabt, a man I have flown the flag for all season even when he wasn't playing consistently. He is a flair player and his ability to pick a final pass or cut open a defence could be worth its weight in gold.
The victory over Liverpool gave Rangers a bit of breathing space from the bottom three and they must now win their home games if they are to stay clear of the drop zone.
The form book often goes out the window at this time of year and Hughes must look at matches against Arsenal, Tottenham, Swansea and Stoke at Loftus Road as winnable.
It will be interesting to see what he does with Joey Barton, though.
I was shocked to hear the midfielder being booed pretty much from the start to when he was substituted on Wednesday night, even though he was terrible and admitted as much himself.
The avid Twitter user is no longer the QPR fans' Tweety Pie; he has gone off the boil and I think he could probably do with a break.
It's not something that Joey would willingly do, but I think it is time for him to have a rest and then come back refreshed for the final part of the season.
Spark
At the other end of the table, the public consensus seems to be that Arsenal are favourites to claim third place. It's not an opinion that I share, though, and I would still back Spurs to finish directly behind the Manchester clubs.
I was with Harry Redknapp earlier this week and he told me Spurs had to beat Stoke on Wednesday night. They didn't do that but there were some signs in the second half that the spark was returning; Gareth Bale, in particular, was fantastic.
If Spurs can get something against Chelsea this weekend - a big ask considering they haven't won at Stamford Bridge since February 1990 - I think things will be swinging in their favour, because they don't have another side in the top seven to face.
Arsenal have had an excellent six-match winning run to overtake their north London rivals, but it remains to be seen whether they can maintain their consistency.
They've certainly tightened things up at the back; Thomas Vermaelen is a fantastic player and Laurent Koscielny has been their standout defender this season. However, I worry that they still have to face Manchester City and Chelsea at home.
Tottenham have overcome their blip - something all teams suffer over the course of a season - and they are playing well. Their issue has been sticking the ball in the net and that's why I'm disappointed Jermain Defoe hasn't started more often.
Louis Saha, described by David Moyes as one of the greatest players he has worked with, has leapfrogged Jermain in the pecking order since he signed from Everton and he has done well, especially during Spurs' 5-0 win over Newcastle in February.
But I think it's Jermain's time now and he should be charged with scoring the goals that will cement Tottenham in a Champions League slot.
Can QPR survive? Will Tottenham finish third? Let us know YOUR thoughts by filling in the feedback form below...
Join Jeff and the gang for Soccer Saturday, from 12pm on Sky Sports News HD.
Comments (6)
Thomas bett Bett (Arsenal fan) says...
i will put my money on Arsenal finishing above spurs. Totenham have great players as well but their dip inform has come at the wrong time. Arsenal stands a better chance with its injury list growing shorter as the season comes to an end.
Posted 07:33 23rd March 2012
Güvr Stl (Queens Park Rangers fan) says...
As a QPR fan you may say im bias, but on paper we got a half decent squad..! I just hope last nights result against that mob from the red side of Liverpool gives a big confidence boost..! Surely we have got to remain in the premier League... There's still alot of work to do and its plain for all to see. But the bigger picture has got to be survive this season and spend next? Not like we are a poor club, don't really want to brag but for a small club, we got "Loada Money" ! Saying that we could have all the money in the world and still not be in the premier league next season.. Survival is a must..! Well done last night Lads , finally something to smile about, havnt felt so good since beating chealsea .. !!!! Come on you R'sssssssss
Posted 20:11 22nd March 2012
Joel Kyereme (Arsenal fan) says...
Both Tottenham and Manchester City lack the experience to triumph in their respective quests. Man United and Arsenal both have the experience in this part of the season, and its showing with Spurs recent form. United will win the league and Arsenal should wrap up 3rd.
Posted 18:03 22nd March 2012
Ben Wells (Tottenham Hotspur fan) says...
I think Tottenham will finish above Arsenal. We have played some of the best football this season, we just have struggled to finish well lately. Arsenal have played well but have also ridden a lot of luck, which will no doubt end soon enough.
Posted 17:19 22nd March 2012
Paul Morgan (Arsenal fan) says...
No way will Tottenham finish third. Arsenal have worked their proverbial socks off for 3rd place and wont surrender again. The final table will be Manchester City, Manchester United, Arsenal and Tottenham. Whatever happens the football has been great this year - long may it remain so.
Posted 16:46 22nd March 2012
Zakarie Cochrane (Arsenal fan) says...
I agree with Jeff that Arsenal do have a slightly more difficult run-in than Spurs but you can't beat experience and one thing I hope Arsenal have learnt over the years is just that. Arsenal have been in the position where Spurs are now where great football doesn't always equal maximum points or where you finish in the table. Sure they may deserve Champions League, and I agree they do, but let's not forget just what Arsenal have been through to get third. I don't know if it is just me but watching Arsenal through the season has been a roller-coaster but we've seen some players come into their own. Koscielny has always been a team player and at times he is just in the wrong place at the wrong time but this season we can all see why Arsene showed so much trust in him from the start. I would flip a coin to vote for him to be player of the season for Arsenal or the classy act of RVP.
Posted 14:53 22nd March 2012