As good as we are here on Sky Sports, there's no substitute for real, live football - and real, live football that means something!
And that is what the people heading to Wembley are going to get on Sunday evening.
In the past we've had pre-season games over here, but they didn't really have a whole lot of meaning. They might have been sold on the back of Joe Montana or Dan Marino appearing in the UK, but they used to be the NFL's first warm-up matches and those guys were only out on the field for two or three plays.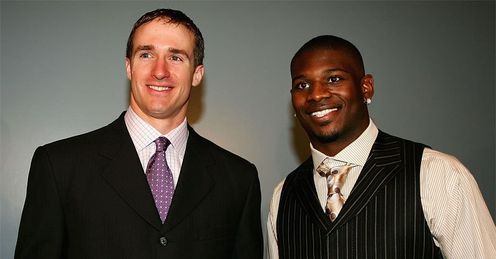 But on Sunday we will get, from beginning to end, a competitive game with both teams going for it, trying to make it happen.
This is their Super Bowl. The whole world is basically tuning in to what they are doing on Sunday. It's an international game and people will be focussing on them and nothing else at that time.
Also, it is somewhere different for these guys and they don't come much bigger than Wembley Stadium. That's a worldwide name you're talking about there so, even for Americans, just to be at Wembley is special.
NFL LONDON
New Orleans v San Diego
Live on Sky Sports
4.00pm, Sun, Sky Sports 1 & HD2
And if you think we're in for an exhibition game, an advert for NFL, then forget that right now! There is big pressure on New Orleans and San Diego. Big, big pressure.
They're both coming into this on the back of a loss and they're both 3-4. Although it won't close the door completely, loss number five often means you can kiss goodbye to the play-offs.
Explosive
Because of that, we are going to be treated to two teams that are over here on all-out business - and that means some of the hardest hitting you will see, whichever side of the Atlantic you're on.
I just hope the conditions hold up and we don't get the rain we had last year, because these are two of the most explosive offences in the NFL. Coming into last week's loss to Buffalo, San Diego were the highest scoring team this season, and the New Orleans Saints are in the top five too.
On the defensive side of the football, both of these are way, way down the list. There is a very real possibility that we could see that Wembley scoreboard explode.
And forget those losses as well, these two will be ready to come to the party. They have been away all week and have had no-one else to depend on except each other - and that can't do anything but good for their spirit and camaraderie.
As for on the field, right now I can't separate these two. All I do know is this game is a must-have for San Diego and a must-have for New Orleans. Neither needs it more or less, but both of them need that win to fly home back with.
Defeat for the Saints and five losses in the NFC South would be chaos and if the Chargers lose, are they gonna find themselves too far behind Denver in the AFC West?
Experienced
Nothing went right for either team last weekend either. We all talk about that Saints offense and the smooth arm of Drew Brees (pictured)and his experienced receiving corps, but for me, their defence always hold the key - until last week. Against Minnesota and Oakland in the previous two weeks, it had started to come together, but last week it just let them down.
They only put seven points on Carolina, but that can happen to offenses, it's your defense that gets you through those tough times and they just weren't there. They couldn't come up with anything to help Brees and his offense along and Norv Turner will want to that consistency above all else.
Don't worry about Reggie Bush not being at Wembley either. The Saints didn't have him for the last four games last year and went 2-2 - this ain't no woe is me situation, folks! The big thing for me is that they've got Duece McAllister back to run the football.
Hopefully they'll have Marques Colston back, hopefully they'll have Jeremy Shockey back, and they've still got Brees. This offense can still function - and fire - without Reggie Bush.
That said, if it is wet and windy at Wembley, this could well be a running game and in that respect, you have to give the edge to the San Diego Chargers. Ladainian Tomlinson has got to do something major sooner or later and they've also got a real threat in Darren Sproles.
The only one out of all of those guys you can really put some money on, some leverage on, right now is the Duece - and that San Diego defensive line with Jamal Williams, Scott Mruczkowski all those guys in there, are very tough against the rush.
Mistake
If you're looking for something to tip it New Orleans' way, then look no further than that man Brees. This guy is leading the NFL with 2,224 yards - almost 600 more than Philip Rivers - and is throwing the football so well right now and he is going in against the worst defense against the pass for the last two years.
He used to play for San Diego as well, so whatever he says, he is going to be motivated to show them they made the mistake in letting him go.
CADLE'S CALL: If you want a reason to go with the Chargers, it's that running game, if you want a reason to like the Saints here, then it's the passing game... this is a real tough one. It could be a simple offensive shoot-out, depending on the conditions, but for me this comes down to who wants it most - and right now I don't know that. This will be about who has done the right things, who has prepared for a football game in a completely different country and basically who gets it right on Sunday night. The coin is up in the air at the moment... you'll have to tune in to see which way it lands!
Comments (1)
Michael Wright says...
just to say that even with all their monies paid to them the san diego chargers, are absolute fantastic guests at the hotel iam working at outstanding polite and very friendly
Posted 19:05 23rd October 2008