The first game of the season is always tough, but they don't come any tougher than Pittsburgh against Baltimore.
It is the best rivarly in the NFL right now and although Week One can be all about finding your feet and bulding up new relationships, neither of these sides have changed much in the off-season. That means you can expect the usual match-up; rough, tough and with plenty of verbals.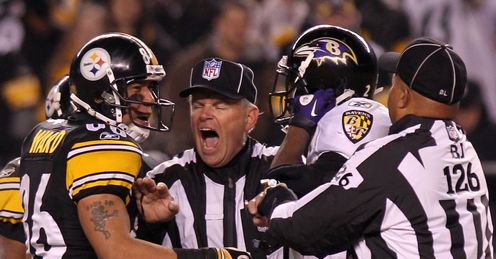 The Steelers will be just the same as ever. All 11 defensive starters from last year are there again and that will make a big difference. We saw that with the offenses of New Orleans and Green Bay; the chemistry was already there from the start.
At the same time you do wonder if Pittsburgh might have a problem. Of those backs, only LaMarr Woodley and Lawrence Timmons are the right side of 30 and that leaves them with a very real danger of the other eight, including their leaders like Troy Polumalu, James Farrior and James Harrison all getting old at once. Pittsburgh don't really use the draft system and don't sign a lot of free agents, so they better have some young blood coming through.
The front seven of Baltimore will get through Pittsburgh. It may be a brand new season but it's going to be the same old story for Big Ben. He doesn't work behind an offensive line, he has to get his thing done with a game of musical chairs going on in front of him.
Kevin Cadle
Quotes of the week
LIVE ON SKY SPORTS

Pittsburgh @ Baltimore
5.30pm, Sun, Sky Sports HD3
NY Giants @ Washington
9.00pm, Sun, Sky Sports HD3

Having said that, veterans know how to conserve their energy and someone like Polamalu might well have had a quiet pre-season, but you know he is going to be fired up and fit for this one.

I'm sure Joe Flacco is already having sleepless nights because in past seasons, the Steelers have always found a way to make his life a misery. This year though, that Baltimore offense does have new weapons that will give those defensive backs something else to think about.
Serious
Bringing in Lee Evans means they now have a decent possession receiver, with a little bit of speed, to go with the Anquan Boldin, on the other side. That doubles their threat downfield and should free up more space for Ray Rice in the short game.
They might not have used Ray as well as they could last season but the fact that he still came up with 1,220 yards running shows you he is still a serious part of their plans.
Throw Ricky Williams into that running game as well and all of a sudden they got a guy that will get them over the goalline too. Willis McGahee couldn't do that last year but now - even though Ricky is just glad to be getting paid never mind played - the Ravens should be much stronger with ball in hand.
They will also be tough to run against because there is nothing at all wrong with that front seven. But with Ed Reed struggling with neck problems I really don't think they have anything at all in the backfield and could leak more points than we are used to seeing from a Baltimore D.
It will be an area that Mike Tomlin and Ben Roethlisberger will think they can cash in, but that front seven of Baltimore will get through Pittsburgh.
It may be a brand new season but it's going to be the same old story for Big Ben. He doesn't work behind an offensive line, he has to get his thing done with a game of musical chairs going on in front of him.
They moved guys around all last season without finding the right formula and the fact that they have brought no-one into that line again, tells me it will be a repeat this season. It just goes with the territory as Pittsburgh quarterback, I'm afraid.
Kev's Call
If this turns into a straight-out shoot-out it favours Pittsburgh. If it is a real needle game with plenty of big hits and ugly football then Baltimore will do better. Both offenses should have no problem and because I can't see Polamalu, Farrior and Harrison turning old in Week One, I gotta give the Steelers the edge on the defensive side of the football as well. But, when these two meet it is always close and sometimes homefield advantage can swing it. Flacco and his two receivers should be able to stretch that backfield and open it up for Rice, while you know those Ravens are gonna have Big Ben in their sights from the very first down. I'm going with the Ravens.
The Cadle Guy
Lee Evans (Baltimore) - He is what they have been missing. A guy that can open the game up, get downfield and let Flacco show us just how good his arm is. And if Evans can't get open, he will take two men with him and that means more room for the rest. But Evans is a nice complement to Boldin and should make this Baltimore offense better than last season and that might be enough to squeeze past that mean old Pittsburgh defense.