The NFL's Conference Championship Sunday concludes with the AFC decider between the New England Patriots and Baltimore Ravens.
The two teams met at the same stage last year, with the Patriots claiming a narrow win, and our NFL expert Kevin Cadle says the Ravens will be out for revenge.
Baltimore Ravens @ New England Patriots, Sun 11pm, Sky Sports 2HD
This is a rematch of last year's AFC Championship Game, which New England won, and the two teams also met during the regular season, when Baltimore won.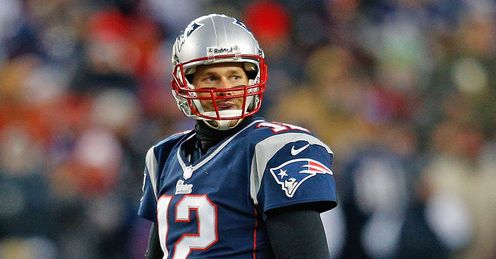 So it's 1-1 and now they are back in Foxborough again - the home-field advantage will definitely help the Patriots. But the Ravens are on an emotional trip and last week against Denver they played impressively on both the offensive and defensive sides of the ball. But I just was not impressed with the defence of New England.
One thing Baltimore will do is come hard and they will knock Tom Brady down.
Kevin Cadle
Quotes of the week
The offence is the key for them but, with the questions over the defence, it means the offence has to show up every single time. If the offence doesn't have a superb game then they have a problem.
One thing Baltimore will do is come hard and they will knock Tom Brady down. They might get a few flags and penalties but they know that they have to take the head off the monster, so they will go after Tom Brady.
I don't think Houston tried that enough against the Patriots last week, they sat back and let him do his thing - I've never agreed with that strategy whatsoever. Quarterbacks don't like to be hit so you've got to do what they don't like and go after Brady.
But if you look back over the last number of years you'd have to say you would want Tom Brady to be your quarterback in this game. He has won Super Bowls and won Conference Championship Games so you have to like what Brady and Patriots coach Bill Belichick have done when they've been in this situation before.
Destiny
The Ravens have been labelled as a 'Team of Destiny' during their play-off run because Ray Lewis is retiring this season. It's a good storyline but they can't buy into it. The moment they buy into it, they will stop focusing on what they need to do and they will have a problem.
But it is a great storyline and if a legend like him is going to call it quits then you would like to see him go out with a championship ring.
The last player that was able to do that was Jerome 'The Bus' Bettis. He won Super Bowl XL with the Steelers and said, 'The Bus stops here in Detoit', which was perfect for him because it was his home town. I think it would be a perfect story if it could end that way for Lewis.
The Ravens lost four of the last five at the end of the regular season but have really picked it up in the play-offs. Ray was injured but came back and is the leading tackler in the play-offs. They've won their last two and now the question is: can they win two more?
Baltimore has lost in the Conference Championship or Divisional Round in each of the last four years. For them it's a case of looking at where they made their mistakes in those years and not letting that same mistake beat them.
They need to counter the mistakes they made against New England in the past. If they can do that they've got a chance of winning the ball game.
Kev's Call... I like the Baltimore Ravens, I'd like to see Ray Lewis getting to the Super Bowl, a Harbaugh-Harbaugh final, the defences and the two completely different styles of quarterback.