Jason Crump had a great win in Latvia but as far as making a charge for the Championship goes, he's leaving it very late!
Nicki Pedersen is still in the driving seat without question. There are three Grands Prix to go and if Pedersen was to slip up, and Jason was able to pounce with a big score, he could still catch him.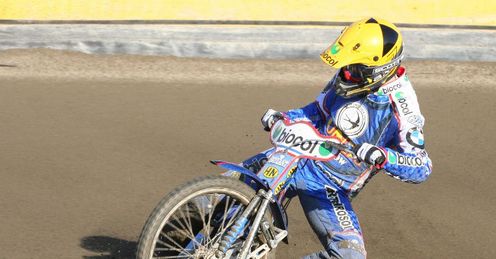 But we're talking Jason scoring in the region of 20 and Nicki coming in with about six. It's always possible but the reality is that the man leading the standings has made every final - even when meetings haven't gone as smoothly as he would have liked - which is quite a feat.
So in my mind, the Dane has one hand on the trophy.
Threat
Tomasz Gollob is certain to pose a huge threat, though. His record at Bydgoszcz is second to none.
Gollob is certain to pose a huge threat but Pedersen has got one hand on the trophy.
Kelvin Tatum
Quotes of the week
Polish GP
6pm, Saturday, Sky Sports 3
The track itself is a classic European track: wide, with a bit of banking on it. The difference between the Polish track and the one in Latvia is that Latvijas is big but completely flat; speedway tracks need that bit of banking in the corners to enable the riders to generate more speed.
It's a slightly quirky layout but it's one that the riders enjoy. And it's really conducive to building momentum throughout the race, which is why I think we've seen some dramatic finishes here.
Frustrating
This is another massive meeting for Brits Scott Nicholls and Chris Harris.
Latvia proved to be extremely frustrating for Scott. He scored five points from his first two rides, which was a terrific start, but unfortunately he failed to score in the third and then fell off in the fourth.
Chris looked like he was pretty quick and has shown glimpses of decent form but with just three Grands Prix to go, neither man can afford to make mistakes.
They are both capable of making the semi-finals here but it's a case of being professional, plus they need to show hunger and desire to battle their way into that top eight.
Youth development
A few of you have emailed in to say that more needs to be done to bring on young British riders, as well as suggesting that a national team of coaches help prepare the team for next year's World Cup - well, I think that's a very good idea.
Unfortunately, in terms of coaching or guidance for kids, Britain is a country that is sadly lacking - it's glaringly obvious to me. There are plenty of riders still in or around the sport whose experience could be utilised to develop youngsters in the sport.
Finances of course come into it but as for whether I'd get involved in a national coaching team, it's simply a case of being asked!
Kelvin's call
GOLD FOR GOLLOB: You can't look much further than Tomasz Gollob; his record here is phenomenal. He's in pretty good form - he made the final in Latvia - but he loves winning here and the crowd loves to see him win here, too.
Comments (2)
Malcolm Tyrie says...
Hi Kelvin Thank you for acknowledging my recent suggestion re a group of coaches for our GB squad and most promising younger riders. I am delighted to see you are up for this. So now we need a few more available coaches, not only from ex riders but lets' involve a wide variety of talents from engine tuners to financial and possibly PR people to raise funds to support our GB team operation. You mentioned finance, could we commandeer the help of those who are successful in obtaining sponsorships for their own teams? Training sessions would include all aspects of the sport, not just how to get out of the gate and ride a bike. Listen to what Sam and Chris were saying during Saturday's GP. They were constantly mentioning track craft, strategy and observation during the meeting. (There's a couple of candidates for you). There would be many financial benefits to all if we had a squad of home riders successful in both team cups and individually. Our GB team should be shaped now, not announced just a week before the event. We should encourage promoters of all leagues to make facilities available to our squad. This could be as an extra event in the programme like a mini GP or team cup over a few heats, perhaps including the home riders This should swell the crowd attendance and contribute towards costs. Of course we would also need closed sessions for coaching, practice and experimenting. Todays sport is hi tech and needs complete commitment to technology and training. Most professional sportsmen (especially golf & tennis) now have their own coaching guru I am sure our riders would benefit too if that facility was available to them. I just hope someone can get things rolling.
Posted 15:04 15th September 2008
Paul Simpson says...
Lets hope we can have a Crump win to make it more interesting in the last two Grand Prix's... Can't see Pederson slipping up though, just shows consistancy is such a big key these days!!!
Posted 11:26 13th September 2008