No surprise that the two best teams - Poole and Lakeside - now go head-to-head for the Elite League title but while I fancied the Pirates to beat Ipswich reasonably comfortably, I thought Swindon might have pushed the Hammers a bit harder.
The Robins tried everything but Lakeside were far too strong, and Ipswich were dealt a killer blow when Jarek Hampel was banned from riding - through no fault of his own.
What an awful decision that was. The way the rules are written in Britain meant that he was seen to be holding his services from the Witches, yet he was needed in Poland to ride in one of Leszno's rearranged fixtures. If he had refused to do that, the Polish authorities would have pulled his license so he had no choice.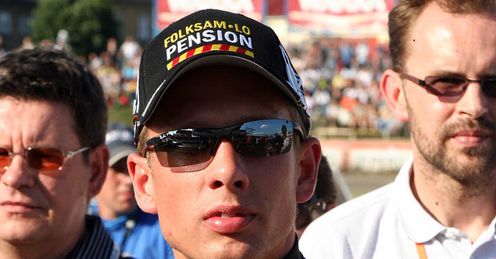 He is a high-profile rider and an integral part of the team so I sympathise with the Ipswich management and supporters.
Swindon and Ipswich will both be bitterly disappointed to miss out on the final, and there are financial ramifications for being nearly-men, too. Having that big home meeting in the final can really boost a club's coffers.
Lakeside need to go to Wimborne Road with at least a ten-point lead. Less than ten points and it'll be very difficult.
Kelvin Tatum
Quotes of the week
ELITE LEAGUE PLAY-OFF FINAL - FIRST LEG
Lakeside v Poole
7.30pm, Mon, Sky Sports 2 & HD2
But history wasn't rewritten; we still haven't had a team finishing in third or fourth place make the final, so there may well be questions asked over the format of the semi finals.
Challenge
The championship will be decided on aggregate scores over two legs and Poole have that advantage of racing the final leg at home.
First they have to go to the Arena Essex, and if Lakeside set the track up similar to how it was against Swindon last week, I think the Pirates will face quite a challenge.
Swindon were the only side to beat Lakeside at home in the regular fixtures this season; they managed it because, after some indifferent weather, the track had plenty of grip, and it suited them.
But in the semi, the Lakeside curator made sure the track was slick and the Robins struggled.
Poole are a stronger outfit but I still think that if they encounter the same conditions as Swindon did, it will be tough. It's a quirky track and with no dirt on it, it's difficult to set your bike up. So watch out for that.
Lakeside haven't won at Poole so my by reckoning, they need to go to Wimborne Road with at least a ten-point lead. Less than ten points and it'll be very difficult.
In other words, it is going to take a huge performance on their home track for Lakeside to have any chance of winning the championship. Should one or two of the Poole riders struggle to adapt to the slick conditions, who knows; they might just pull it off.
Pressure
Mental strength will play a big part in these two meetings.
There's no doubt that this year's beaten semi-finallists Swindon ran out of steam against Coventry in last year's final. The Robins won by six points at their place but several of their riders then didn't perform on the biggest night of the year domestically, at Brandon.
The pressure of a play-off final can inspire you - but also make you ride below your best. You need a few heroes on these kind of nights; guys to step up to the plate and say, 'I really want it'.
But I am a bit worried about Jonas Davidsson.
That is a big call, bringing back a rider who is coming back from a nasty injury - a punctured lung and broken ribs - for the biggest home match of the year.
The way they lined up last week, with all seven riders being able to take a rider replacementr ride, meant top man Andreas Jonsson got an extra ride and they were even stronger. It will be interesting to see how bringing back Davidsson works out but I'm sure Stuart Douglas and Jon Cook will make sure he's 100 per cent fit.
KELVIN'S KEY MAN - LAKESIDE

Andreas Jonsson - On big nights, you've got to look to your big performers, and you've got to look to Jonsson. He needs to lead from the front and he did so against Swindon in the semi - he got a five ride maximum. He's a proud man and he likes riding for the Hammers.
KELVIN'S KEY MAN - POOLE

Chris Holder - He's the Pirates' star man and he's overshadowing the rest of the team really. Chris has an incredible few days; riding in the U21 World Final in Pardubice and then flying back for the first leg. I've no doubt he will have a massive part to play.
KELVIN'S CALL

Lakeside win - I'm expecting a home win - but the Hammers need to win by at least ten points.
Comments (1)
Steve Hilliard says...
Tomasz Jedrzejak Rides at reserve in the Play-Off final and he could be the key for the Hammers in the first leg. In the Semi-final his gating was excellent and with the possibility of the Pole getting 7 rides his and Andreas Jonsson's contribution will be crucial. The Hammers will need a lead to defend so with jonsson and Jedrzejak to the fore there is every chance the Essex side can take a 12 point lead to Poole.
Posted 12:26 6th October 2008