It was a decent peformance from Great Britain in the World Cup final, but in the end they weren't quite good enough.
After such a strong performance at King's Lynn on Monday there were a lot of people that though they would get a medal and for a long time on Sunday, it looked that way.
They pushed Sweden really hard but in the end came up short - and have to learn from this going forward.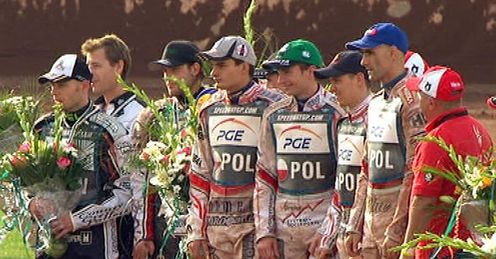 They had made an excellent start on the Saturday before the abandonement came but you can't say that was the reason for us not getting on the podium. On Sunday, they started slowly in tricky conditions, but then again so did Poland - but they got stronger as the track got better.
Unfortunately for Great Britain as conditions dried out and racing lines appeared on the outside, we just weren't good enough. As the track got better, we didn't.
Great Britain needs to improve its strength-in-depth to compete at this level; right now we seem to be lacking two or three world-class operators. These guys often excel in the Elite League but speedway is no different to cricket - there is a huge step up from club to country.
Kelvin Tatum
Quotes of the week
The joker backfired when Chris Harris came off and that might have made a difference, but in speedway you only have 60 seconds out there and split-second decisions need to be made. In Chris' defence, he came roaring back and his ride to win a heat later on was one of several sensational rides, but other than Lee Richardson, he was the only Brit to really make an impact.
Scott Nicholls will have been disappointed with his performance. He picked up five third places which was well below the standards he set on Monday night at King's Lynn. He is an experienced rider and there is no doubt he would've expected more.
You can forgive Tai Woffinden because he had a couple of smashing ride and is still young. There is no doubt in my mind he will become the real deal over the next year or two.
Simon Stead needs to improve. He is another decent rider but was found out at the very highest level. It might sound harsh, but he wasn't quite good enough in such company.
So there is plenty for Great Britain to work on, on and off the track. All in all you have to say it was a decent performance over the week to get there and with a little bit of luck, I could've been sat here talking about a bronze medal, not what might have been.
I think Rob Lyon is the right man to lead the team. He is a decent guy and the riders seem to respect him and want to ride for him, which is vital. That part of the job is in hand and I have no problem at all with that.
Encouraging
I do though, have a problem with the British Speedway Promoters Association (BSPA) in terms of the support they give to the Great Britain team. For a start I didn't see a single representative out in Vojens. The Danish, Swedish and Polish officials were there with their teams, but unless I was very much mistaken, I didn't see any of the British heirarchy.
Riders need to feel they are doing something really worthwhile and having officials around, encouraging them, makes them really feel part of an overall effort. It was the same even when I was captaining the England team and it is one area where the BSPA can really improve.
I know they have the busy domestic competitions to take care of, but from my perspective it doesn't help our cause on the international scene if the Great Britain team goes into World Cup finals almost feeling they are out on a limb.
On the track we need to improve our strength-in-depth to compete at this level; right now we seem to be lacking two or three world-class operators. These guys often excel in the Elite League but speedway is no different to cricket - there is a huge step up from club to country.
Woffinden's time will come, and the likes of Ben Barker, Edward Kennett, Lewis Bridger and Daniel King - who was reserve out in Denmark - are the guys I will be looking to make the step up and ensure that in time, we can use this last week as a platform.
Elsewhere, you have to take your hat off to the Poles. When Tomasz Gollob slipped off on the first corner of the first heat on Sunday it looked as if the weight of being favourites and the column inches given to the fact they had never won the World Cup outside Poland might, be too much for them.
Talented
But their class came through in the end and Gollob, who is clearly in the form of his life, hit back with four straight wins and of course, you almost knew he would be the one that sealed it in the deciding race.
Jaroslaw Hampel was also very strong and Janusz Kolodziej did his bit, but I have to give special praise to Rune Holta. He might not be the most talented rider around, but boy does he have a big heart - and that can make all the difference when tension is running high.
Denmark had terrific support but just weren't quite there when it mattered. Not one of their riders made it into double figures for points and I have to say I did expect more from Kenneth Bjerre, in particular.
But I cannot forget the final lap from Niels-Kristian Iversen who came from nowhere to beat Andreas Jonsson on a joker in Heat 19. We saw some great rides as the track dried out, but this really was speedway from the gods and deserved a gold medal on its own.
It also summed up Sweden's day, really. I was surprised they didn't pose more of a threat because on paper, this was a proper outfit with a lot of quality. For me Fredrik Lindgren was the big disappointment; he is a Grand Prix regular, but on the biggest stage of all, he just didn't deliver.
It was tough out there, particularly early on thanks to the heavens opening 45 minutes before the start, but it made for some great races. We were almost counting down the seconds until the track dried enough for racing lines to appear on the outside and when they did, boy did we see some action.
The Danish crowd were also great. You could see and hear how partisan they were and they were clearly gutted when they were pipped at the last, but they still played their part in a thrilling final at the end of a difficult week.
It was a shame that some spectators had to leave Vojens before Sunday's second attempt but I hope they managed to catch the action because it was a terrific advert for our sport.
Comments (7)
Paul Duvivier says...
Totally agree with whats been said but would go as far as to say that we(gb) havent got a top class rider Harris,Nicholls,Richardson etc are good riders but not top notch.Non are consistent like the other countries top riders,everybody has a bad day now and again,but all the brits have too many average days to contend at the top level.Lets hope some of the youngsters coming through up their game and bring us the success that we are looking for
Posted 21:48 9th August 2010
Clifford Cosher says...
Interesting comments Kelvin . I attended both the race-off and final in Vojens and it was great to see the GB team there on the race-off weighing up the track as was a certain Mr Gollop and team sitting two rows behind me.Overall i think it was a disrupted end to the week due to the weather and i,m not sure if there was practice sessions but nothing could have been predictable anyhow. As for the no show of BSPA i am amazed! obviously not noticeable from a spectators view but surely in the pits and behind scenes a little encouregment would,nt go a miss. All that apart i enjoyed two events of the great sport and my hat off to everyone who made it possible. And to end Lee Richardson was in my view outstanding and highly professionable .Best .
Posted 15:54 8th August 2010
Al Pat says...
It''s interesting to read Kel''s comments about the BSPA. They seem more interested in furthering the cause of Poland than helping British riders. We have a situation where riders like Will Lawson do well at elite league level but cannot afford to continue. The BSPA should be putting into place a system where young Brit riders are given major support in helping them secure sponsors and giving them a grounding in presenting themselves to potential sponsors and also help with mechanical aspects, organising travel and such to make thier lives easier and give them more opportunity to further their trade. A simple step is make the reserve berth at the start of the season in both leagues UK only and once the averages come out make it more weighted in favour of UK riders by deliberately favouring our riders with average reductions if they step up a league. NL to PL to EL. It''s tragic that the BSPA could not be bothered to go to Denmark and be seen with the Brit team. What other sport does that at National level? My guess NONE. I bet even the British conker team get support from their association when they go abroad. Of course none of this is new. It was the same in the 70s as it is today. Kel should be in charge of British Speedway as with him it might move forward.
Posted 15:47 8th August 2010
Sebastian Kaczor says...
To Paul: The rule is Polish speedway is saying that 2 out of 7 riders should be U21, however it doesn''t restrict it only to Polish riders. That''s why Tai can ride for Czestochowa, Darcy Ward for Torun, Martin Vaculik for Tarnow or Emil Sayfutdinow for Bydgoszcz. The only other rule in current season is that any team can have max 2 riders from GP series. The rest depends how good you''re negotiating contracts and how big your bank account is. In next season there will be some changes however is to early to see how they affected teams (possibly Calculated Average Match Points with limit of 45 points per team - something like we have in Elite League, no teams will be relegated as league will be extended to 10 teams by the end of 2011) In terms of fairness, exactly the same discussion is now at Poland as a lot of supporters is in favour of only polish U21 riders allowed to compete in league. Most of arguments are that we should breed our own future champions rather than helping Danish, Swedish or Australian riders
Posted 14:31 8th August 2010
Hans Ingleby says...
im afraid the problem is far more deep rooted than is being told by kelvin and the like,the sport is dead on its feet in the uk,in its hey day it was akin to rugby league crowds ,but where rl had a rethink on spectator comforts speedway was embroiled in zone problems and noise issues and spent more time with paperwork than publicity,having spent lots of my youth helping and riding various tracks i can tell you most havnt changed both for rider and spectator and a revamp is needed across the board,as to the lack of talent ,speedway like most motorsports need to rethink its youth policies,the places for practice and training are practically non existant now when i was trying out i had bradford ,halifax and sheffield all close by ,now theres only sheffield and that is still pretty much as it was then,and although they have a small trainer track its by no means state of the art,and tbh is under used.the one saving grace is sky sports interest,they managed to pull rugby league and british motorcycling back from the brink,and i do feel that progress to get speedway back to its heyday will be slower,but it could be done,if the promoters and sky and the control board get together im pretty sure they can work together to get the younger riders some were to practice and learn the art,after that its a percentage game some will shine and there the future,most people who attend love the sport ,but the push for new custom is let down badly by tracks and promotors who are doing things to a budget im sure,but in this day and age it just looks cheap and tacky and needs some polish
Posted 05:00 8th August 2010
Paul Haworth says...
I''d like to see us have the same rule as the Polish league with Reserves having to be homebred U21 riders. Seems a little unfair that a lot of Poles are getting top class experience in Poland and as well as over here in the Elite League, whereas our youngsters are often struggling at Premier or National League level. Perhaps even a rule next year where any British U21 riders get a point knocked off their greensheet average for the purpose of team building. There''s just no incentive at the moment to give these young guys the experience as early as other countries give them. Having said that I dont think the current team is that bad, it''s just unlike Denmark, Poland and Sweden we just lack a genuine World Class rider at the top end to give us an extra 5-8 points total, in place of a good domestic level rider like Stead. We werent actually THAT far behind.
Posted 12:17 3rd August 2010
Chris Newill says...
You''re exactly right, Kelvin, but some of us have known that for a long time. As a supporter since 1973 at Halifax, then Bradford (including your time there) I remeber the times when GB were a feared force with the likes of Collins, Morton, John Louis, Simmo etc. I went to Poland to see PC win in 1976, it was spectacular and really showed the Bulldog spirit. But, as with other sports, if we continue to fill our teams with foreigners - even the minor leagues - then we will not progress. And yes, it''s down to the BSPA to do their part, they must nurture and help train the best talented youngsters. I may be wrong but I''m not sure that riders like Kennett and Stead are going to improve any more, whenever I see them they are just good mid-average riders, not world class beating. I''m afraid that talk of Stead being in the Grand Prix next year is dreaming. Our riders seem to be too laid back, no "killer" instinct on a regular basis. Nicholls should be able to go out and beat almost any other rider on a regular basis, in the manner that greats like Hans Nielsen, Ole Olsen, Ivan Mauger and Collins did. But too often before the race starts, you''re wondering "Will he be first or last?" Generally our gating is atrocious and then the riders start trying to make it look good by hanging off the side of the bike, but all that does is make them lock-up and lose more ground! As a nation we need to address all these issues before any positive change will come. I fear for not having any British riders in the GP soon.
Posted 16:27 2nd August 2010