Eastbourne won their first five meetings of the season and you can't do much better than that in the Elite League!
It's been an excellent start for a team that hasn't threatened for honours in recent years, but look very well-balanced in 2011. It's still early days, but they're looking good.
The signing of Bjarne Pedersen, a good solid performer, will only help their chances and the return of Lewis Bridger is another plus. He had an up-and-down year in 2010, but there's no doubt he rides very well and feels comfortable at Arlington.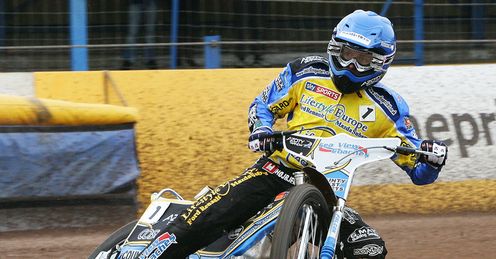 The way the team is put together is ideal for the way the Elite League is set up now because they'll always have an experienced rider down at six or seven. Bridger's down at reserve now, but as his average increases he'll obviously jump up into the team and there'll be somebody solid dropping into his place. That's always important because those guys can end up having a lot of rides and scoring a lot of points.
They'll want to prove themselves in front of the television cameras. Another televised defeat at Monmore Green would be unthinkable.
Kelvin Tatum
Quotes of the week
Joonas Kylmakorpi and Cameron Woodward in the middle order have been prone to injuries in the past and if they can stay fit, that will be hugely important for the Eagles' campaign, particularly as we head into the later stages.
Taylor Poole may be in the reserve slot this week after Dawid Lampart's start permission to ride in the UK was withdrawn by his Polish club, but I don't see that as being too much of a hurdle for them. Lampart is new to the League anyway, so I don't think that could be used as an excuse on Monday.
They've made a great start and everybody there will be delighted, but Monday's meeting will be their strongest test so far. Nevertheless, they'll go there looking for a losing bonus point at the very least.
Hurt
Wolverhampton haven't been at their best of late. They were beaten at home by Poole a fortnight ago, live on Sky Sports, and that was their first loss at Monmore Green since 2008. That will definitely have hurt them.
They bounced back at home to Swindon last week with a narrow victory and that will have settled them down. But it was an unconvincing win against a Robins side that isn't the strongest at this moment in time.
So they'll want to prove themselves in front of the television cameras. Another televised defeat at Monmore Green would be unthinkable.
They have a good top five, but I do see some vulnerability down at the bottom end. Ricky Wells and Tyson Burmeister haven't been doing it and that causes problems when your top riders aren't firing on all cylinders, as we saw against Poole.
Wells just doesn't seem to be cutting it in the Elite League. Some guys come in and get among the points straight away, but maybe Ricky could do with a couple of years in the Premier League to build himself up?
Burmeister is brand new to the Elite League and so you can't expect double figures from him either. It wouldn't surprise me if that line-up changes because right now they're reliant on their top five doing the business.
Peter Karlsson is a great stalwart for them. His return has been good news and he could prove crucial if they are to start rebuilding their very proud home record.
Their riders won't be full of confidence, so this is a big test for them on Monday night. It's a team who are struggling to reach top gear against a team who've started like a house on fire.
For that reason it should be a very exciting night.
Kelvin's Call
I'm tempted to go for an away victory, but I sense Wolves will find a little bit extra. For them to lose at home for the second time would be a massive blow at this early stage of the campaign. I think Messers Lindgren and Karlsson will drag it out late on in the meeting and I'll go for a narrow home win.
Comments (6)
Neil Bristow says...
kings lynn stars will be the team of 2011 2012wait and see
Posted 20:03 21st April 2011
Tom Cosgrove says...
Im a Poole fan but Bjarne Pedersen still does the business for Eastbourne. Eastbourne just to sratch a win.49-41
Posted 19:22 18th April 2011
Peter Richardson says...
Bridger could be the key rider for the Eagles. He is superb round Arlington but struggles on away tracks although Monmore may suite him. If he fires the Eagles could nik it.
Posted 19:13 18th April 2011
Jacob Fellows says...
I reckon if the Wolves can win the first few heats and keep the Eagles at bay then it could be a close match. I reckon 49-46 to Wolves.
Posted 15:37 18th April 2011
Jason Ward says...
Previous comment absolutely spot on, considering the reserves have to take a minimum of 3 rides each thats 6 heats minimum that Wolves are going to struggle to obtain a heat advantage. I can see a narrow Eastbourne win tonight, 43-47.
Posted 14:32 18th April 2011
Terry Buckle says...
Wolves are so week at 6 & 7 till thay change that, thay have no chance !!!!!!
Posted 10:45 18th April 2011