You'd have to say Thomas H Jonasson is a very astute signing by the Poole Pirates.
He's a really exciting rider, who already has international pedigree having twice been a wildcard in the Grand Prix this season. He only has limited Elite League experience, with Swindon last year, but he is quality.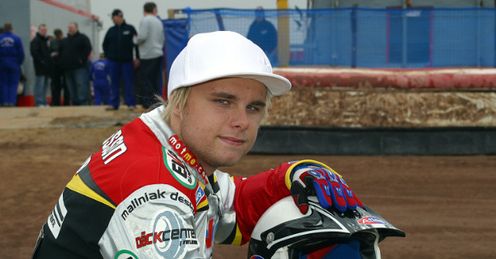 They've also signed Mateusz Szczepaniak, yet another Polish rider, and it will be interesting to see how he does. The Poles are usually highly motivated and well prepared so he could be another useful addition; but time will tell if he is able to settle.
Poole boss Matt Ford obviously has last year in mind. The Pirates dominated for long periods in 2010, but then ran out of steam towards the end of the campaign. This year he is introducing fresh blood to make sure his team stays on top of the game.
Belle Vue can't afford to have two or three riders below par and it will take a complete performance to deal with the strength of the Pirates
Kelvin Tatum
Quotes of the week
LIVE ON SKY SPORTS
Belle Vue v Poole
7.30pm, Mon, Sky Sports HD2
Watch on the move with
Sky Go
How to
remote record
Some people might say it's a gamble to change a winning side, but I don't think it's a risk to sign a proven performer at the highest level like Jonasson. He very nearly got to the final of the last Grand Prix, which is an indication of just how good he is.
Also, I don't think he's just a signing for now; he's somebody who can have an impact in the future. It's not very often that a rider like that becomes available, so they have reacted very quickly.
Renat Gafurov has been released and it's sad to see any rider lose his place in the team, but he has struggled this year and has been the weak link for Poole. Matt Ford and Neil Middleditch have been aggressive and decided that a change needed to be made.
With these additions I feel they have an outstanding chance of going on and winning the title this year.
Perhaps a team like Eastbourne could trouble them if they make the Elite League Grand Final because that's one place where the Pirates have found it particularly difficult this year.
But if you were to ask me right now, I'd say the Pirates are definitely the favourites.
Not good enough
They travel to Belle Vue on Monday night, who haven't really been good enough, especially at home.
Chris Harris' performances have been up and down since he moved from Coventry and Patrick Hougaard has had injury problems. It's been a frustrating time for them.
Rory Schlein has been terrific, particularly in recent meetings, but as a unit they simply haven't done enough. They've been vulnerable at home and if they want to beat the best team in the league then they will have to perform as a team on Monday night.
They can't afford to have two or three riders below par and it will take a complete performance to deal with the strength of the Pirates.
It's their final home fixture of the Elite League season and they will want to finish on a high, both as individuals and also as a team. Also they still have a mathematic possibility of making the play-offs.
But if they want to give themselves any chance at all then they have to win. Unfortunately I don't see that happening.
KELVIN'S CALL
I think the Pirates will win. The strength of their line-up is a daunting prospect for any team and given the Aces' indifferent home form, I've got to go for an away win.