It has been an exciting Grand Prix series so far and we have had three different winners; Greg Hancock started it all off in grand style down in New Zealand; Chris Holder bounced back from his Auckland disappointment to win in Lezno; and then Nicki Pedersen bounced back to top form in Prague.
Sweden should be another great meet and the challenges of this track are quite specific. The Ullevi Stadium in Gothenburg has quite a history in our sport and despite holding international meets for some time there is no longer a permanent track there.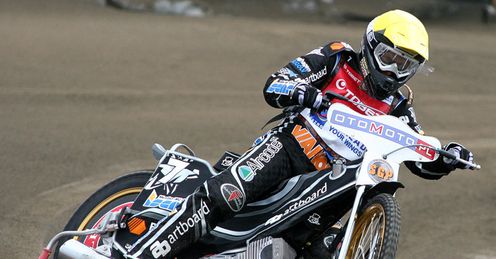 The temporary track has a very long straight and it is not that well banked so it is tricky to get into the corners. It is fast and technical and bike set-up here is absolutely critical.
Getting a good start is crucial too - it is not easy to pass and in the past we have seen the track break up at times. We had weather issues here last year when the meet was called to a halt early but there are no such problems forecast for this weekend.
In world championship speedway you have to be able to deal with whatever the race track throws at you - that is what it is all about.
Kelvin Tatum
Quotes of the week
LIVE ON SKY SPORTS
Swedish GP
6pm, Sat, Sky Sports 4 HD & Sky Sports 4
Watch on the move with
Sky Go
How to
remote record
It is going to be a challenge for the track staff to get that balance just right - you don't want it too firm but you also need the right amount of water. It can get a bit windy there which can be a challenge too - we have seen it dusty there before.
In world championship speedway you have to be able to deal with whatever the race track throws at you - that is what it is all about and those are the challenges a rider at that level needs to cope with.
Antonio Lindback will be looking to do well here. He looks like he is really enjoying his speedway at the moment which is great. His achilles heel has always been a lack of consistency and he is still working on that.
But there is no question that on his night he is a race winner. He has been on the rostrum here before as a wildcard so he will be looking for a big performance in front of his home crowd.
Another home favourite too look out for is Andreas Jonsson and this is the perfect place for him to bounce back to top form.
He won three GP's in the second half of last year's series but has not started all that well this year. He needs to get his campaign on track and I am sure that in Sweden he will be focussing on his first win of his season.
Kelvin's Call: Last time out it was all the old boys in the final - Jason Crump obviously did not win but he leads the world championship. I think he is building for a win. He has not won for a couple of seasons but he looks like he is moving in the right direction so I will certainly keep a close eye on him.