This week Poole Pirates pulled off a shock signing which could just secure them a top-four spot in the Elite League.
The South Coast side have snared former world champion Greg Hancock - a real marquee rider.
It was quite a surprise to many people because Greg hasn't ridden in the UK for seven years and for all intents and purposes it looked like his British career was over; he lives in Sweden and has a busy schedule on the continent.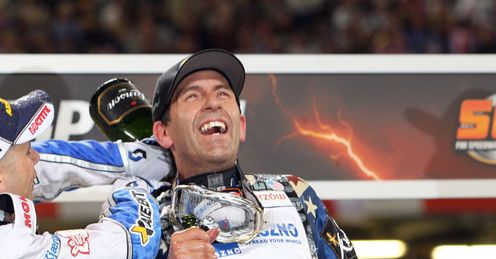 But Poole were desperately searching for a replacement for the injured world champion Chris Holder - club owner Matt Ford's phone bill must be astronomical from ringing around riders - but the timing seems to have been right for Hancock and the Pirates have made a great signing.
Hancock's Polish side Zielona Gora are struggling and are running out of meetings, while the American has hit form of late and is probably keen to keep on riding.
With the Pirates on the fringes of the top four, Hancock could make the difference for them.
Kelvin Tatum
Quotes of the week
Pool e v Coventry
7.30pm, Wed, Sky Sports 1
Despite enduring a difficult season, Poole are an attractive club, given their success in recent years, and, with the Pirates on the fringes of the top four, Hancock could make the difference for them.
Stutter
Coventry, on the other hand, are in the midst of a confusing and frustrating season. They started the campaign slowly, got going, but then stuttered again.
Losing at home to Birmingham, a Midlands rival, on Friday would really have hurt them and they'll now be eager to respond to that disappointment. They need to pick up a point at the very least but it is tough to predict how they will perform.
The Bees have Krzysztof Kasprzak back from injury, though, which is a plus for them. He's been going well internationally and has plenty of experience of Poole, so they'll be looking to him and Scott Nicholls to lead the way, that's for sure.
Kelvin's Call: I'm going to go for a home win for Poole here. With new signing Hancock alongside Darcy Ward and Maciej Janowski I can't see Poole being beaten.
Poole v Coventry - 7.30pm, Wednesday, Sky Sports 1