Only pride left for the Lions
The British and Irish Lions will be desperate to win the final Test against South Africa and salvage some pride from losing a series they will feel they were good enough to win.
Two narrow defeats have given South Africa a unassailable 2-0 lead going into the third and final Test but Miles Harrison believes the Lions will want to show that their attacking style of rugby can lead to victory and not just gallant defeats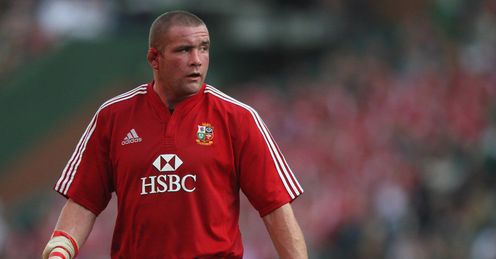 Has all the controversy in the second Test taken the shine off what was a superb Test match?
Miles replies: No, I don't think it does. I think when we look back at that game we will not remember the Schalk Burger incident or the things that were said after that. I think we will look back and remember an epic Test match. I appreciate the point though because in the immediate aftermath it does in a way because the story has not been what a great Test match but rather centered on the violent act from Burger and the comments made afterwards. Long term we won't remember it for what Burger did. The second Test was truly memorable and one of the best games I have ever been involved in a work sense - a truly great match and aside from the Burger incident it was thoroughly enjoyable
The second Test was truly memorable and one of the best games I have ever been involved in a work sense - a truly great match and aside from the Burger incident it was thoroughly enjoyable.
Miles Harrison
Quotes of the week
LIONS IN SOUTH AFRICA
Follow the British and Irish Lions tour of South Africa on Sky Sports throughout Grand Slam Summer.
For more on the Grand Slam Summer click here
So there will not be any bad blood between the sides going into the final test?
MILES REPLIES: No, I don't think so. It has been vigorously denied. Ian McGeechan when asked on the issue said he had gone up to PDV twice after the game and congratulated him. Clearly the Lions were unhappy with what Burger did but I cannot think of a right minded rugby person who wouldn't be unhappy. There is absolutely no place in the game for that sort of act. That annoys people generally but it does not create bad blood between teams. The Lions are saying that they have had excellent relationship with the Springbok camp and I think they have had no issues. Obviously the Burger thing has surfaced but I am not sure all the players are aware of what has been said in the media. They went off tour so to speak at the beginning of the week and were allowed to get the loss out of their system. They did not start training again until Wednesday which I think is a good call from the management.
All change for Boks
Looking towards the third Test, South Africa have made a lot of changes; are you excited about some of their changes?
MILES REPLIES: I am. It has been a terrific series with two superb games of rugby. Those who have taken part in those games have done themselves proud and the sport proud. You get to game three with an air of, well let's face it, it is a bit of a dead rubber. This game cannot affect the outcome of the series therefore you hope for something a little bit different. And we have got that.
South Africa have made their changes for the right reasons, they are not disrespecting the Lions here at all. They have won this series and have a Tri- Nations to prepare for. They need to look at other players and see if different combinations work. It is the total right call to shake their team up and I think they have done that in a very exciting way.
I have been banging on about Jaque Fourie for some time now and his class was proven without doubt with that wonderful finish. He fully deserves his start as does Wynand Olivier who finished the Super 14 very well indeed. This is a stronger midfield than the Lions have been facing.
I am also very pleased for Morne Steyn, what a magnificent kick he got to win the second Test. With not even 40 minutes of international rugby he comes on and does that. I am delighted that he gets a chance alongside his Bulls team mate scrum-half Fourie du Preez.
The wings are also very exciting and in Jongi Nokwe and Odwa Ndungane they have two speedsters. They may not have the experience of Habana and JP Pietersen so maybe South Africa lose a little bit there but they add something fascinating to throw into the mix. Zane Kirchner at fullback will also see this as an opportunity to impress and is also very quick. We did not see the best of him in the emerging Springbok game - he can play a lot better than that. It is a very exciting backline for a South African point of view - a very potent mix that could gives a big clues to South Africa's future.
In the pack Heinrich Brussow finishes the series in his rightful place and I think he has been one of the finds for South Africa in this series.
Redemption time
The Lions have also made some changes but there are for very different reasons aren't they?
MILES REPLIES: They have made eight changes - four enforced and four by choice. I think the point that needs to be made - and this is no excuse but is undoubtedly a reason why they fell away from the form they were showing early on in the second Test - is because they lost both props. To lose Gethin Jenkins and Adam Jones was a huge blow. Both were playing so well and they turned around what was obviously a weakness in the first Test into a strength. That took some doing. They were also getting around the pitch so well and in both men you never thought for one minute that they were going to be substituted. You could see them going all the way and putting in two of the great prop performances of all time in Lions jerseys. They were that close to creating something positive in Lions history. To lose them both at the same time was pretty catastrophic. For then to lose the centres so closely together as well - which was the partnership of the tour - was another bitter blow.
But that was last week and this is this week and it gives other players a chance. I suppose above all it is a chance for Phil Vickery to make up for what happened in the first Test. His damaged reputation must really be hurting him and I am delighted he gets a second chance. I would say ditto Ugo Monye for Vickery, he does not have the same reputation that Vickery has built up over the years but he would have also been pretty disappointed the way the first Test ended and will be another one out to redeem himself.
Lions will survive
How important is a win in the final test for the future of the Lions tour?
MILES REPLIES: A lot of people have said that the Lions cannot afford to go through another New Zealand experience. Well they haven't. It has been well run and regained that tour ethos that was lost in 2005. Because of the two tests and how close they were - let's face it there was not much between the two teams last week - I don't think there should be any question marks over future Lions tours even if they do lose 3-0. But a win is important because it would be nice to end this losing sequence here rather than have to do it in Australia in 4 years time. However the major motivation is built around the fact that these players believe that they have had a very good tour in all aspects apart from winning the series. They feel they have come very close and feel that they should at least be at 1-1 going into the final Test match. I think they have probably got a point.
They have played some wonderful rugby on this tour and they will want to leave with their heads held high. They will want to show what they have been all about on this tour. If it clicks and if they play some sensational rugby it could then take them to what would be a fantastic win. The problem though is that looking at this South African selection there seems to be an equal desire on the other side of the fence.
Comments (13)
Dave Howard says...
Mr Boland - Fair comment, although I've been talking to Boks supporters, AB's and Aussie's and the majority seem to agree that the 'slight' wins from SA were more down to PDV's selection and sub strategies. Different strokes for different folks. Christmas is off. Official!
Posted 13:00 14th July 2009
Denis Boland says...
Dave Howard....Fairly one sided? Seriously? Ah Dave, i think you are letting your childish argument with Luke k. cloud your judgement a little bit. Most South Africans i have talked to admit that they were fortunate to win and that they truly enjoyed the series. You should never let your anger force you into making statements that are clearly untrue. Also, please dont cancell Christmas on us Dave. I really do enjoy it.
Posted 14:22 9th July 2009
Dave Howard says...
Luke K - Sorry to have upset you, but I think I'm going to again; Grow up. Its a game fella, and the tests (the games that actually mattered) were fairly one sided, once the Saffa's sorted the selections out. I just think the IRB should concentrate in bringing out the best in each Hemisphere, rather than constantly throwing two different style of game at each other and seeing what happens. I apologise for having an opinion, but then I understand that the UK isn't exactly used to them yet. Cancel Christmas? Why not, its only a cash cow, it doesn't mean anything any more. Just like the Lions Tours.
Posted 12:14 9th July 2009
Dave Howard says...
Brilliant match, the Lions had to win one I suppose! Although the style of North and South is soooo different that it makes me wonder if there is any reason for the Lions Tours to continue. In the Northern Hemisphere RU is still a 'gentleman's sport' and although it can get up close and sometimes down-right dirty up here, there is still very much a barrier between playing the game to the rules and getting a little more physical with it. This is not to detract from the Southern Hemisphere game, but the definition of 'gentleman's sport' is different back there. A gentleman isn't defined by how he behaves on a playing field and because of the various different cultures in the Southern Hemisphere, there is something more 'tribal' about the game as a whole. Which adds up to a more physical game, but not one that fits all tastes, or the different ideas of what RU is about. Northern Hemisphere RU is basically Europe, the UK and Ireland. LEts not forget that all of our Royal families were related at one point within the last 100 years, so its not surprising that the two Hemisphere's rugby has gone in completely different directions. Great tour, well done the World Champs, but maybe its time for us to accept that the Lions Tours don't bring out the best rugby for either set of players or supporters and its time to move on...
Posted 12:36 7th July 2009
James Cox says...
Kevin H - done crying now mate ??? - you should really start supporting something else - try darts or something - please stop complaining and clean your own house first. The injuries the Lions suffered weren't as result of foul play ( Bakkies included) Get your facts straight and get a life!
Posted 08:50 7th July 2009
James Cox says...
Well done Lions - well deserved victory.To the Boks - your never say die attitude pulled you through and for that I am happy - BUT - things aren't all rosy and unless you start playing some constructive rugby soon - you will be last in the 3N!!! To PDV - you idiot ..... Need I say more. To Schalk ..... Stupid thing to do and I hope you learn your lesson. To the Lions fans - brilliant support! To the Lions players - well done and bad luck - could have won it. To Bakkies - bad luck , you've been wronged my friend! To the Bok team - catch a wake up boys! Thanks for a great series!
Posted 08:44 7th July 2009
M M says...
Kevin Hearn, you are pathetic. Calling for a ban on th Boks, well maybe if they were banned you might win something. IF you new anything about rugby and to be honest even if you don't watching the last 3 games the Lions were no angels. The difference being is the Boks suck it up and get on with the game. There was punching to players nether regions. Armless tackles, not to mention players been taken out after the ball, high tackles the list is so long. I am not for one minute saying the Boks arn't a hard side but lets be fair the Lions give as much as the boks did.
Posted 14:31 6th July 2009
Dylan Moran says...
Great post Marius. All in all it was a fantastic tour and a great advertisment for rugby. South Africa are world champions for a reason and congratulations to them. But i also believe that the Irish and Brittish(had to do it) lions were awesome and showed the doubters how high the standard of rugby is over here. Looking forward to seeing South Africa in Ireland in autum.
Posted 11:22 6th July 2009
Etienne Groenewald says...
To Kevin Hearn: Go watch tennis or chess. We play hard in South Africa and if you can't stand watch real men play a real sport go watch Murray lose at Wimbledon again next year. Bunch of Wuzzies.
Posted 10:58 6th July 2009
Kevin Hearn says...
Does anybody else agree with me that South Africa should be banned from international rugby, they are without a shadow of a doubt the nastiest, dirtiest and biggest cheating side that any nation has ever put together. every one of the pre-test matches were played with the intention of taking out as many of the lions players as they could, and constantly the springboks used every dirty trick in the book, not something i would expect to see in a modern sporting arena, as for de villiers he should be banned from ever having any contact with the sport for the rest of his life, how he could not only condone schalke burgers actions but positively promote them is absolutely reprehensible
Posted 08:52 5th July 2009
Steve Towell says...
as a brit living in fl us, and coaching union and league, i sense bil are hurt by losing and so should be, once upon a time ,the thugby is what the lions tours were all about, the rugby in the 2 tests has shown we bils are finally believing and not accepting that we truly are as good and should have won both tests,lets face it nobody gave us a chance ,even in the club games, you can bet we have learned a lot,and im sorry to the union diehards but a referee in union can lose you the game,league is more direct and the team whos best on the day wins, not through stupid penalties and continuious scrum downs, i am proud of the bils they were solid against ,a monster of a team, lets move on ,we lost and thats rugby, ps loved skys coverage thanks to all in uk ,we miss you all
Posted 19:10 3rd July 2009
Lee Wynd says...
@Tim Proome, I can't believe the number of people, Britons/Irish and South Africans alike, who hang on every word of most of the press! Call me cynical but I take even the opinions of respected rugby journalists like Miles and Stuart with a pinch of salt because at the end of the day they are there to make money for their employers, be that via website traffic or selling newspapers. From my own perspective we've all been treated to a feast of rugby over the last fortnight and I hope that tomorrow's game is no different. Burger's moment of madness aside both teams played very hard and mostly fair. I think with the benefit of hindsight that Botha, O'Driscoll and Sheridan might have been sent to the bin (which possibly would have meant that Botha wasn't banned for the final game) but that's how these things go at times, it is pointless going over it all and castigating individuals and referees like our football-supporting brethren are all too happy to do. All that is left to say is congratulations to the Springboks on winning and well done to the Lions for almost, almost getting there...hopefully I'll be able to afford the trip to SA for the next series, which we will of course win. ;)
Posted 13:00 3rd July 2009
Wade Ashley says...
Well its down to the final test and I would like to thank the Lions and thier supporters for the tour. I went to the Durban test and the atmosphere was brilliant. Once the dust has settled people will realise what brilliant test matches they have been. I trully hope the Lions Tours continue and I will definately be shouting for you in four years time against the Aussies ....... but for now lets make it 3-0. GO BOKKE !!!!
Posted 12:43 3rd July 2009