Bath will be heading to Dublin hoping they can produce the game of their lives when they tackle Leinster in Pool 3 of the Heineken Cup.
Their home defeat against Leinster last weekend leaves them facing an early European exit, and they face a tough ask against the defending champions, who were not quite at their best at the Rec.
Miles Harrison will be at the Aviva Stadium and believes Leinster will find another gear on Saturday, especially in front of their home fans.
Leinster were left a little frustrated by not taking some of their opportunities last week and they will have been working hard on rectifying the problem to make sure they turn that pressure into points, won't they Miles?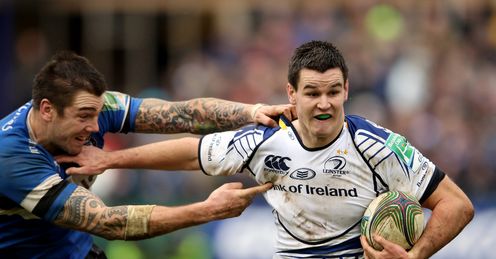 MILES REPLIES: Leinster have become a ruthless team but last week against Bath they lacked that edge that has been such a part of their play. But, when this happens to a side, a side that has become a standard setter for the rest when it comes to taking chances, then you can expect an almighty backlash the following week. Leinster are just too good to let those mistakes happen again and this is what worries me for Bath this weekend. If Leinster had got it right last week, they would have run away with the game.
Leinster are just too good to let those mistakes happen again and this is what worries me for Bath this weekend
Miles Harrison
Quotes of the week
LIVE ON SKY SPORTS
Leinster v Bath
5.45pm, Sat, Sky Sports HD1
Watch on the move with
Sky Go
How to
remote record
But Bath did put in a great performance. How much will that mean to them going into this must-win game?
MILES REPLIES: I think the Bath performance was an improved one but it was not great - great is what they will have to be this weekend. However, there was certainly no shortage of commitment from Bath and, considering what they had played like in the run-up to last week's game, they will take heart from the clear improvements. But, watching the game, I never thought Bath were going to win. Even when they scored the try, there was always a feeling that Leinster had the ability to find a way out of their predicament, even though they had missed so many chances earlier in the match.
So, can Bath deal with the pace and intensity that Leinster are going to bring to the Aviva Stadium?
MILES REPLIES: I think your mention of the venue is pertinent here. Leinster don't seem to lose at the new home of Irish rugby; they have made it a very useful second home. The atmosphere will be intense and the crowd will demand that their team don't disappoint. But this Leinster team don't need any extra incentive. They have established control of their Pool following that opening weekend near slip-up in France and I can't see Leinster letting it slip now. The pace and intensity that you talk about will be there and those traits will be joined by the Leinster power, too. It is going to take an incredible effort from Bath to turn this match, and the Pool, around.