Northampton will be looking to further enhance their play-off aspirations and get back to winning ways after their LV= Cup Final defeat to Leicester.
The Saints host struggling Wasps on Saturday and welcome back the likes of Ben Foden, Chris Ashton, Courtney Lawes from international duty.
Wasps eased their relegation woes with a win against London Irish two weeks ago but will be desperate to get something from Franklin's Gardens and earn some breathing space between them and last-placed Newcastle.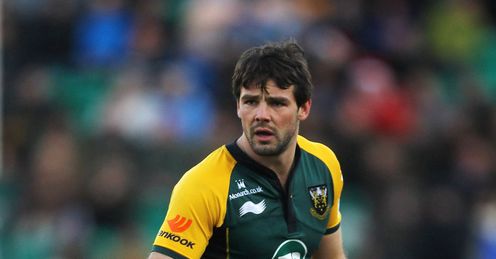 Miles Harrison will be commentating on the game and says that a shock Wasps win is not totally out of the question.
The next two weeks are crucial for Wasps aren't they Miles?
MILES REPLIES: They are but Wasps cannot afford to look too far ahead, not even by one week. If they are thinking at all about the home game against Gloucester in Round 19, it would be a terrible mistake. I am sure they are not in that mind-set though because Wasps know if they can get something out of this game against Northampton it would give them not just a major boost in the mind but those key, unexpected points on the table. To quote one of the famous supermarket chains, Wasps are in a situation where 'every little helps' now. The advantage that they do have this weekend is they will know the outcome of Newcastle's match at Worcester on Friday night but that too should come with a warning. This is not a time to be thinking about anything else other than what is in front of them and, for Wasps that is Northampton this Saturday evening.
This is not a time to be thinking about anything else other than what is in front of them and, for Wasps that is Northampton this Saturday evening.
Miles Harrison
Quotes of the week
LIVE ON SKY SPORTS
Northampton v London Wasps
5.30pm, Sat, Sky Sports 1 HD & Sky Sports 1
Watch on the move with
Sky Go
How to
remote record
Wasps have had a week off since their win against London Irish, while Saints played in the LV=Cup Final. Will that be a factor?
MILES REPLIES: I think Wasps needed a 'getaway' after releasing some of the tension thanks to that dogged win over London Irish. It was a chance for Dai Young to get the players out of the Premiership bubble for a while. You could argue that Northampton might be a little match sharper because they had the game last week but there are other factors at play here, like the fact that Northampton have all their internationals to re-absorb and some of those might be tired after their Six Nations exploits. However, on balance, clearly having those stars back is good news for the Saints because in Foden, Dickson and Ashton, they have the men to take their game into the areas that might win a title. But, overall, is a break good or bad mid-season? That is a sporting argument that can never be fully resolved because it works better for some than others as it depends on their particular circumstance.
Talking about that Final, how do you think that loss will affect Saints?
MILES REPLIES: The LV=Cup is a tournament that, once they were in the Semi-Final and then Final, Northampton wanted to win of course, but that result did not make or break their season whereas the outcome of the Premiership will. Also, there was nothing that happened in Worcester to suggest that Northampton can't achieve their aims this season. They just need to finish those chances. On that, Leicester proved once again that they are hard to beat when trophies are on the line, yet I think we knew that already didn't we!
If you look at the form books you would have to say Saints at home should win this, but when you are fighting for survival anything could happen. How do you see this one going Miles?
MILES REPLIES: The form books are usually right at Franklin's Gardens, just one defeat there for Northampton in the league in over a year suggests that Wasps are going to find this very hard. But, you are right, they are fighting and that can lead to funny things, although a Wasps win would be a major shock. Hope you can join me on Saturday night for the game. Speak to you then from the commentary position at Franklin's.
Comments (1)
Pierce Kavanagh says...
It is clear that wasps do go into the game as clear underdogs. However Northampton are not the team they have been in previous seasons; with the likes of Lawes and Clarke missing I believe that Northampton are there for the taking. Waps have a number of danger men such as the likes of Elliot Daly and Joe Simpson, who are out and out pace and up there with the most dangerous players in the premiership when in space. If they play to there strengths, a quick, fast tempo brand of rugby than there could be a massive upset. If Wasps stay up this season I am one of the few believers that there fortunes will change next season with the likes of Tom Palmer and Haskell returning...
Posted 14:03 23rd March 2012