As far as I am concerned, Steffon Armitage should be in the England squad.
He was talked about going to South Africa with England in the summer but he didn't because of his Toulon contract and I was really hoping to see him involved in the autumn Tests.
I understand there are issues and ramifications surrounding England players playing in France but Armitage is just too different and too good to ignore.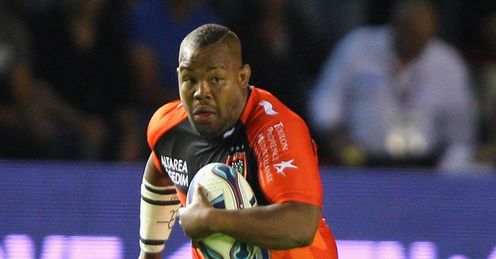 England Head Coach Stuart Lancaster is probably sending out a message to other players about going abroad but I have watched Armitage perform over in France and have heard other people talking about him, and while he is not the finished article, England are missing a trick.
If he was Welsh, Scottish, Irish or whatever they would be making a special compensation for him. I think he is without doubt one of the top five marquee signings in France and I think in the last two years he has been the standout import in over there.
If he was Welsh, Scottish, Irish or whatever they would be making a special compensation for him. I think he is without doubt one of the top five marquis signings in France and I think in the last two years he has been the standout import in over there.
Dewi Morris
Quotes of the week
Week-in and week-out he is the stand-out player in a team full of superstars performing against other high performance teams - why are we not giving him a go?
I would love to see England play him at seven. They could put Robshaw at six because he is not really an out and out seven, more a six-and-a-half! All good sides have to have a good No.7 - the McCaws, the Pococks, the Warburtons of this world - and I really think that England are missing someone of that calibre.
In my opinion Armitage gives you everything that they have and something more. Lancaster has said that Steffon - and his brother Delon, who is also performing well for Toulon - are on the radar. However I want him involved now and think that these Tests would have been the perfect opportunity to see what Steffon Armitage can do on the international stage.
Team to face Australia
The Tests kick off with Fiji on 10 November and that will be the opportunity for England to try out a few new combinations to give some of the youngsters a taste of the international arena. That is no disrespect to Fiji and England will have to be careful of their superb running game; however I think the big test will start the following week against Australia and here is my pick of who should start for England...
1 - Joe Marler
Marler has been promising a lot over the last few seasons and I would love to see him take his Harlequins form into the Test arena - let's hope he recovers from his hamstring strain.
2 - David Paice
David Paice would come in at hooker. He has had experience and I think Tom Youngs is still learning the game and needs to learn to handle the pressure.
3 - Dan Cole
He is the best tight head in the northern hemisphere. He does what he needs to do in the set-pieces but he's also there because of the work he does around the field.
4 - Geoff Parling
England like the way Leicester do the lineout and Parling rules for Leicester in the air. England will be looking for him to take full control here and lay the platform for England to attack.
5 - Mauritz Botha
I don't think Tom Palmer's form has been that good, Botha is a bit of an enforcer too and England are going to need that this autumn.
6 - Tom Johnson
Johnson has a tremendous engine. He is not the heaviest of forwards but he is the form six at the moment.
7 - Chris Robshaw
Robshaw is a great leader and a great player. He will put his body on the line and lead England from the front.
8 - Thomas Waldrom
I am disappointed in Ben Morgan's form - he is an outstanding athlete but until he pulls his finger out and works for the full eighty minutes, Waldrom will always be my pick at No 8.
9 - Ben Youngs
Despite Danny Care being in fantastic form I think Youngs will get the nod because of that Leicester 8, 9,10 combination. However saying that I think Care would do a fantastic job if he gets the chance.
10 - Toby Flood
Owen Farrell will be on the bench but I would have loved to have seen Freddie Burns somewhere in the squad. With his lack of international experience I don't think you could have put him in against Australia though and with no one else really performing I would opt for Flood.
11 - Manu Tuilagi
This is a bit contentious but I just think that he can be well utilised on the wing. If England are going to play with ball in hand then you can use Tuilagi coming in of his wing and crashing the ball up the middle and causing havoc. If they want to go for a kick and chase game then go for Ugo Monye.
12 - Brad Barritt
I think he is playing better at Sarries because he has Joel Tomkins outside him. He has been able to pass and get the offload away. His defense is so important for England too.
13 - Jonathan Joseph
I want to see how he develops - I know it's important to get the points so England get a good seeding for the World Cup, but it is also important to develop players like Joseph.
14 - Chris Ashton
He has been in terrific form and I really want to see him getting his work rate up.
15 - Mike Brown
Brown has been pretty secure and on his game for the last two seasons, with Ben Foden out injured Brown will step up and will not let England down.
Comments (10)
Mick Collyer says...
In response to Matthews's comment. I called Flood 1 dimensional and I stand by that, but I certainly did not advocate Farrell's inclusion who is nowhere near the standard required to play 10. If you read all of my posting you will see that I suggested Berkley & Burns should be included.
Posted 09:16 14th November 2012
Steve Maynard says...
As a Sarries fan I reluctantly agree Farrel hasn't shone this year and would have expected to seee Burns in as backup to Flood and getting a game or 2 out of the 4. As others say Farrel is useful on the bench in case a replacement is needed at 10,13 or 13. Hooker looks our weakest spot in the pack with Hartley unfortunately injured, but I would have Morgan in any time vs Waldrom who hasn't impressed me any this year. Creaivity hopefully will come from Goode who I think has shaded this position ahead of Brown, who is no slouch.
Posted 09:33 6th November 2012
Matthew Wilkinson says...
What does toby flood need to do to get a bit of credit. For people to call him one dimensional and then advocate the selection of owen farrell ahead of him is blatant hypocrisy. For almost 2 years now flood has been the best option at fly half for england as he plays on the gainline and brings both his backs and forwards through the midfield channels. I concede his pace isnt particularly frightening but he is quick enough and his distribution is only bettered by that of charlie hodgson. Flood is not conservative and is equally not a maverick which makes him the perfect fit for this england squad. Its about time we stopped expecting him to be a Jonny wilkinson or a Danny cipriani (on form) and let him be Toby Flood
Posted 13:46 5th November 2012
John Stone says...
Looking at the Gloucester v Leicester Game, Twelvetrees was excellent, i don't understand why he's not getting the plaudits, huge boot, great passer, good support runner and nearly 16 stone means he's the perfect 12. Twlevetrees and Tuilagi have massive potential to be the perfect centre partnership, don't understand why Lancaster doesn't include him.
Posted 06:21 3rd November 2012
Mick Collyer says...
Where is the creativity coming from? Flood is 1 dimensional and Barritt is only a crash merchant, it doesn't matter who is at 11, 13, 14 as they wont see the ball. Where is the spark in the pack? Robshaw & Johnson are good but Waldrom is even slower than Easter & is only an average premiership player. Cole is a good tight head but as Carl said he was completely outdone by Adam Jones. Hooker is a big problem, Paice is at best only average & Youngs can't even through the ball straight. A very unimaginative squad that will be turned over in all of the games except Fiji. I would have included both of the Armitages, Berkley, Burns, Twelvetrees, Wade, Hooper.
Posted 11:16 2nd November 2012
Paul Johnson says...
Waldron is the right choice at number eight but having warched the leics vs gloucester game last week why is James Simpson Daniel not playing for England? He is the in form winger right now.
Posted 08:02 2nd November 2012
Tim Sugrue says...
Dewi, you could not have seen the Glos v Leicester game if you complain about Ben Morgans work rate. It was full-on 80 mins. This complaint was leveled against BM in his Scarlets days, but his input/energy levels have improved game on game this season.
Posted 07:27 2nd November 2012
Rts 1 says...
Dewi , I agree about Freddie Burns and that is without being at all biased as a Gloucester rugby supporter. I see little form in Owen Farrell this season to justify his inclusion and Flood was totally outclassed by FB last weekend. As regards your comments about Ben Morgan I would totally disagree with you here. The man has emerged rapidly over the last two seasons and has worked tirelessly at his personal fitness levels. he has carried well and reliably this season and has adapted his game to the premiership rapidly. I don't think Waldron will shine in the forthcoming internationals and Morgan would have been the right man for the job especially against Australia; so I think you are well off the mark here!. Morgan outplayed TW last week as well!!. Mike Brown looks out of form to me and Manu Tuilagi; as good a hit down the middle Centre as he is was out foxed last week by Mike Tindal and outclassed at Centre by Billy Twelvetrees.To suggest that he moves to 11 at international is almost a laugh with the greatest respect. Charlie Sharples would run circles around him yet alone the opposition!!! Apologies if this sounds all Gloucester-centric but i am just stating the obvious without even being a "pundit"!!
Posted 07:06 2nd November 2012
Jack Dawkins says...
steffon, wade, twelvetrees, jsd and burns should of all been in the squad!
Posted 13:59 1st November 2012
Carl Weathers says...
Dan Cole is not the best tight head in the northern hemisphere. He has the tendancy to get outdone by a good scrummaging loosehead where he seems liable to fold into his hooker. He was outshone head to head against Adam Jones who's work rate is the equal and a better scrummager, despite the referees calls many of which were wrong, i thought he had a hard time againt Jarvis who turned him inside a few times (it is the tightheads job to stay square) and lets face it you should never win a penalty when you create a right angle with the hooker! other than that team needs some creativity but plenty of power. How long has that been said
Posted 13:53 1st November 2012