England's 54-12 win against Fiji was a satisfactory run-out for their first Autumn Test but for me it showed that there are three things they are lacking if they want to be serious contenders come 2015.
I know these are important games coming up as far as World Cup seedings go, but we only have a couple of years to fix it.
The first thing is the presentation of the ball and by that I mean quick ball. England have battled to do this since they won the World Cup in 2003! It is no coincidence that the team who does this so well is New Zealand, the current world Champions and the best team on the planet.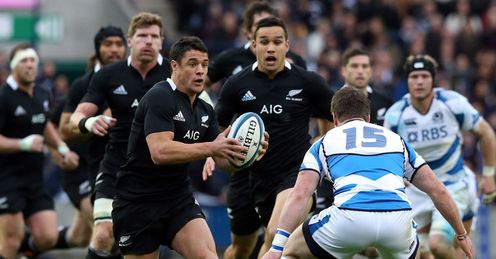 If you watched New Zealand demolish Scotland on Sunday you would have seen the perfect example of this. Richie McCaw took the ball up into midfield, got tackled but he fought to get back. He does not lie on the ball, does not get the ball tucked up under his knees or try and lay it back like a chicken. He fights back to look at the scrum-half and his arms - still holding the ball - go back towards the scrumhalf and he presents it like that. The supporting players ruck over him and the ball goes straight into the scrum half's hands and they are away.
It is so easy and it is something that I banged on about when I played - I wanted people to fight back in the tackle to make sure the ball was well presented so that I could get it away as quickly as possible. No one seems to do it anymore apart from the All Blacks.
Dewi Morris
Quotes of the week
It is so easy and it is something that I banged on about when I played - I wanted people to fight back in the tackle to make sure the ball was well presented so that I could get it away as quickly as possible. No one seems to do it anymore apart from the All Blacks.
It is a simple thing to do as long as you have support; the trouble is that our guys don't seem to support enough to get that quick ruck started to present that quick ball. That was highlighted on Saturday against Fiji when we really needed quick support players, smashing in and rucking over. We seem to be more worried about the second, third and fourth phase rather than securing the first phase as quickly as possible.
Pace and vision
The second aspect is that England needs a 10 who has pace and can actually threaten defences. Toby Flood is a lovely passer of the ball who stands flat but he does not cause enough damage. Dan Carter against Scotland created a hell of a lot of damage because he has got good pace, good strength and fantastic vision.
The only man who can do this as far as I am concerned is Freddie Burns. He has to be elevated in the squad for the Six Nations and get him playing. We are never going to move on if we do not have players looking for quick ball and causing threats with that ball.
Skills under pressure
The final thing is that our players need to get better at the basic skills under pressure. I am talking about being able to catch and pass when it really matters. Again, I am going to highlight the All Blacks - you watch their forwards, they can all catch the ball and get the ball away under pressure. I think all our forwards are able to catch and pass but it is under pressure that counts and they always seem to take the contact option.
Against Fiji, Dan Cole had a seven-to-one overlap but decided not to pass the ball and took the contact. Taking the contact is part of the game and of course New Zealand do that, but they do it because it is the right option rather than just looking for contact because it's the only thing they can do.
We are over-coaching our players and teaching them to run into brick walls and asking them to constantly recycle the ball just to set up another phase without the players looking up and seeing what is actually on. Our players would rather try and smash through the wall, New Zealand have gone round it quicker than anyone else.
I feel that we are trying to redefine the wheel while New Zealand have just put a pair of slicks on the wheel. They don't play a different game but they play a fast-paced game and a balanced game using athletes who have an incredible vision of the game and also a great appetite to play the game the way it is meant to be played.
Comments (4)
Kiwi in aus F says...
Dewi, I grew up in NZ as a front row forward and have played a bit in Ireland and th UK, where my ball skills would match the backs easily. One big difference I noiticed is that from an early age practice in NZ places emphasis on performing the skills drills when we are exhausted so that we have to focus. In the UK and Ireland it was something we did as a warm up to almost just tick the box (hence the ball was spilled more in the last 20). The pacific island teams also seem to develop these skills traditionally in a sevens environment. I am sure as the level of quality coaching increases the higher the level but should the RFU stop lamenting the lack of skills and start implementing better coaching standards at a grass roots level.
Posted 05:24 23rd November 2012
Chris Duncan says...
Dewi, sorry if I seem to agree with all the others. England lack pace, vision, excitement and the ability to play with the ball in their hand and in the situation that confronts them. My main grumble though is about Fly Half. Flood has been doing OK and I would not fault him for trying...but he has been a 'nearly man' for years, without ever making England capable of tearing teams apart. Owen Farrell cannot get in the Saracens team regularly - and he is no 10 anyway. We await the arrival of George Ford but he is just too inexperienced and how will the limited nature of Leicester rugby effect him longer term. Cipriani is just too lose right now. What is wrong with England using Freddie Burns at 10 - he is strong, good defensively inventive, has improved his kicking from the Tee to a huge extent but most importantly he is able to read a game and make things happen. Why do England continue to ignore him and continue to play the same old tunes,
Posted 17:48 20th November 2012
Pete Andjelkovic says...
Dewi, you hit the three nails on their respective heads. Having rewatched time and again the first half tries of NZ against Scotland, pace, vision and exceptioanl execution of all the basic skills are the difference. Too many coaches at all levels of English Rugby - and I include many clubs' mini / junior sections - are falling into the trap of the result being more important than performance. Until coaches - and I include Stuart Lancaster - are honest with both players and the fans that we are not developing individuals and teams with the appropriate level of technical skills, we will not progress. I'll illustrate with an example from your and my old position of scrum half. At England U16 level the weakness in Ben Youngs' game was his inability to pass the ball rapidly from the breakdown without stepping and / or a backswing in his arms. Now at 23 years of age these basic fundamental skills are at the same level of development - yet he is hyped as a World Class scrum half. There are many other examples within the current professional English players.
Posted 19:24 14th November 2012
Heath Purvis says...
Dewi, I agree with so much of what you say but we must now stop getting on the backs of the team, stop comparing them to the all blacks, stop pretending the welsh and the irish are so much better than us and start to look at how we can realistically advance the team. Stating the obvious about skill levels isnt going to change things overnight. This is down to the production line of our clubs and to a lesser extent junior rugby and nothing to do with the current management. They work with what they are given. I accept that the ability to recycle the ball quickly should be easily remidied and agree with you whole heartedly. The one are I feel really frustrated at you with is this insistence of you and your colleague, Mr barnes, that any young boy with a touch of flair be flung straight into the squad. Englands inability to compile a coherent attacking game is as much, if not more so, to do with a complete lack of balance in the back line and slow ball. Every decent back line needs some creativity in the centres, which we simply dont have. If you put Burns in with this current set of backs, then you are just setting him up to fail. Just because he can run doesnt mean he can dictate the play. The ability to dictate play is a far more necessary requirement than the ability to spot a gap. Ask messrs Wilkinson, Andrew, Merhtens, Stransky and Fox, just to name a few pretty decent out halves. What these guys had in common was a back line that was balanced with creativity, flair pace and power. In short we need to address the iniquities elsewhere in our backline before we promote another callow youth, who may be good enough but at this time needs to show more control than quick feet. Remember Cipriani, Gerraghty et al oh and the ability to defend at least a little also doesnt go amiss eg charlie Hodgson
Posted 17:43 14th November 2012