I don't think anyone really saw Brian O'Driscoll getting dropped for the deciding Test in Sydney - I certainly didn't.
Before the tour even started I had O'Driscoll down as my Lions captain, not only because he is one of the best players, but because of his experience.
Warren Gatland has set his stall out for Saturday and has decided that there is only one way to beat Australia and that is by playing 'bash it up rugby'. We should not really be surprised because that is the way Wales play.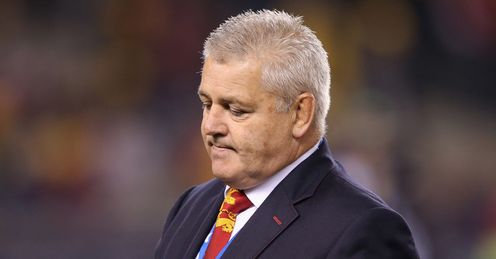 Apart from the Wales v England game in the Six Nations, Wales have not played running rugby at all and it is the same way the Lions have played on this tour.
You cannot include some of the warm-up games because they were farcical as the Aussie teams were so under strength.
It comes down to big is beautiful as far as Gatland is concerned, and while it's a big call to drop O'Driscoll from the starting XV, the biggest call is not even to have him on the bench.
Gatland has put all his eggs into one basket. There are no players on the bench who can come on and change things if Plan A is not working.
Dewi Morris
Quotes of the week
LIVE ON SKY SPORTS
Third Test
Lions v Australia
10am, Sat, Sky Sports 1 HD
I get that Jonathan Davies and Jamie Roberts have played a lot together but will that be enough? If you are going to use these big ball carriers then you have to get back of the lineout ball; and that has been a big problem for the Lions.
Tom Croft is arguably the best man for that back of the lineout ball but the lineout has not been going that well. People say he is not big enough and does not hit the rucks hard enough but one thing you could guarantee from him - for Leicester, for England and for the Lions before - was that quality lineout ball.
The problem is that the hookers have done a pretty good job - as at this level a pretty good job is not good enough.
Route One
Because the ball has not been good, the Lions have only attacked route one and that is really easy to defend. They play against big boys from New Zealand and South Africa on a weekly basis in the Super Rugby competition, so a Jamie Roberts and a Jonathan Davies is nothing new to them.
The Australian backline ask a lot more questions in attack than the Lions do. They try to use the ball and move it more - it is all about fluidity and balance.
They know how to nick games and are very comfortable with their defence, too. The stats from the second Test showed the Lions did not make any line breaks and are not going to make any in the third Test without front foot ball.
Gatland has put all his eggs into one basket. He is going with Plan A and has like-for-like on the bench. There are no players on the bench who can come on and change things around if Plan A is not working.
We have not seen the Lions do much with the ball - apart from George North's wonder try - and for me the problem with their attack started when Gatland was picking his backroom staff and elected not to take Joe Schmidt.
Management
Schmidt would have given this Lions side another aspect to their game - as we have seen with Leinster. The Lions are opting for a game that is strategic, territorial and statistical. It's about bashing the ball up the middle and trying to get some territory for Leigh Halfpenny to slot a penalty.
This squad has enough talent and skill to beat the Aussies but unfortunately they have not shown it with this pattern of rugby. They are going to have to play out of their skins on Saturday. The Wallaby forwards are getting stronger and they are getting more comfortable in their patterns and game management.
The key man for me on Saturday is Mike Phillips. He did not have the best game in the first Test but he is going to have to be at his very best against the best No. 9 in the world - Will Genia. If he can match him then that may start things going the Lions way.
The first two Tests have been very close - although Australia did blow 14 points in the first through missed kicks - but I can see the hosts getting the momentum and beating the Lions... or Wales!
I hope I am wrong and we win, though, we are desperate for a Lions series win.
Watch every Lions game live only on Sky Sports. Click here to sign up or upgrade now.
Comments (17)
Alan Baynham says...
Any of the previous so called rugby experts prepared to say they were wrong. No I expect not. How wrong you all were. Any of you remember the Lions also won a previous series in Australia with 10 Welshmen. No doubt management were biased then as well.
Posted 23:14 8th July 2013
Alions Supporter says...
well I hope all you who made comments in this article will now eat your words and admit you were wrong it not about England Ireland Scotland or wales it about the lions and its about picking the right team for a series win and hey presto the result speaks for itself and ummmmmmm no plan b did we not see Welshmen running in tries and it not all bish boshalso an eglishman scored a try as well so all bodes well for the future of nh rugby
Posted 22:04 8th July 2013
Neil Jinkx says...
Looks like plan-A worked just fine eh dewi ?????????? enjoy your humble pie
Posted 12:25 8th July 2013
Chris Lewis says...
Well Dewi was it the lions or Wales? I will answer for you. It was the lions but I am so sure if Australia had won then it would of been Wales!!! Gatland got it right and those Welsh players were brilliant just like the whole 23. Wales are the best side in Europe, get over it!!! Look forward to your next comment.
Posted 17:53 6th July 2013
Chris Church says...
Surely, winning ugly is better than losing with pretty rugby. There is no doubting BoD's class, but his form has been below his normal level of excellence. It may be a cliché but you have to earn the right to go wide.
Posted 11:21 6th July 2013
Tony Cummins says...
Dewi you are so right, BOD has no place on this team because this team is not set up for any player with talent,this team is set up if you are 6.4 and built like a tractor because this manager does not know any other way to play rugby. Some day the lions will get a man in charge that will pick a team for pure rugby,what the lions are good at and should show on tour this is the worst lions team i have seen and i am following rugby for 50 years my god what the lions of old must be thinking when they look at this team and this manager sad day for all.
Posted 10:19 6th July 2013
Timothy Hurrell says...
It is not fair to say Gatland has only a Plan A.He has a Plan B and Plan C.It is just they are all the same!
Posted 20:34 5th July 2013
Andrew Kenneally says...
Fine article, Dewi. Gatland has proved, regardless of the result Saturday a terrible Lions coach, myopic instead of the Lions playing with their traditional dash and freedom, if it weren't for the drama of the 2 Tests, the actual quality has been painful to watch. His O Driscoll omission has soured the series fatally for very many. Gatland's stock will be high though when he returns to Wales, eg Phillips plays rubbish, he comes straight back into the side. BOD in stark contrast to J Davies hasn't missed a tackle - 13 made none missed in 2nd Test. Davies 7 tackles made, 3 missed. And Davies is the one to hold his place . . . Please, no more NZ Lions coaches, not unless at least they possess a subtlety of understanding obviously sorely lacking in Warren Gatland.
Posted 12:20 5th July 2013
Brian Brian says...
Well Malcolm, O'Driscoll put O'Connor down for the try 5 mins from the end so he was walking in the right places. Davies let the scorer through. Neither Roberts or Tuilangi would have made a difference as the forwards supplied no good ball. If Gatland doesn'y pick his captain until the 15 are on the team sheet how was Warburton on the field ahead of O'Brien. I think you missed the point made in this article being that there is no plan B, like you I would have picked Tuilangi also if I was going to change the team, it but I would have had O'Driscoll on the bench for a change Davies offers no difference, and as good as he is has been inferior to O'Driscoll in both tests and is being raised as the form player due to his performance in a rubbish warm up match against a good club side but lets face it not a test side.
Posted 09:11 5th July 2013
Graeme Reid says...
Stuart Hogg is young but has that something different. The.australians know little about him and from the bench in the last 20 mins chasing the game he would be plan b. a sk. Sir Clive Woodward ? No mean judge !! wing Center or Full back he would have covered all options and if we were winning leave him on the bench . I'm Scottish but this young lad has something different and if we a losing in the last 20 what else can we change with Gatlands selection ? Gutted for O Driscoll. What a legend Graeme the Teri !
Posted 07:02 5th July 2013
Jim Neill says...
This is probably the best piece written about the tour that i have read on sky. Dewi is dead right, Gatland is going to try and win it ugly. Its a war of attrition for the final test. He wants to win it through penalties alone. I suppose it is futile to say it, but ronan o gara would have been perfect for this kind of match.
Posted 17:19 4th July 2013
Ashley Davies says...
I totally disagree with Dewi Morris. The reason we have been unable to attack the Aussie back line is that the scrum as not been stable enough and we're unable to get back of the line ball. I'm sure if that is sorted this weekend you will see roberts getting over the gainline and then Bowe and North coming infield and scoring tries. Why is it that these ex- England players Dewi, Stuart Barnes, Austin Healey etc) are having a go at the Welsh contingent in the team, when they are the 6 nations champions ???? It's a one off game and Gatland as gone with players he trusts. So Dewi....grow up and support THE LIONS whatever nationality they are.
Posted 16:33 4th July 2013
Paul Colman says...
Experience doesn't get you over the gain line, talent, skill and brawn does! While I am surprised that O'Driscoll is not on the bench, the coaches realise Roberts might vulnerable to injury (not just because he's coming back from injury but because how he is asked to play), and Tuilagi is a ready made replacement. Davies has performed very well on the tour, and he has started 35 times for Wales, how many times do you have to play before you have enough experience! He's won a grand slam and a championship and played in the semi-final of a world cup in the last 2 years.
Posted 13:06 4th July 2013
Les Godfrey says...
Everyone said at the start pick from form. I said from the start we did not pick the best coach. I liked the look of. Stuart Lancaster. As a Welshman I was screaming for a plan B when we got beat by the Aussies in the last test series This Lions side is playing the same way kicking to much ball. Gatland uses Jamie Roberts to crash through the middle then hopes gaps appear out wide. Instead of creating a gap (is that why he hates Hook so much because he plays what is in front of him that fella should have had more Welsh caps) I would like to see Bowe and North come off there wings Roberts has a lovely pass on him (more than just a battering ram) and put them into space we have to have confindence in our pack to go through the phases keep up with play and recycle the ball for the backs (would have liked to see Connor Murray infront of Phillips also)
Posted 13:04 4th July 2013
Mike Melia says...
Ten welshmen is too many unless we can persuade the AUSSIES to play in white shirts with a red rose breast pocket
Posted 12:33 4th July 2013
Michael O'sullivan says...
I agree totally with Dewi. The dropping of Brian O'Driscoll, even from the bench, will come back to haunt Gatland and his not-so-balanced backroom staff.They certainly lost a supreme option in Joe Schmidt as an attack coach for the Lions. Australia will have too much guile now and win the series. Gatland will now fall on his sword come Saturday.
Posted 05:47 4th July 2013
Malcolm Richardson says...
odriscoll was walking the last 10 minutes,roberts and tuilangi were my pics from the start
Posted 19:10 3rd July 2013