Sunday's game is building in excitement and I cannot wait for it. It is going to be the power of Wales up against the power of England.
Billy Vunipola is a huge loss for England but one man's loss is another man's game and this could be the defining game for Ben Morgan.
He has a huge job though - in this campaign all England's go forward has come from Billy Vunipola and Morgan really has to match that - if not do more against a very physical Welsh side. Vunipola's work has allowed Danny Care to really sparkle and Care has been a breath of fresh air to England's attacking play.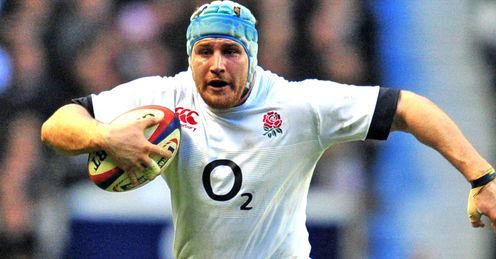 Morgan has come off the bench very well and he has to step up and take on the mantle of England's one-man wrecking ball. I am sure England's front five will get parity and their lineout will go well too, so for me it will be down to who carries the ball the best - Wales No.8 Taulupe Faletau or Ben Morgan!
Class is permanent
Wales also have Jonathan Davies back and that is a huge plus for them. You make exceptions for certain players and Davies is one of those players that you want straight back into your side.
He has a huge job though - in this campaign all England's go forward has come from Billy Vunipola and Morgan really has to match that - if not do more against a very physical Welsh side.
Dewi Morris
Quotes of the week
He would not be in the side if he was not fit and raring to go. He adds just so much to the Welsh backline and certainly adds a bit more spice in the midfield. You have the experience of him and Jamie Roberts against two youngsters in Luther Burrell and Billy Twelvetrees. Wales will certainly come to attack right up the middle - England know where the threats are coming from but can they stop them?
George North moves back to the win and him and Alex Cuthbert are two very strong and powerful runners. England's back three will be sorely tested but i have been impressed by them - especially by Mike Brown who will play a key role on Sunday. England's back three are not scared to have a go and Brown will not only lead that, but also make sure they are strong in defence.
In the back of England's mind will be the drubbing the got - and deserved - in Cardiff last year. They have to right a wrong and I think that will add an extra bit of spice to this game. That defeat will have certainly stoked the fires within England and there is definitely a bit of revenge in mind. Wales have had the sign over England of late but it is up to Stuart Lancaster - who I have been immeasurably impressed with - to get his team past that. Under him this team are going places and I think they are going to develop into a very good side and while I don't think they will be quite ready for the World Cup in 2015, watch out for them in 2019.
So who do I think is going to win on Sunday? Well I can't split them so I am going for a draw! They are so well and evenly balanced that I just cannot call it. We shall see what happens.
Friday action
Before Sunday we have the U20s game on Friday night which should be a cracking game. If it is anything like the junior world cup final then it is well worth tuning in to Sky Sports to catch it. Jack Nowell was part of that England Under-20 team that defeated Wales 23-15 in the final and look where he is now. It is such a fantastic competition and is the next step up from your club before hitting the Saxons. It will be a real fire and brimstone game and will certainly whet the appetite for Sunday's action!
Comments (4)
Hywel Thomas says...
i think england playing at home and inform will be to strong for inconsistent wales.hope its a good game.good luck
Posted 18:06 6th March 2014
Archie Archie says...
My heart says England but my head says Wales. It's going to be really tight to call but I feel Wales will be slight favourites going into the game. If you look at each team from 1 to 23 I think Wales have a bit more class. Regardless England are looking good and I hope they snatch it. If England do lose it will be a huge mental block for them in RWC group game.
Posted 13:43 6th March 2014
Jack Parodine-baker says...
Looking forward to the game. As an Englishman I feel this is a bigger test for us than the Ireland game due to the fact that Wales' recent record against us is rather good. We need to change that on Sunday as come the World Cup next year we need to go into that group game against them with a positive attitude that were going to beat them and leave them with the task of trying to beat the Aussies, which they haven't done for some time. The return of Jonathan Davies is a massive plus for Wales, in the games i've watched involving them they have certaintly missed his dynamism in attack and defence. His partnership with Jamie Roberts should instantly make them a stronger offensive team, thus leaving Twelvetrees and Burrell with a shed load of work to do, but i'm confident they can cope with the Welsh pair as they've coped well with what's been put in front of them so far. The return to fitness of Tuilagi is a timely one, and with Davies restored to the Welsh backline Lancaster may give some consideration to restoring the Leicester battering ram to the England starting XV. I'd be surprised if he did though as Twelvetrees and Burrell have formed a strong partnership and deserve their chance against Wales. I'm sure come the World Cup Tuilagi will be in contention to start. I think it will be a close one, i'm going for England to win by 3 or 4 points and end Wales' hopes for three straight Six Nations titles.
Posted 11:07 6th March 2014
Dave Kerwin says...
i would say Ben Morgan is a vastly superior power runner, so the edge on that goes to morgan, Morgan is also very fast for a chubby guy so I only give faleteau a slight speed advantage, the only real thing faleteau is better at is being an energetic carrier, but this is rugby, Power is more important, edge morgan
Posted 19:57 5th March 2014