With the tour to New Zealand fast approaching it's time to look around and see who may well have caught Stuart Lancaster's eye.
Obviously Lancaster has his own opinions and plans for this tour but it is always interesting to see who has been playing well and who might just fit into those plans.
This is a massively important tour and I think if they were to win one out of the three Tests, then that would set them in good stead. A 3-0 drubbing would not be great but there is also the performance to consider and how players stand up.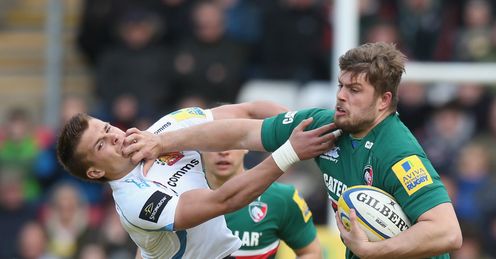 Lancaster has a bit of a selection headache to deal with as players involved in the Premiership final will not be considered for the first Test. However, I think it is a good opportunity for Lancaster to see what some younger players can do.
The front and second row has always been a strength for England and we are seeing some promising players coming through - especially in the second row.
80 minutes against the All Blacks in New Zealand will tell Stuart Lancaster more about these youngsters than half a season in the Premiership.
Dewi Morris
Quotes of the week
Courtney Lawes and Joe Launchbury have been superb for England. They are really developing into a formidable second row partnership and at 25 and 23 respectively, they have a strong future ahead of them.
Carries
However, it is always good for them to have some competition to push them and for Lancaster to have some quality back up.
This lad Ed Slater has been playing very well for Leicester and could be in contention for a trip to New Zealand. He's a big, big lad, plus he has some pace. He hits rucks and carries very well, too.
Another outstanding player in the second-row is the kiwi-born Michael Paterson from Sale - he has really played very well and he could be well worth a look.
He's been capped for New Zealand at U21 level and almost qualified for Wales when he played three seasons for the Cardiff Blues but he has made it clear that he wants to play for England and I hope he gets his chance.
I also think that Harlequins hooker Dave Ward should also be on the plane to New Zealand. His form has been simply outstanding. He does not lose anything in the scrum and his ability to get into the rucks and turnover the ball has been a huge part of his game for Quins.
His work rate around the paddock is excellent and he is a great ball carrier. For me he is a natural hooker although he does come a bit unstuck with his arrows but who doesn't these days? We have seen Tom Youngs really struggle in that area and I really hope that Ward is on Stuart Lancaster's radar.
Chance
Back row is another massive area of strength for England - with Tom Croft back for Leicester the question is should Lancaster consider taking him?
Lancaster will assess the situation and weigh up the pros and the cons - perhaps Croft would be better off having a good off-season and getting properly rehabilitated for the start of next season.
Someone who I would love to see given a chance in New Zealand is Luke Wallace. I still think there is a place for an out-and-out No.7 and Wallace fits the bill.
Steffon Armitage is going to be nowhere near the plane but I hope Wallace will be. He outplays Chris Robshaw in the nicking department week in and week out at Quins which is crucial. Winning two or three turnovers in a game can really have a huge impact on the final result.
Fly-half, well this is a well-worn path isn't it? George Ford continues to show what an accomplished player he is - his footwork in recent weeks has been phenomenal.
There has been a lot of talk about Danny Cipriani, too, and we shall see what happens with the play-offs and who will be available.
Midfield
The midfield is the biggest area for England but with Manu Tuilagi back, he should definitely be given a chance to run at the All Blacks.
Lancaster could well give him a run out in the wing - he has played there enough in his career. We all know the size of the centres and wingers that England are going to come up against in New Zealand and we really need that Tuilagi force to break the gain line.
Other options for the centre berths are the likes of Ollie Devoto, who is a very promising young talent. Then there is Kyle Eastmond as well as Jonathan Joseph and of course Brad Barritt, whose defensive ability may well be what is needed in New Zealand.
Ideally England want Tuilagi at 13 and then a distributor at 12 - an option that has been discussed is to have Ford at 10 and Farrell at 12 in that distributing role. Farrell may not have that cutting edge pace of an Eastmond but he can distribute.
Marland Yarde is up there for a wing berth, as is Chris Ashton. Everyone is calling for Ashton to go - he is certainly back to his best form but is he right mentally? I think he probably is but does he fit into the Lancaster ethos that dictates certain behaviour on and off the field?
The first Test against New Zealand is not ideal but it is a great opportunity for other players to really stick their hands up. You are taking these players out of their comfort zones and putting them up against one of the greatest rugby sides in the world in their own backyard.
This is a team who like nothing better than eating white shirts for breakfast and it is going to be interesting to see how these young men handle it. 80 minutes against the All Blacks in New Zealand will tell Stuart Lancaster more about these youngsters than half a season in the Premiership.
Watch England's tour to New Zealand only on Sky Sports.
Comments (4)
Ian Browne says...
Of the starting XV for the first test, Lancaster has to decide who is going to play inside centre and hooker. I think the other positions are straightforward (15 - Brown 14 - Yarde 13 - Tuilagi 12 - ? 11 - May 10 - Ford 9 - Care 8 - Morgan 7 - Robshaw 6 - Johnson 5 - Lauchbury 4 - Attwood 3 - Wilson 2 - ? 1 - Marler). At 12, Eastmond is an exciting prospect but I think too light weight alongside Ford for the All Blacks. I don't see any other likely starters. Fingers cross on Twelvetree's fitness. Hooker is a real worry. With three such good hookers not available (Hartley, Youngs, Webber) going into the first test with a novice is a massive weakness. There's no way a first cap at hooker will last 80 minutes so Lancaster is actually looking for two of them!
Posted 21:01 18th May 2014
Lewis Griffiths says...
For my money, 9.Care, 10.Faz, 12.Eastmond, 13.Burrell, 14.Yarde, 11.Manu and 15.Brown . A good balanced side with power creativity and a strong defence. you have Ford on the bench ready to change the dynamic and theres sufficent talent that with a spare full back you can cover every position with a class replacement to no ill effect which will be imoportent come the harder game in the WC.
Posted 18:24 9th May 2014
Tom Conder says...
Cipriani is playing well but so is Myler and now Burns. Ashton is attacking well again but he still can't tackle so what's changed? England are crying out for a winger who can attack and isn't a liability in defence - we haven't had one since Josh Lewsey! Convert Tom Youngs to a winger (he used to be a center) as he's quick and can tackle - and he can't throw in straight!
Posted 10:05 8th May 2014
Kevin Mitchell says...
Why is the first test and premiership final timing a problem? In the past rugby championship the AB's have played in Argentina one week followed by South A Africa the following week now that's hard work. Sounds like England are looking for excuses before it even starts.
Posted 18:14 7th May 2014