Fresh optimism is flooding through West Indian cricket - the trick now is to build on it.
After beating England, it will be exciting to see where this team can go and with Dwayne Bravo back in the frame for the Twenty20 and one-day games the bowling and the team already looks stronger.
I expect Bravo and Jerome Taylor to be more effective in English conditions than they are in the Caribbean when the West Indies start their tour in April because they hit the seam hard.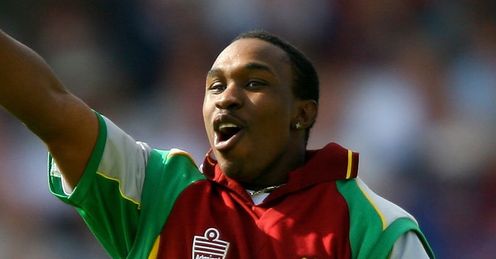 They will be a handful even if it is likely to be very cold when the squad arrives! I think the weather is why England decided to put one of the Test matches up in Durham; I'm sure if Scotland was a part of England they would have put a Test match in Scotland!
Contest
Of course, I'm as happy as everyone that the West Indies managed to win the Test series and Chris Gayle deserves all the praise that comes his way but from a purist's view I wish the game had been played a little bit differently.
I'm not sure I'm happy about the way the West Indies went about this last Test. Cricket is about three disciplines: batting, bowling and fielding but it seemed to me that all the West Indies were interested in was batting.
Michael Holding
Quotes of the week
TWENTY20 International
West Indies v England
5.30pm, Sun, Sky Sports 2&HD2
I'm not sure I'm happy about the way the West Indies went about this last Test. Cricket is about three disciplines: batting, bowling and fielding but it seemed to me that all the West Indies were interested in was batting.
Some people say that the ends justify the means but that isn't what life is all about: if you get rich by cheating you don't say 'well, I'm rich now so everything is ok'.
I don't have a problem with the West Indies saying 'look we are 1-0 up in the series, we don't have to make the running here'. That is fine, but you still have to play in the spirit of the way the game should be contested.
When you are in the field, you still have to try and get people out by changing field placings or making bowling changes. A lot of the time I got the impression that Chris Gayle was just waiting for England to make whatever they felt like making and then just go out and bat. I don't really buy into that ethos.
It is dangerous tactic going into a game aiming to draw; the West Indies almost lost due to the fact that they were not trying to win at any stage. I don't think you should ever go into any contest and let the opposition know what you are trying to do.
Enthusiasm
It's not that Chris Gayle was disinterested. At no time in the series did he get animated or look excited, but that is the way he is. You can't judge Chris Gayle by his body language.
His achievement is to foster a strong spirit and enthusiasm in the side and it must have come from him rather than winning because in case anyone hadn't noticed the West Indies haven't been doing too much of that in recent years!
The players respect him as he does them, they enjoy his company - you don't even have to ask the team, you can tell by looking at them that they are a happy group of guys.
Ramnaresh Sarwan was the standout player of the series and I hope that this gives him the platform to go on and big runs more consistently.
Application
But I was particularly pleased for Brendan Nash because when he started to play for Jamaica a lot of people weren't that keen on him representing the West Indies.
I think he has now shown everyone that he can perform at the highest level and that he plays a very important part in this West Indies team.
Look at the amount of hours that he spent at the crease during this series - without his efforts the side would have struggled. Application is certainly one of his strengths - he puts in an awful lot of hard work and now he has got his reward.
For almost a day he and Shivnarine Chanderpaul blunted England's bowlers but I can't have any sympathy for any bowlers in Trinidad because that was the sort of pitch that we used to play on in the Caribbean.
People keep on talking about how the pitches in the Caribbean have changed - that is all rubbish. Most of them have always been slow. Barbados is the only pitch in the Caribbean that over history has had pace and bounce; the rest of them have always been batsmens' paradises.
If the West Indies had three Fidel Edwards's in their team England would have lost this series 3-0.
Comments (9)
Karl Burgess says...
Nice to see the Sky Pundits know their stuff (Not) This was not Birmingham City's first ever game in Europe. Birmingham competed in the Inter City's Fairs Cup reaching the Final in 1960 ending runners-up to Barcelona and again in 1961 ending runners-up to Roma. In 1961 Birmingham City beat Inter Milan 1-0 at the San Siro Stadium the first British club to win there (Yes before Arsenal)
Posted 22:30 18th August 2011
Alan Brown says...
I will not be watching any more of the 20/20 games unless something is done about the sound levels. I could hardly hear the commentators over the tremendous raucous background noise at the Pakistan match. It was totally distracting and deafening. Surely you can filter out the crowd noise somewhat - not totally as it is part of 20/20 but down to a bearable level. I like steel bands but not the cacophany that I was getting this evening.
Posted 21:48 1st May 2010
David Beck says...
The first thing that is checked with the referral system is rightly whether it was a no-ball or not. Surely it would be much better if the third umpire reviewed EVERY ball as to whether it is a no-ball or not. 2 good reasons, a) no-one can ever be out off a no-ball and b) it allows the umpire to concentrate on what is happening at the other end leading to greater accuracy of decisions (the umpire doesn't have to re-focus his sight on every ball). No team is likely to refer a decision just on the basis of whether it is no-ball or not.
Posted 06:47 19th December 2009
Ricardo Williams says...
Well said Mikey, as England went to the West Indies thinking that they would walk all over the opposition and it did not happen due to their lack of desire and their skill levels not being up to scratch with the bowl. Mikey was also right in saying that if the West Indies had 2 other seemers to support Edwards and Taylor then England may have lost this series 2 or 3 nil and the only people that would not accept this is englands arrogant supporters and the biase commentors out there with them, shame on you.
Posted 22:29 12th March 2009
Gavin . says...
Wake up England - you aren't really as good as you say you are. If you can't even beat the WI, what chance do you have against Australia in the Ashes? You are going to be given a cricketing lesson. Good on the West Indies.
Posted 21:57 12th March 2009
Mikhail Johnson says...
Mikey.... you are of course entitled to your opinion. However saying the West indies series win is similar to a man cheating to get rich is a poor metaphor. I would expect that you being a West Indian you wouldn't be singing the sentiments of the English Journalists who coincidentally just lost the series!! West Indies have not won any test series for 5 years. I have seen no comment on the over appealing of the english players trying to cheat their way to a series draw... what has happened here Mikey? it looks like a travesty!!!
Posted 16:42 12th March 2009
Kelly Sherwood says...
West Indies were helped in this series by poor decisions by Andrew Strauss, the referal system does not work old way was better just have replays for catches and run outs. England will win the return series I am certain, The bowlers Mikey mentioned cant win it by themselves and Jimmy Anderson is better than both of them in cold early summer conditions. West Indies Cricket needs to sort out there pitches especially in Antigua as the first one was a disgrace.
Posted 16:35 12th March 2009
David Holder says...
Well said Mikey. As a West Indian I am so glad for a series win but i hope this was a one-off in terms of the tactics employed to win. It so nearly blew up in the team's face, but you can't fault the commitment and discipline shown - two words that have been badly missing in West Indies cricket for such a long time. We have talent but we need to be focused on the job and show more fight. Well done to the team. England have problems and i hope they can find some bowlers before the Ashes!
Posted 14:52 12th March 2009
David Mckeown says...
I absolutely agree Mikey. Yes you won the series but the approach left a lot to be desired. But having said that we must look at ourselves.We went as clear favourites and yet failed to take 20 wickets once.Thats not Gayle's fault. He did his job-to make it as difficult as possible for us. He did just that so good on him. He's put steel back in the Windies.He said to us-go on and bowl us out twice if your good enough. We weren't, simple as that.Maybe we wont be so arrogant and complacent about winning next time we go to the Carribbean.
Posted 14:37 12th March 2009