I am really looking forward to this game, it should be a belter. Both teams are in the top four and it should be really fast paced with plenty of big collisions.
It is going to be a real test for Huddersfield especially playing Warrington at their home ground. The Wolves are in outstanding form - despite missing a few key players.
I thought Wolves were very good against Castleford, especially seeing as they were without Lee Briers and Adrian Morley. I know I bang on about this a lot but, without Briers, Warrington are a different team. So it was impressive to see them in such fine fettle against Castleford who would have been very confident heading into this game.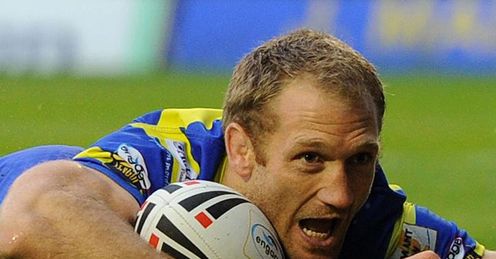 Warrington are still without Briers and skipper Morley for Friday's clash and it will be interesting to see if that win against Castleford has filled them with confidence. However Huddersfield are Warrington's bogey team - they have not beaten them in four matches and this is going to be just as big a mental battle as it is a physical one.
Michael Monaghan is the man they will be looking to really ignite them. He has been at the top of his game for many years now and really brings dynamism to the hooker role. He is such a tough player and loves to control the game from dummy half. He will be looking to bring his forwards into the game - and boy are they going to need to get into this game.
He has been at the top of his game for many years now and really brings dynamism to the hooker role. He is such a tough player and loves to control the game from dummy half.
Stevo
Quotes of the week
LIVE ON SKY SPORTS

Warrington v Huddersfield
7.30pm, Mon, Sky 3D. Sky Sports HD1 & Sky Sports 1
Watch on the move with
Sky Go
How to
remote record
The Giants pride themselves on their forwards and have built their success around forward dominance. They are going to have to watch Monaghan very closely though - he puts himself about by always following up and he likes a try or two. Give him half a chance and he will make you pay.
Matt King is also on fire at the moment and seems to be scoring tries at will. I think it was a tough decision for him to decide to leave Warrington at the end of the season to head back to Australia and he will want to leave as a Super League champion.
The Giants well they themselves had a good win over the Crusaders last weekend although it did look like it came at a cost. The injury to Kevin Brown almost on the hooter was most unfortunate and looked very serious but although he will be nursing a bruised jaw I doubt that will stop him from lining up against the Wolves.
Their big men will be looking to batter into the Warrington forwards - led by the likes of Eorl Crabtree and Darrell Griffins and then look to send it wide to wingers. David Hodgson took his chances very well last week and fully deserved his hat-trick.
This game is going to be won in the forwards, however I would not be surprised if the one pointer played a massive role too - whatever you do, don't miss it!
Key man
I have been very impressed with winger Jermaine McGillvary. He is only 23 but is born and bred in Huddersfield and been in top form. Like all the Giants he is a very big unit and hard to get down. He is a great finisher and I'm looking forward to seeing him in action on Friday night.
Stevo says
Both sides have been playing very well and are in good form. I am a little concerned about Warrington without Briers as he makes such a huge difference. However I think the other players are beginning to realise that they need to step up and I am going to go for a home win - a very narrow home win!
Comments (2)
Richard Keers says...
Although Warrington havent beaten Huddersfield in the last few games I would not consider them a bogey team - especially when you consider the unbeaten run held by Saints over Warrington for many years, which was broken this year when Warrington got the double over them! Looking forward to a great game of RL and agree the forwards may be the key to victory for either side.
Posted 15:53 8th July 2011
Martin Aspey says...
Warrington will win quite comfortably tonight. Huddersfield are a good team, but without Danny Brough's kicking game, they can't beat the top two.
Posted 11:57 8th July 2011