It took until the last round to sort out the top eight and the play-offs promise to deliver some nail-biting rugby league.
Can the likes of Catalans, Hull and or Hull KR really threaten the likes of Warrington and Wigan for a place in the Grand Final?
Eight teams still have high ambitions and Stevo looks at who he thinks will make it through to the next stage.
Warrington v Huddersfield - 7.30pm, Fri, Sky Sports HD2 & Sky Sports 2
We are really down to the business end of the season now and this is often where nerves take their toll.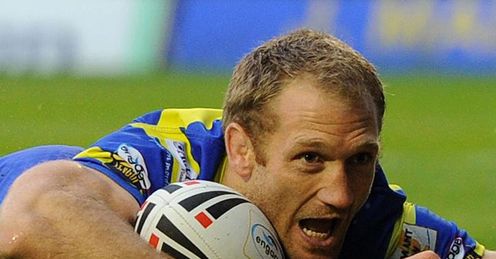 You have to say that without any doubt that Warrington are the red-hot favourites to beat Huddersfield, apart from one little thing - they have played three times this year and Huddersfield have beaten them twice.
Not only that but the Giants went to the play-offs last year to Warrington and beat them too.
They will not be frightened about going to the Halliwell Jones but they have hit a little bit of a slump whereas the Wolves have hit top form.
The Giants will not be frightened about going to Warrington but they have hit a little bit of a slump whereas Warrington have hit top form.
Stevo
Quotes of the week
LIVE ON SKY SPORTS
Warrington v Huddersfield
7.30pm, Fri, Sky Sports HD2 & Sky Sports 2
Catalan v Hull KR
6.30pm, Sat, Sky Sports HD1 & Sky Sports 1
Wigan v St Helens
2.45pm, Sun, Sky Sports HD2 & Sky Sports 2
Leeds v Hull
5.15pm, Sun, Sky Sports HD2 & Sky Sports 2
Watch on the move with
Sky Go
How to
remote record
Huddersfield coach Nathan Brown has made it quite clear that he is confident that they can do it again. He admits they have had a bit of a yo-yo period but is confident that they can bounce back and continue on to the Grand Final.
Theirbiggest worry though is their defensive frailties that have shown up recently which has been surprising. Since Brown arrived at the Giants he has masterminded a very strong defence but it seems a little bit shaky at the moment.
Danny Brough will be the man to watch for the Giants - if you give him space he really enjoys himself and starts to really stamp his authority. However, I cannot see the Warrington pack allowing him any room to move.
STEVO SAYS: Warrington are masters at both attack and defence and have become quite ruthless. With Michael Monaghan on fire I just cannot see anything else but a Warrington win.
Catalans v Hull KR - 6.30pm, Sat, Sky Sports HD1 & Sky Sports 1
Oh to be in the South of France. Fresh fish sizzling in the pan with a nice glass of fortified wine!
Afterwards make your way down to the Stade Gilbert stadium and watch the clash between Catalans and the Rovers. What a way to spend an afternoon!
Rovers surprisingly beat them a fortnight ago but I don't think Catalans will fall for that again.
Catalans style this year has been quite outstanding. For the first 15 minutes it's all about hard graft, after that they start to throw it about and enjoy! That is why I love watching them - they are fantastic.
I really hope that Hull start with a little more enthusiasm than they showed against Castleford. I could not believe before a sudden death game all their players came out with their children.
I thought to myself 'hang on, in a couple of minutes they are going to have to knock seven bells out of the opposition and here they are nursing a six-month old baby'! I am not being critical but I would have thought that was not the sort of build-up for a game that was so important.
STEVO SAYS: It is one of the most interesting games of the weekend. Catalans have a few problems in defence but so do Hull KR. Paul Dobson is the man that Catalans have to shut down and if they do then I can see them winning this one.
Wigan v St Helens - 2.45pm, Sun, Sky Sports HD2 & Sky Sports 2
Wigan have to be favourites but they have not been as impressive since that Challenge Cup victory - and they know it.
Their usual strong defence has shown a few frailties which have been exploited. Saints have the players who can certainly expose any weaknesses - James Roby around the ruck is a very dangerous beast indeed. If he starts taking control then Wigan could find themselves on the back foot.
Wigan's plan this year - which has been so successful - has been to get out of the blocks early, hammer the opposition and put doubt in their minds. They have been able to do that and then get their link men combining from all over the pitch. I am not sure if Saints will give them the room to do that.
It should be a classic game. St Helens have not beaten Wigan this year and they have played five times. They had a draw down in Cardiff in the opening round where they had to come down from about 16 points down!
You would have to say Wigan to win again but in St Helens you are talking about a side that have been in five Grand Finals. Okay they may have lost four, but that indicates that they know how to get there.
STEVO SAYS: I am going for a shock win here - Saints to clinch it. Leon Pryce has been playing well for them as has Jonny Lomax. They will be up for it.
Leeds v Hull - 5.15pm, Sun, Sky Sports HD2 & Sky Sports 2
Leeds have finally hit their straps. The comeback at Wembley was just what they needed - they may have lost but they fought back from 16-0 down to really make a fight out of it. Rob Burrows is key for them - Brian McDermott has to start with him!
Their spirits are lifted and I think they will have too much for Hull. A lot will depend on the injury to Richard Horne. He is the key man for Hull and gets the best out of Kirk Yeaman and Tom Briscoe.
Kevin Sinfield is the man for Leeds and I am hoping we see a little bit more of Danny Buderus. I have been a little disappointed in him this season and I suspect he has carried an injury throughout the year. He has not been as explosive as we know he can be.
I also hope that McDermott does not start Danny McGuire at first receiver! He is a stepper, a man who asks question of defences. Not a man to take the first ball!
STEVO SAYS: I just think Leeds will have a little too much for Hull. They will put up a good fight but I think Leeds will hold firm.