I don't know if all rugby league fans like curry, but I think that they all like a bit of spice and I don't think you can get much spicier than Friday night's clash between Leeds and Warrington.
It's a top of the table clash between the table toppers from last season against the Champions. If you think that is spicy, well it is no way near the Vindaloo that we are going to get when Callum Watkins and Ryan Atkins go head-to-head.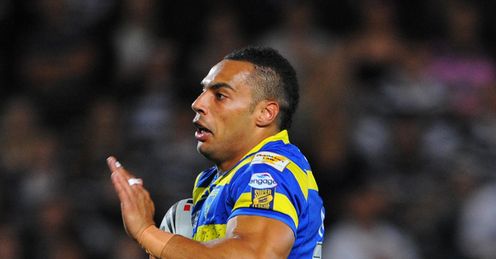 The reason why is because England coach Steve McNamara has been chopping up the chillies and boy he has come up with a Dorset Naga - which is the hottest chilli in the world!
McNamara could not have done any worse than chopping the Dorset Naga onto the tongues of Atkins - the man who has not been selected for England - to play against Watkins who has been selected!
It could work two ways, one, the England manager could be slightly embarrassed as Atkins has a stormer of a game and wins man of the match. Or he gets totally outplayed by the youngster Watkins.
Stevo
Quotes of the week
LIVE ON SKY SPORTS
Leeds v Warrington
8pm, Fri, Sky Sports HD1 & Sky Sports 1
Watch on the move with
Sky Go
How to
remote record
I will be too far away to feel the heat, but I will feel the atmosphere, and boy is it going to be terrific. I think Mr Atkins will want to prove a point and I really hope Mr McNamara is at this game.
It could work two ways. Either the England manager could be slightly embarrassed as Atkins has a stormer of a game and wins man of the match; or he gets totally outplayed by the youngster Watkins. If that is the case then Watkins would not have only elevated his way into the squad, but he may have played himself into the starting 13.
All across there is quality on both sides - you don't have to be Einstein to work out that these two sides are red hot at the moment.
We thought last week that the absence of Michael Monaghan would be a problem for Warrington - along with Lee Briers he organises everything for them. However Mickey Higham came in and was man of the match. That is why Warrington is such a good team - as are Leeds - when someone gets injured someone steps up.
For Leeds well they will be looking at the likes of Kevin Sinfield to organise them and I expect the rejuvenation of Rob Burrow to continue. Ben Westwood is back and he is going to make a big impact for Warrington however saying that, Leeds welcome back Ryan Bailey which will also be a big boost for them.
I feel that this is going to be a real see-saw battle and it could be settled in the last minute - don't count out the one pointer!
STAR MAN: As I said earlier everywhere you look there are star names and players who could turn this game. However I think Sinfield's organisational skills may be the key for Leeds.
STEVO SAYS: I really cannot wait for this game; it is going to be superb. If you cannot get to Headingley then tune in on Friday night and watch it all boil over. I am going to go for Leeds but there won't be much in it.
Comments (2)
Peter Handley says...
As a Wire fan, I'm disappointed we lost to Leeds, but hey, fair result. However, one brief moment in the game wound me up past breaking point - not the video try decisions, but Peacocks throw-down of the ball when being tackled, then claiming it was stripped! I spotted it (and screamed at the screen :-) ) and you spotted it. It is blatant cheating and has to be stopped immediately. I do like Peacock as a player (hard not to, as a rugby fan), and don't want the book formally thrown at him. So, how about the league has a discrete word with him and the Leeds coaches, and ask them to withdraw him for a game (and copy in the other head coaches!), so they all get the message that cheating is not acceptable. If it's not stopped here and now, it will be seen as being condoned by the league, and it'll soon be rife at all levels - We've seen what not stamping out cheating has done to other 'sports'. I really don't want to see RL reduced to those farcical levels!
Posted 09:07 10th March 2012
Andy Loughlin says...
The last two Boots ,n, All shows ,or should i say The Phil Clark show ,i have never been so bored i kept falling asleep, the way he talks to the veiwer as though they were two yearolds some of us have been watching rugby league before he was born . Please no more boredom from Mr Clark ,or if you persist with his constant drivel i think ill be taking a twenty min teabrake.
Posted 17:20 9th March 2012