The key question here is can Leeds pick themselves up after the drubbing they received at the hands of Wigan?
They were absolutely torn apart by a Warriors side who were quite depleted with a certain number of their stars missing.
I think Leeds are really battling in the forwards - they certainly have the skills - but if their opponents are able to shut them down, like Wigan did, then they are not able to get the space to manoeuvre.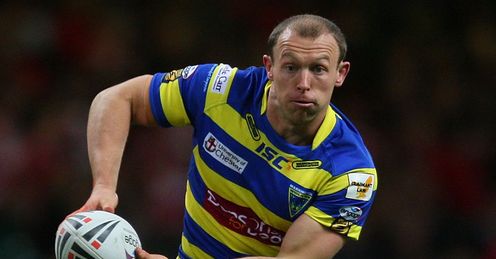 The Headingley mob really need to open up the cheque book. Some of the Rhinos are getting on in years and while they do have some exciting young talent coming through, they need that experience on the field too. Getting that combination between youth and experience is very difficult and I just feel that some of the Leeds veterans are not performing well enough.
Warrington's forwards really getting stick in and stopping Leeds from getting space - if you can do that then it is game over.
Stevo
Quotes of the week
LIVE ON SKY SPORTS
Warrington v Leeds
7.30pm, Fri, Sky Sports 2 HD & Sky Sports 2
Watch on the move with
Sky Go
How to
remote record
Friday is the time for them to step it up. They have to. They are floundering down in ninth position and that is just not acceptable for the current Super League and World Club champs - failure to qualify for the Super League play-offs would be a disaster, but that could be a reality they have to face if they don't find some form.
They will be without Danny McGuire which will be a huge blow for them and it is not going to be easy travelling over to Warrington who were stunned by Hull KR last weekend. You just cannot afford to take anyone lightly in this league as Warrington found out. They are not in such dire straits as Leeds though - despite losing they are still second on the Super League table.
Playing at home gives Warrington a great advantage and they also have great ability. The likes of Ben Westwood, Michel Monaghan and Mick Higham are playing well and Lee Briers guides them around very well. I can see Warrington's forwards really getting stuck in and stopping Leeds from getting space. If they can do that then it is game over.
STAR MAN: look out for Adrian Morley. He's been left out of the England squad to face the Exiles and I think he'll want to show England coach Steve McNamara a thing or two.
STEVO SAYS: I think Warrington will take this one. Leeds have not performed well at in the past and I think that trend will continue. It should be an intriguing game - and Leeds never give up - but can they dig deep enough on Friday night?
Comments (1)
Dave Potts says...
Leeds look down and out. Many of the are not to the standard that Rhinos fans are used to. Is it just me or is Delaney one of the worst and laziest to wear the shirt? Jones-Bishop, although young will never be up to the task and Lunt should never have been brought in to replace Diskin who was a great Leeds player. McDermott must take the blame for this. Despite the glory at the very end of the season throughout the weekly rounds Leeds were poor, no action was taken during the close season to rectify this as it was presumed winning the Grand Final would make everything OK. Look at what Smith has done with Warrington?
Posted 21:56 8th June 2012