Restructuring the Super League and lower tiers needs a radical rethink and I have my own ideas about what should be done....
The projection for 2015 is to have a Super League 1 and Super League 2, both with 12 teams. They will play each other once and the bottom four from the top division will join the top four from the second tier. A third Super League is created with eight teams....sound simple?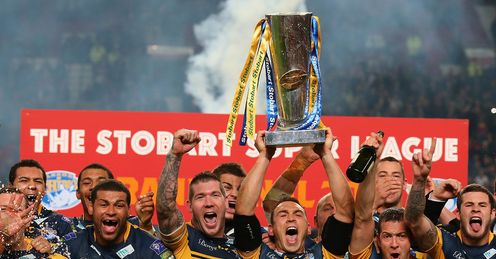 If I was a fan buying a season ticket, I'd be asking myself if I was only going to get half a season watching my team play the top guns? Would you part with your money with a scheme like that? It's too complicated and fans can't understand it.
I'm not impressed and it's just very confusing. I've always said in my career as a broadcaster and player that if you make things too difficult and not simple enough then the fans will look in absolute dismay and wonder what on earth it's all about.
We've done the research at Sky and over the 23 years I've been involved with the game there have been 21 changes to the format of our game. That sounds like panic to me.
Stevo
Quotes of the week
We've done the research at Sky and over the 23 years I've been involved with the game there have been 21 changes to the format of our game. That sounds like panic to me. I don't often agree with Warrington's head coach Tony Smith but on this occasion I have to say I am pleased that someone connected with a Super League club has opened his mouth in front of all the media and said something we should all listen to.
And the final group of teams has also been changed - first six then to eight. It sounds incredible at the end of the season you can have a team becoming champions at Old Trafford in Manchester having lost more games than they've won. That's always been madness and I've always been against it. I've always said a top five is sufficient.
Up and down
There's the argument that fans won't go and watch matches because your team's season has finished and you have dead-rubbers. You don't need promotion and relegation. You only need to look at other sports. In 1908 the Australians started playing rugby league. They've never had promotion and relegation and they don't seem to be doing too badly and seem to be running it better than us over here.
There seems to be a knee-jerk reaction to changing things and I don't think in my 23 years at Sky that at the start of a season the governing body hasn't moved the goal posts, introduced a new rule, or got rid of a rule.
Even when we play internationals as England, or Great Britain as it used to be, we'd ask 'which rules are we playing under?' Why can't we have rules that are governed by the international federation and we all play to the same rules? It's amazing. Football doesn't have different rules in different countries!
Stevo's grand plan
Reduce the Super League and have three divisions - SL 1,2,3 - all with 10 teams. I've always been against promotion and relegation. It doesn't give clubs enough time to settle and and bring players through.
The club's that have been relegated usually have half of their players that were signed up by the team being promoted. That's not an improvement and not what we need. I would suggest if you do finish at the bottom of SL1 then you play home and away against the team that finishes top of SL2...nothing complicated!
It's simple for fans and the team wins with the best aggregate points. If the team gets beaten by the team coming up from SL2 then they should be welcomed. What's the point of that top team in SL2 getting flogged 64-4 and 36-8 for example?
You don't have to be Einstein to work out that they will be relegated if you did it the old fashioned way.
The play-offs are with eight now. We have to go back to five. I would have the top team after all the rounds going directly into the Grand Final. That gives them an incentive to play all the way through. Positions two and three play off to see who goes into the final. Simple!
Some may say the team would be affected by the long break. I think most coaches would welcome the rest after a long season - particularly thinking of injuries. That team should have that benefit of getting players fit again. That's the reward for finishing top.
Everything I've said is very easy for the most important people in our game and that's the fans.
I'm optimistic about the future state of rugby league but only if they want to get their act together. There needs to be more people like myself and Tony Smith or whoever to keep banging the drum. The organisers may then start to change things for the better.
Comments (17)
Jim Paton says...
The idea of the team which finishes top NOT being champions is daft and alienating. The old Premiership (top 4 playoff) was an important competition, but with less prestige than the Championship. The tatty league leaders shield is insufficient reward for being consistently best throughout a season. A new-style premiership involving Australian clubs is an interesting idea, but let the champions, the top of the league, be champions. We also NEED promotion and relegation, but there should be a bottom v top playoff for it. Same date and venue as the Premiership final? Or over two legs?
Posted 16:20 23rd June 2013
James H says...
Where would such plans leave clubs like Rochdale and Oldham as well? Never mind Halifax or Featherstone. Just because both sides are outside the top 26 clubs currently, does it mean that us 2,Crusaders and the other Championship1 sides are forced into the BARLA leagues with no chance of ever regaining any opportunity to get back into super league ourselves if opportunity rose? We already lost Toulouse in recent seasons , the smaller clubs could be next. . Magic Weekend is a must continue event. If it does go 2 divisions to 3 then at least have the top 2 groups play at it. A reward for the top 4 of division 1.
Posted 09:50 9th June 2013
Eric King says...
I partially agree with Stevo but would suggest 2 leagues of 12 - L1& L2 with the bottom club from L1 playing a mini play league against top 2 of L2 to win L1 status I also think Mark Percy's idea of a super completion with Austrailers teams is a great idea but would suggest it should be the top 3 in each competion and the respective cup winners from each completion. A UK completion between the cup winners and the L1 champs would also be a better solution to UK super champs than the current format of only performing to full potential for 4 weeks.
Posted 18:35 30th May 2013
Matt Longley says...
I would have three leagues of ten with one team promoted and relegated out of each, whoever comes top are league champions. I would then introduce a new competition as stated in a previous post in a champions league style against the top six ausralian clubs at the end of the year to replace the playoffs, this would be for the clubs in the top league only.
Posted 14:16 26th May 2013
Paul Edwards says...
Rugby league has been a joke for years! If you have a sound franchise then you are granted a licence to be in the top division and if you finish 6th you could end up being the Grand Champions! Get Real. I stopped watching this circus years ago. If you want Rugby League to be out there and competetive its simple. You have 3 leagues , relegation and prmotion and all this play off nonsense scrapped, then you would get the proper champions of the league. Instead what do you have now, playoffs where teams save their best players tilll the playoffs because they know they have already qualified. No relegation battles because of too many daft rules. Can you imagine the premiership football , a team that finished 6th winning the league! Thered be uproar. Yet you guys in Super League accept that! Thats where your all going wrong! Theres no reason to finish top of not to finish bottom, who cares if you finish 9th or 12th. No one will notice! Wake up Super League,. You have a great product! Use it!
Posted 11:06 21st May 2013
Mark Percy says...
I would have a Super League 1 & 2. Keep 14 in the top, with 12 in the second league. The two teams that finish bottom of SL1 and two that finish top of SL2 all go into a play off. The prize would be to win promotion to/stay in SL1. Simple. At the top of Super League 1, whoever finishes top is the grand final winner. The top four would compete with the top four in Aus in a Champions League style World Club challenge. Two groups with four, two from each league, with the top two going into the semis and then the winners in the final. It would make the World Club challenge more of a spectacle. It would give teams in SL1 the desire to want to finish in the top four, preferreably first place as champions. The situation at the bottom of SL1 would give teams an incentive not to finish in the bottom two. Otherwise, the run the risk of being relegated All teams would have something to play for. the teams in SL2 would also have something to play for, a shot at promotion! Surley this needs to be the aim, to get all teams playing for something? Otherwise, why bother playing at all.
Posted 12:45 20th May 2013
Richard Finch says...
I'm fed up of the whole 'we don't need promotion and relegation' argument. It's great if you are in the top tier but what have the likes of Halifax and Featherstone and other top championship sides got to play for? They get to be feeder clubs to Super League sides or can roll over completely and dual register squads so that they can keep SL fringe players fit while they're not being picked by their parent club. The Franchise system doesn't work, sides have been submitting spurious applications to get a licence and still ending up in financial trouble. Why not look at parachute payments for the side relegated from SL, it works in football. Only in our sport would it be a good idea to kill off competition by removing promotion and relegation. If we want to promote good English players then reduce the number of second rate Aussie and Kiwi imports we have and bring in a strict quota.
Posted 09:49 20th May 2013
Gary Newland says...
Stevo - Please could somebody get a grip of the RFL. They are a Body of people who probably understand Rugby League, but not that of the Paymaster, the Fans. I go to many Games where the discussions are all about the "State of Rugby League". Sort it out, once and for all, your views, Stevo are pretty much near the mark, but thyere needs to be a consortium where everybody has their say, and an absolute solution is agreed. After all, how can a Major Sporting League not even have a Sponsor - RFL, get your head in gear!
Posted 19:25 19th May 2013
Ric Lockley says...
I largely agree with Stevo! If the system almost requires a calculator to figure it out, then Its a really dumb idea! The promotion/relegation question to Super League is a tough one. Some criteria must be achieved to be promoted. Given that these are met, the fairest way would seem be a single play off tie to replace the 2nd tier grand final. There must be the scope for a route based on performance, excitement and not just on an accountant`s plan. Places such as Cumbria, Wales and other areas where the game could grow further must be encouraged to believe that a routeway to the top exists. Catalans and Crusaders demonstrate that new teams can potentially prosper. I read that now more players play League in London than take part in most traditional Super League towns? We need to be outgoing - but for Heavens sake keep the system simple.
Posted 18:17 19th May 2013
Graham Cox says...
Can I simply ask the following question? If Super league is to consist of only 10 teams from 2015 then how will the 10 be selected? Will it be based on the league standings? e.g. based on this years positioning then this would suggest Widnes, Castleford, London and Salford would be cut. Widnes with it's current stadium, Salford with its new financial clout and stadium and London with it's regular protection would suggest not. We have criticised the franchise system through it's lack of transparency and fairness but we are about to exchange this for something that is just as bad. Salford and London (even though they have hardly any support) along with Widnes (wherever they finish in 2014) will make the cut. The teams to be axed will undoubtedly be Castleford, Wakefield, Hull KR plus one other irrespective of their supporter base or their league position. So even cutting the league to 10 teams will still result in cricket scores being run up against Salford, Widnes and London. Will this make the competition more competitive and attract more supporters? I think not. The 10 teams should be selected on league positioning at the end of the 2014 season and this should be announced NOW. Otherwise we still do not have fairness or transparency.
Posted 17:40 19th May 2013
Dg M says...
the idea of the team finishing top of the log getting a direct bye to the grand final has proven to be a disaster - rugby union tried it and, as any gloucester fan can tell you, it does the team finishing top no favours. rather, it gives a lower-placed team 2 games to build up momentum so that they arrive in the grand final on a roll and full of confidence. in a 10-team super league, you'd have to go with top 4 only, as rugby union does now.
Posted 18:34 18th May 2013
Stewart Ibbotson says...
Agree with the Ten teams idea but keep the Magic w/e and invite two teams from SL2 to join the SL1 teams so keeping 3 games each day. The top two teams at the beginning of May could be the way forward. Also the reduced fixture list opens up weekends for Internationals/Exile games and will leave our players fresher for the end of season run-in.
Posted 10:13 18th May 2013
Lee Potter says...
Not often I agree with stevo but he is spot on with his comments and I think his new rules would benefit the game a lot . The current restructure rules are just baffling and way to complicated.
Posted 10:06 18th May 2013
Andy Towell says...
We need to have promotion and relegation in the game so all teams have something to play for. If Wigan, Leeds, Saints, Giants are always going to be the teams in the fight for the Grand Final what do the other clubs have to play for? Remember when Wigan were close to relegation a few years back, the rest of super league wanted it then so why not now? The team finishing top of league 1,2 or wherever deserve to be promoted, as do the team finishing bottom going down. Look at football this weekend, all drama for the fans and fantastic for all teams involved, just what RL needs. So how many team in each league - 12 would do I think and like Stevo says, the club that finishes top goes straight to the Grand Final. It's what this fan wants and pays his Sky and ground fees to see.
Posted 09:44 18th May 2013
John Backhouse says...
The sooner we have someone like Tony Smith running our game the better. We need to reduce the number of clubs by two. When we have more top class players then allow other clubs in. Religation is a none starter. Who are these people making all these ludicrous decisions.Stop tinkering with with everything!!!!!!!!
Posted 08:38 18th May 2013
Steve Humphries says...
I agree with Steve the team thats top of the league should be in the grand final and the four below should be in the play-offs keep 12 teams in the league not 10 bottom team in the league should play top of the first division in a play-off game.Its simple and keeps all the fans intrested till the last game,
Posted 03:09 18th May 2013
Chris M says...
Stevo, I've heard you say a number of times on SL BackChat how the side who gets promoted usually finishes bottom. This has happened only twice out of ten seasons... 1996 Salford - 1997 - 6th out of 12 1997 Hull - 1998 - 9th out of 12 1998 Wakefield - 1999 - 11th out of 14 2001 Widnes - 2002 - 7th out of 12 2002 Huddersfield - 2003 - 10th out of 12 2003 Salford - 2004 - 9th out of 12 2004 Leigh - 2005 - 12th out 12 (relegated) 2005 Castleford - 2006 - 11th out of 12 (relegated by default due to Catalans immunity) 2006 Hull KR - 2007 - 11th out of 12 2007 Castleford - 12th out of 12 (no relegation)
Posted 23:51 17th May 2013