The Magic Weekend is now in its seventh year and I think it has been a resounding success.
The RFL have used a bit of common sense in bringing it back to the north of England. Cardiff was a good place for it to start but I think it's fair to say it took a step backward when it moved to Edinburgh. Hotels were doubling their prices, food and drink went up; it was very expensive for the fans.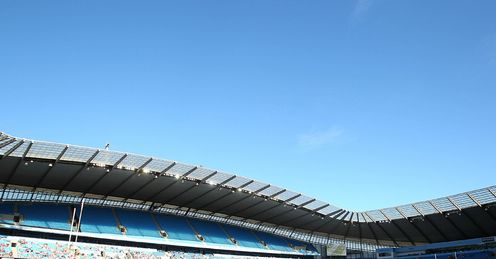 Around 90 per cent of rugby league fans are from the north of England so it's quite cheap for them to travel to Manchester for a weekend of action. They know they won't be ripped off.
I feel the Magic Weekend has found its niche in Manchester. The Etihad Stadium is a tremendous viewing platform, irrespective of where you're seated. It's not going to be as hot as last year, which is good, but hopefully it will be dry.
Value
In terms of value for money, you can't ask for better, with seven games taking place over two days. I get a bit annoyed when quite a few of the supporters just watch their own game and head away. I can't understand it. If you brought a Northern lad to a smorgasboard, he'd pile his food so high that even Sir Edmund Hillary would struggle to climb it!
I hope the RFL keep the Magic Weekend in Manchester for the foreseeable future. Times are tough at the moment but a family ticket for the Etihad is very reasonable.
Stevo
Quotes of the week
Live on Sky Sports
SUPER LEAGUE MAGIC WEEKEND
Sat, 11.55am, Sky Sports 3 HD
Sun, 2.55pm, Sky Sports 4 HD
Being a Northerner myself, I'd want bang for my buck and would watch all seven matches, so I hope the fans don't just support their own teams, but also stay for the other six games and support the sport of rugby league. We've got seven games - watch them!
What makes the Magic Weekend great is that it's not all about the big teams. For so-called smaller clubs like London Broncos, it helps raise their profile and their players will thrive from playing in front of a sizeable crowd.
Magical
I'll never forget the first year of the Magic Weekend. In the final game in Cardiff, Leeds were trailing Bradford by two points when Kevin Sinfield had a penalty to level matters late on. His effort came off the crossbar and fell perfectly for Jordan Tansey, who crashed over for the winning score. To me, that magical moment crushed any uncertainly over whether this weekend would be an annual event, and there have been many more great moments since. From Jarrod Sammut's try for Crusaders 2010 to David Hodgson's last-winner for Hull KR against Hull last year, we've enjoyed plenty of high quality action.
I hope the RFL keep the Magic Weekend in Manchester for the foreseeable future. Times are tough at the moment but a family ticket for the Etihad is very reasonable. They've balanced it out well this year too by reverting to derby matches. I know it's a bit funny to call London v Catalans a derby, but they are the closest to each other.
You'll get quite a few non-rugby fans at the Etihad. It's a great option for anyone who has never watched a game before - a jamboree of rugby league involving all the top teams. It's like going to Old Trafford to watch Manchester United, Manchester City, Chelsea, Arsenal, Tottenham and Liverpool all play over the same weekend.
For myself and the rest of the Sky Sports team, Magic Weekends are quite demanding. We'll be at the Etihad for 7am on Saturday morning to begin preparations and won't finish up until around 14 hours later. Then we're back again on the Sunday to do it all again. I don't mind it one bit though; there's nowhere else I'd rather be.
Emotional
Finally, I'm really pleased that Adrian Purtell will be featuring for Bradford this weekend. He suffered a heart attack on the way home from last year's Magic Weekend, and to see him trot out for Bradford's game with Huddersfield will be great.
It will be emotional and I hope everyone gives him a standing ovation, not just for his return but also to say thank you to all the medical staff who helped him make a full recovery. Let's show how solid and united rugby league fans are in adversity.
Comments (2)
Ian Morris says...
I now live in Sydney and can enjoy both NRL and thanks to Sky and Eurosport followed all the Magic Weekend games live. The NRL could learn a lesson and introduce a Magic Weekend set of fixtures at the Olympic Stadium in Sydney without any issues. Having watched both rounds of games and seen the same thing happen in both leagues there is something which can be solved in 10 secs with a simple rule change and that is the 20 metre restart after a ball is kicked dead. Too many times a player runs to the mark to tap the ball and gain a quick advantage and is not in the middle and the game is held up until everyone is set. Simple ! Put a 1 metre diameter circle on the mark in the centre of the 20 metre line and when the player runs back with the ball all he has to do is put one foot in the circle to restart the play. This would be easy to referee and if a try was scored can be used very easily by video refs to check.
Posted 09:17 29th May 2013
Neil Hutchinson says...
From the North-East, we are Gateshead Thunder fans who from time to time have travelled south to see Leeds Rhinos. We have also been to some Challenge Cup Finals and Grand Finals. This is our first Magic weekend and, because I'm retiring at the end of the year, we've pushed the boat out and 'gone corporate' although I doubt I'll be able to do justice to the free bar (!) However, I agree that it is possible to have a great weekend on a budget (as we'd normally do!) In short, we're really looking forward to a great atmosphere and a fabulous weekend, meeting lots of people and having a good time!
Posted 11:24 24th May 2013